Mabie Todd Blackbird Grey Silver Black Red Marble BB2/39 c1933
by Jim Mamoulides, January 15, 2010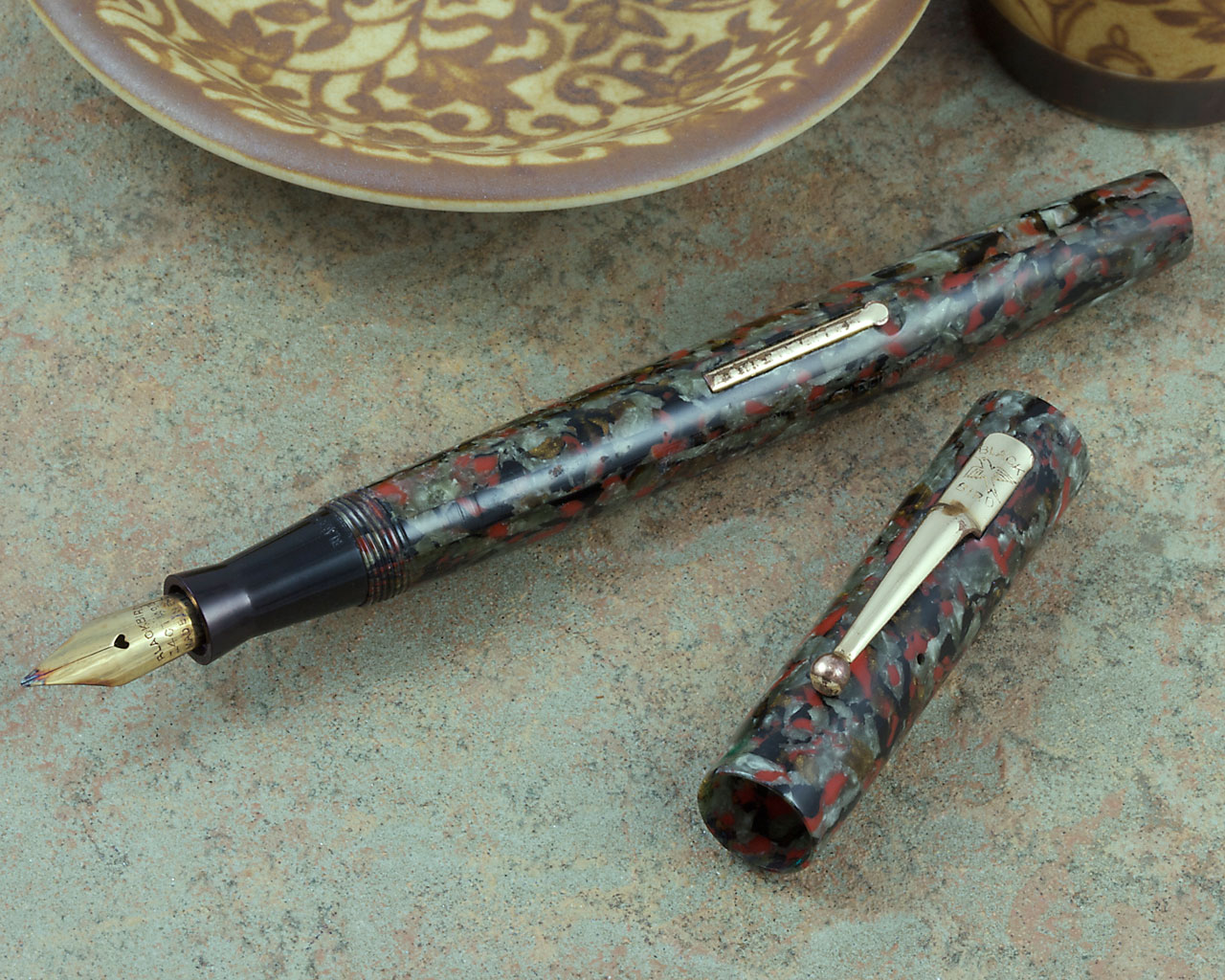 Mabie Todd Blackbird Grey Silver Black Red Marble BB2/39 c1933
Click the image above to see a full screen slideshow
A surprise pen show find!
One color seems to dominate the 1930s pens I find in the wild and that is green, especially "Army green." I always am finding Depression era pens in various striped and marbled green plastics, some quite beautiful and some downright ugly. I picked up this amazing gray, silver, black, and red marbled Blackbird BB2/39 at the Raleigh Pen Show, spotting it at Bert Heiserman's table. While we were talking, I kept picking it up and the great color just kept growing on me, so I had to buy it. Mabie Todd found some of the best looking plastics for their pens in the 1930s. Mabie Todd Blackbird BB2/46, the same type pen as this Blackbird BB2/39, and the blue marbled plastic is just fabulous, the same material Waterman used on the blue Patrician.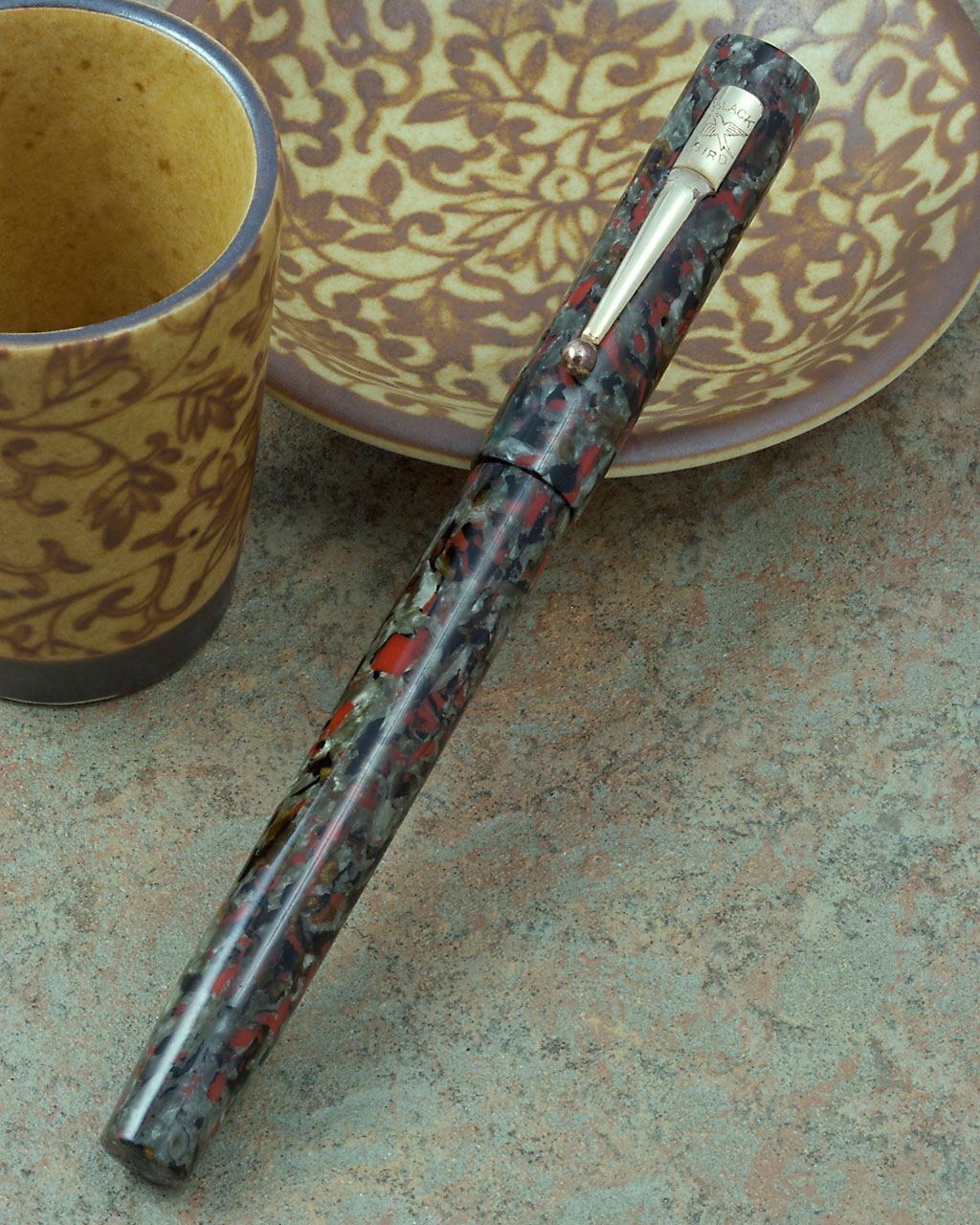 Mabie Todd Blackbird Grey Silver Black Red Marble BB2/39 c1933
The Blackbird line was the second tier Mabie Todd line below the Swan brand. Blackbird pens tended to be less ornate, with plainer nibs and clips and lacking trim, but still fitted with 14 karat gold nibs. As with the top of the line Swan pens, Blackbird pens had the line name stamped in the same way on the nib, clip, section and barrel imprint, indicating that this model, while less expensive, was a quality Mabie Todd pen. The BB2 is an early 1930s pen, with Fountain Pens of the World giving it a date of c1933, which makes sense as it's not streamlined, as later Mabie Todds were, as most other brands followed Sheaffer's market leading Balance pen, introduced in 1929.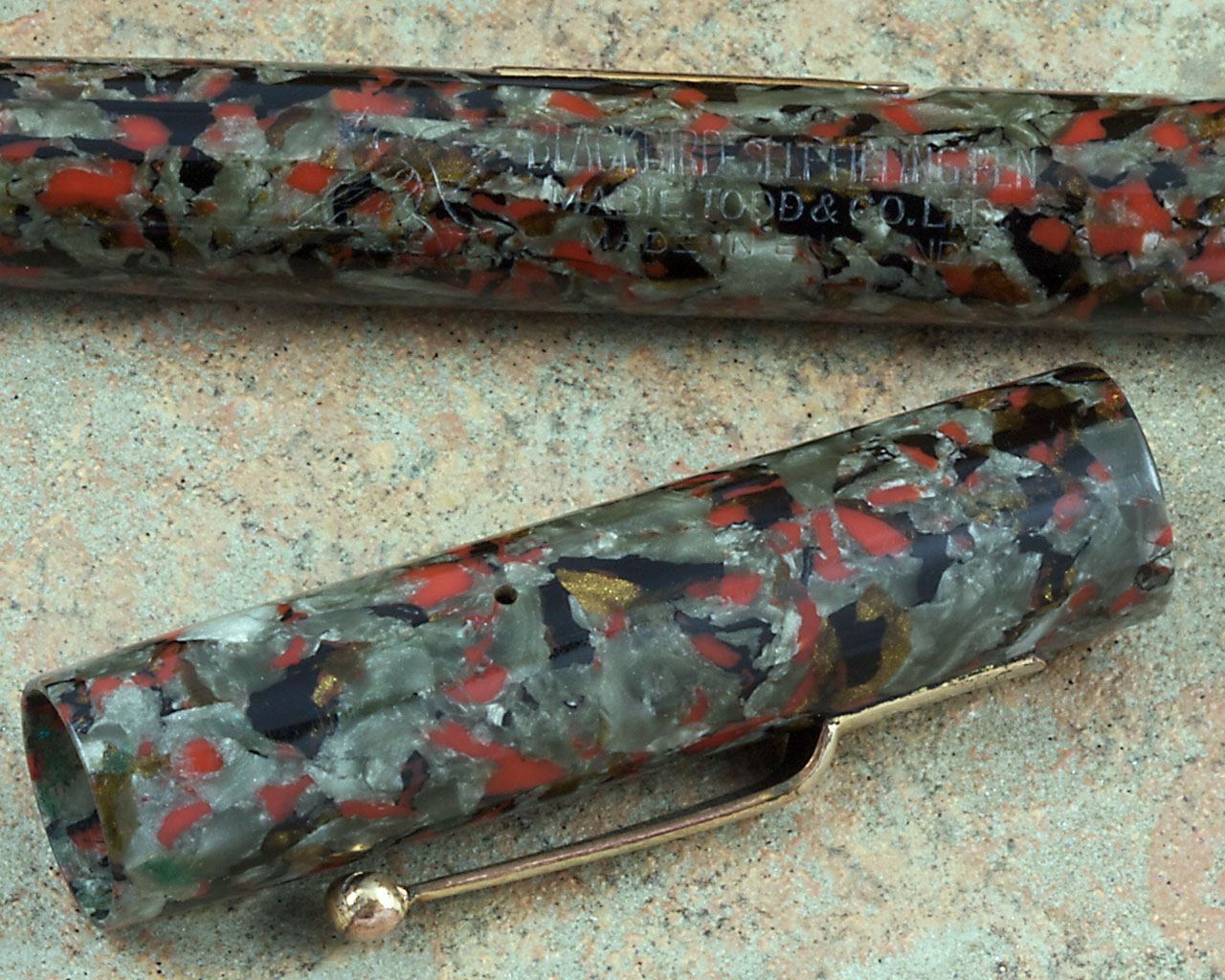 Mabie Todd Blackbird Grey Silver Black Red Marble BB2/39 c1933, note imprint
One trait of 1930s Mabie Todd and some other contemporary British made pens is bad habit of plating loss. Although the trim buffs up nicely, it has pitting and brassing that shows eventually. Mabie Todd put huge imprints on their pens that include a bird logo, this one showing a blackbird not only to the left of the imprint, but also on the clip face. In addition, Mabie Todd stamped the barrel end with the model number and color code.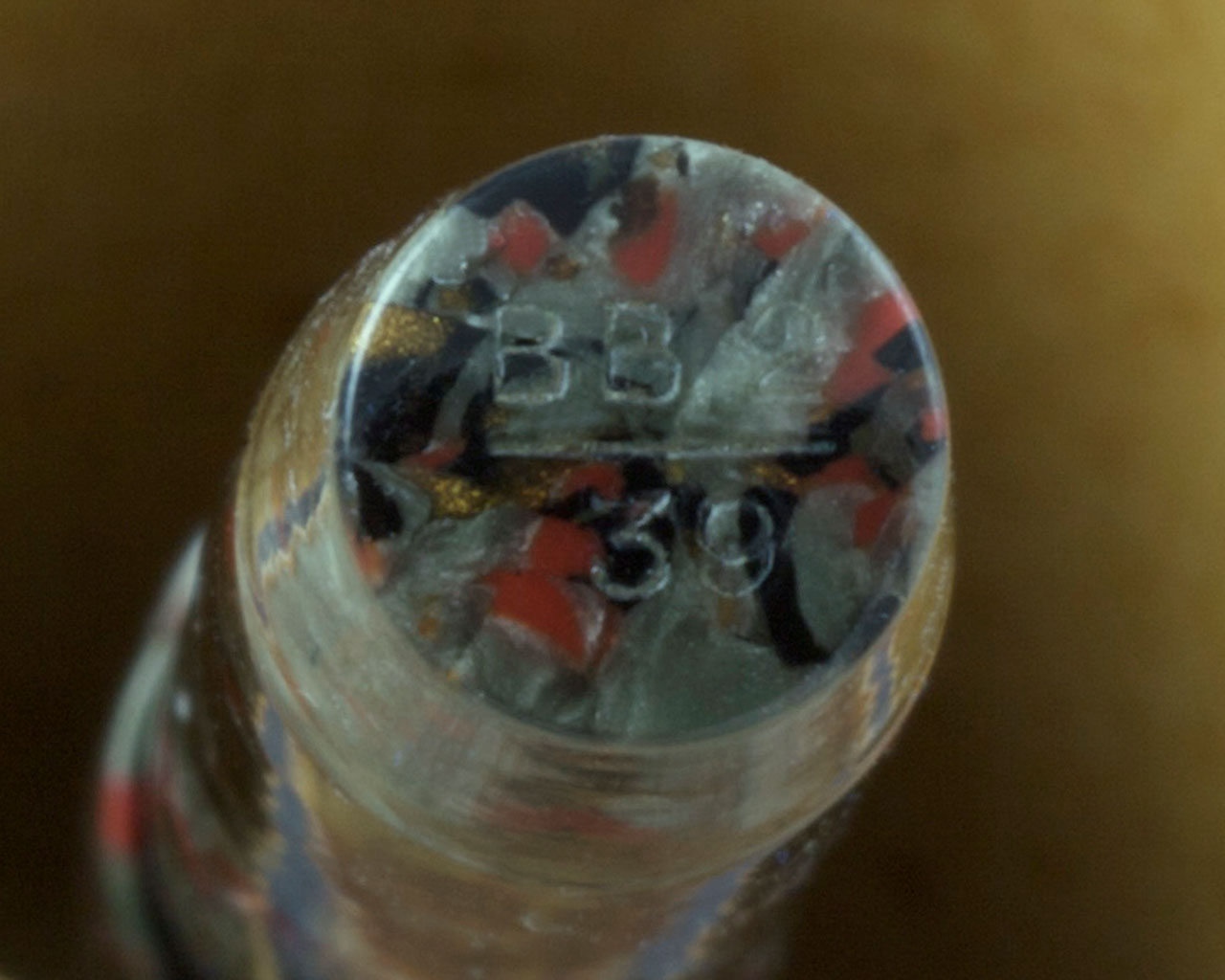 Mabie Todd Blackbird Grey Silver Black Red Marble BB2/39 c1933 barrel end imprint
Performance
This Mabie Todd Blackbird BB2/39 is a light weight pen, as expected with slim all plastic 1930s pens, weighing 0.6 ounce and being 5 1/4 inches long with the cap on and a long 6 1/2 inches with the cap posted on the end of the barrel. Although the cap posts fairly securely, it feels like it might shake loose with vigorous writing, so I don't write with this one posted. It's a lever filler, so filling is a breeze, simply insert the nib in an ink bottle, flip the lever, count to ten, wipe and write.
Mabie Todd Blackbird Grey Silver Black Red Marble BB2/39 c1933 nib detail
I like this Blackbird mostly because I like the cap and barrel plastic. For an otherwise very plain pen, the gray, silver, black, and red marble to me is just extremely cool looking. My experience with Blackbird nibs is that they aren't generally as good as Swan nibs, which are just superb, and this one is no exception, being firm and passable as a writer. I suppose I could have the nib tuned to write better, but it is a shame. Nice to look at, less nice to live with.
---
References
Fountain Pens of the World by Andreas Lambrou, © 1995 Zwemmer, London, United Kingdom
Mabie, Todd & Company LTD Catalog 1927
Mabie, Todd & Company LTD Catalog 1930
Mabie, Todd & Company LTD Catalog 1932
Interact
Comments on this article may be sent to the editor, Jim Mamoulides