PenHero 365: Classic Pens CP1 Targa by Sheaffer
by Jim Mamoulides, February 3, 2010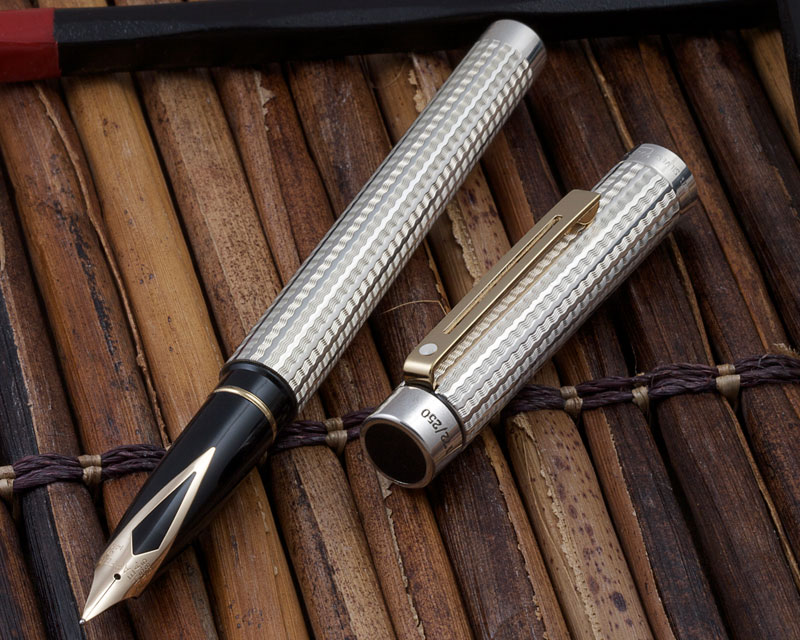 Classic Pens CP1 Targa by Sheaffer fountain pen open
Andreas Lambrou and Keith G. Brown started Classic Pens Limited in England in 1987. Both of these men were passionate about pens and they wanted to carry out their vision of creating really exclusive fountain pens. Their first pen, created in collaboration with Sheaffer and the Murelli engraving company of France, was released in 1990, based on the Sheaffer Targa. The CP1 Targa by Sheaffer began as a standard base sterling silver Targa that was sent to the Murelli company in France who created the deeply engraved Vannerie (Basketweave) pattern on the cap and barrel. The edition was limited to 250 individually numbered pens, with the edition number and CP1 laser engraved on the cap top. The pens also carry the London Assay Office sterling silver hallmark.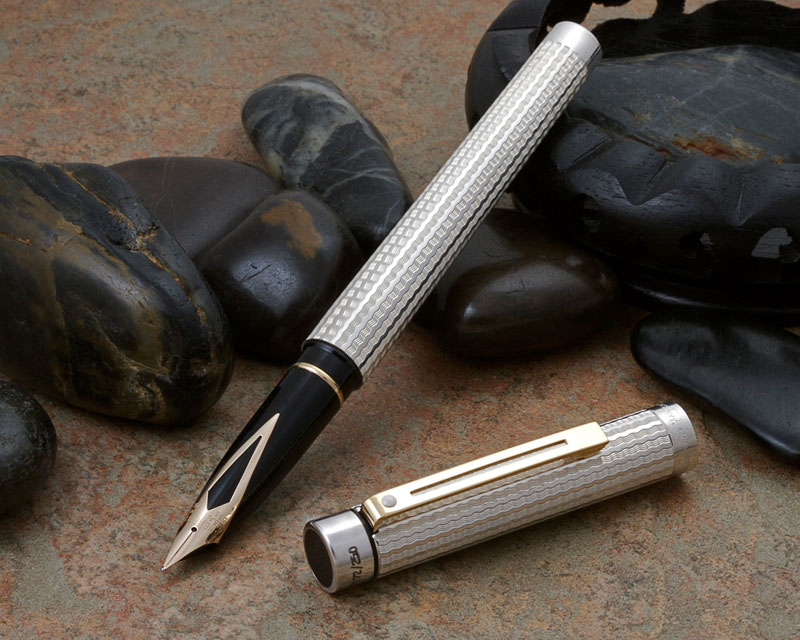 Classic Pens CP1 Targa by Sheaffer fountain pen open

The CP1 Targa by Sheaffer is based on one of Sheaffer's most iconic pen lines, the Targa. Sheaffer introduced the line as Targa by Sheaffer in 1976. Sheaffer advertised the new line in 1977 and 1978 as a "radical departure" as a "brilliant collaboration between contemporary science and traditional craftsmanship." The pen's name comes from the Targa Florio road race, held each year at Palermo Sicily. It was the oldest race of its kind, running from 1906 until 1977. Sheaffer obviously wanted to garner a hip, sporty image, even going so far as to advertise the pen with the Porsche Targa sports car in 1980. The pen did so well that Sheaffer reintroduced solid 14 karat gold pens to its lineup with the Targa Masterpiece in 1981, for the princely sum of $6,000. The Targa had a long run, offered in more than 70 different finishes, including several sterling silver models, through 1999. Given the flagship nature of the Targa, it's no wonder that it became the basis for the CP1 Targa by Sheaffer.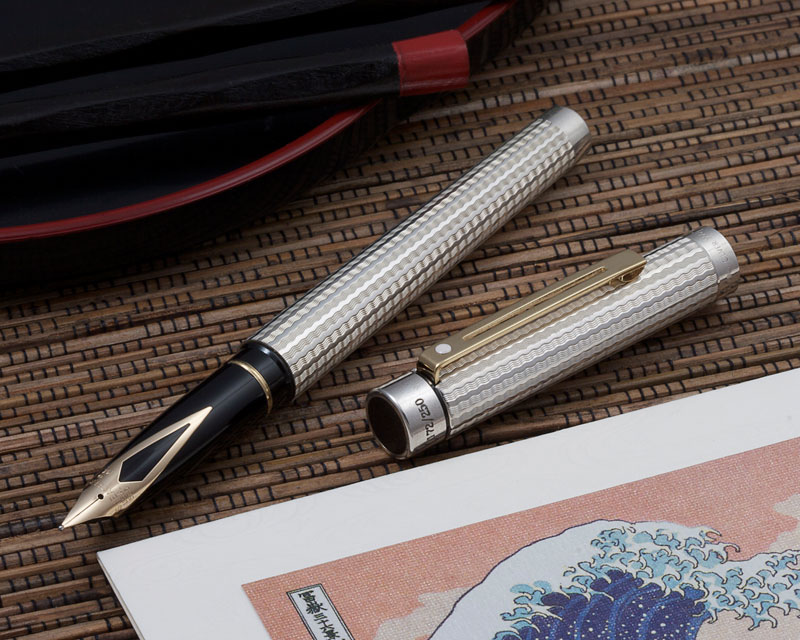 Classic Pens CP1 Targa by Sheaffer fountain pen open
This Classic Pens CP1 Targa by Sheaffer is a standard size, medium weight pen, weighing 1.1 ounces and being 5 5/16 inches long with the cap on and a long 6 1/4 inches with the cap posted on the end of the barrel. I don't recommend posting the cap on this pen, so as not to scuff up the engraving on the barrel end. The Targa barrel is long enough to use without the cap posted, and with this pen, that's my preference.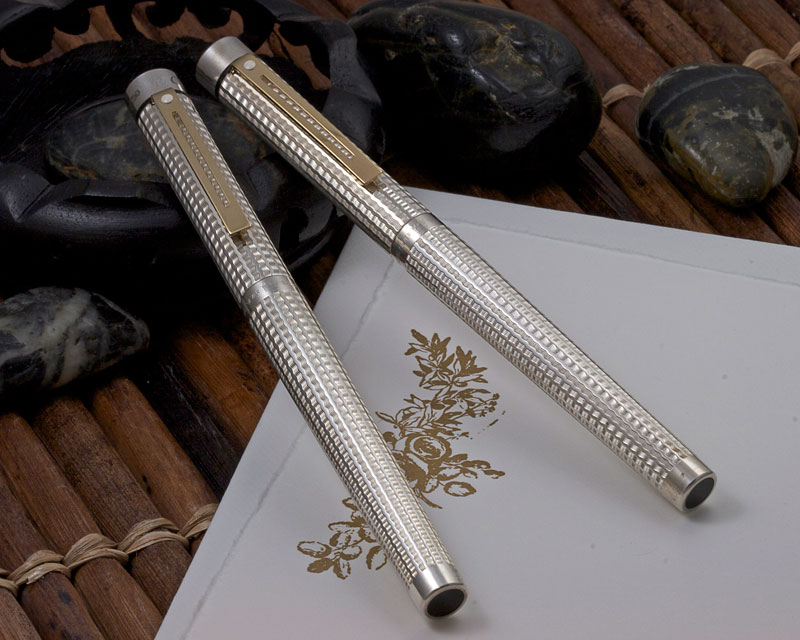 Classic Pens CP1 Targa by Sheaffer fountain pens, unnumbered prototype on the right, closed
Because the Classic Pens CP1 Targa by Sheaffer is a Sheaffer Targa, it comes with the Targa's excellent 14 karat gold Inlaid nib. The CP1 Targa by Sheaffer is a cartridge / converter pen and the time they were made, Sheaffer was using a squeeze type converter in them. Operation is very simple, dip the section in the ink bottle, squeeze the converter five or six times, wipe the nib, put the barrel back on, and start writing.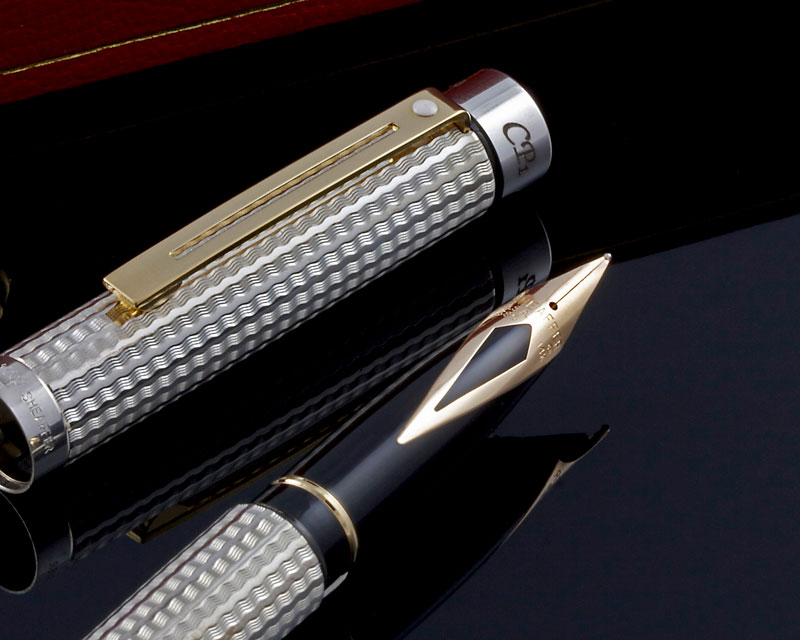 Classic Pens CP1 Targa by Sheaffer fountain pen cap and nib detail
Sheaffer Targa nibs are among the best modern nibs I've written with. This one is a nice writing medium that puts a wet, even line on paper. It's no wonder that there are rabid Targa collectors. The slightly upturned tip means that the sweet spot is perfectly placed on the paper at a normal writing angle. Targa nibs are not overly firm, but they aren't flexible, either. There is a little give when writing. Because the CP1 Targa by Sheaffer uses standard Targa nib units, you could swap your nib for any other Targa nib unit you like.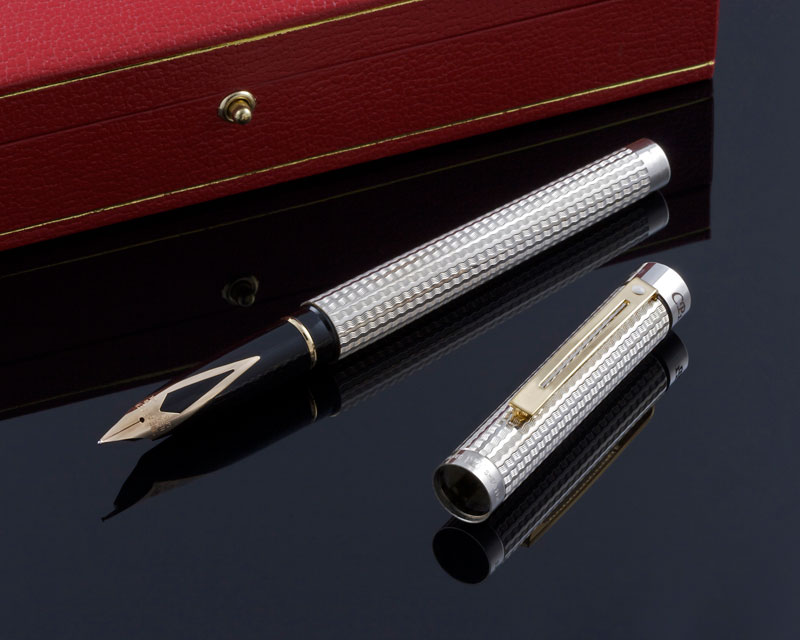 Classic Pens CP1 Targa by Sheaffer fountain pen open with gift box
You may have to look hard to find a CP1 Targa by Sheaffer as there were only 250 made. The pen comes with a super nice handmade red leather box that you will want to have with it. It's the kind of box that definitely looks very nice on your desk. Each pen was delivered with a signed Limited Edition certificate and a gold lifetime warranty card.
---
Selected References
"CP1 Targa by Sheaffer," Classic Pens website
"CP Collection Brief History," Classic Pens website
Fountain Pens of the World, Andreas Lambrou, Copyright © 1995, Zwemmer, London, England
"SheafferTarga.com," Gary Ellison, Copyright © 2006-07, website
"Targa Florio," Wikipedia
Discuss / Recommend what you read on PenHero.com
Follow us on Twitter: PenHero
Add a link to PenHero.com on your blog:
(Copy & paste code)
Please only use the photo provided. Use of other photos requires permission.
The provided link photo will change as we update the site.

Comments on this article may be sent to the author, Jim Mamoulides
PenHero.com Bibliography