---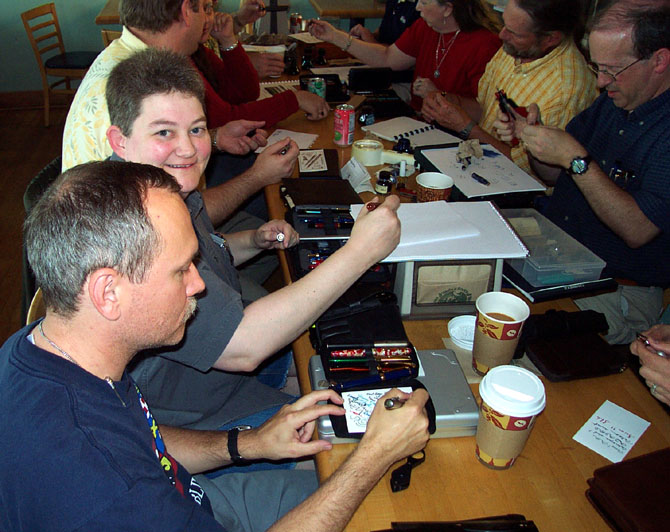 Deb is second on the left, at this meeting of the Triangle Pen Club
Deb Kinney
I have been accumulating fountain pens since I was a small child and have been a serious collector for 25 years. I have an extensive collection of vintage and modern pens with a concentration in vintage Sheaffer and Parker and modern Italian pens. Using skills I learned as a jewelry maker, I started repairing and restoring vintage pens 10 years ago. In 2001 I began doing custom nib modifications: stubs, obliques and italics.
Along with Ross McKinney, I co-founded of the Triangle Pen Club in 1999. The Club has members from as far North as Henderson and as far West as Tarboro, but most of the members are from Durham, Raleigh and Chapel Hill.
I have worked at the DC, Atlanta, Miami and San Francisco pen shows with the good folks from Airline International selling pens and was the pen expert at Sharon Luggage in Northgate Mall for 3 years.
I have been teaching "Fountain pens: Practical Elegance" at Duke University in the Short Course program since 2002. I also taught the class at the DC Pen Show in 2003.
Contact Deb Kinney at: debkinney@alumni.duke.edu
---