---
There's always something interesting in the window...
Please note: I am an Authorized Dealer for Visconti, Bexley, Conway Stewart, Kaweco, Sailor. If you have questions about specific pens, please contact me.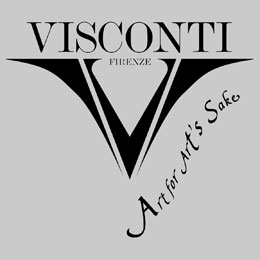 Visconti Pens
Deb is an authorized dealer for Visconti. Please contact her for more the latest availble Visconti pens at great prices!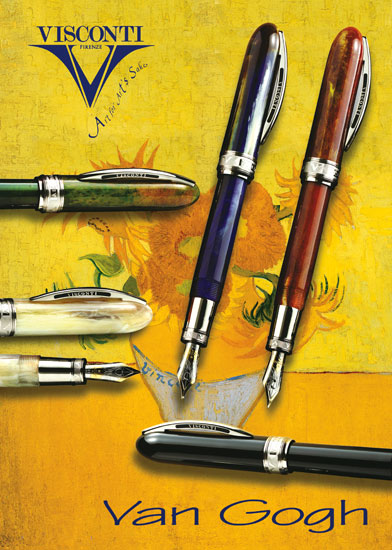 The Bexley 2007 Owners Club pens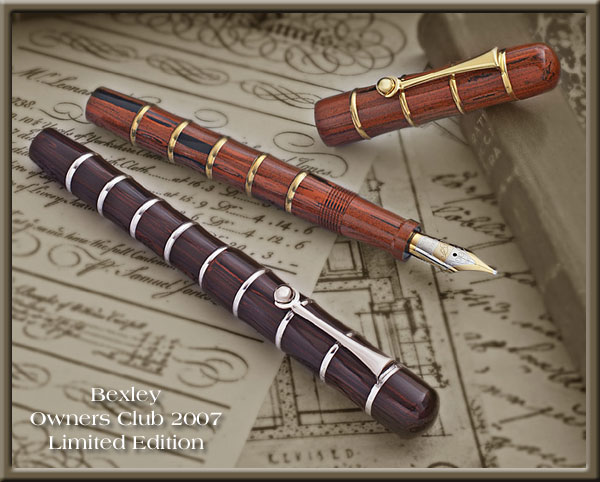 One of the oldest of writing instruments - bamboo - provides the inspiration for the 2007 Bexley Owners Club Edition. Classic wood-grained ebonite is formed into caps and barrels that echo the shape of bamboo. Gleaming metal accent rings and rollerball clips provide elegant contrast. In recognition of our fourteenth year, quantities are limited to a maximum of 114 pens with amber color ebonite and gold tone trim, and 114 pens with mahogany color ebonite and platinum tone trim.
The pens are equipped with Bexley's two-tone 18k solid gold nibs in fine, medium, broad, or broad stub widths. They fill from standard ink cartridges, or the supplied piston-filling converters.
The Bexley Owners Club pens are bench-made in our factory in Columbus, Ohio. Each pen has 28 parts, more than any other Bexley product, past or present. Our master craftsmen make each pen individually - cutting, shaping, smoothing, test-fitting, adjusting, assembling, polishing the body, installing your nib, and testing the finished pen for proper performance.
In a world of mass production, it is a pleasure to produce a bench-made, high-quality product. In fact, Bexley Pen is the only writing instrument manufacturer still making fine fountain pens in the USA. It would be our privilege to make one for you.
The Bexley 2007 Owners Club pens will be available beginning December 2006
MSRP* $395.00 (contact me for pricing)
Platinum Stainless Armor Fountain Pens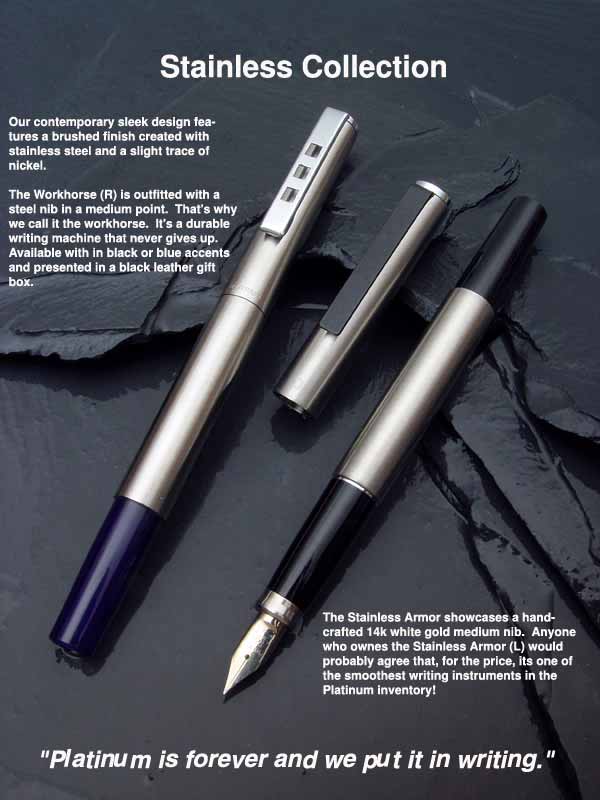 I have a special offer for this Holiday season: I have secured a limited number of Platinum Stainless Armor pens. These pens are similar to the popular "Workhorse" pen, but have a solid clip and are fitted with a highly polished, smooth writing 14K White Gold M nib.

Very stylish and modern, these, like all Platinum pens, are outstanding writers. The MSRP on these was $130. In the past, these pens sold in good numbers in the US at a discounted price of $95; I am selling them for $75 shipping CONUS. Actual shipping charged for International orders.

The pens are supplied in a sleeve, not in a box. The Armor is the pen on the right in the above illustration.
Levenger Verona Fountain Pens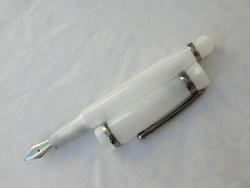 I have purchased a small number of Levenger Verona fountain pens with broad nibs for the express purpose of modifying them. I have the following pens already modified to 1.0mm cursive italic nib.

1 Levenger Verona navy
1 Levenger Verona purple
1 Levenger Verona blue
1 Levenger Verona carmel

I also have one Ice Verona (white) with a medium nib - so it is about .8mm cursive italic.

They are $140 shipped CONUS. Actual Shipping charges for International Orders.

Restored Pens

Because Deb does nib tuning, pens she has for sale will always be great writers. All pens come complete and in working condition.

Pens are graded as follows:
Mint: Unused, as new from the manufacturer, though may be from a private collection. Neither dipped nor filled.*
Near Mint: May have been used, including dipped or filled. No appreciable wear.
Excellent: Lightly used, minimal wear, minimal brassing of plated metal parts.
Very Good: Used with care, shows signs of light wear or brassing. Imprints, if present, are strong and readable. No dings or scratches.
Good: Easily noticeable but light wear and / or brassing. Imprints may be weak, but readable. Light dings or scratches.
Fair: Working but worn, brassed and / or deeply scratched. Dings and / or cracks may be present. Imprints may not be readable or are worn / buffed out.

Modified Pelikan Go! Pens

Modified Pelikan Go! pens for sale. I have only 4 remaining. They are $75 plus shipping and have a .9mm cursive italic nib. I only have the teal color pens.

Please contact her for more information on Pelikan Go! pens.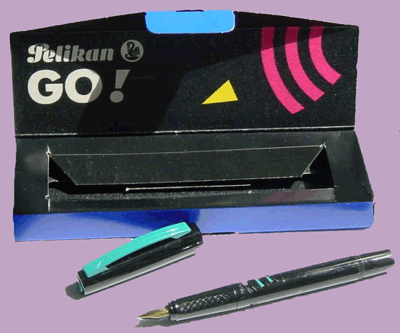 Cursive Italic Replacement Nib Units For Namiki Vanishing Point Pens

Modified cursive italic replacement nib units for Namiki Vanishing Point pens. They are $65 plus shipping.

Please contact her for more information on replacement nib units for Namiki Vanishing Point pens.

Contact Deb Kinney about pens for sale at: debkinney@alumni.duke.edu
---