Porsche Design Tec Flex Gold Special Edition 2015
by Jim Mamoulides, October 11, 2015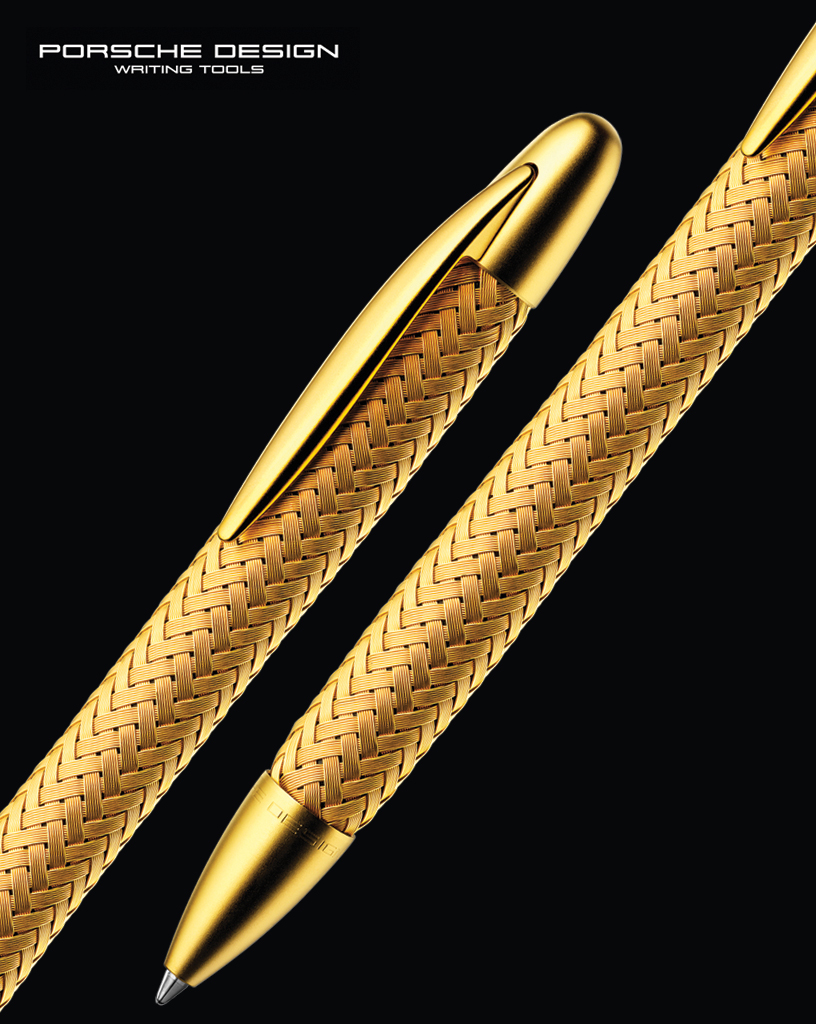 Porsche Design Tec Flex Gold Special Edition ballpoint pen detail 2015
Click the image above to see a full screen slideshow
Golden times for Tec Flex
Edited from the October, 2015 Porsche Design press release:
More than once Porsche Design showed its luxury brand character in terms of exclusive and limited materials combined with functionality and innovation.
This autumn a special edition of the well-known and popular product series Tec Flex will light up the showcases of every retail store. In a one time production Porsche Design produces the extraordinary Tec Flex in a golden version.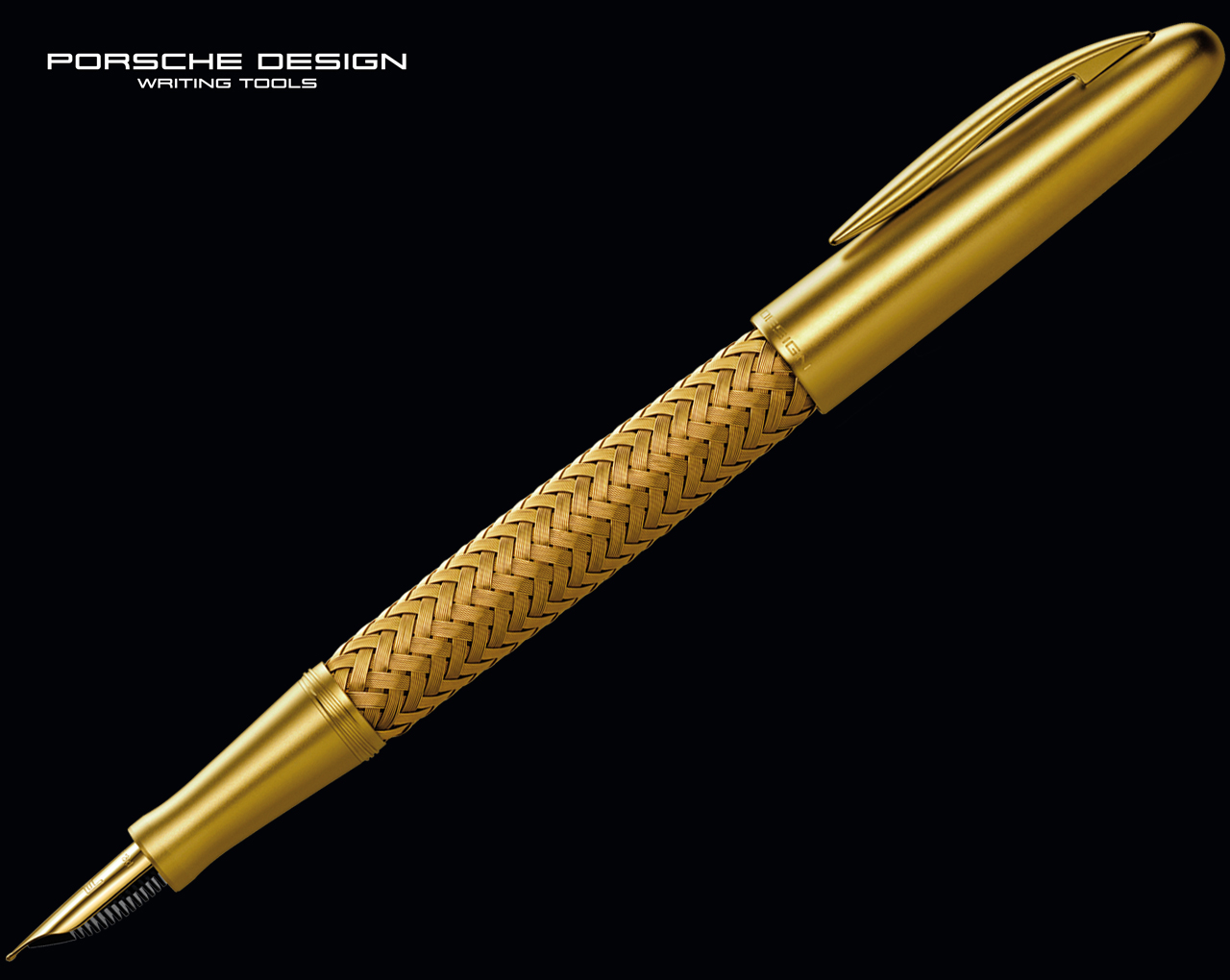 Porsche Design Tec Flex Gold Special Edition fountain pen 2015
The fine stainless steel weave which is finished with a high quality 24 karat gold plating is eye catching.
Front and end part of these new Tec Flex writing tools, as well as the cap of the fountain pen are made out of brass. Each part is then finished with 24 karat gold plating. The fountain pen is equipped with an 18 karat gold nib and a converter filling system.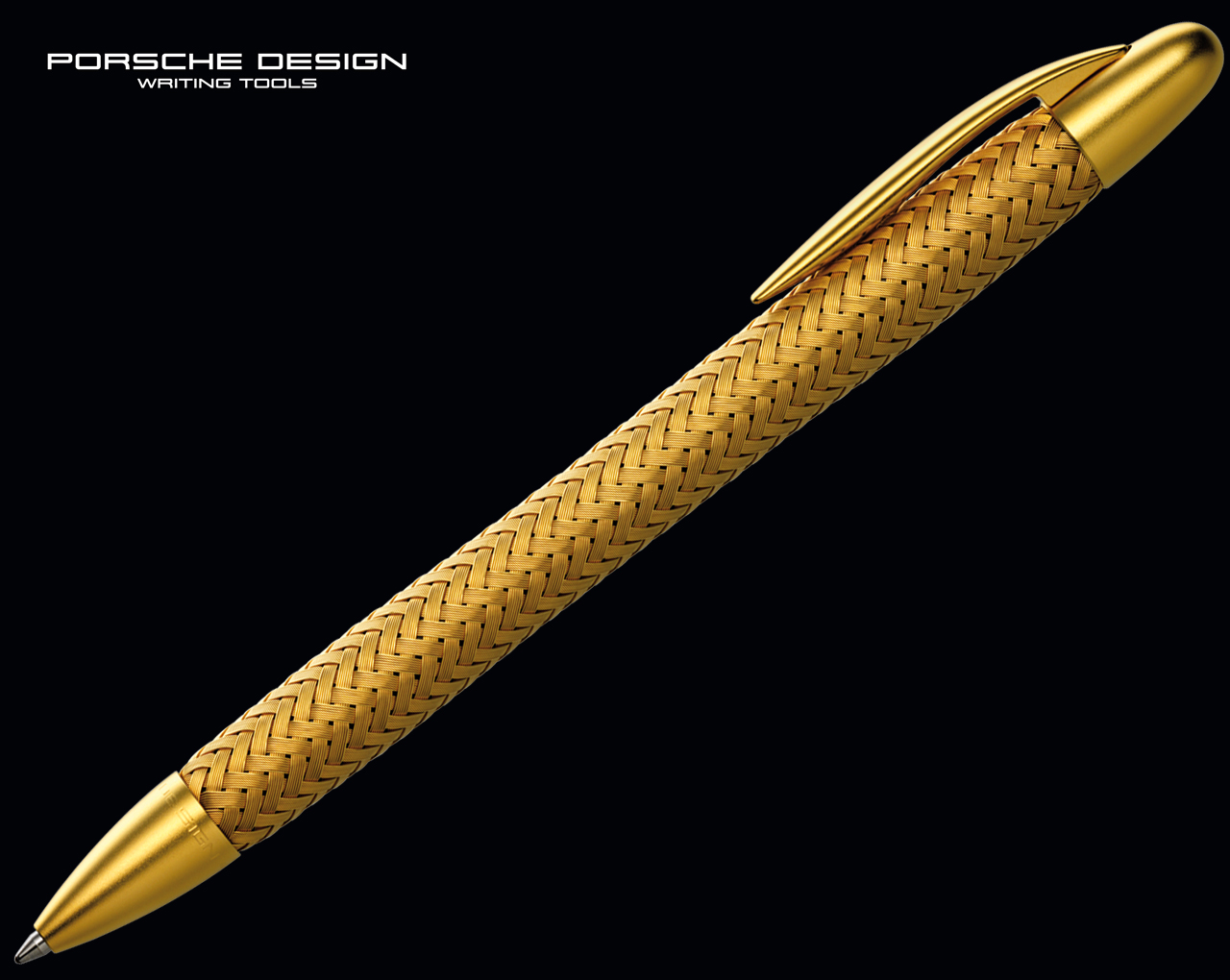 Porsche Design Tec Flex Gold Special Edition ballpoint pen 2015
Special features of the ballpoint pen: When you push the mechanism the stainless steel weave responds to the pressure of the hand and flexes. After the refill tip appears, the weave goes back to its original position.
Identification guide and features:
The Porsche Design Tec Flex Gold Special Edition is available as a medium nib fountain pen and ballpoint pen.
Unique stainless steel mesh design made entirely of 24 karat gold plated stainless steel threads
Cap and barrel ends 24 karat gold plated brass
Fountain pen fitted with 18 karat gold medium nib
Fountain pen cap unscrews
Fountain pen barrel end has raised dots to secure cap for posting
Fountain pen uses international type cartridges and converter
Packaged in Porsche Design gift box
Fountain pen is 5 3/4 inches long capped, 7 inches long with the cap posted on the end of the barrel

Retail price is $1,250.00 for the fountain pen, $715.00

for the ballpoint pen
Edition limited to one production run of medium nib fountain pens and ballpoint pens
Interact
Comments on this article may be sent to the author, Jim Mamoulides