An Aurora Gallery
by Jim Mamoulides, January 8, 2005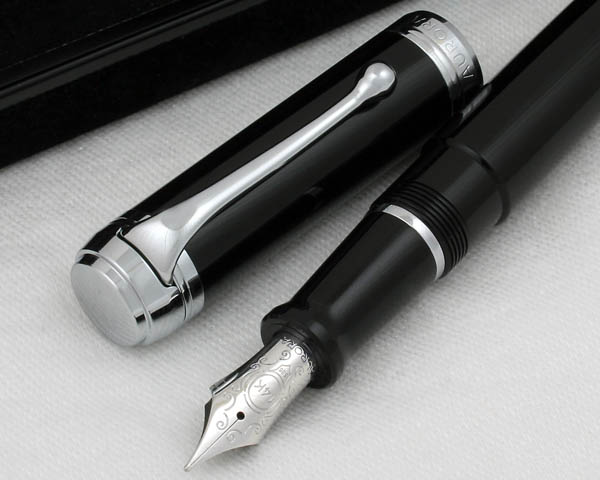 Aurora Talentum Black, open
Vroom vroom
If you went down the street of a major city, like Philadelphia or Baltimore, and asked passersby to name an Italian product, you would probably hear the same name over and over: Ferrari.

Like many thousands of men who haven't quite gotten past the car fantasy phase of their early teen years, I subscribe to Car & Driver magazine. Italian means fast and exotic. And Italians know design. Some car maker may occasionally make a car that can beat an Italian car on the drag strip, but no one beats them on design. Italian cars look like fast cars should.
This innate ability to design things that are functional eye candy certainly permeates the Italian pen industry. American pen collectors may be able to name a few of the major Italian pen makers, but there are actually a number of smaller pen companies in Italy, many that have been in business for decades, making high quality and beautiful writing instruments.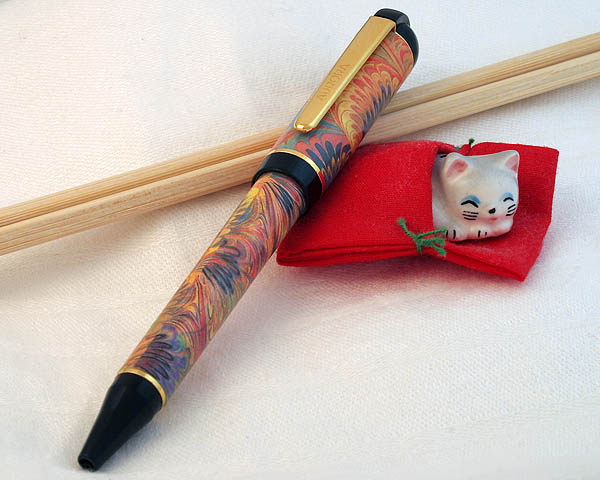 An inexpensive, but pretty, Aurora cap-activated ballpoint pen
Celebration of design
Aurora is Italy's largest pen maker and was founded in Turin in 1919. The company has a long history of manufacturing very high quality pens, beginning, as many early twentieth century pen companies, with hard rubber and overlay eye dropper, safety, and lever fill pens. Aurora has a very broad line, from inexpensive and popular priced ballpoints through very high dollar Limited Editions.
Aurora has fine pens in every price range, from the inexpensive and fun Idea pens, which Aurora calls its "Young" line, to moderately priced "Everyday" pens, which include the Ipsilon, Style and Magellano.
The Ipsilon line has a wide range of pens from matte velvet and gloss resin with steel nibs, to more upscale pens with metal caps and barrels with gold plated stainless steel nibs. The top of the Ipsilon line is the Sterling Silver model, which features a deeply cut fluted engraved cap and barrel.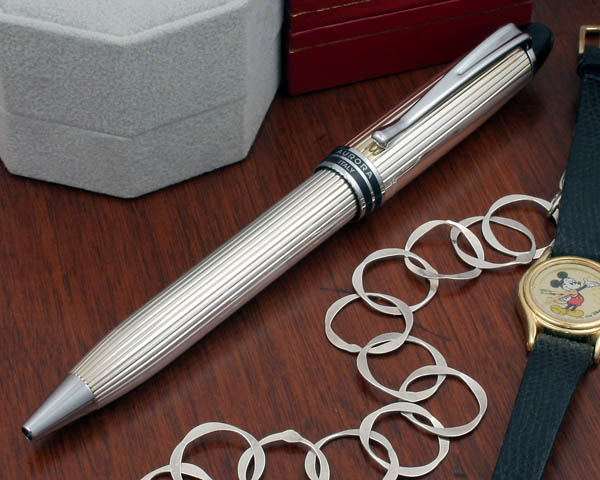 Aurora Ipsilon Sterling Silver
Next up from the Everyday pens are the "Elite" pens, including the Talentum and the unique designer models, the Hastil and Thesi. The Talentum is a large resin based pen line in solid black, bordeaux, celeste, and red, with chrome and gold plated trim. The Talentum fountain pen is fitted with the distinctive Aurora scrolled 14 karat nib in plain gold and rhodium plate, the same basic design used on the more elite Aurora models. Talentum fountain pens are cartridge converter pens.
The Prestige lines include the Optima and the Prestige. Optimas are offered in hand turned solid resin colors and beautiful marbled "Auroloide", Aurora's name for its deeply marbled celluloid. There are also Sterling silver and 18 karat solid gold fine barleycorn overlay Optimas. The solid resin models come in in black and bordeaux and Auroloide models come in burgundy, blue and green.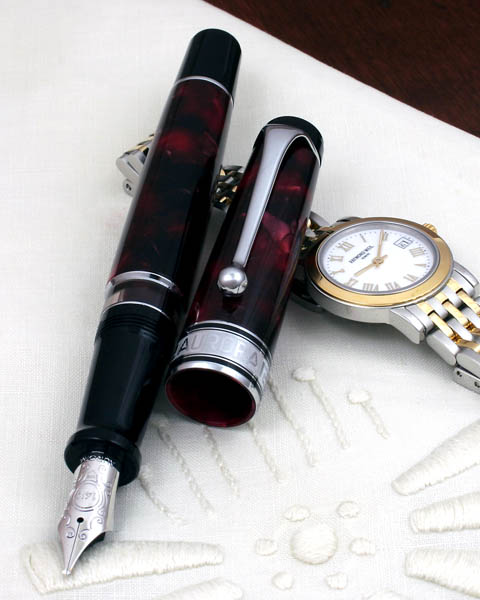 Aurora Optima Burgundy Marble fountain pen, open
Optimas are mid-size pens, running counter to the current trend toward extra large sized pens. Though a bit shorter than king size pens from other makers. The Optima is still a stout pen that is surprisingly lighter in weight, due to its all-plastic construction. Optimas are about 5 inches long with the cap on and the cap posts very deeply and securely. The Optima is quite worthy of its name, equipped with a very smooth piston filling mechanism with an interesting "hidden reservoir" feature. The ink view window in the Optima is very large and clear and gives a great view of the remaining ink, so as to avoid run outs. The Optima clip is very elegant, and the nibs are very even and smooth writers.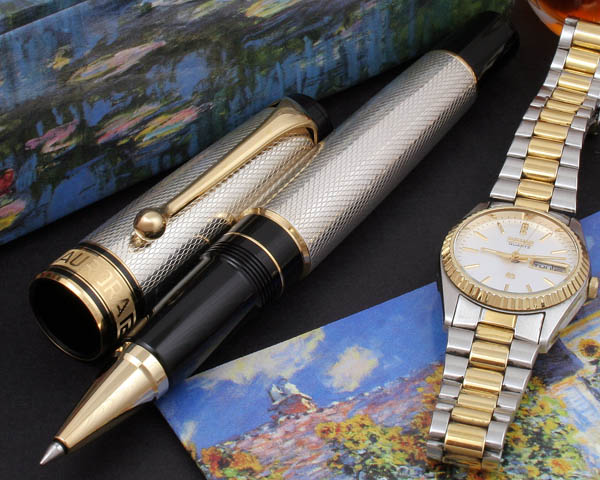 Aurora Optima Sterling Silver rollerball pen, open
The Optima comes in many different models, but certainly one of the most striking is the Sterling Silver Optima, with the cap and barrel made from solid .925 Sterling Silver engraved with a barley grain guilloche pattern and gold plated trim. The fountain pen is fitted with a 14 karat gold nib with the classic Aurora scrollwork.
Aurora Mare Limited Edition twist-action ballpoint 1998
Aurora has made several beautiful limited editions based on the Optima line. Each of these editions has a unique clip crown engraving, and each instrument is an individually numbered piece including fountain pen with an 18 karat gold nib, capped rollerball, twist action ballpoint, and twist action pencil.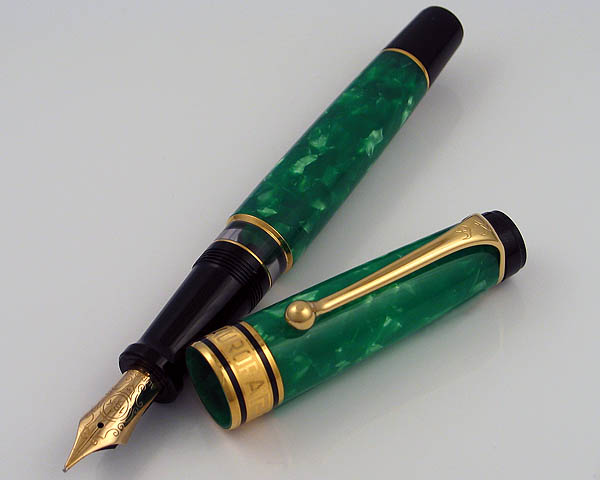 Aurora Primavera Limited Edition fountain fen 1998, open
Aurora released several Optima Limited Editions, including the Columbus 500th Anniversary Limited Edition of 1992 and the1993 sterling silver overlay Carlo Goldoni Limited Edition, an homage to the Venetian playwright who had great influence on Italian comedy. In 1994, Aurora released the bright red celluloid 75th Anniversary Limited Edition followed in 1996 by the Aurora Sole Limited Edition. The green Primavera Limited Edition was released in 1998, and the blue Mare Limited Edition in 2000. The Aurora Afrika Limited Edition was released in 2002.
The pinnacle
Aurora Venezia Limited Edition fountain pen, cap and nib detail
Aurora has made a number of very prestigious Limited Editions that use unique designs and precious metals. One of the newest Limited Edition Auroras is the the Venezia, a design inspired by the art and architecture of one of the most famous cities in Italy. The pen cap is decorated with symbols from Venice, including the winged lion of St. Mark, the famous gondolas, and the mullions of Doge Palace. The design was created by Edward Jud, a noted jewelry designer, and that craft shows in the high relief of the cap overlay. The pen comes in either Sterling Silver or Vermeil (gold plate over Sterling Silver). It is a piston filler with an 18 karat gold Aurora nib. The Venezia Vermeil fountain pen retails for US $1000.00.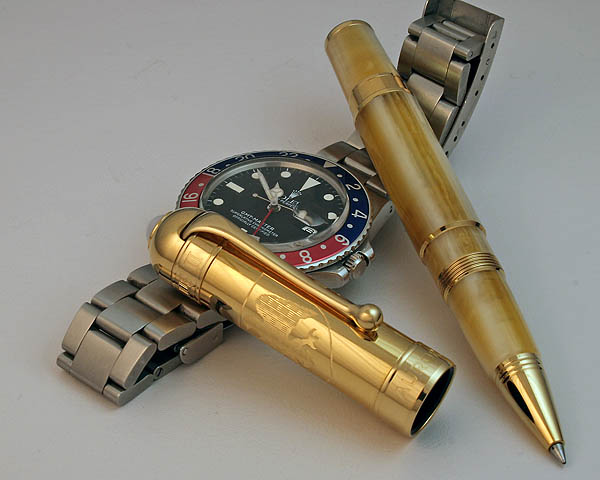 Aurora Pope Limited Edition rollerball pen, open
Even more upscale is the Aurora Papa, or Pope pen, that celebrates the "universal values of peace and brotherhood" and honors Pope Paul II, the 25th Pope. The top of the release is a 99 piece fountain pen edition with a solid gold cap, variegated marble colored resin barrel, and a rutile quartz set in the cap top. The rest of the edition is a 1919 piece fountain pen edition and 999 piece rollerball edition with gold plated caps. The Pope Limited Edition rollerball pen retails for US $1,200.00.
These are true top of the line collector pieces that are based on Aurora's proven and reliable filling systems and excellent nibs, which make them art that can be used every day.
If you are interested in interesting and exotic Italian pens in all price ranges, you can see all of the current Aurora models, including the Limited Editions, at the 2005 Philadelphia Pen Show.
Acknowledgement
Thanks to Bertram's Inkwell for loaning many of the pens in this article. They were used for photographs to promote the 2005 Philadelphia Pen Show.
Interact
Comments on this article may be sent to the author, Jim Mamoulides
---
Pen Clubs
Fountain Pen Discussion Forums
Social Media