Mabie Todd Blackbird / Swan With Double Imprint
by Jim Mamoulides, October 12, 2002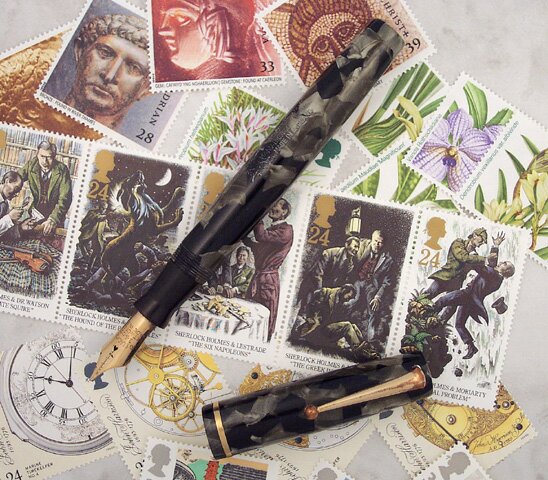 Mabie Todd Blackbird with Swan overprint c1937-1946
Two imprints are better than one!
After a run of solid gold and all-metal machine engraved pens, a plastic pen might get overlooked, especially one of the more mundane colors and patterns often seen in pens of the 1930s. I have to admit the "camouflage" look in pens was never a big appeal for me, so I've been holding out on reviewing this particular pen for a while. Everyone made camo pens: Parker, Sheaffer, Conklin, all the second line brands, and apparently so did Mabie Todd. In this particular batch of pens, this particular one did not exactly stand out. It also was a bit brassed and the imprint wasn't super-crisp. Why was I sent this one?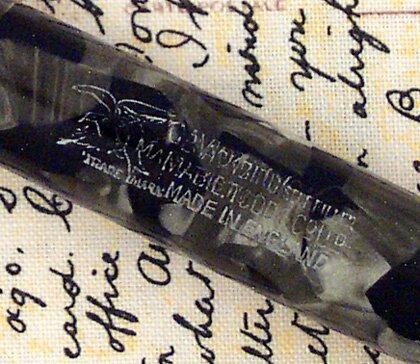 Detail of Mabie Todd Blackbird with Swan overprint showing both imprints
So I dug around in the box that the pen was sent in and found the notes that came with it. "Look at the imprint. It has both Swan and Blackbird stamps." So I picked up the pen and rolled it over to see the imprint, and sure enough, there is a Swan imprint in the side of the pen, and it looks like some second thoughts went into it and it was carefully re-stamped with the Blackbird imprint. The Swan and Blackbird logos and the words "Swan" and "Blackbird" are mashed over each other, while the rest of the stamp pretty much lines up. The pen was finished up as a Blackbird, with the Blackbird nib, plain clip, and black lever. It's the Mabie Todd version of the Hawaiian "upside down airplane" stamp.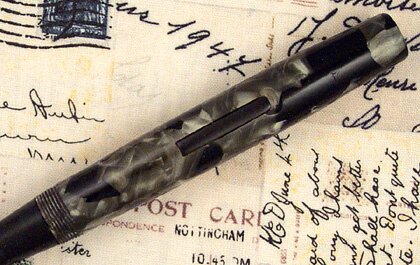 Detail of Mabie Todd Blackbird with Swan overprint showing black lever
So is it a Blackbird? It certainly was finished up that way. It's very possible that the pen was made up prior to imprinting and the imprint person used the wrong stamp and tried to cover up the mistake, rather than have a reject to send back to be reworked.

Mabie Todd Blackbird with Swan overprint c1937-1946
The Swan line was the top line of Mabie, Todd and Company, so strongly associated with the company that Swan was more prominent in advertising than the company name. The Blackbird line was the second line for Mabie Todd, intended as a lower cost quality pen. In many cases the distinction was a less ornamented pen, with fewer or no cap bands, plainer clip and possibly a black lever. The biggest spotting point will be the combination of the Blackbird imprint and the Blackbird nib. This particular model dates from the mid 1930s to the mid 1940s, and is a "Self Filler" or lever-fill pen.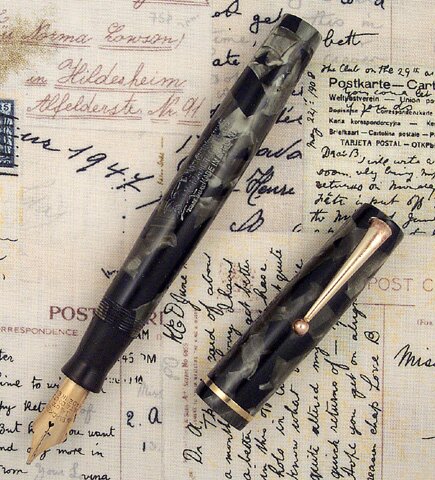 Mabie Todd Blackbird with Swan overprint c1937-1946
Performance
This Blackbird is similar in size and shape to the Visofil, while also being quite a bit plainer. The pen follows the modest streamlining of other contemporary Mabie Todd pens, a less dramatic design than Sheaffer was pursuing with the Balance. The plastic is nice enough, as camo designs go, with dark green and black instead of some of the more leafy and spinachy colors. It does have nice depth that I'm pleased turned out in the pictures. It's not my favorite color, but to each his own!

Mabie Todd Blackbird with Swan overprint c1937-1946
The pen sits low in the pocket because of the high placement of the clip, and rides snug. It's well made, as with other Mabie Todd pens and is about 5 1/8 inches long capped and 6 1/4 inches posted. It posts securely and though writing with the cap off was fine, I liked it better with the cap posted. It's well balanced either way. The fit and finish of the pen are quite good and don't overly betray the lower cost of the pen. Too bad about the brassing.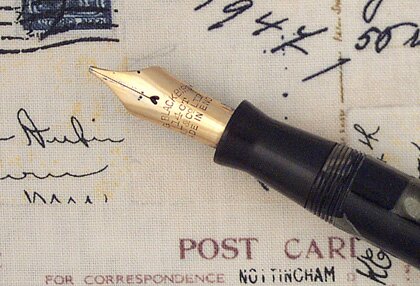 Mabie Todd Blackbird with Swan overprint c1937-1946 nib detail
As with some other pens I've been loaned recently, I only dipped this pen to try it, as it was a loaner from a private collection. The nib has nice but not huge flex and writes wet, but neat, being very responsive. Typical of the other English Mabie Todd pens I've tested. A nice writer.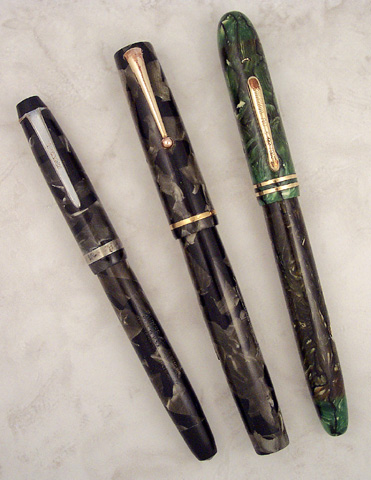 Grouping of pens from the 1930s with leaf pattern plastics left to right:
Parker Challenger / Mabie Todd Blackbird / Conklin Symetrik
This is a good, solid pen, as it was designed, and feels like it would hold up to daily use. The color and plain look are no surprise for a pen that was intended as a lower cost model. Blackbirds are of interest to collectors and are a place to start for a quality pen by Mabie Todd. They should run less than their higher line Swan siblings and should be good daily users. Don't overlook a Mabie Todd with a Blackbird imprint, and definitely don't overlook one with two!
---
References
Fountain Pens of the World by Andreas Lambrou, © 1995 Zwemmer, London, United Kingdom
Interact
Comments on this article may be sent to the editor, Jim Mamoulides