Mabie Todd Swan Solid 15 Carat Gold Self Filling c1927-1932
by Jim Mamoulides, October 9, 2002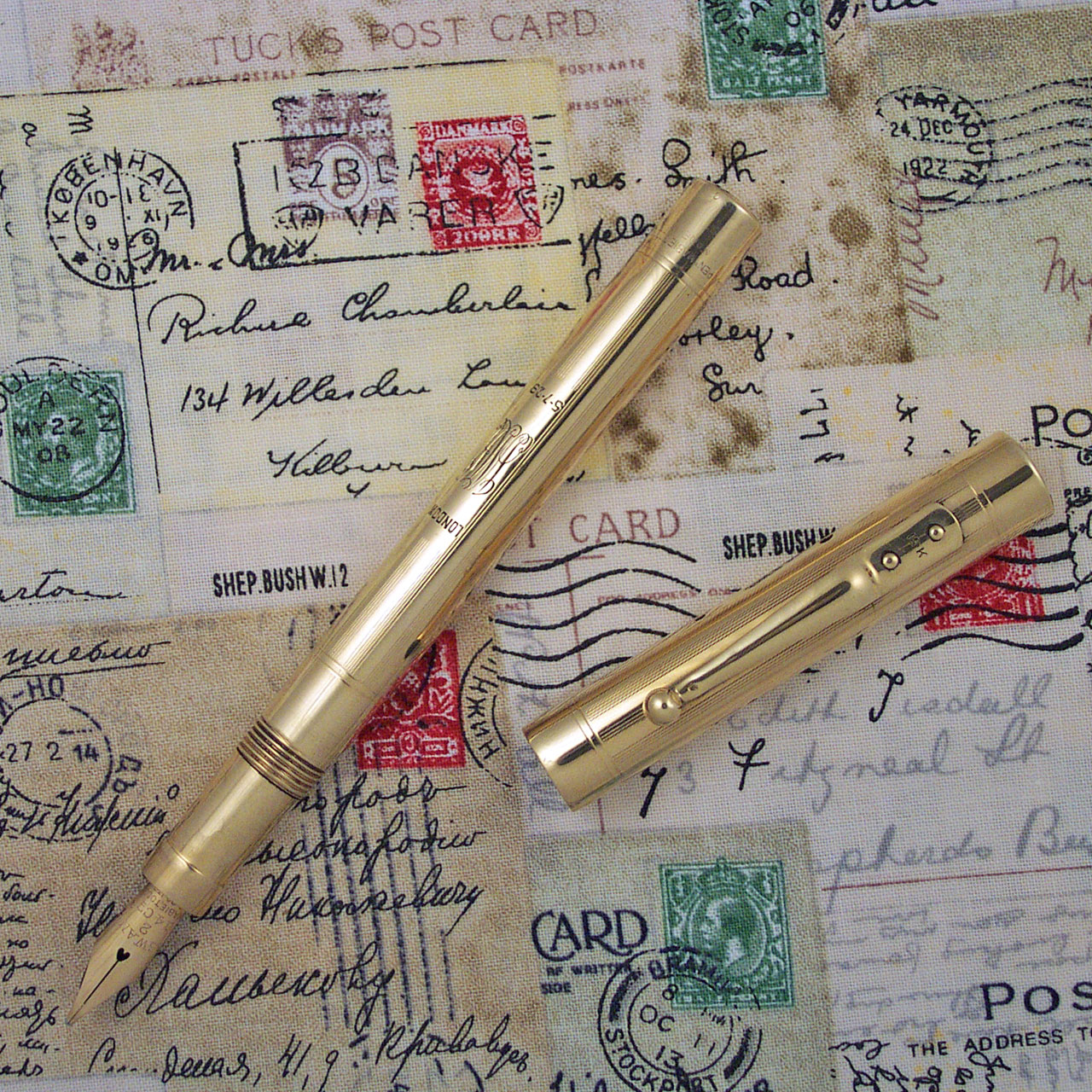 Mabie Todd Swan Solid 15 Carat Gold Self Filling c1927-1932
Click the image above to see a full screen slideshow
Lightning strikes twice!
It's just not every day that one gets to play with a striking top of the line pen such as the solid gold Mabie Todd hand engraved eyedropper reviewed elsewhere in this site. Such fortune happened, though, as the same collector who loaned that pen also provided this solid 15 karat gold Swan Self Filler. Lightning strikes again!
So what model is this pen? Mabie, Todd and Company, more commonly known in England by the Swan name, patented its lever fill design in 1916 in the USA, but did not widely use the design in England until the early 1920s. Swan lever fillers were known as "Self Filling" pens, and were so imprinted. Given the engraving date, the design, and the lever-fill mechanism, this dates the pen during the 1920s.

Mabie Todd Swan Solid 15 Carat Gold Self Filling from 1932 catalog
The pen appears in the 1927, 1930 and 1932 Mabie, Todd & Company LTD Catalogs for the United Kingdom. It is one of six Presentation Models, which were all metal pens made in rolled gold, sterling silver and solid gold. All of the pen cases, the caps and barrels, were made in the USA, but hallmarked in the UK. The solid gold pens came in 9 carat, 15 carat and 18 carat gold. They were offered as long barrel clip pens or short ring top pens, both with number 2 14 carat gold nibs. This straight line engraved pattern was model number 265/2 and sold for the princely sum of 130/-.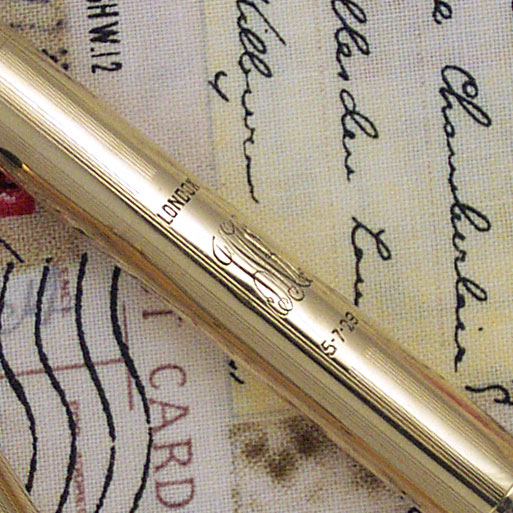 Detail of engraving "London 5-7-29"
What distinguishes this 1920s Swan Self Filling pen is that every part of it is in solid gold, including the lever and section. The clip is hallmarked 15K, the USA form. The cartouche has a very fancy monogram engraving, a beautiful example of this art, and "London 5-7-29". This premium price pen was undoubtedly purchased to commemorate an important event that occurred on May 7, 1929 in London. Not everyone in the 1920s had the wherewithal to invest in a solid gold pen. A royal wedding or event? After some historical research, I could not find a particular event that stands out, so somehow it was not noted.
Performance
After handling the wonderful hand engraved eyedropper, it might seem to be a let down to pick up such a reserved piece as this one. That was initially the case. Side by side the two pens are worlds apart. The eyedropper could easily be imagined on the desk of a wealthy woman, being used for her personal correspondence. Since the pen is clipless, she would likely have a rest spot or holder on her desk to cradle the pen when not in use. She may also have had a special inkwell and eyedropper cradle to keep her pen ready for use.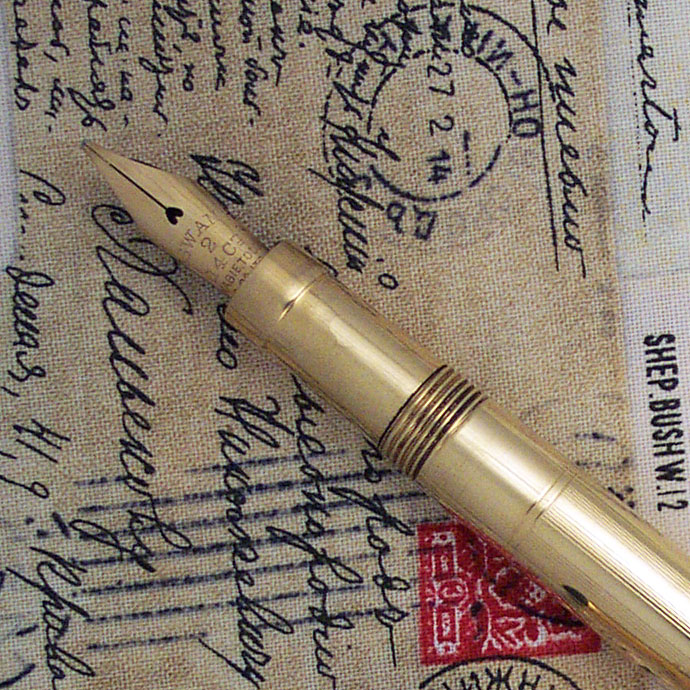 Detail of Mabie Todd Swan number 2 14 carat Nib - Note English "CT" hallmark
This pen, made probably about fifteen years later, is more business-like, with its neat pinstripes and formal clip. It has the look and feel of its Eternal brethren. A very visually appealing pen, but the fact that it is solid gold certainly influences that! For an all-metal pen, it's surprisingly light, not quite as much as a similar size contemporary Wahl pen, but certainly not in the same league with all metal modern pens, which tend to be quite heavy.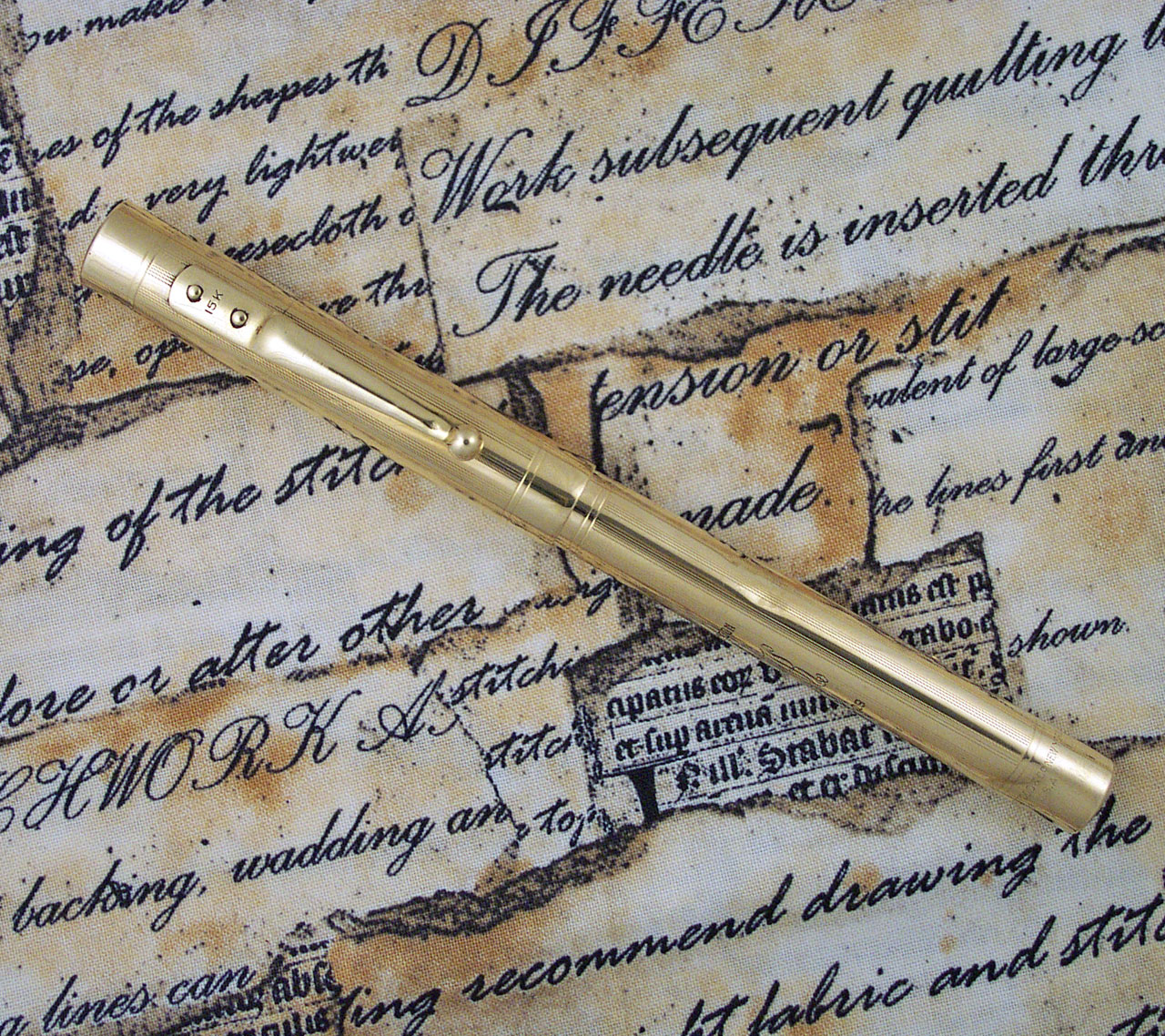 Mabie Todd Swan Solid 15 Carat Gold Self Filling c1927-1932
The pen runs about 5 1/4" long capped and a long 6 1/2 inches posted. It compares very favorably with similar Wahl pens in the hand, and is happy capped or posted, but I found it just fine with the cap off, as it posts on the tip of the barrel, not my favorite spot. It posts very securely, nonetheless.
I only dipped this pen to try it, as it was a loaner from a private collection. The nib is very flexible and responsive, a trait I'm learning goes with English Mabie Todd pens. The tines split and spring with pressure variation that gives great expression to the writing hand. It shades medium, but will write a spectrum. A really nice writer.
The clip marking of 15K is interesting, as this would be an English formula but a US designation - English hallmarks use "carat", USA hallmarks use "karat". The clip is very similar in design to the Eternals of the 1920s, except for the rivets, as the Eternals are tabbed into the rubber or plastic cap. The fact that the clip is riveted indicates that the pen is all metal construction as opposed to being an overlay, where tabs would work fine and allow for typical Swan logo stamp in the clip top. There are a few minor dings that don't seriously detract from the pen's appeal.
As with the solid gold eyedropper, this pen is a jewelry item as well as a writing instrument. It's more business like in form, and less ornate, save the fancy initial engraving, which is typical of the jeweler's art of the early twentieth century. Definitely don't overlook an unusually hallmarked pen such as this. Prices on these pens will be commensurate with their rarity and their gold content. Expect to shell out big bucks. This one is a keeper.
---
References
Mabie, Todd & Company LTD Catalog 1927
Mabie, Todd & Company LTD Catalog 1930
Mabie, Todd & Company LTD Catalog 1932
Interact
Comments on this article may be sent to the editor, Jim Mamoulides