Parker 51 Mexican Overlays c1945-1955
by Jim Mamoulides, April 2, 2017
A Parker 51 Vacumatic pen and pencil set with Mexican metalsmith overlays
Click the image above to see a full screen slideshow
The World's Most Wanted Pen gets a new hat
The Parker 51 is probably the most iconic and successful fountain pen in history, having an unmistakable profile with its market disrupting hooded nib, flagged with the globally recognized Parker Arrow clip and selling more than $400 million from the 1940s through the 1970s. No other pen had as great an impact on the market. Competitors rushed to bring out competing designs and over time the pen was even outright copied in some countries such as Italy and China.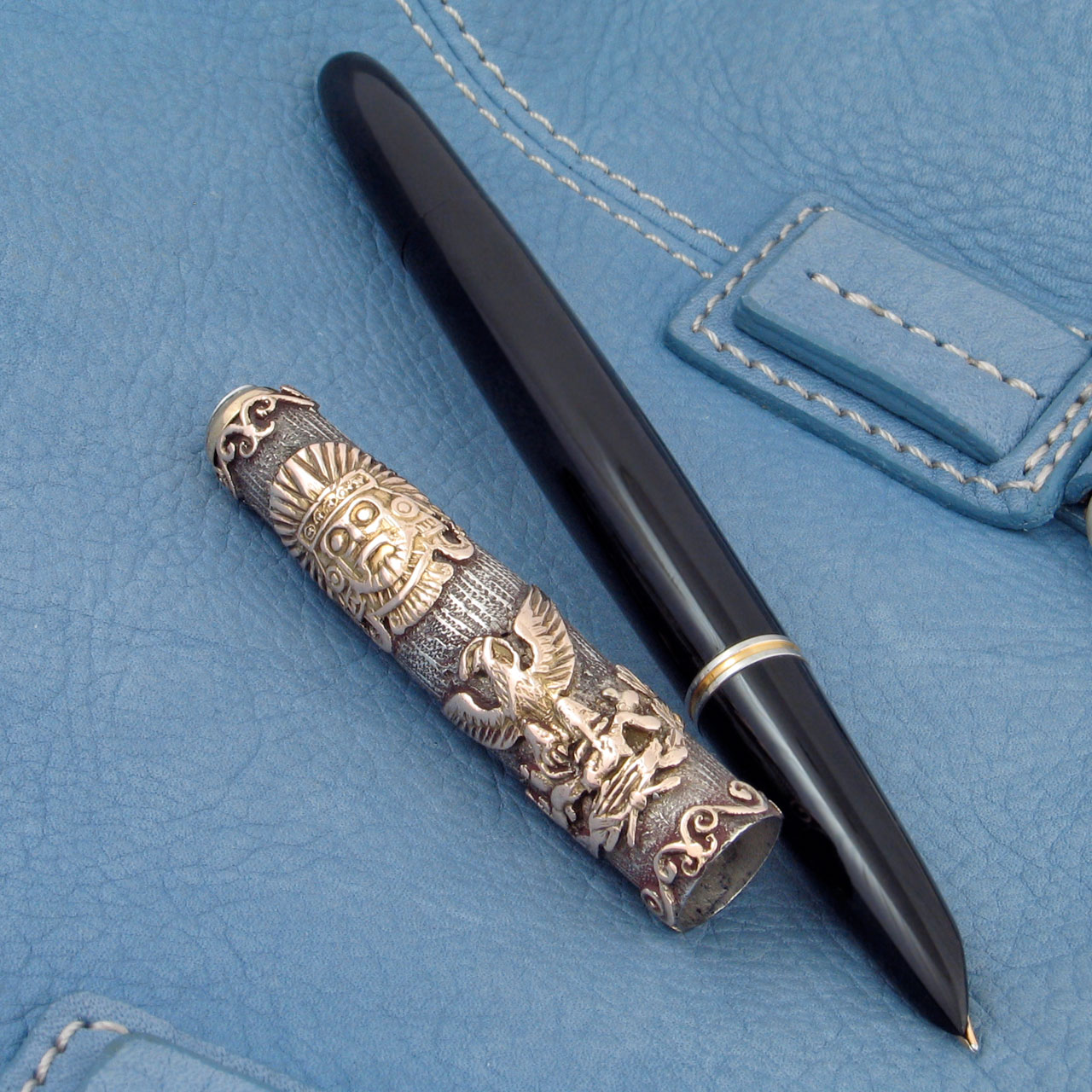 A Parker 51 Vacumatic pen with Mexican metalsmith overlays of Aztec warrior and Mexico Coat of Arms
Another impact of the Parker 51 was it generated a lot of interest in after market customization. The 51 was manufactured in a way that the barrel and nib section could be replaced with custom turned pieces that allow for new colors and exciting patterned resins not used by Parker.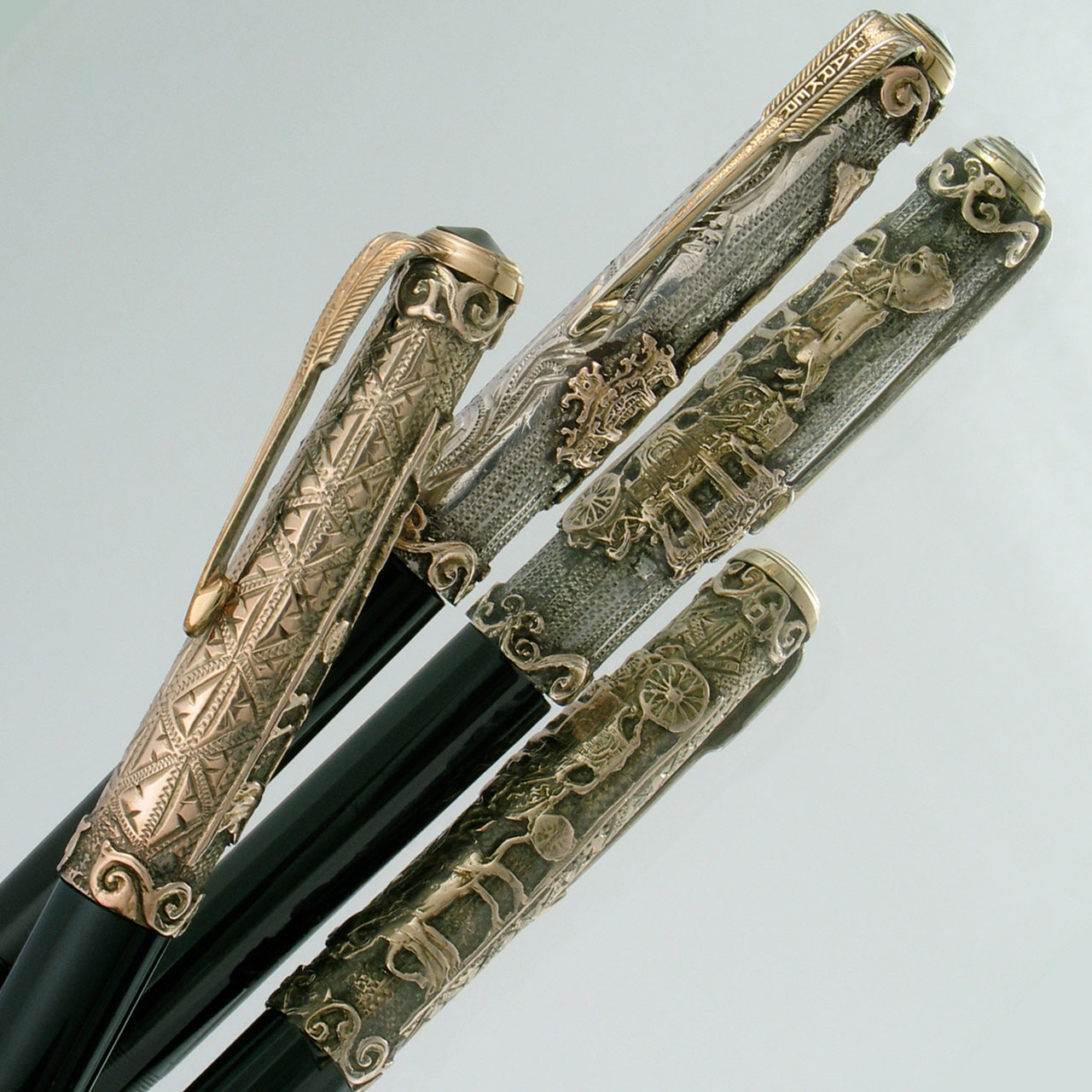 A Parker 51 Vacumatic pen with Mexican metalsmith overlays of a stage coach
Some customizers made replacement caps and cap/barrel combinations out of precious metals and aluminum. There are custom Parker 51s in solid sterling silver and hallmarked solid gold with guilloche engraving on the caps and barrels.
A Parker 51 Vacumatic pen with Mexican metalsmith overlays
When the Parker 51 Vacumatic was introduced in 1941 it was offered with several choices of sterling silver caps. These caps were dropped some time before the introduction of the Aerometric filling version of the 51 in 1948. The silver caps lended themselves to rework by metalsmiths who created hammered, engraved and overlay designs.
Mexican metalsmith overlays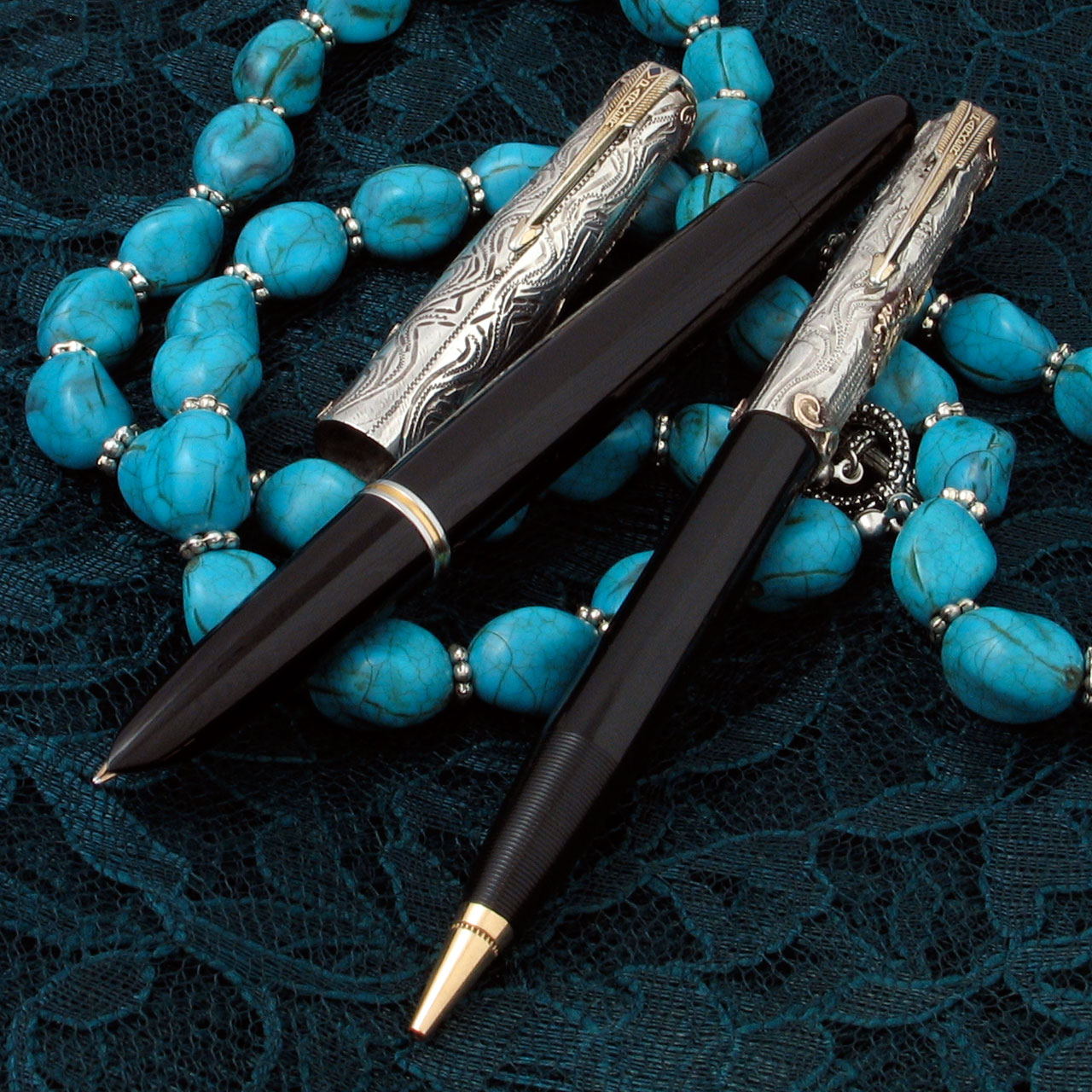 A Parker 51 Vacumatic pen and pencil set with Mexican metalsmith overlays
At some time near or after the end of World War II, Parker 51 pens with customized sterling silver caps by Mexican metalsmiths began to be offered in Mexico near the border with the United States. Many of these pen caps were heavily reworked with new engravings and with gold overlays being added made of hallmarked 14 karat gold or unhallmarked 10 karat gold.
Mexican metalsmith overlay design elements
Several design elements by the Mexican metalsmiths have been noted by collectors, usually rendered as gold overlays on a heavily engraved sterling silver cap. The caps possibly started as smooth finish or were buffed smooth before the engraving work was done. As the work was done by individual jewelers, the design and quality of the elements may vary from pen to pen.
Versions of the Seal of Mexico, an eagle with spread wings and a snake in its beak
A fancy stagecoach with a two or four horse team
An Aztec warrior head with feathered headdress
Coat of arms of Mexico Federal District, sometimes in an elaborate frame with a crown at top
Fancy raised border filigree or other ornamentation elements at the top and base of the cap
Performance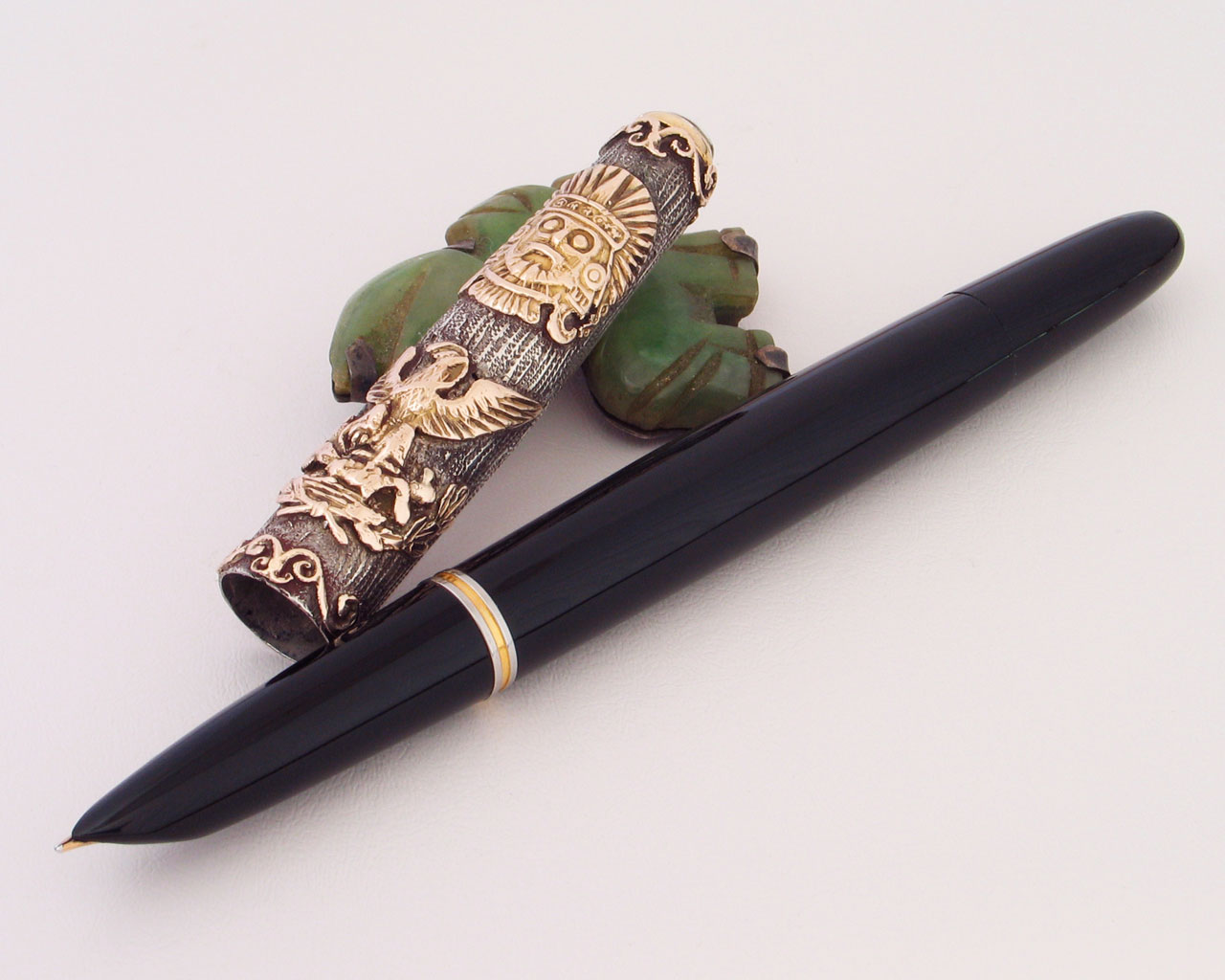 A Parker 51 Vacumatic pen with Mexican metalsmith overlays of Aztec warrior and Mexico Coat of Arms
As the pens provided were for photos I used a black Parker Vacumatic I already had to test drive the writing and get a sense of the cap weight of the pen overall. The test pen was a black vintage 51 vacumatic, and with the overlay cap, was still about 5 1/2 inches long capped and 6 inches posted. The cap is heavy and throws the balance off, so I prefer writing unposted. The test pen has the clear plastic Vacumatic plunger under the blind cap. Filling is easy: several strokes of the plunger sucks up a good quantity of ink, and with a quick wipe of the hood, is ready to write. This Parker 51 nib is a firm and very smooth fine. There's no flex, but the writing experience is typical 51.
The pencil cap has no impact on its operation, but increases the weight to where both a pen and pencil would be awkward in the pocket. My view is these instruments should be desk borne and not pocketed. They are as much art objects as pens and I would not be happy to ding them together in my pocket.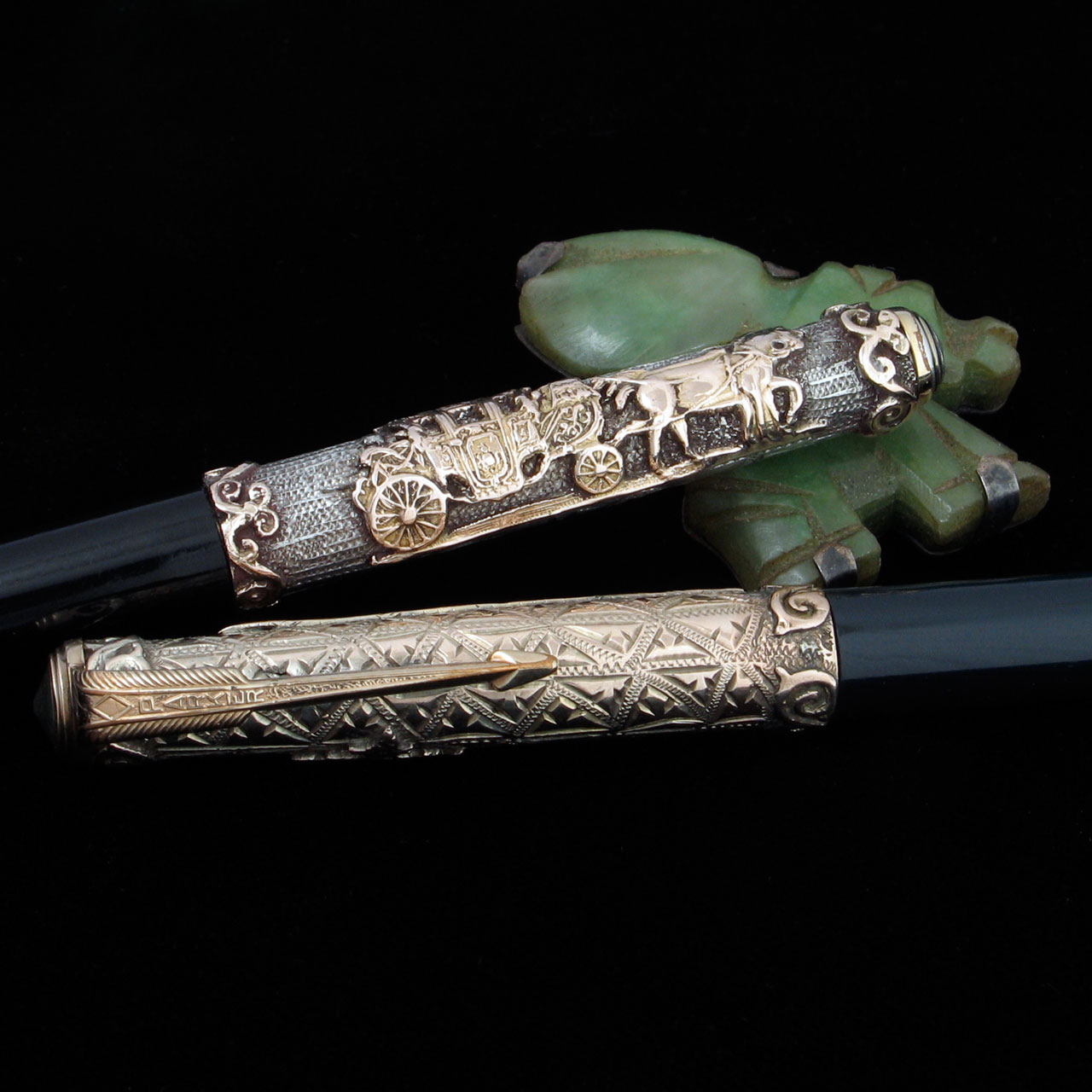 Two Parker 51 Vacumatic pencils with Mexican metalsmith overlays of a stage coach
Overall, these pens are as much jewelry as writing instruments. The highly ornate engravings and gold overlays are unlike any commercially offered writing instruments before or since. They are very impressive in person and highly tactile with all the raised and deeply engraved elements. I wish there was more written history on them as I would imagine there is a great story there.
These are very uncommon pens and no two are exactly alike. I have seen offered prices on them ranging from $300 to $1,000, depending on the condition and quality of the metalwork. Some observed pens are clearly nicer than others, better fit and finish, and that will impact pricing.
---
Acknowledgements
Thanks to Harry Shubin for loaning these pens for photographs.
Thanks to Len Provisor for additional information on the Mexican metalsmith overlay pens.
References
Parker "51" by David and Mark Shepherd, Surrenden Pens Limited, Brighton, UK, 2004, especially pages 4 and 113
Interact
Comments on this article may be sent to the editor, Jim Mamoulides