Sheaffer Targa FRED Force 10 1992-1996
by Jim Mamoulides, January 3, 2012

Storm warning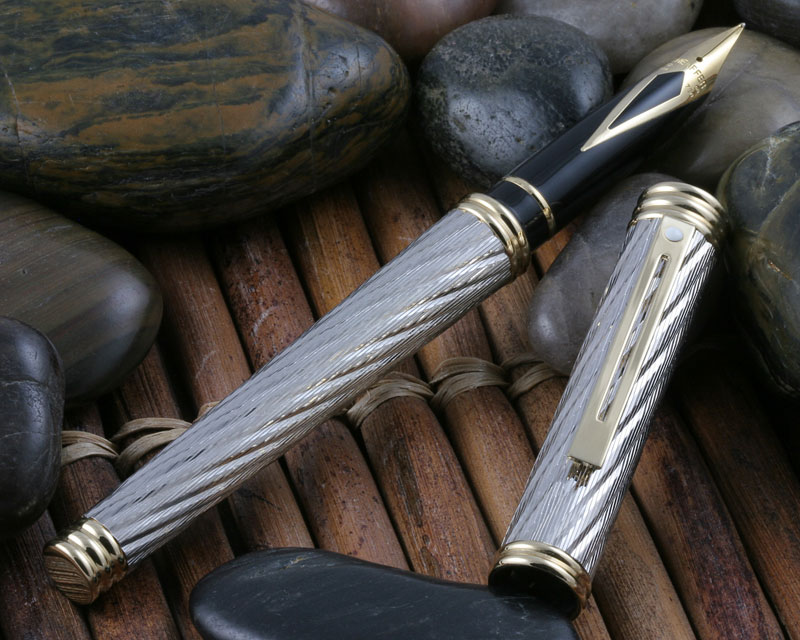 Sheaffer Targa FRED Force 10 fountain pen open

The Sheaffer Targa was the flagship of the Sheaffer line from its introduction in 1976 through its final phase out in the late 1990s, probably by 1999. The Targa's design is a clean, long tapering cylinder complimented with a prominent slotted bar clip. A design from the 1970s that never became dated over the life of the pen. Sheaffer fitted a long, slender version of the Inlaid nib to the Targa, continuing a trademark look that started with the PFM in 1959. Sheaffer used more than seventy different finishes on the Targa, including stainless steel, engraved plated and enameled metals, engraved solid sterling silver, lacquered metal, and solid gold. The Targa is one of the most diverse and long lived pen lines, giving collectors much to work with in building a collection.

One of the most desirable Targas is the unique FRED Force 10 model introduced in February, 1992, created with the bold Paris-based jeweler FRED. FRED Joaillier was established in 1936 at 6 rue Royale, Paris, by Fred Samuel. And yes, the company name is in all caps! According to the company's own history, Samuel loved sailing and in 1966, FRED introduced the nautical theme Force 10 line of jewelry. On the Beaufort Wind Force Scale, Force 10 represents storm force winds that create very high, cresting waves. A very challenging and dangerous sea for a sailor.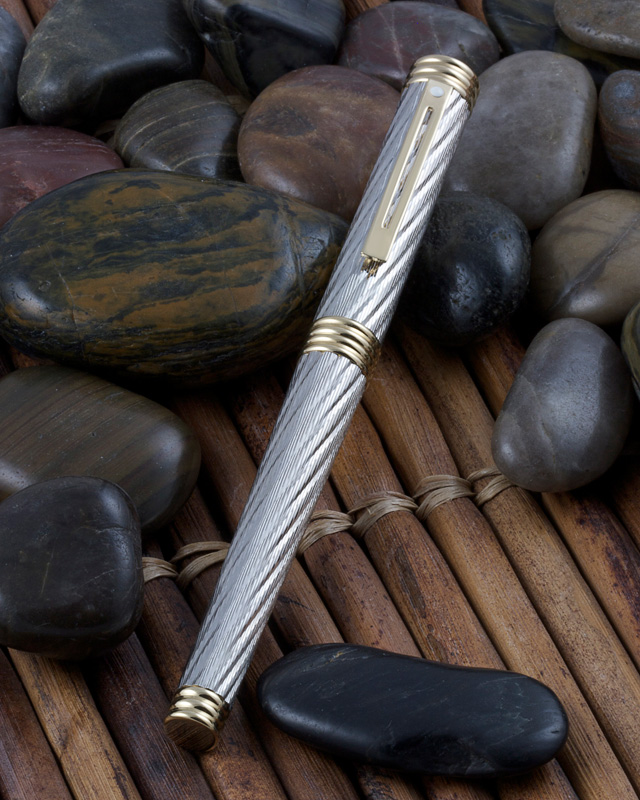 Sheaffer Targa FRED Force 10 fountain pen closed
The original idea and collection piece, by Samuel's son, gets its look from "braiding two marine cables attached to rivets to make a bracelet," according to the Force 10 collection history on the FRED website. The metal cables used are woven from up to 1500 metal threads in a similar fashion to real cabling. Over time, this rugged concept was applied to many other personal items, including belt buckles, watch bands, fabric designs, and of course this pen line, and the line continues to the present.

The FRED Force 10 pen captures the sturdy marine cable look with its thick, bold spiral guilloche pattern cut lengthwise with fine straight engraving, creating waves of facets rotating around the barrel that sparkle due to the bright mirror-like palladium plate finish. The deep cut spiral has been used previously on lacquer finished pens, including the very uncommon (perhaps 100 pieces) 1989 Ivoire spiral model sold by Harrod's of London.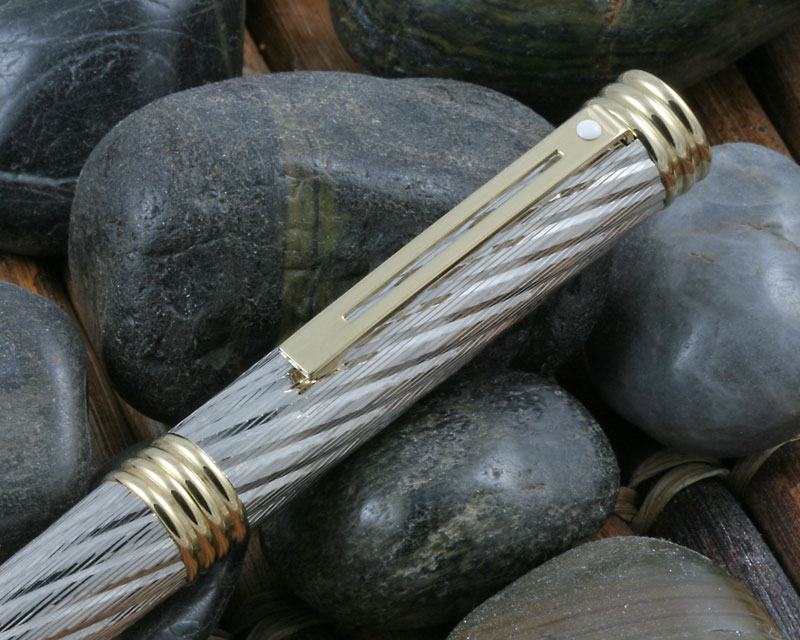 Sheaffer Targa FRED Force 10 fountain pen cap detail
Over the course of production there were three versions of the cap top. One version is completely smooth, as is the base of the barrel. Another is as shown on this pen, with "SHEAFFER USA" stamped in a curved pattern on the top and the FRED logo stamped on the bottom. A third version has the same Sheaffer USA stamping with FRED in plain block letters on the bottom. Unfortunately, I don't have any information on which version came in which order, but one might conclude that the cap top with the actual FRED logo would be the first version. I would personally say that having the pen with the FRED logo stamping would be the most desirable of the three.
Sheaffer FRED Force 10
The Sheaffer FRED Force 10 was released in two writing modes:
Fountain Pen - US $650.00
Ballpoint Pen - UK

£260

.00
The FRED Force 10 was released in February, 1992, and production or at least cataloguing continued through 1996. The pens were marketed both by Sheaffer and FRED.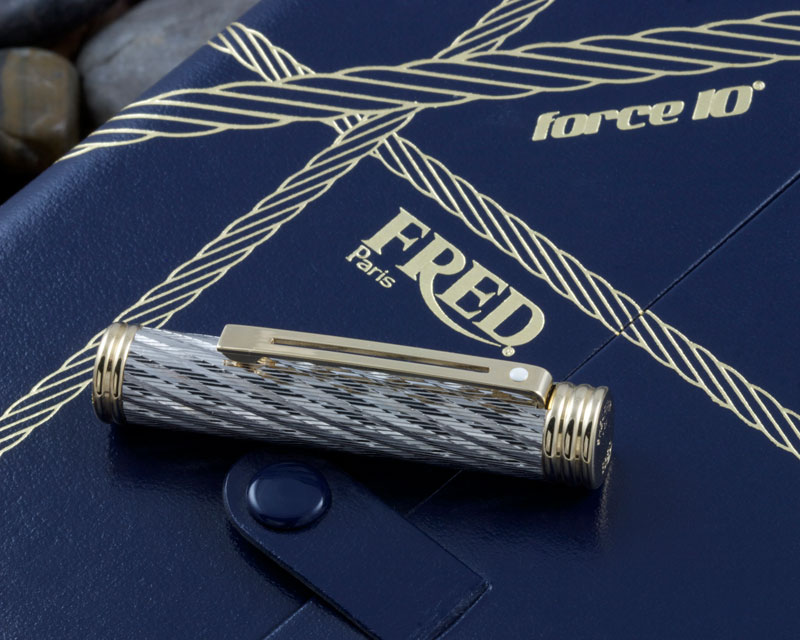 Sheaffer Targa FRED Force 10 fountain pen cap on presentation box
Identification guide and features:
Cap and barrel engraved with palladium electroplated nautical rope pattern
Cap top and base and barrel top and base have unique to this model 23 karat gold electroplated ring shaped ornamentation, with the ends of the pen having three rings and the center of the pen having four total, where the cap and barrel meet
All trim is 23 karat gold electroplated
Sheaffer White Dot in clip top
Cap top may be stamped with Sheaffer USA and FRED logo, in two variations or unmarked
Sheaffer Inlaid nib black resin section, with 23 karat gold electroplated trim ring
Solid 18 karat gold nib hallmarked with "18K," "750," and Sheaffer gold hallmark
Available with extra fine, fine, medium and broad nibs
About 5 3/8 inches long capped, and 5 7/8 inches long with the cap posted on the end of the barrel
Weight, about 1.4 ounces, the heaviest Targa model
Cartridge / converter filler. Uses Sheaffer cartridges
Sheaffer lifetime warranty against factory defects
Retail price the fountain pen (model 1090) was US $650.00, UK

£345

.00, matching ballpoint pen (model 1090-2) is UK

£260

.00
Packaged in blue leatherette gift box with special FRED Force 10 graphics
Performance
Like many Sheaffer collectors, there are certain pens and within model lines, certain finishes that stand out as highly desired. Some are iconic, but not necessarily difficult to find, such as the Jade Green Senior introduced in 1924, or the Balance, introduced in 1929. Some stand apart because they are uncommon, such as the Snorkel or PFM demonstrators. Among modern Sheaffer pens, the FRED Force 10 Targa would be a difficult find, as they were pricey when first released and though not a limited edition, would have been made in fewer numbers than most other Targa models. They don't come up for sale often and will fetch a premium price.
The faceted finish is very flashy, sparkling in light as the pen is turned. The guilloche work, though fully polished and plated, still has a sharpness to it. You won't lose your grip on this pen easily.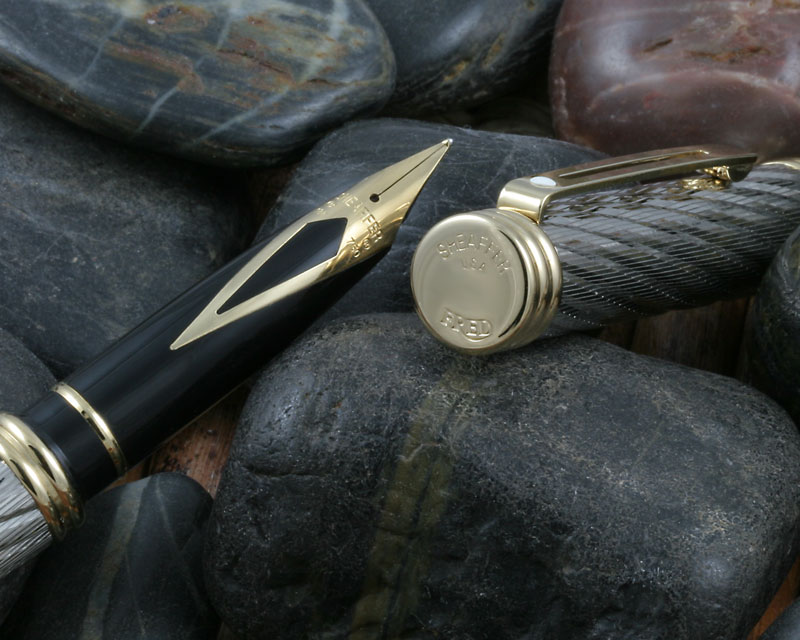 Sheaffer Targa FRED Force 10 fountain pen cap top, note FRED logo, and nib detail
The pen feels larger and heavier than other Targas. I selected a couple of others to compare. The fit and finish is worthy of being part of a jeweler's trademark line. In some ways it seems better finished than most Targa models, as the cap and barrel lip have full bands instead of a straight cut, and the cap top and barrel end have more visual interest than the straight plain ends of the base Targa.
Other than the special graphics and blue color, the packaging is an ordinary Sheaffer large book opening presentation box, and the paperwork is the standard Sheaffer user guide and warranty. Nice, but nothing extraordinary.
The FRED Force 10 Targa operates just like any other Targa, using the reliable Sheaffer cartridges or originally, the Sheaffer squeeze type converter. The current piston converters will also work. The pen fills and writes like any other Targa, which means you get a very smooth and even writing nib that will provide many years of great use. Though it is an 18 karat nib, there is no special difference over the 14 karat version, and frankly, even the stainless steel Targa nibs write very nicely.
I spent a lot of time looking for a new or lightly used FRED Force 10 fountain pen. I find it to be suitable for every day use, but I don't take it out often. It's a very glitzy pen and I find it too flashy for normal work use. It has become a pen I use at home when I want to use a very special pen.
---
Selected References

"About Fred," Copyright © 2011, FRED, LVMH Moët Hennessy Louis Vuitton S.A.
"Blast from the past," Nick Foulkes, Copyright © 2011, February 2011 issue of British GQ
"FOUNTAIN PEN REFERENCE LIST," Gary Ellison, Copyright © 2006 / 2007, SheafferTarga.com
Fountain Pens of the World, Andreas Lambrou, Copyright © 1995, Zwemmer, London, England
Fountain Pens: United States and United Kingdom, Andreas Lambrou, Copyright © 2000, Phillip Wilson Publishers Ltd, London, England
"Profile: Targa by Sheaffer," Richard Binder, Copyright © 2011, Richardspens.com
"SHEAFFER TARGA 1976 to 1999- A BRIEF HISTORY," Gary Ellison, Copyright © 2006 / 2007, SheafferTarga.com
"Sheaffer Targa Fred 1090 Fountain Pen(Mint)," April 21, 2011, CollectionPen.com
"Targa: Sheaffer's Modern Classic," Andreas Lambrou, Copyright © 2003, January, 2003, Stylophiles.com
"Wind speed," Wikipedia
Discuss / Recommend what you read on PenHero.com
Follow us on Twitter: PenHero
Add a link to PenHero.com on your blog:
(Copy & paste code)
Please only use the photo provided. Use of other photos requires permission.
The provided link photo will change as we update the site.

Comments on this article may be sent to the author, Jim Mamoulides
PenHero.com Bibliography