PenInHand - Musings on the Hobby
The Ballpoint that Triggered the Whole Thing
by Jim Mamoulides, January 30, 2002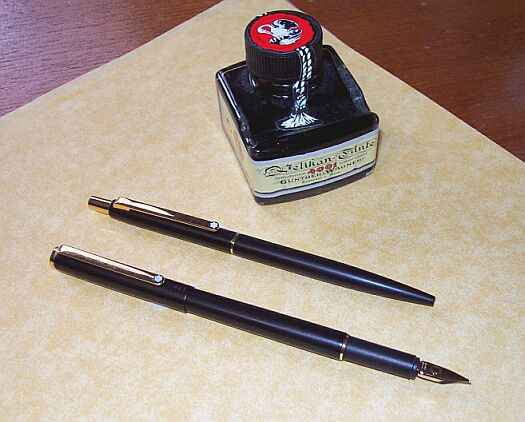 Montblanc Noblesse Matte Black Fountain Pen and Ballpoint Set c1981
It was on a flight back from Dallas that I first noticed it.
I was in reaching into my computer bag pocket where the pen loops are and the loop where my black Montblanc Noblesse Ballpoint had been was empty.
Obviously, it had slipped out and was sliding around in the bottom of the pocket.
Time to assume the position.
If you've ever flown coach and brought a large overnight bag and a large computer bag on a full flight and then decided that you need to locate a fairly small item in them, you know the contortions that come next.
Trying hard not to bump the person next to me, I pulled the big heavy computer bag up and onto my lap and started sliding my hand into every pocket and corner, feeling for that little pen. That little twisting feeling in my stomach started. No pen.
I bought the Noblesse pen and ballpoint set as a self-congratulatory gift in 1983 for landing my first "real" job. I had used fountain pens all my life, particularly for calligraphy work, and already owned a Pelikan 120 with an italic nib and a Rapidograph set just for that. This Montblanc set was for business. For show.


Detail Showing the Montblanc Logo on the Clip
I'd put some hard use on the set, to the point where I'd replaced the barrel on the ballpoint and the plastic Montblanc logo on the fountain pen clip, and the top of the pen cap was slightly dented from a fall. Montblanc had done all of these services for the price of shipping, which sold me on the brand.
Then, some fifteen years later, I go and lose the ballpoint!
I'd loaned it during a business meeting and it didn't come back. What's worse, is I didn't have any idea to whom.
The rest of the flight was not fun. Obviously I needed to replace it, and how hard would that be? It's a Montblanc! They still make the same pens I bought so many years ago, or so I thought. I'll just get another one.
First, I had to figure out what model it was! I no longer had the box, so I found myself bringing the fountain pen to pen stores, asking for the matching ballpoint, and only getting puzzled looks and answers like, "They don't make that one anymore." and "Montblanc doesn't make a pushbutton ballpoint. Are you sure?"
I next tried the internet. Four years ago there were far fewer sites and much less information resources available. eBay was promising, a huge number of pens for sale, but nothing like my pen ever appeared.
Soon afterward on my next trip to Dallas, I dropped in on a local pen store off the Tollway that carried both new and vintage pens. Surely these people would know what I'm looking for!


Detail of the Montblanc Noblesse Nib
What an experience! The store was more like a jewelry store than I expected, with dark wood walls like a New York men's club and lots of pens laid out on silk under special lighting in glass and wood display cases. The staff was well dressed, and an older gentleman in a suit with at least four large pens in his shirt pocket came up and asked if I needed help.
Although he misidentified the pen as a "Generations" model, he did give me enough clues on sources to find a replacement, including pen shows, repair sources and the internet. He also correctly told me that this particular model was made for only a short time because the plastic logo on the clip had a bad habit of disintegrating, something I myself had experienced.
But the bug I caught that day, seeing all those new and vintage pens! I had never seen anything like it. I happily inked and wrote with a rather large number of pens and walked out with a Lamy Al-Star, which happens to be in my pocket as I write this.
It took me three more years before I replaced the ballpoint, and during the search I only ever saw two of them!
So losing that ballpoint did two things for me: first, it introduced me to a new hobby which has pleasantly occupied a bit of my time over the last four years, and second, it taught me to always carry some cheap ballpoints into meetings so I'll have something to hand out when someone wants to borrow a pen!
---
Discuss / Recommend what you read on PenHero.com
Follow us on Twitter: PenHero
Add a link to PenHero.com on your blog:
(Copy & paste code)
Please only use the photo provided. Use of other photos requires permission.
The provided link photo will change as we update the site.

Comments on this article may be sent to the author, Jim Mamoulides
PenHero.com Bibliography