PenInHand - Musings on the Hobby
The Sheaffer Imperial Mystery - Revealed!
by Jim Mamoulides, June 30, 2002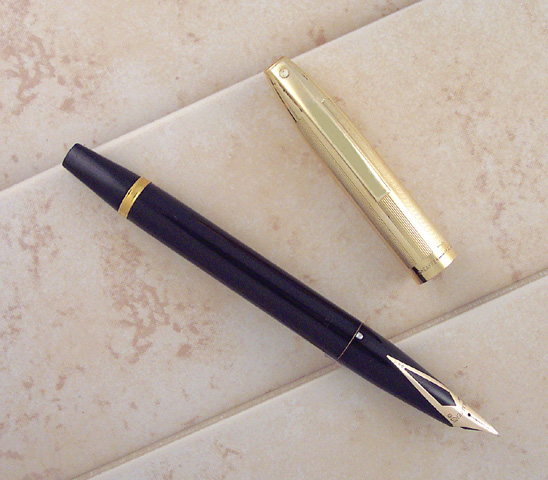 Is this a Sheaffer Imperial prototype?
This month's PenInHand starts with a mystery:
What is this pen?
1. Is it a real Imperial?
2. Is it a prototype?
3. Is it something Hal Arnold cooked up to stir drinks with?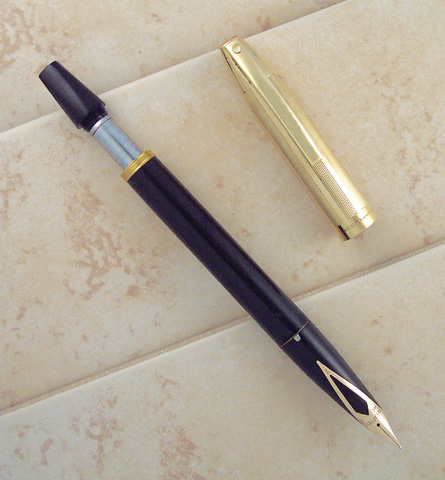 Is this a REAL Sheaffer Imperial?
My first encounter with this pen was on eBay, where it was incorrectly listed as a PFM V. Stupid me (I have a FEW PFMs and should know better), I sniped it at the last second. What's interesting is that Daniel Kirchheimer emailed me after the sale to warn me that he had previously told the seller that it was an Imperial, not a PFM. So my first thought was, "OK, you now own a really pricey Touchdown Imperial."
I'm not telling how much my bid was, but let's just say that it was pretty good for a PFM I and a steal for a PFM V.
Of course it gets better.
Soon after the auction closed, the seller sent me a note saying the pen had a "scratch" (understatement, as you'll see) and offered to let me back out. Now, I really did want a gold cap Touchdown Imperial, and was willing to pay a reasonable price for it, so I said, send me the pen to inspect, and if I like it, I'll make you an offer or I'll send it back at my cost. So he sent it to me.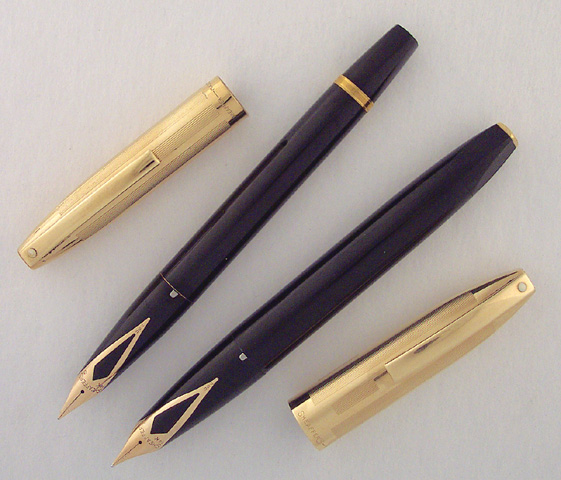 Nope, It's Not a PFM V!
A few days later the pen arrived, and sure enough, it's an Imperial. The section did have a scratch that crossed one of the legs of the inlaid nib. Ouch. The Touchdown plunger cap has been greedily gnawed and the barrel end at the touchdown cap was visibly cracked. Well, not to worry. A genius junior woodchuck repair artiste decided that Krazy Glue would do the trick and applied the principal of where a little does well, a lot must be better. Sanding was going to be needed badly.
Unscrewing the barrel revealed that the Touchdown innards stuck inside with some black yech tar. Oh, I forgot to mention the cap has a small ding.
That's what I noticed in the first minute or so.
I informed the seller what the pen really was, what I thought it was worth and made an offer (considering what I had).
Surprise! He accepted.
We gave each other positive eBay ratings and now I own this delightful junker. I'm telling myself that I'm probably nuts to spend anything on fixing it, but I packed it off to Hal Arnold to see if he could restore it.
Hal actually wrote a full page on the repair of this pen!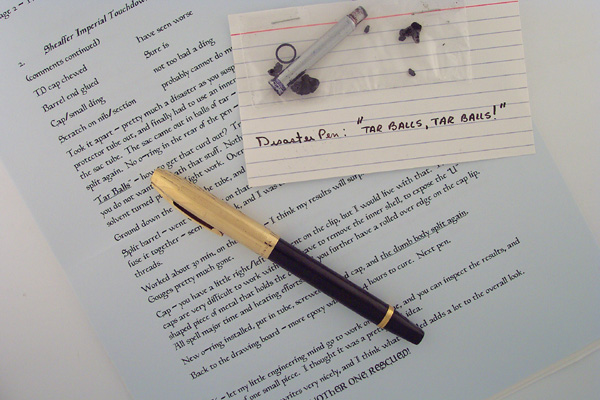 Repair Rantings!
The pen sac had devolved into a pile of "tar balls" which just weren't coming out. Some soaking and solvent eventually did the trick. The section got a severe buffing which got the scratch out without marring. As the nib is 14 karat gold, there is no evidence it was ever scratched. The barrel had a pretty bad split that no glue was going to fix. Hal solved that problem by sawing it off and installing a gold plated ring.
New sac and O-ring and reassembly and now I have a unique and smooth writing Imperial.
So, the correct answer is actually 1 and 3.
---
Discuss / Recommend what you read on PenHero.com
Follow us on Twitter: PenHero
Add a link to PenHero.com on your blog:
(Copy & paste code)
Please only use the photo provided. Use of other photos requires permission.
The provided link photo will change as we update the site.

Comments on this article may be sent to the author, Jim Mamoulides
PenHero.com Bibliography