PenInHand - Musings on the Hobby
A Duo Of Duofolds, One Being A Duo Duo
by Jim Mamoulides, September 30, 2002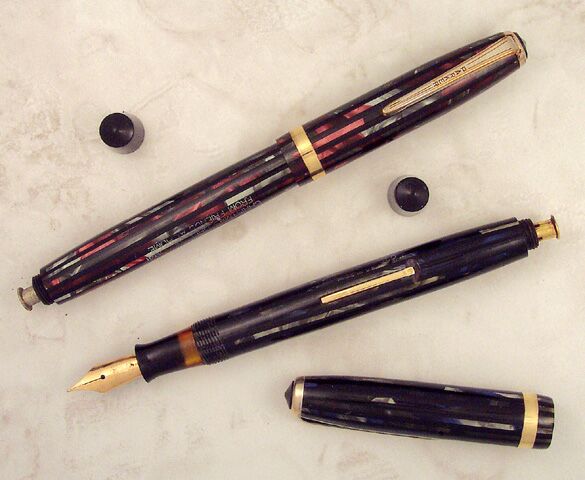 A Typical Button Fill Striped Duofold And A Typical Lever Fill Duofold?
It's just not every day that you get to open a box full of surprises and find more than you expected in the first place. This box came from a fellow collector who wanted me to see a couple of unusual Duofolds that he had picked up.
The Christmas Gift Duo
The first one I pulled out looked very ordinary - a typical standard sized striped Parker Duofold from the 1940s. Very nice pen, nice color, but certainly nothing out of the ordinary from others I have seen.
The note in the box said "look at the imprint," so I picked up the pen and rolled it in my hand until the highlighted imprint turned up:
CHRISTMAS GREETINGS 1941
FROM FRIENDS AT HOME
This is not your typical Aunt Mabel, Uncle Joe, Salesman of the Year, or Best Wishes from the Boys at the Brewery imprint. This imprint is more like something you read in a greeting card. There's a story here.


Close-Up Of The Lever and The Imprint
This pen was found in a flea market, and is certainly a 1941 pen, but since Pearl Harbor happened December 7, when was this pen made? Before or after that fateful day? Was this a one-off, or a run done specifically for servicemen? Are there any more out there?
I can imagine several of them sitting in a store window, all with the same imprint and a sign overhead saying, "Give a gift that your soldier or sailor will cherish."
Someone knows this story and saw this pen. Wonder who it was and whom it was for.
The Duo Duo
The next pen in the box was another button-fill striped Duofold, similar to the first one. Could it be that he sent more than one of these Christmas imprinted pens? I looked at the pen, rolling it for the imprint and there on the side was a lever! A few test strokes told me that it was a working lever.
I unscrewed the blind cap, and a second surprise: the button fill button was there and pressing it revealed pressure. It was working too. This was a "duo" fill Duofold!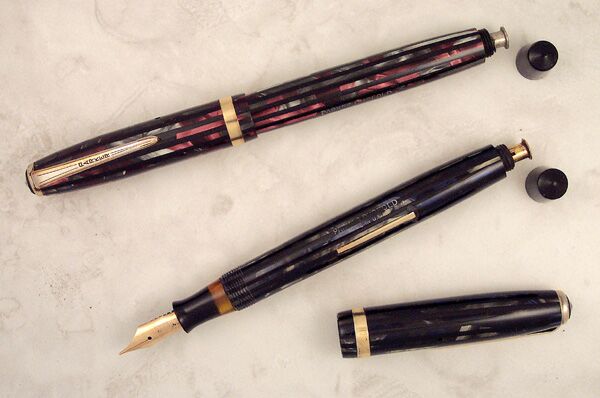 Both Are Button Fillers, Though One Of Them Has Something "Extra"
Back to my notes: It turns out that this pen was discovered set up as a lever filler. As found, the blind cap was screwed on tight and had no button.
Close inspection shows that the lever and the lever cut-out are done in the Eversharp Skyline style, down to the shape and two-step break in the lever itself, the fulcrum angle, and the finger groove. The work is first rate, looking like original work, not a slap-in repair.
The new owner, being amused with what he had discovered, and seeing an opportunity, decided to set the pen up so it works both ways. And it does!
Feeling Parker today? Press the button!
Feeling Eversharp or Sheaffer? Pull the lever!
So What Is It?
Is it a prototype? An experiment? A repair job?
Hard to say.
I personally don't think this is a repair. First of all, button fillers are too easy to fix to go to all the trouble of cutting a hole in the side and sticking a lever in.
As to being a prototype, well, I'm not going there unless someone from Parker chimes in a says they were debating making lever-fill Duofolds during the war, and this was one of the ones that escaped the factory while they were playing. Could be, but I don't have any facts on that one.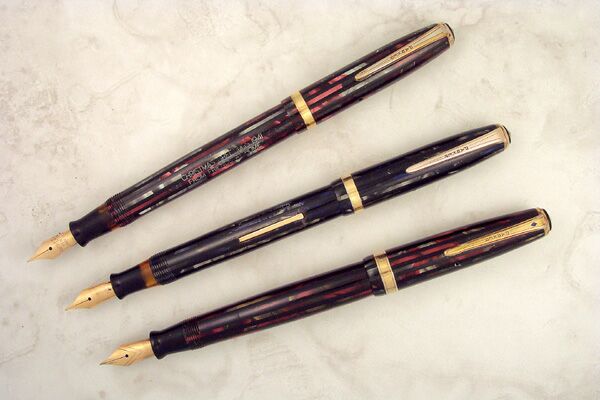 A Trio Of Duos - The "Normal" One Is On The Bottom
An experiment? Probably the right answer. The work and precision on this pen makes me lean in that direction. The cut for the lever is as tight as any pen originally fitted with a lever. There is no play or wobble in it. The cut is perfectly below the imprint. Every aspect of the lever installation says "factory job." Someone who knew how to cut, install and finish a lever in a blank barrel did this. Could a repair person have done this? Probably not the re-sac guy at the department store. This required some special tools and set-up.

The Duo Duo Next To A True Parker Lever Filler - The Parkette
So who did it?
This is the most interesting question.
When I first saw this pen, I imagined that it was an experiment done by Parker to try out a lever filler in the Duofold body. I then took a look at a beater Parkette and had a few second thoughts on that. Why Eversharp Skyline parts if Parker had lots of Parkettes lying around to cannibalize? Could this have been an Eversharp experiment? Did some Eversharp designer decide to try out the Duofold with Eversharp gear to see if it would work?
Still In The Twilight Zone
I could certainly stir the pot and make up some fantastic stories for both of these pens, interesting as they are, but I will leave them to stand on their own. The known history starts when they were found. They are hinting at an interesting past, but they aren't talking. Perhaps someone will see them here and reveal the "rest of the story" someday.
---
Discuss / Recommend what you read on PenHero.com
Follow us on Twitter: PenHero
Add a link to PenHero.com on your blog:
(Copy & paste code)
Please only use the photo provided. Use of other photos requires permission.
The provided link photo will change as we update the site.

Comments on this article may be sent to the author, Jim Mamoulides
PenHero.com Bibliography