PenInHand - Musings on the Hobby
Pearls And Waterdrops
by Jim Mamoulides, April 22, 2003
Everyone has a pen that really catches his or her fancy. A pen they leave a place in the pen case for. For some, it almost becomes a romance, a search, a quest. I have to admit a real attraction to machine engraved metal pens. There are several 1920s Wahl Eversharp pens that I absolutely have flipped for and am always on the lookout for one to show up.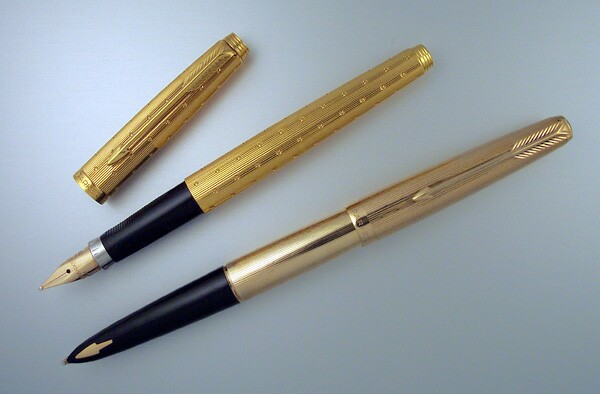 (Top / Bottom) Parker 75 Perle and Parker 61 Waterdrop
When I first started collecting, I saw a Parker 61 Waterdrop and immediately decided I had to have one. The pattern is a very simple two straight lines and one ripple line repeated in parallel the length of the cap and barrel. Very subtle, but much more interesting to me than the simple straight line Signet pattern. The ripple in the pattern easily catches the eye and looks very much like the action of water droplets running down a string, thus the name.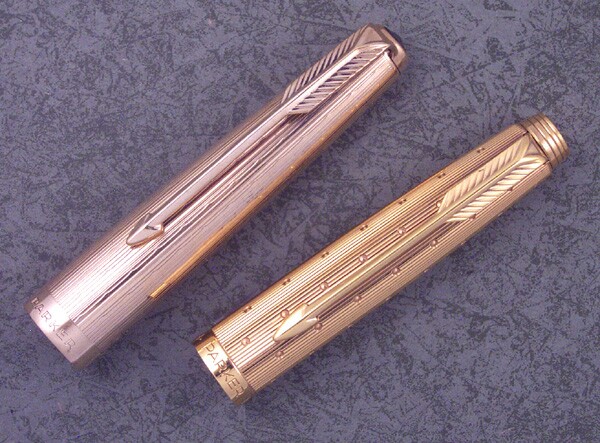 (Top / Bottom) Parker 61 Waterdrop And Parker 75 Perle Caps - Note Color Difference
Convinced I completely understand the aesthetic, the pattern just plain dazzles me. It's elegant with a little ruffle. Eye catching without being gaudy.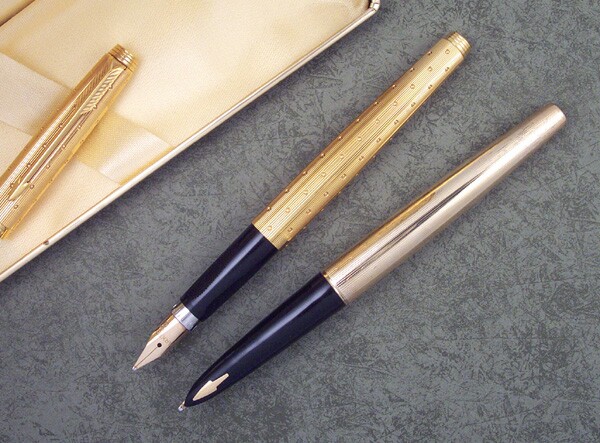 (Top / Bottom) Parker 75 Perle and Parker 61 Waterdrop
Parker 61s aren't everyone's cup of tea, but later pens, as with the 75, are blessed with some of the most interesting machine engraved designs since the 1920s. The cloud pattern 61 and 65 pens are unique.

Parker 75 Perle
Once I finally managed to get my hands on a 61 Waterdrop I happened to see a 75 Perle and it was deja vue all over again. The Perle pattern is much less subtle but has a very similar appeal to me. Instead of a subtle ripple of a water droplet down a string, the Perle has bold pearl dots in a spiral or crisscross pattern vividly dancing above the continuous parallel lines along the cap and barrel. The Perle pattern is quite deep and gives a strong tactile reward as well as visual appeal. It's very striking from a distance, with a "Look at me NOW!" kind of brassiness. I simply had to have one! Same story, different pen.
I'm not really a 75 fanatic, though I know collectors who sop them up like gravy at Thanksgiving. It's one of the few pens I won't post, as I worry about scratches marring the design.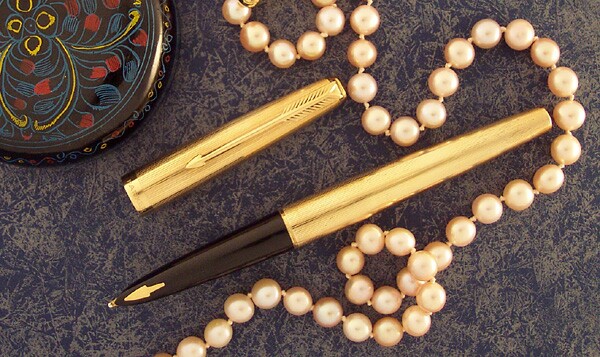 Parker 61 Waterdrop
Both of these pens are really nice writers. The 61 is a glass smooth double broad, that pours ink on the page in huge, wet strokes. A signature pen for sure. I imagine sitting in a boardroom signing important contracts with that pen, a glass of port nearby and several colleagues dressed in dark suits waiting to run off to an expensive dinner.
The 75 Perle could care less about business, but likes to dress up, and wants to run off to hear Pavarotti or Herbie Hancock.
One for work, one for play - a perfect solution!
---
Discuss / Recommend what you read on PenHero.com
Follow us on Twitter: PenHero
Add a link to PenHero.com on your blog:
(Copy & paste code)
Please only use the photo provided. Use of other photos requires permission.
The provided link photo will change as we update the site.

Comments on this article may be sent to the author, Jim Mamoulides
PenHero.com Bibliography