PenInHand - Musings on the Hobby
My Father's Statesman
by Jim Mamoulides, August 31, 2003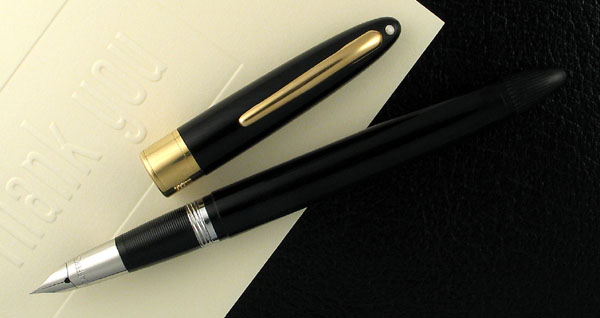 When I got my first "real" job out of college I bought my dad a black Montblanc 144 fountain pen and a matching ballpoint. It was a "Thank You" gift to the person I most looked up to. I also bought myself a black Noblesse set. I probably would have been set for life until I lost the Noblesse ballpoint in a business meeting. My search for a replacement led me to discovering the whole spectrum of modern and vintage pens and kicked off my interest in collecting fountain pens, especially vintage.
When you're close to your dad, he finds out about all your strange interests, including a fascination with vintage pens. After telling him about the success I was having in getting older pens repaired, he dug through a dresser drawer and produced a sleek, all black Sheaffer Snorkel Statesman that he handed to me and asked if I could get it fixed.
Sometime in the last dozen or so years he had sent it back to Sheaffer asking them if they could repair it. He got the pen when he was in high school and over time it had stopped working. Sheaffer, to their immense credit, honored the Lifetime warranty, but did so by shipping him a brand new stainless steel Targa along with the unrepaired Snorkel. The Statesman was no longer repaired by Sheaffer, so they replaced his pen with the current model.
An all-metal Targa is a much bigger and heavier pen than the all-plastic Statesman. My dad just didn't like the new pen. Too big. Too heavy. He wished the Statesman worked. The Targa went back in the box it came in and both pens went into the drawer for a long wait.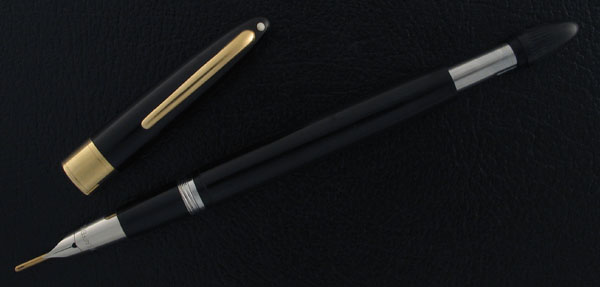 I looked at the nearly perfect black pen. The Statesman is a very smart looking pen in black. Considering all the colors Sheaffer offered the Snorkel in during the 1950s, it's actually a surprise that he picked a sharp black pen with gold trim and a bright palladium silver nib. Future businessman.
I quickly took the pen and started to break it down. The sac had failed. Everything else seemed fine. "I can get this fixed!", I announced. I told him about the small number of people who still repaired pens and that Snorkels in particular were no big deal to get fixed.
I took the pen and the next day packed it off to Hal Arnold for repair, explaining to Hal that this was a special pen.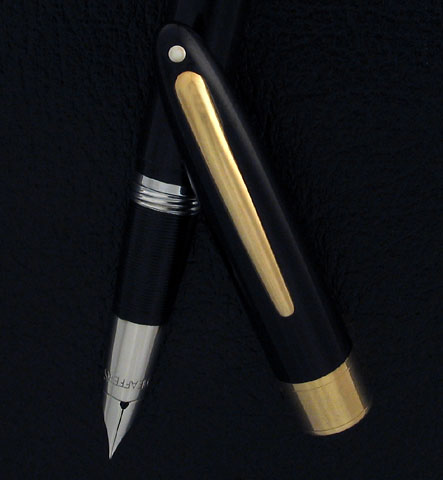 A few weeks later a package arrived with the black Sheaffer carefully packed inside. Hal had not only repaired the filler, but had polished the pen and smoothed the nib. What a writer! I have a lot of Snorkels, but this one had one of the smoothest mediums I have ever written with.
I called my dad and told him that the pen had returned and took it over. He immediately filled it and was very pleased with the result. Several weeks later he asked me what work had been done on the pen, "Because it never wrote this well!"
And then he took out his father's gold cap Parker 51 Cedar Blue Vacumatic and asked, "Can you find a pencil that matches this pen?"
And that is another story, to be continued in November!
---
Discuss / Recommend what you read on PenHero.com
Follow us on Twitter: PenHero
Add a link to PenHero.com on your blog:
(Copy & paste code)
Please only use the photo provided. Use of other photos requires permission.
The provided link photo will change as we update the site.

Comments on this article may be sent to the author, Jim Mamoulides
PenHero.com Bibliography