PenInHand - Musings on the Hobby
Send In The Clones!
by Jim Mamoulides, December 31, 2003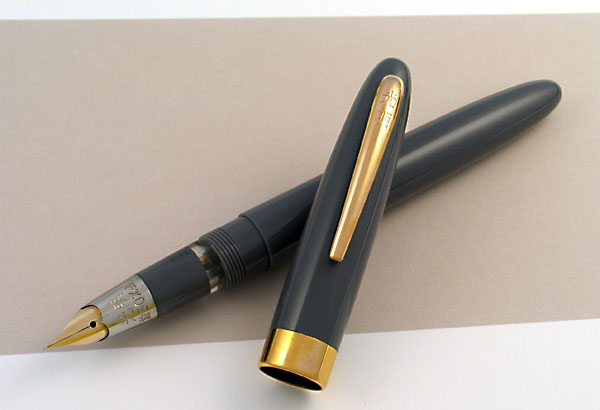 Although the time from Thanksgiving to Christmas always seems to teem with the ins and outs of family, visitors, and loads of food, it's also a time when we get more visitors by mail. It's an honor and a pleasure to have collectors send their finest and their most amusing pens for a short visit.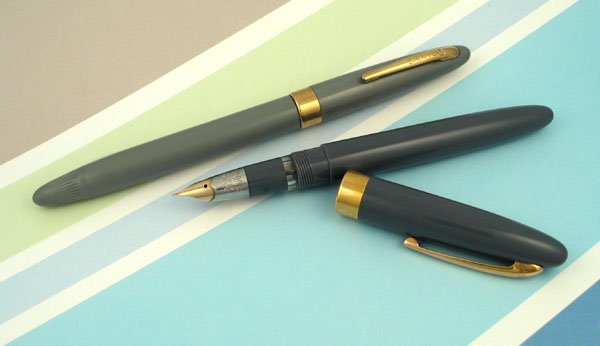 Dan Carmell had just picked up a Chinese copy of a Sheaffer triumph nibbed pen that is about the size and shape of the first, fat Sheaffer Touchdowns from 1949-1950, but it's fitted with a Parker-like aerometric type filler, as many Chinese copies are. So he sent it and some other interesting Chinese pens along for an extended stay.
He's right. This pen will make a great compare / contrast subject! The color is more like the later colors of the Sheaffer Snorkel, though. It's probably a Wing Sung, though that will require a little more research. (NOTE - No sooner than I write and post this article that I get emails and see postings on Pentrace.com indicating that it's probably not! Norman Haase posted, "My wife Teresa, who is from Hong Kong, says that the characters translate as 'bright', as in 'a bright future' or 'good luck', and that the phonetic translation of the company name is 'Guang Ming'. It's definitely not a Wing Sung.")
Out of the box, the pen is a bit lighter and definitely feels cheaper than the Sheaffer. Guess I'm not surprised by that! The plastic is nice and shiny, but the gold plating has that 1930s / 1940s cheapie pen look to it. It's probably a very light washed on electroplate. I have to keep this in perspective, though. This is a cheapie!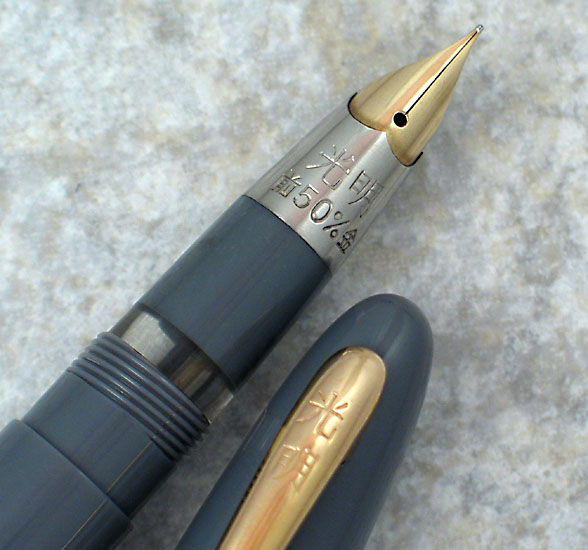 There's no White Dot, but the clip is spring loaded and has Chinese characters on the crown, much like the lower end Sheaffer Snorkel clips were stamped with the "SHEAFFER'S".
A close comparison of the nib and section to the Sheaffer Touchdown and Snorkel brings up a number of other "points". First, unlike the many Chinese 51 copies, this is no exact copy attempt at all. It's more "in the spirit of", than a true copy. The section is visulated, like the Touchdown, but is not ribbed. The section threads are plastic. The nib is colored opposite of the Sheaffer masking and, on really close inspection, isn't really a two-tone nib at all. The gold part is the nib, probably plated, and the silver part is an overlay. Perhaps this was cheaper than plating.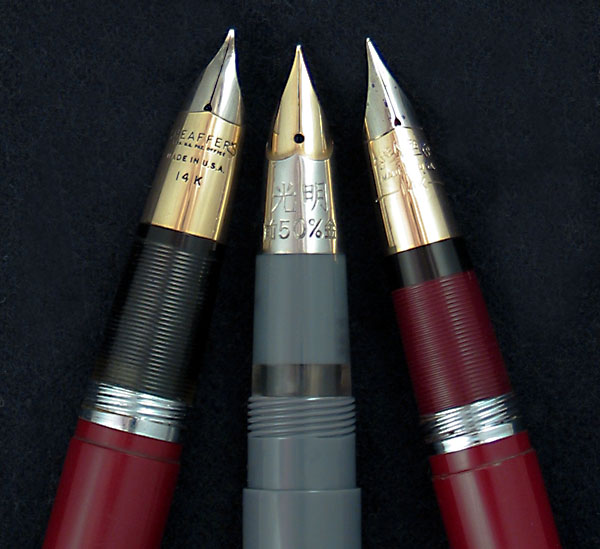 Dan also had a couple of Parker 51 copies, a really nice Hero 616 and a more recent Hero 100, and has also spotted an interesting Parker 45 copy. The 51s are here and the 45 will likely be en route, so expect a series of interesting side-by-side comparisons of each. I'm especially intrigued by the 45, as that is one Parker copy type I was not aware of.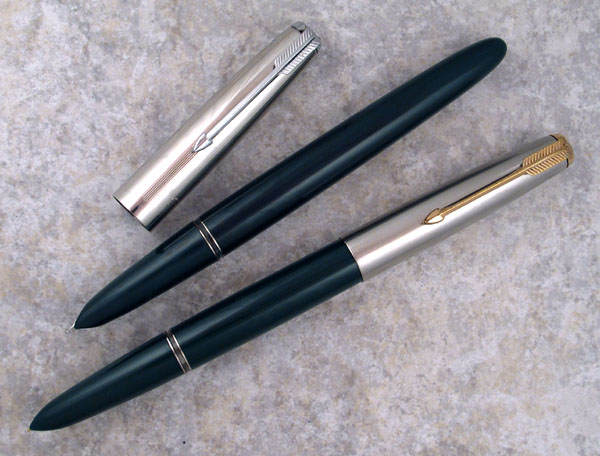 This set of pens will start off another section of pen reviews which should be creeping in during the cold months this year. Thanks very much to Dan Carmell for letting these pens visit over the holidays.
Speaking of Parker 51s, I also have received a number of interesting custom Parker 51s that show both the jeweler's art and some interesting color twists. The Parker 51 was not only "The World's Most Wanted Pen," it was probably the most copied, the most imitated, and the most customized. Look for some interesting photo essays coming up early in 2004 on each of these.
Send in the clones!
Have a great new year!
---
Discuss / Recommend what you read on PenHero.com
Follow us on Twitter: PenHero
Add a link to PenHero.com on your blog:
(Copy & paste code)
Please only use the photo provided. Use of other photos requires permission.
The provided link photo will change as we update the site.

Comments on this article may be sent to the author, Jim Mamoulides
PenHero.com Bibliography