PenInHand - Musings on the Hobby
Collecting With A Focus: Flighters!
by Jim Mamoulides, February 28, 2003
Collectors often go through phases. I can remember early on, after discovering just how vast the array of choices there are, digging through books and websites, pining after this pen or that, I started to get really interested in stainless steel. Stainless steel is a very interesting alloy, cool yet warm, pure silvery yet reflective of its surroundings, tough yet refined. To me, the Parker 51 Flighter defines the stainless steel pen.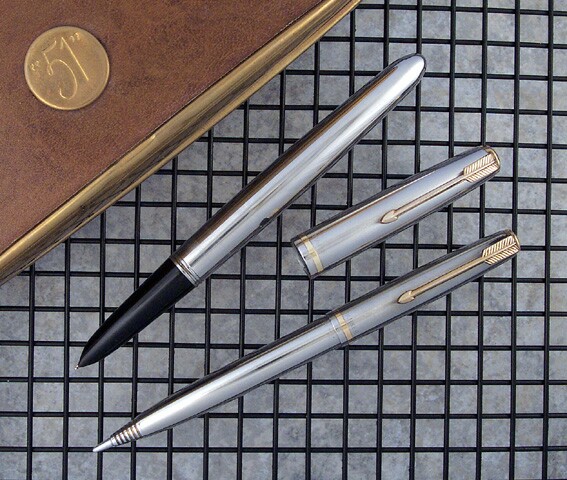 Parker 51 Flighter With Parker 51 Flighter Liquid Lead Pencil
I saw my first Flighter at a pen show and knew I had to have one. It amazed me that where in many modern pen lines the stainless pens are at or near the bottom of the price list, the 51 Flighter was often priced at a premium next to its siblings. Perhaps others had caught the same bug I had.
The 51 Flighters was introduced in 1949 and was made until 1960. It is an Aerometric filler with a stainless steel cap and barrel and was only made in the standard size. All 51 Flighters have gold-filled trim, with early models having a single cap band, which does not appear on 51 Flighters made in the late 1950s. A plain cap Flighter is not a mismatch or a frankenpen. Parker made matching pencils, including the strange and unsuccessful Liquid Lead model, which is actually a type of ballpoint.
I have to admit that my Flighter is my most used pen and the most likely to travel with me on business trips. It's tough and travels well on planes. This is one of the pens I'd want to be stranded on a desert island with.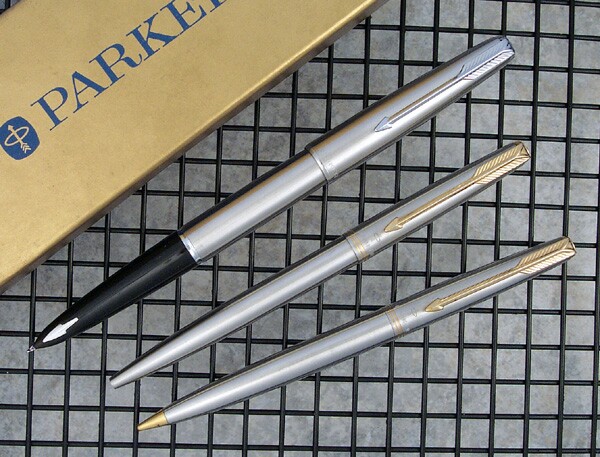 Parker 61 Flighter C/T With Parker 61 Flighter G/T Cap Actuated Ballpoint and Twist Pencil
Parker made Flighter versions of many of its pens. The 61 "Jet Flighter", the stainless version of the infamous capillary filling pen, was introduced in 1959 in both gold-filled and chrome plated trim versions, and is the second pen to use the Flighter name. Parker often advertised the 51 using an aviation theme and followed that "high tech" approach with the 61. As a result, all-stainless Parkers are commonly called Flighters, whether Parker used that name or not.
In spite of the many complaints about the 61, I find the Flighter version to be one of the easiest pens to live with. No barrel cracking problem here. Since I'm rather pedestrian in my ink tastes, I keep mine topped off with Waterman Florida Blue and never miss a beat. The capillary filler is actually ideal for flying, as it is open on both ends, therefore there is no pressure problem to cause ink to burp out. I can use this pen in flight and never worry about it.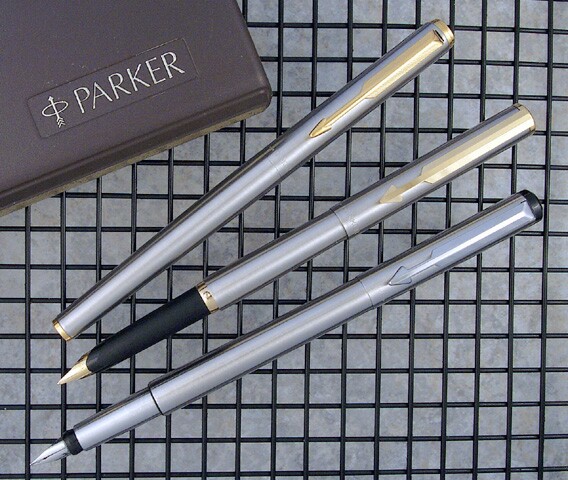 Top To Bottom: Parker 95 Flighter / Parker Arrow Flighter G/T / Parker Vector Flighter
There are more than 25 Parker models that have a stainless steel version. A complete collection, including rollerballs, ballpoints and pencils, would be quite large. As with many pen makers, the stainless models often occupy the lower end of the pen model's price range.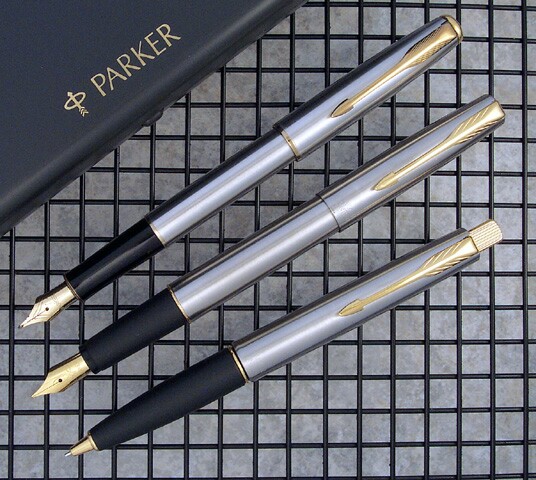 Top To Bottom: Parker Sonnet Flighter G/T / Parker Frontier Flighter G/T Pen and Pencil
Waterman, as well as many other pen makers, included all-stainless versions in their pen lines. In many cases, as with the Hemisphere, the stainless pen was introduced later in the line's production.

Waterman Hemisphere Stainless C/T
Same Look, Only Brass
Other pen makers also introduced brushed silver-looking pens. Sheaffer has had several in its lineup, including the Imperial, introduced in 1961, a pen that strongly followed the design of the Pen For Men, and eventually produced as a brushed chrome pen in the late 1960s. Instead of stainless steel, which Sheaffer did use on pen caps starting in the late 1940s, the brushed chrome pens are brushed brass base metal electroplated with chrome. In the recent revival of the Imperial in the 1990s, Sheaffer included a brushed chrome model in the lineup.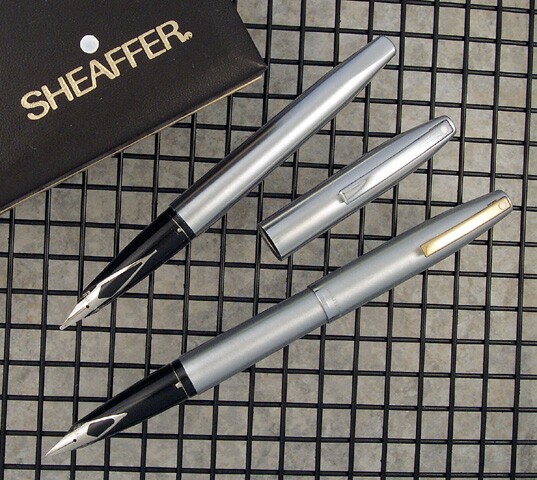 Top To Bottom: Sheaffer Triumph Imperial Stainless C/T / Sheaffer Imperial 444 G/T
Sheaffer's Targa line, introduced in 1976, included entry-level brushed chrome models in both gold and chrome plate trim, with matching stainless or gold plate stainless inlaid nibs.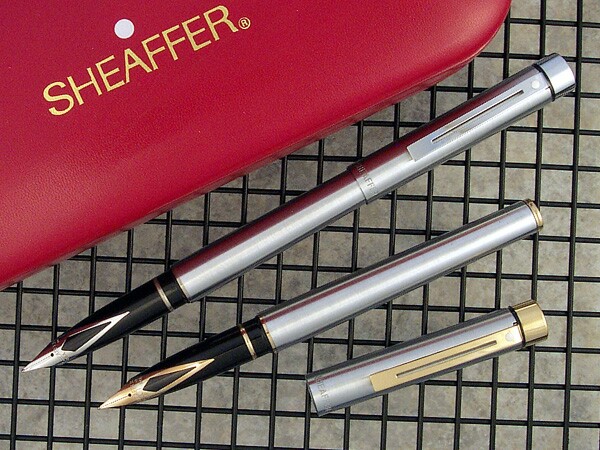 Top To Bottom: Sheaffer Targa Stainless C/T / Sheaffer Targa Stainless G/T
Focused collections can be a lot of fun. My experience with collecting Flighters and all-stainless pens is that the stainless version of the pen really shows off the quality and limitations of the basic, unornamented design, with the bonus of being a durable everyday user pen. I don't worry as much about scratches and dings with these pens, so they usually don't sit idle in their cases. And to me, the real fun in collecting pens is in their use, scribbling notes, doodling pictures, writing letters, and whatever else puts ink on paper during the day.
---
Discuss / Recommend what you read on PenHero.com
Follow us on Twitter: PenHero
Add a link to PenHero.com on your blog:
(Copy & paste code)
Please only use the photo provided. Use of other photos requires permission.
The provided link photo will change as we update the site.

Comments on this article may be sent to the author, Jim Mamoulides
PenHero.com Bibliography