PenInHand - Musings on the Hobby
When Nice Pens Come To Visit
by Jim Mamoulides, January 26, 2003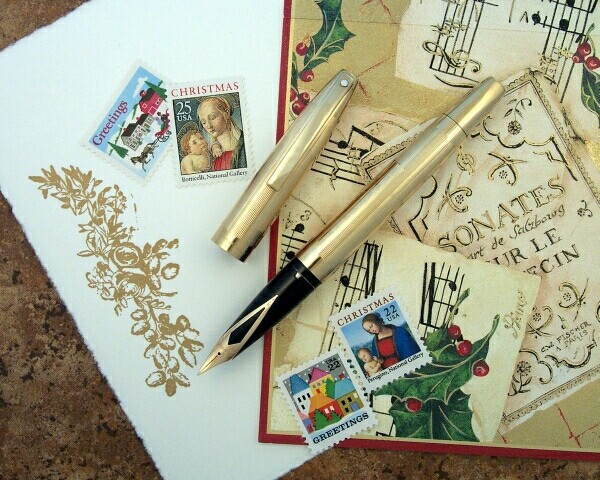 No, Santa Claus Didn't Bring This Pen, But It Did Arrive Just Before Christmas
One of the real blessings of the past year has been photographing pens for pen friends. Many times a box with one or several pens would show up and the pens have run the gamut from really nice, really rare, really unusual or a combination.
Usually these visits are preceded with a very pleasant email exchange that started with an article or a posting on one of the message boards. It's a really nice surprise that in this hobby there are people who hear the words, "Wow! What a nice pen! I'd really like to see one of those!" and the next thing you know there is a little box waiting in the mailbox.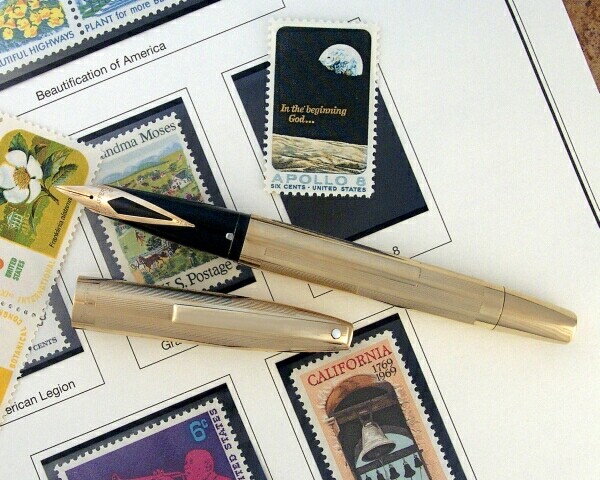 Sheaffer Touchdown Imperial VIII c1961-1964
This year I've seen a number of rare and unusual pens, including solid gold and hand engraved Mabie Todds, rare and unusual Wahl Eversharps, some out of the ordinary Sheaffers, some experimental Parkers, and some interesting "home brew" creations. Not all of these pens have made these pages. I have a huge backlog of photos that I'm still going through them all!
In some cases, the article is three or four months behind the last time I saw the pen, so I have to make sure I keep all my notes, handwriting samples, and photos together, lest I forget what I thought of a particular pen.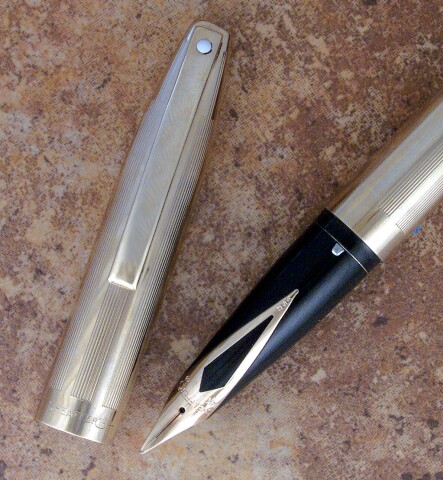 Detail Showing Nib And Cap Engraving
This really nice Sheaffer Imperial VIII showed up before Christmas as the result of a series of email discussions with the owner, who was going home overseas for the holidays. So instead of taking his pen with him, he sends it to visit with me!
I also found this pen to be a real challenge.
I've found all metal pens to be a real challenge to photograph because the bright surface readily reflects light and is therefore prone to hotspots if the lamps hit the surface wrong. This is easy to compensate for on non-metal pens, where the lamps can be moved and buffered to avoid this problem. All metal pens, especially those with high polish surfaces, such as solid gold, gold and palladium plate, require a lot of playing with lighting to get things calmed down. I re-shoot more pictures of these pens than any others.
I also spend more time in post-shoot Photoshop cleanup digging out problems.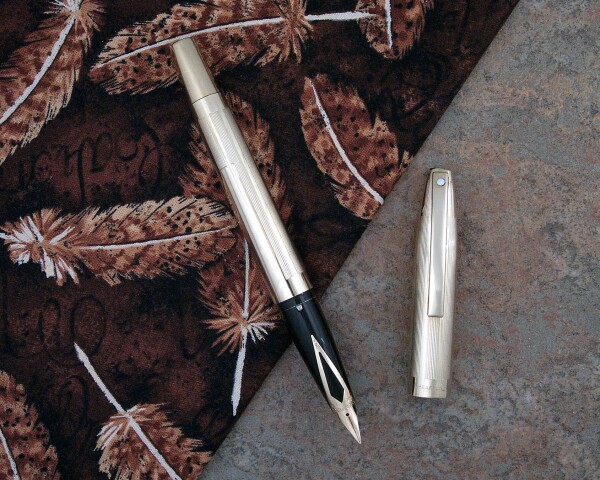 This Turned Out To Be A Very Photogenic Pen!
One of the reasons this pen came to visit is a discussion I've been having off-line with several collectors on the early Imperials. I need to really update my article with all the new information I've learned and list out the models and combinations. After launch, Sheaffer really never stopped tinkering with the line for the next forty years, so the variations are nearly endless and would consume a large catalog.
Sheaffer introduced the Imperial in 1961, a pen that strongly followed the design of the Pen For Men in a more slender and lower cost pen, and without the complex Snorkel filling system. In 1963 Sheaffer reintroduced the Lifetime warranty, which it had discontinued in 1947, and, on Imperial pens carrying this warranty, began stamping the front of the clip with the Lifetime name. Some of these pens also have the nib stamped "LIFETIME." These pens also carried the famous White Dot at the top of the clip, which had long lost its lifetime association. Sheaffer referred to these Imperials as "Lifetime" pens in advertising.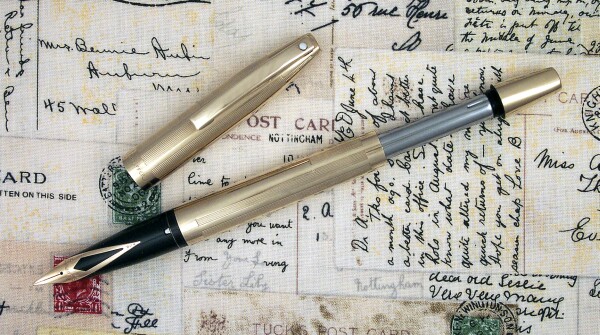 Sheaffer Touchdown Imperial VIII c1961-1964 Open Showing Touchdown Mechanism
Imperials came in a host of variations at many price points over the life of the line, including Touchdown versions from about 1964 through the mid 1970s, and cartridge and converter models available throughout. Some Imperial variants are not called Imperials, including the 500 and 800 cartridge and Touchdown pens and the short and stubby "Comp-II" with its ink-view window slits in the barrel, adding to identification confusion. The earliest models were fitted with inlaid nibs very much as in the PFM, generally hallmarked 14K and USA on the tip in the section. Some Imperials, from about 1964 to 1970, were fitted with a shortened version of the Triumph nib, so the inlaid nib alone does not identify the pen as an Imperial.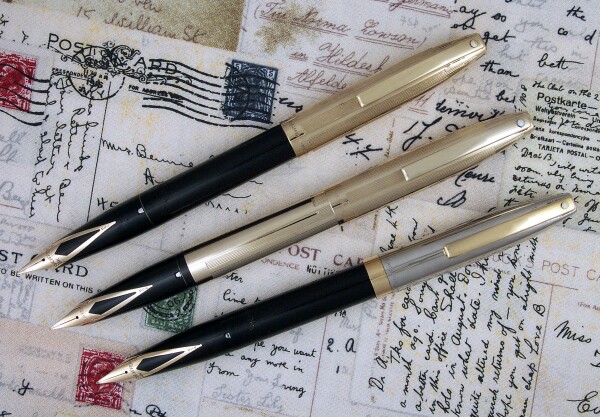 A Flight Of 1960s Sheaffer Pens
Top To Bottom: Imperial VII / Imperial VIII / Imperial VI
This particular Imperial is very attractive, with the only flaw a 1/4" dent in the top of the cap. Otherwise, the pen only has very light wear, the light scuffing that inevitably shows up on all-metal pens. It's going to make a nice example piece for the revised early Imperial update.
It sure was fun having this nice writing and fairly uncommon pen visit for the last few weeks, but it now has to make the long journey home.
So to all of you who have sent me pens in the last year, thank you very, very much!
---
Discuss / Recommend what you read on PenHero.com
Follow us on Twitter: PenHero
Add a link to PenHero.com on your blog:
(Copy & paste code)
Please only use the photo provided. Use of other photos requires permission.
The provided link photo will change as we update the site.

Comments on this article may be sent to the author, Jim Mamoulides
PenHero.com Bibliography