PenInHand - Musings on the Hobby
My Grandfather's Parker 51
by Jim Mamoulides, November 30, 2003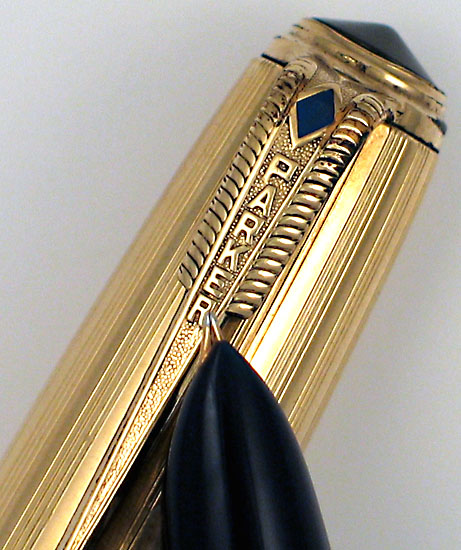 My dad discovered my interest in fountain pens early on and used that interest as an opportunity to show me one of his personal treasures. We were chatting in his upstairs office at his house. My dad attempts to be retired, but he is constantly involving himself in business ventures. If my dad had a hobby, it would be dabbling in business. Definitely a Saturday's child.
I used to find myself in his office as "amateur computer repairman." I actually have tights and a cape and special powers for this job, when needed. While working on some computer problem that involved a lot of waiting, I was telling him about my vintage pen treasure finds. He walked over to his roll top desk and produced this older gold capped pen. I immediately recognized it as a Parker 51 Vacumatic.
This is the pen his father used to work the crossword puzzle in the newspaper. My grandfather died when my dad was only fifteen years old. Seeing his father use the big Parker on the crosswords made a big impression on him. I remember my dad being a big fan of crossword puzzles himself, going most Sundays to the news store to pick up a copy of the New York Times because that was the best crossword puzzle of all. He had crossword puzzle dictionaries and often would pick up a New York Times crossword puzzle book to take on our annual summer beach vacation. This pen was the touchstone of strong boyhood memories. A physical token from a departed father.
Later, when I had returned my dad's repaired all black Sheaffer Snorkel Statesman that he had given me to be fixed, he took out this well used, gold cap Parker 51 Vacumatic and asked, "Can you find a pencil that matches this pen?"
It never occurred to me how difficult this "Yes" I gave would be to fulfill. How hard would it be to find a gold capped 51 Vacumatic pencil with a four lines and blank pattern? Very hard.
I scoured the internet for this plastic and metal needle. Emails, phone calls, store visits, leaving contact information turned up nothing. I began to routine my searches on eBay and Google. After several months of misses, I had a hit on eBay! I bid high. Really high. I won!
Just days later, the pencil showed up. It was almost perfect. Only a minor scuff on the metal cone. I called my dad, letting him know I had caught the long elusive fish and drove over to deliver it. Upstairs we went in order to have a look at the pencil side by side with the 51 pen. They looked like soul mates. A big smile appeared on my dad's face. We went on to other things. Yes, I had "computer consulting" to do while I was there.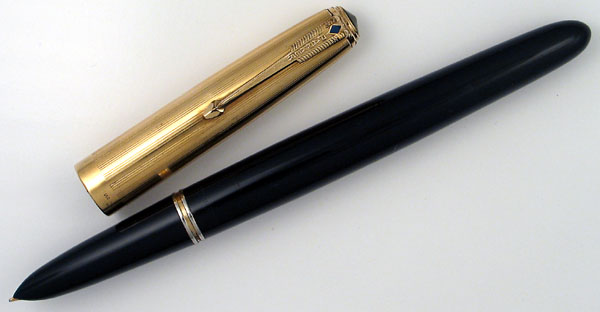 Several weeks later I was over on a return trip. My dad had the pencil and pen out and I noticed he was looking at them carefully side by side under a lamp. His office is usually dimly lit, relying principally on desk lamps. He then looked at me and said, "These aren't the same color!"
"What?" I took them and looked for myself. The pen was a nice shade of Cedar Blue. Dark, yes, but a dark blue. The pencil was black. I had a lump in my stomach. I got my dad a pretty black pencil to match his father's blue pen. What an expert on vintage pens his son turned out to be! I sheepishly took the pencil and told him I would continue the search.
It was many months later I found myself standing in front of a table at the Washington, DC pen show. On this table were at least three dozen Parker 51 pencils. All types and colors. I had spent the morning walking around the whole show with this Cedar Blue four line and blank gold fill cap Vacumatic pencil as my number one mission. This was the last stop for this train.
Rather than wade through pencil after pencil at every table at the show, I had taken to simply asking each dealer if they had a Cedar Blue gold fill cap Vacumatic pencil. I was on automatic. I could pull the string and the question would pop out of my mouth.
"Right here," he said, pointing to a pencil on the table.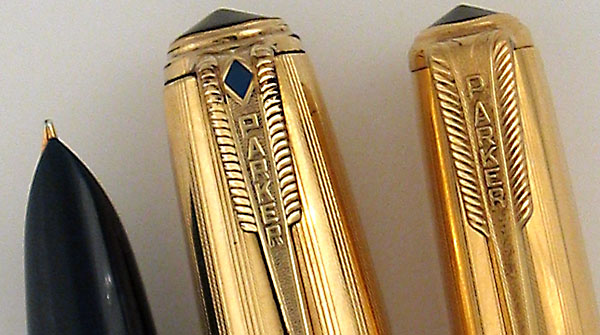 This sleepwalker was now wide awake.
The pencil was in his hand. I took it and looked at it. This was the exact pencil I had been chasing for the last two years. Instead of immediately asking how much, being so relieved, I instead launched into the story of my search for this very pencil. I wanted that pencil so my dad would have the mate for his father's pen.
"How much?" I asked.
The man looked at his wife, and then looked back at me. "It's yours. I want you to have it for your father. No charge."
A gift. I brought my dad a gift to match up with his heirloom. A perfect match indeed.
---
Discuss / Recommend what you read on PenHero.com
Follow us on Twitter: PenHero
Add a link to PenHero.com on your blog:
(Copy & paste code)
Please only use the photo provided. Use of other photos requires permission.
The provided link photo will change as we update the site.

Comments on this article may be sent to the author, Jim Mamoulides
PenHero.com Bibliography