PenInHand - Musings on the Hobby
Pretty Pens
by Jim Mamoulides, September 30, 2003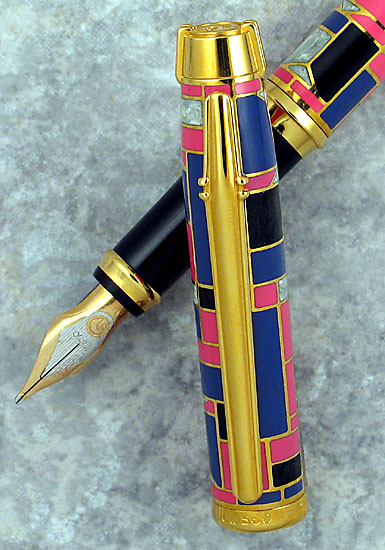 Elysee Edition No. 1
It's always fun to see what your children will pick given the run of your pen collection. My daughter finds my hobby amusing, but likes it for all the right reasons.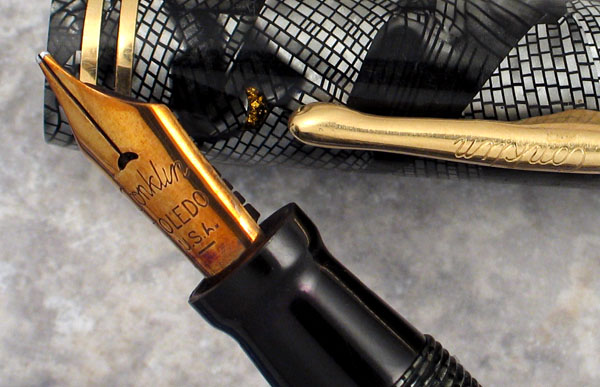 Conklin Symetrik Snakeskin
She likes to go to the Triangle pen club because the people are really nice, she gets to write with a lot of cool pens, but mostly, it's the cookies at the Mad Hatter Bakery. The last club meeting she couldn't go - too much homework - so she (and her mom) sent me with orders for specific cookies to bring home.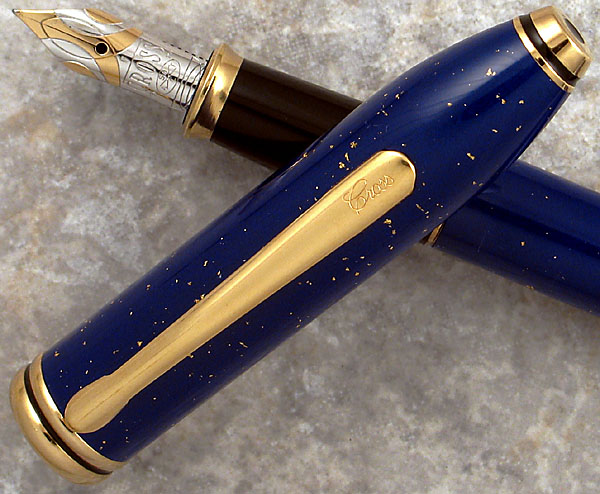 Cross Townsend Lapis Lazuli
It's also interesting to see the strong difference in appeal certain pens have to a 43 year old man and a 13 year old girl.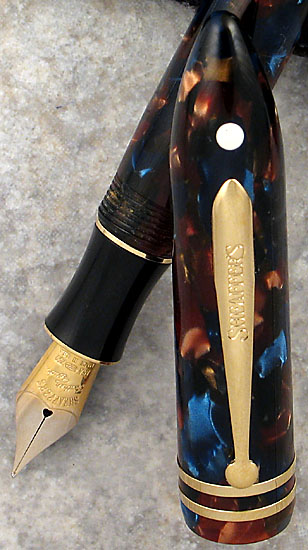 Sheaffer Balance II Aspen
For just a straight-up fun photo session, I asked her to pick out eight "pretty pens." She was eager, and started naming specific pens she liked, right away.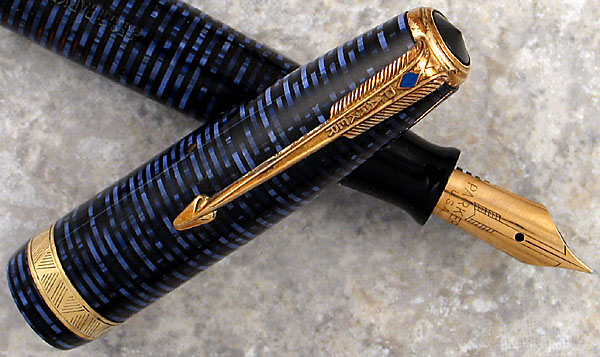 Parker Vacumatic Azure Blue
I bought an Elysee Edition No. 1 fountain pen some time ago because I thought it would appeal to her. That one was picked right away for this shoot.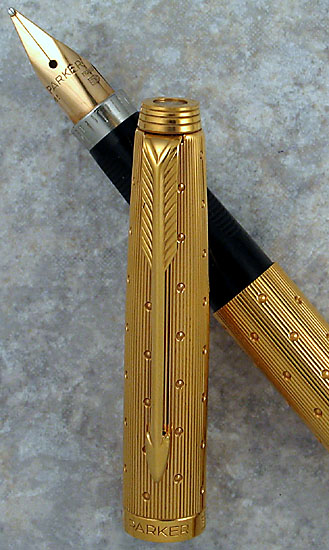 Parker 75 Perle
She had a few others in mind, like the Sheaffer Intrigue Whale Shark pattern pen, which is her current "favorite." Guess that one stays around for a while...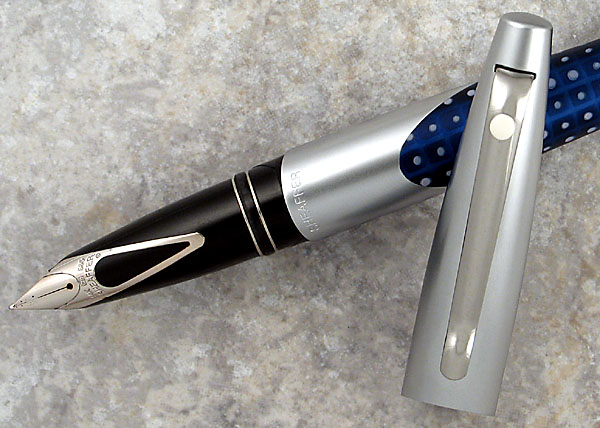 Sheaffer Intrigue Whale Shark
She loves Parker True Blues, so one of those had to make the shoot. "Only one??"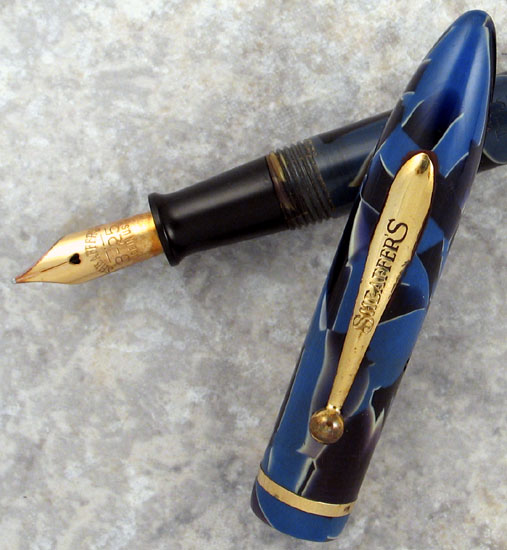 Sheaffer Balance 3-25 Blue Black Marble
We dug through several boxes of pens and she pulled out several school pens or cheapies. Some were a surprise. "But I like the color!" So I made one rule. "No school pens or cheapies." Pulling out a Sheaffer Balance 3-25 Blue Black Marble, on the heels of the Parker True Blue, I said, "Well, no modern cheapies."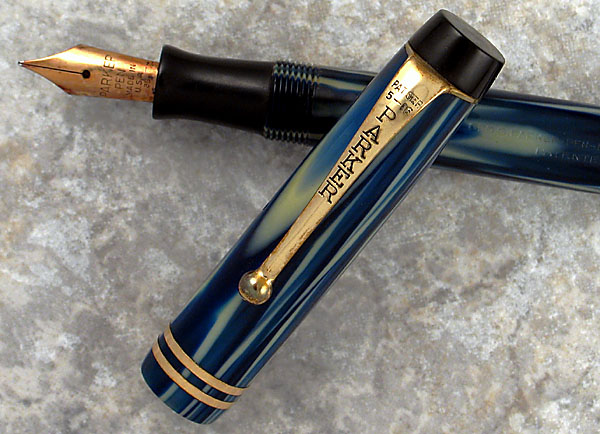 Parker True Blue Juniorette
We went through boxes and pens cases, and the row of pens started to get a bit long, so I did a quick count. "There's more than eight pens here!" Ten, actually. So she picked up the blue Eversharp Skyline Modern Stripe and started to put it back...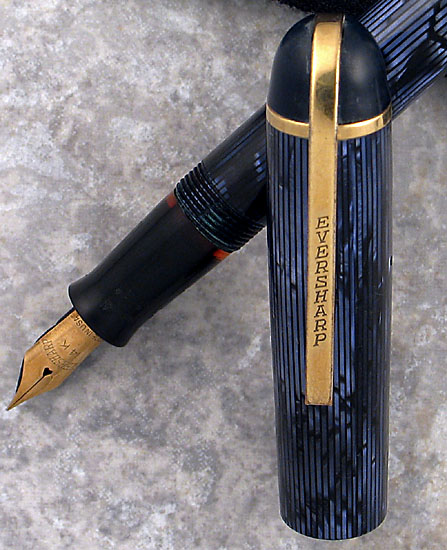 Eversharp Skyline Modern Stripe Blue
"Hey, I like that one!" I said.
"But I don't!" She said.
Ok, I guess I got to pick one pretty one for myself.
---
Discuss / Recommend what you read on PenHero.com
Follow us on Twitter: PenHero
Add a link to PenHero.com on your blog:
(Copy & paste code)
Please only use the photo provided. Use of other photos requires permission.
The provided link photo will change as we update the site.

Comments on this article may be sent to the author, Jim Mamoulides
PenHero.com Bibliography