PenInHand - Musings on the Hobby
The Really Big Shew
by Jim Mamoulides, August 31, 2004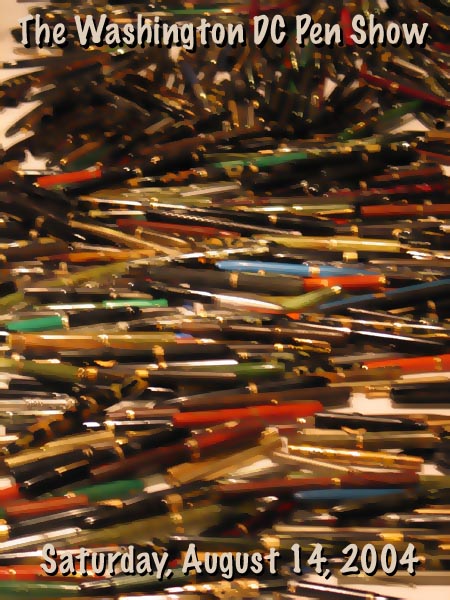 Going to a pen show is more pilgrimage than trip. The anticipation of making a big find or seeing something new. There are so many metaphors. Some with religious overtones, some like treasure hunts, and some like obsessions. The Washington DC pen show is the big one. Reserved for the really big metaphors. The really big shew!
We're Here!
I actually arrived at the show Friday at 6:30pm, in time to walk around in the pre-show set up area and chat with several pen friends. I made the four hour drive up from Raleigh, NC with my dad, and we both went to the Pentrace / Stylus reception. Got to see numerous pen people while sipping wine and watching the pizza disappear. Who can turn down free food and drinks with friends!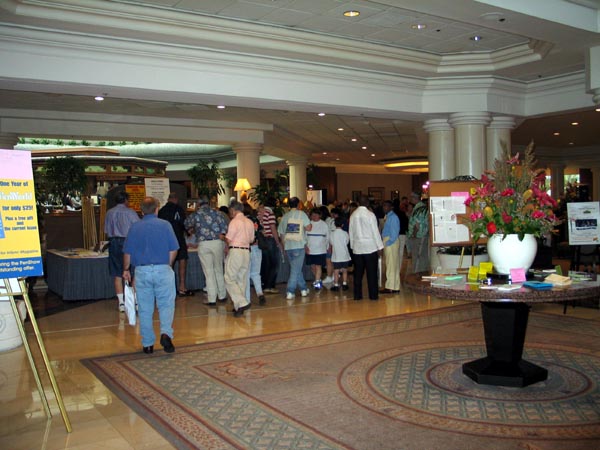 We went back Saturday morning with my postcard in hand for early, 9am admission. Lots of folks must have had the same idea, as the line was quite long for sign up. Lot's of neat trinkets were given out, including a blue gel pen, ink to the first 200 guests, copies of magazines and several door prizes.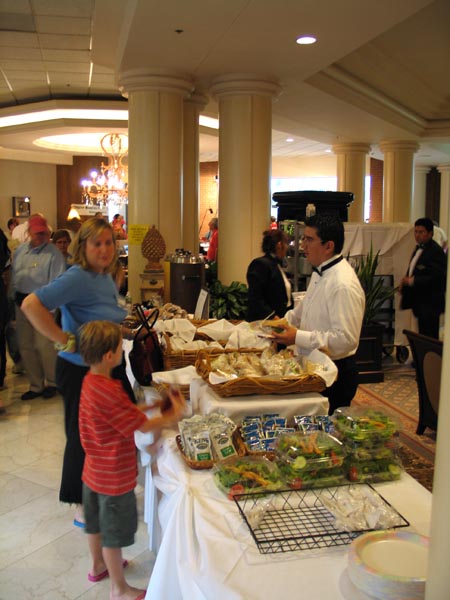 The hotel had several choices for lunch, including this lobby sandwich and salad sale. This was right in front of the show entrance, which spilled around the outside of the two large ballrooms and into the hallways.
I See Pen People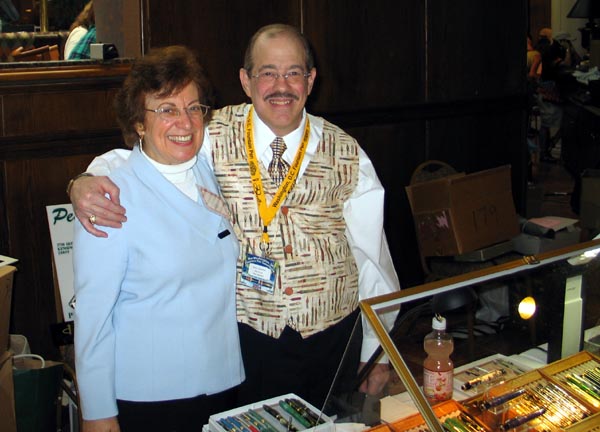 One of the first people you would have met at the show, in the hallway, was the ever cheerful and wonderfully friendly Bert Heiserman, here with his really charming wife. If there is a nicer person selling pens, you'd have to show me. Bert not only sells pens, but is so helpful with novices. I overheard more than one person talking about how Bert helped them identify and value pens they brought to the show. Nice vest, Bert! His store, Pen Haven, is in the DC area.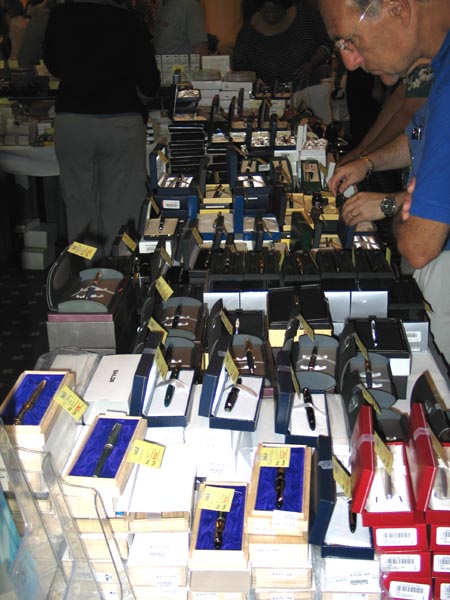 In the lobby hallway, one is immediately inundated with pens in boxes or on tables. One dealer literally had a pile strewn all over the table. A nudge and several dozen pens would have been sent flying onto the floor. My show "logo" is a shot of that amazing table. This is a shot of Chuck Swisher's tables, which were perpetually busy. Every time I came around, Chuck was nowhere to be found. He probably thought I was paparazzi and ran. You might catch him on his website, Swisher Pens.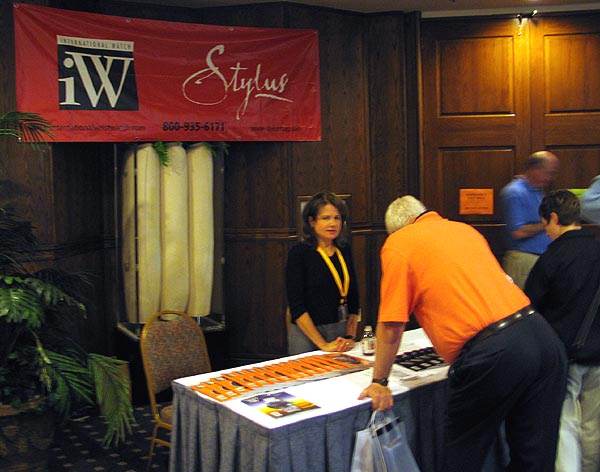 Stylus magazine had a booth in the lobby near the entrance, and copies of the magazine, along with the publisher's watch magazines were available.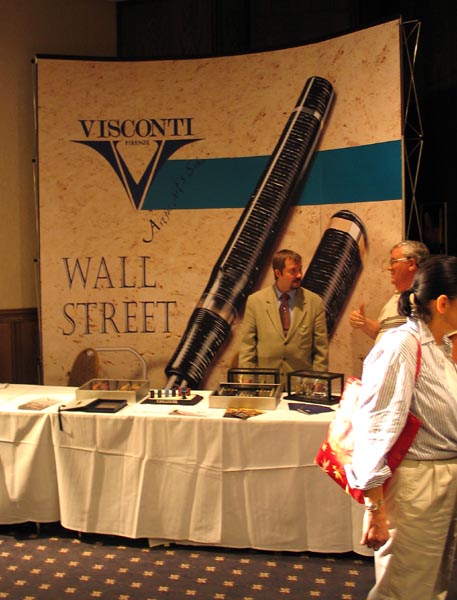 I was surprised at the size of the Visconti display. It screamed "trade show" more than "pen show", but it anchored the end of the lobby hallway, and it shows one of my favorite Visconti designs.
Steppin' In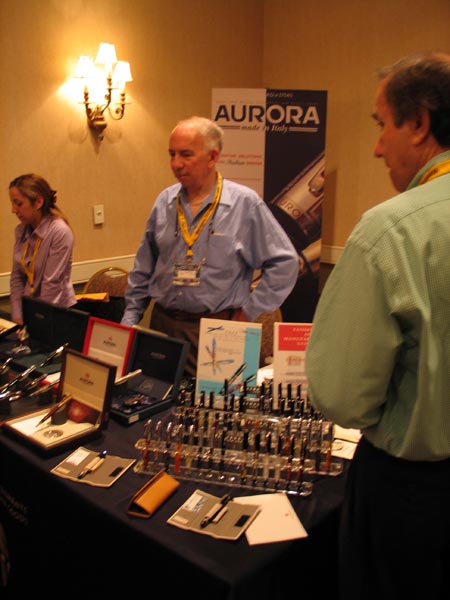 Aurora was also at the show, but had a more modest set-up, but lots of pens. Fran would have loved this corner. He probably would have gotten stuck there, instead of moving at warp speed through the building.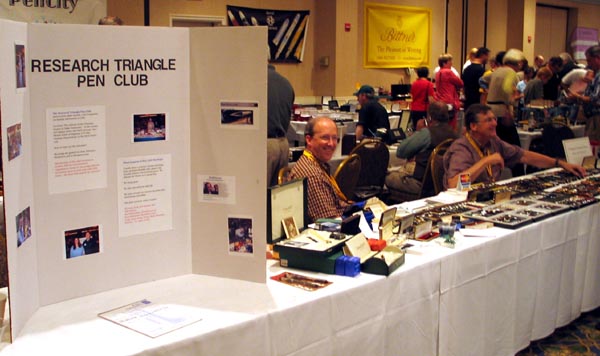 Stepping into the room, one of the first people you see is Ross McKinney (and his wife - somehow absent from this picture), who always is cheerful and informative. He brought an information stand on the Triangle Pen Club and lots of pens. Every time I see him he has inky fingers. He is such an encouragement to the pen community in the Raleigh-Durham area. He has a great website at RossPens.com.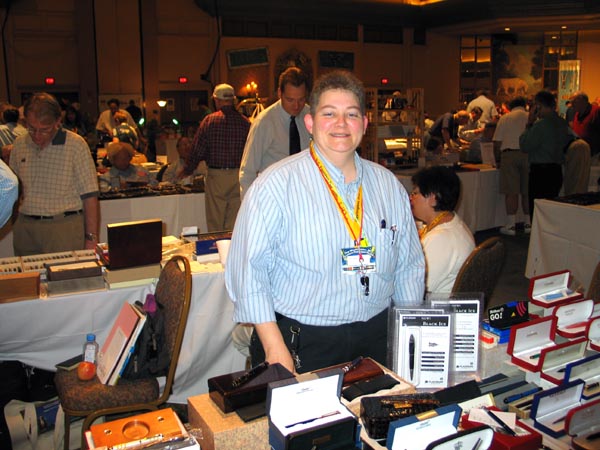 If you happened to step through the door to the main ballroom, the first person you would see is Deb Kinney. Ross and Deb Kinney are the founders and drivers behind the Triangle Pen Club, which we in the Raleigh Durham, North Carolina area much appreciate. Deb not only was there for the show, but was going to teach her seminar on pen collecting. You can see more of Deb's work at Deb's website.
Inside The Grand Ballroom
There are dozens and dozens of tables full of pens inside the ballroom. There is everything in every age group and price range. A cornucopia of pens without end, amen. Any and all specialties seem to be represented here. Dip pens, inlaid pens, eyedropper pens, glass nib pens, pens from the golden age, pens from the early modern era, and of course, modern pens. Every make and model. Colors of the rainbow. Bright and shiny next to dull rich patina. Not to mention ballpoints, rollerball pens, and even felt tips. Wandering the room or meticulously visiting each table, either way would lead to pen overload.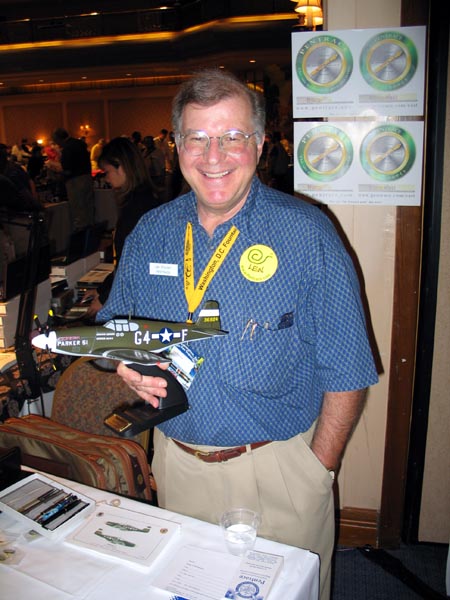 At the corner of the entrance between the two ballrooms stood this always smiling gentleman, Len Provisor of Pentrace.com fame. Did he have any pens? Well, I did see some in his pocket, but the man had planes! If you look closely, you'll see "PARKER 51" written on the front of the model in his hand. Len has been working with Geoff Parker on these first class models of planes related to the Parker Pen Company. Len asked me if I had met Geoff Parker, and finding out I hadn't, sent me back out front to see him.
Mr. Parker's Planes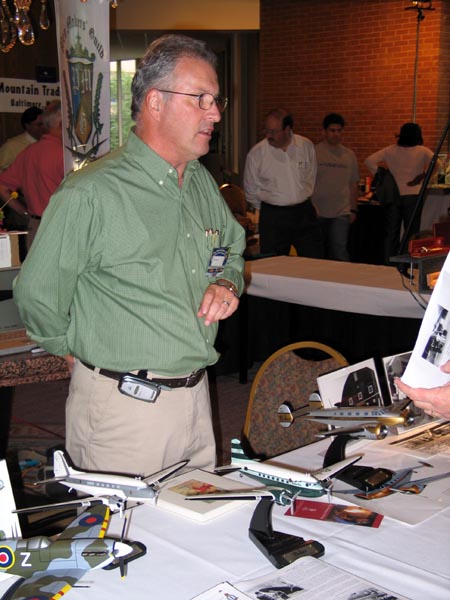 Geoff Parker had a table outside the ballroom near the entrance to the show. His table showed each of the exceptionally detailed scale model planes he has produced annually as limited issue collector pieces. Each model represents a plane significant to Parker's history either as company planes or repetitive planes in their advertising, such as the P51 Mustang during World War II. He showed me one of the models and told me, as a child, he had flown in the plane it represented. Geoff has focused on this aspect of Parker history and had detailed information at his table.
Friendly Faces On The Floor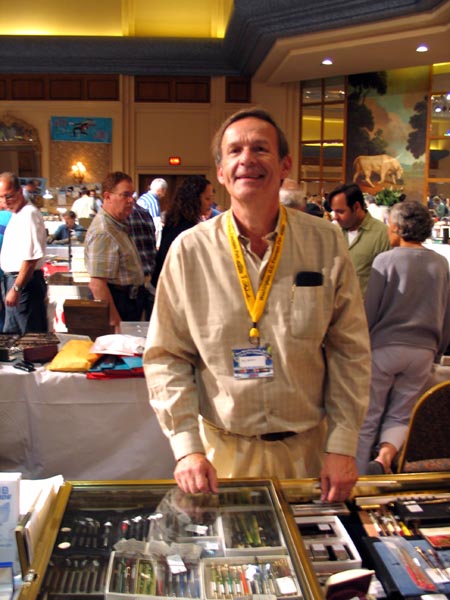 One of the best things about the show was being able to meet new and familiar faces on the show floor. Terry Mawhorter runs the new Raleigh Pen Show and the Ohio Pen Show. He did a great job with the Raleigh show and is already planning the next one. I hope to make it to the Ohio show this year.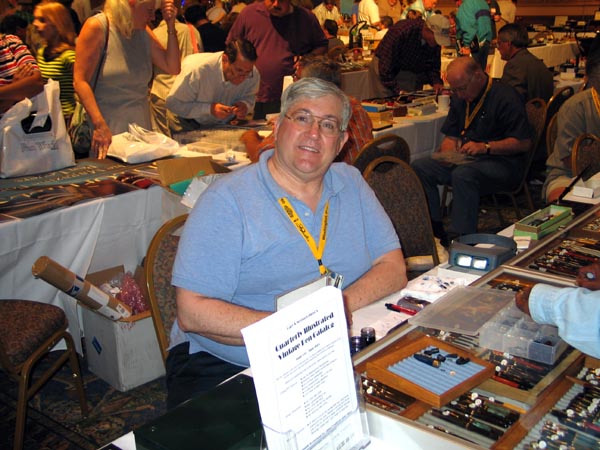 Gary Lehrer runs the GoPens.com website, which features a quarterly list of excellent restored vintage pens. He was recently featured in Connecticut Lifestyles magazine, in and article for which I did the pen photos. Gary had some really nice pens!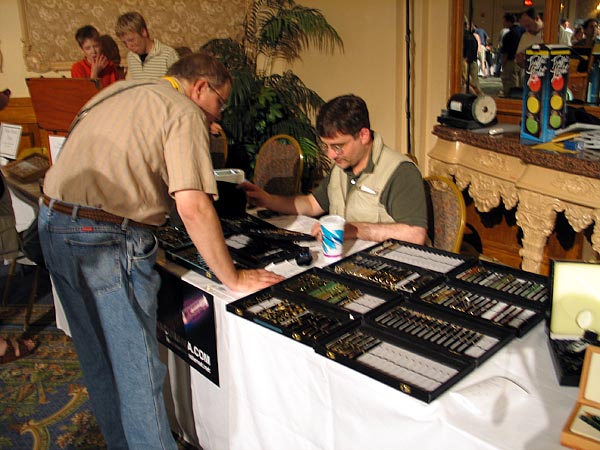 David Isaacson was at the show with his extraordinary collection of Parker Vacumatics. He is always enthusiastic an upbeat, and he recently did the photography for Paul Erano's 2nd Edition of Fountain Pens Past and Present, one of the really good pen books.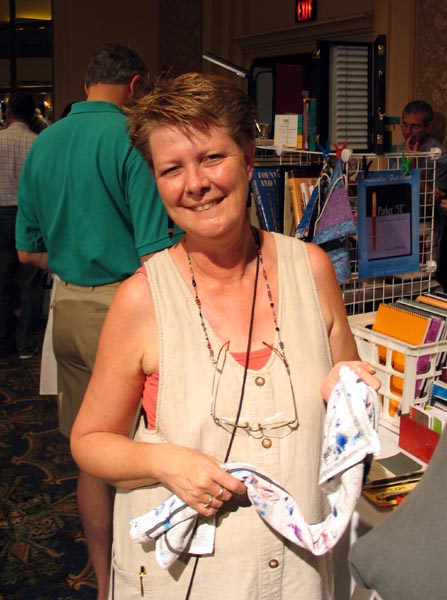 Sam Fiorella of Pendemonium, in Fort Madison, Iowa, the home of Sheaffer, is always gracious and helpful. Her tables were constantly busy and I had to beg her for this photo!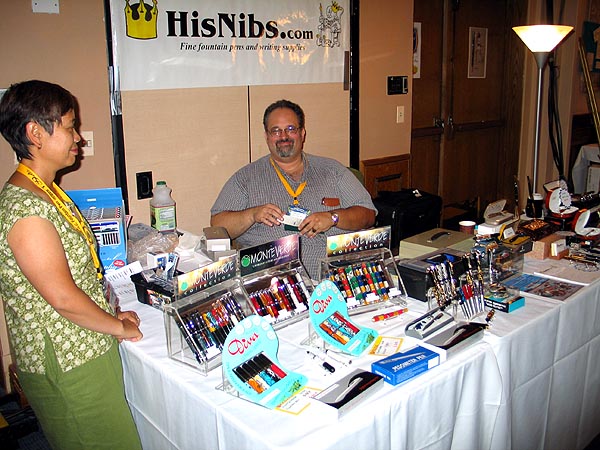 Another one of my favorite pen people is Norman Haas, HisNibs.com himself. Norman was at the show with his wife and had many cool pens to sell. I bought a Monteverde Diva ballpoint from him at the last show, which my wife uses all the time. It's a neat pen.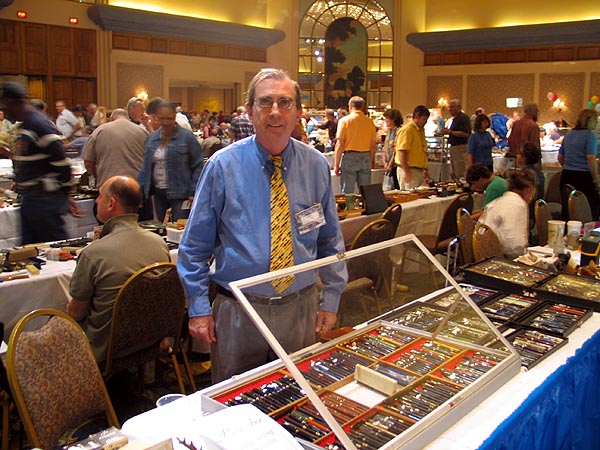 It is fun to meet new people, or at least put a face with a familiar name. This is Tom, one of our PenTracers with a load of really neat pens. You can get a perspective of how big and busy the show floor was in this shot.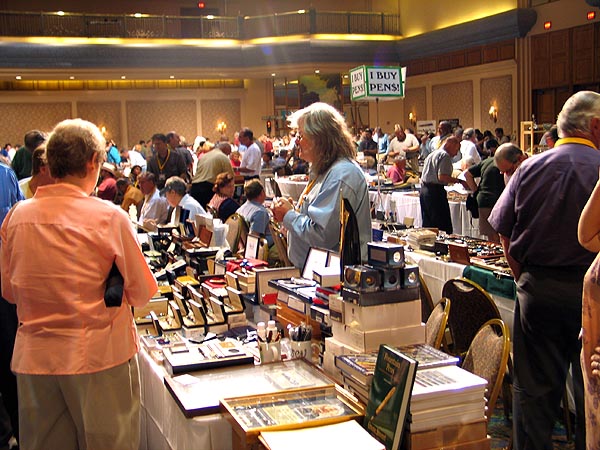 Another shot of the show floor shows Bill Weakley presiding over his great selection of new pens.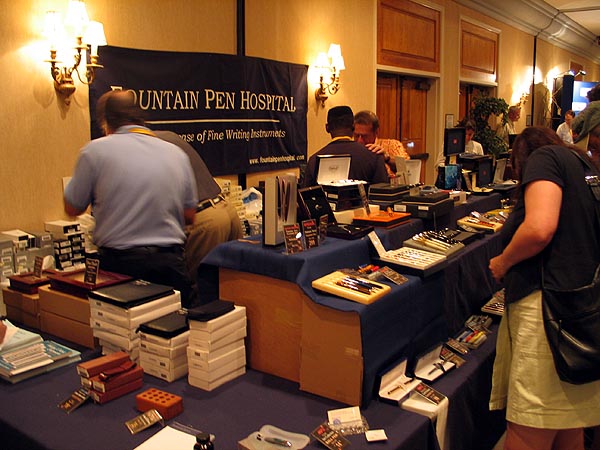 A show highlight is the Fountain Pen Hospital table, which was always packed with people. It was really hard to get a decent shot with all the milling around. Everyone was so busy I couldn't get any time for a mug shot!
Wizard At Work
If you want to see the parade, watch the crowd at Richard Binder's table.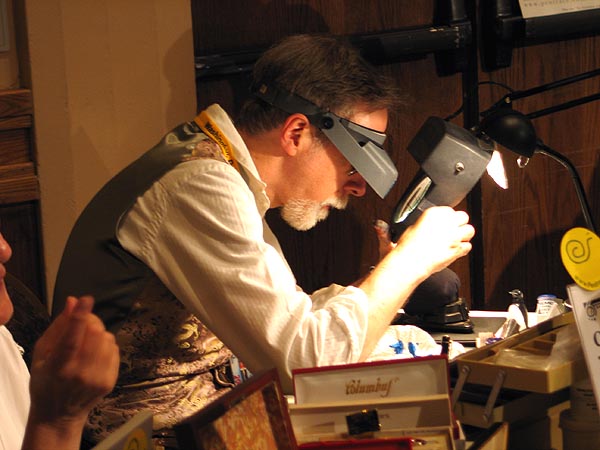 Richard, ever charming, seemed to always be hunched over, working on a customer's nib.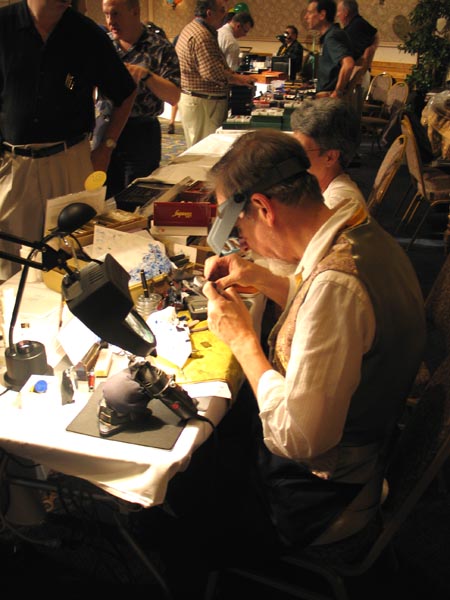 It was fun to watch the nib wizard work his magic on pen after pen. He would carefully take pen after pen, examine the nib under magnification, work his grinding and smoothing conjuring, and hand the transformed pen back to his eagerly waiting customers. He was fun to watch!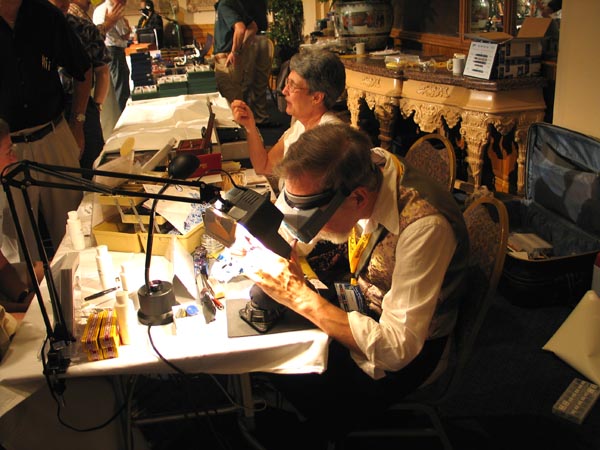 The only chance I had to talk much with Richard was Friday evening when he was still busy after everyone else had left the trade floor for the free pizza and drinks. We had a chance to discuss recent finds. He also showed me two pens he acquired, a pretty Sheaffer Balance in roseglow and an oversize WASP "circuit board" gray Clipper. Two really nice pens.
The Masters From Japan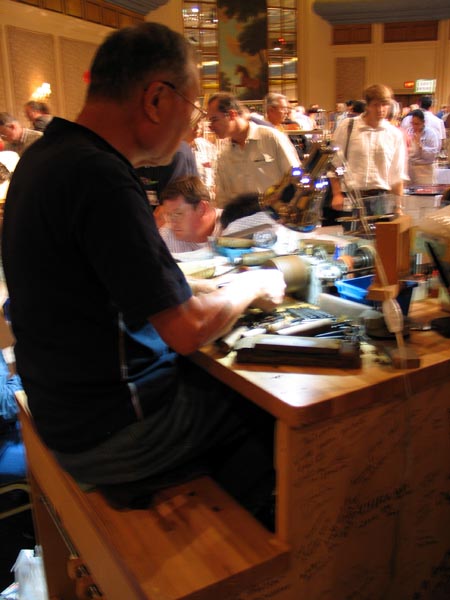 A highlight of the show was the Nakaya table. It occupied a whole corner of the main ballroom. Nakaya brought a several people and a complete pen shop with them. It was amazing.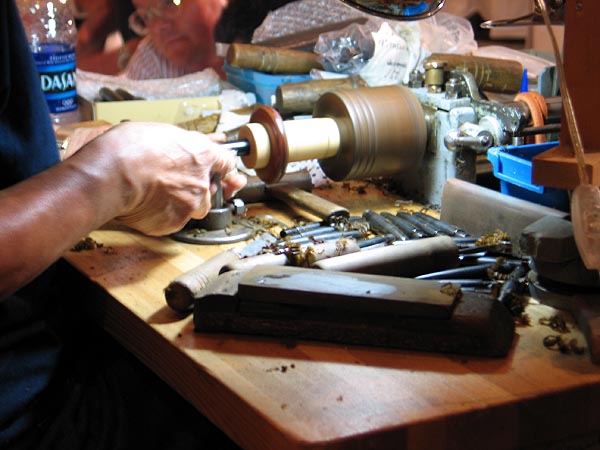 The corner of their set-up included a complete work area where pen parts were being made on premises. This was a rare glimpse into the world of custom penmaking that few will ever see. You can see work being done on pen in this shot.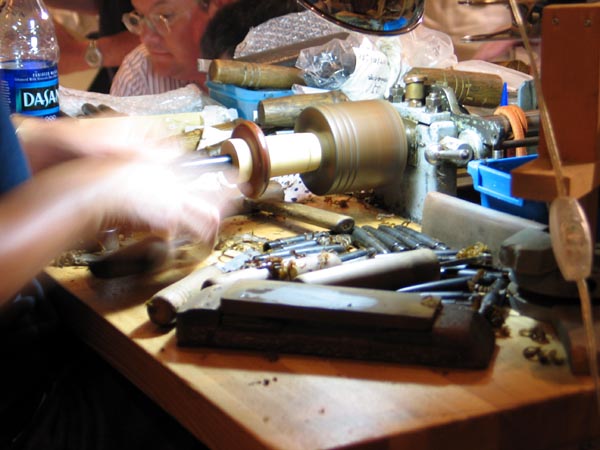 The foot powered lathe spun furiously and the master's hands were impossible to freeze, even at high speed.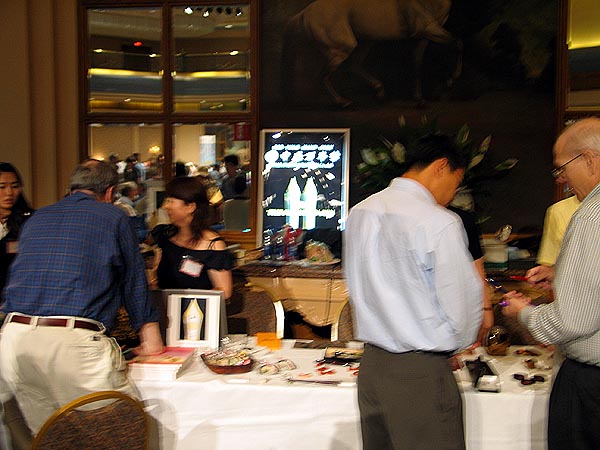 The front of the Nakaya table (sorry for the poor shot) was very busy. Some of the people did not speak English, which made conversation very interesting. They had a placard showing English to Japanese translations of nib adjustment words to help those who came to get a specially tuned pen.
Yes, Virginia, You Really Have The Really Big Shew
There is no way to fully capture the size and scope of the Washington DC Pen Show. It's the biggest in the world, and can hardly be taken in in a day, or covered fully on three pages. If you are anywhere near Washington DC in August, you really need to make time and plan to come. You'll see more pens and from more eras, variety and price ranges than anywhere else. Yes, it is the really big shew.
---
Discuss / Recommend what you read on PenHero.com
Follow us on Twitter: PenHero
Add a link to PenHero.com on your blog:
(Copy & paste code)
Please only use the photo provided. Use of other photos requires permission.
The provided link photo will change as we update the site.

Comments on this article may be sent to the author, Jim Mamoulides
PenHero.com Bibliography