PenInHand - Musings on the Hobby
All That Glitters
by Jim Mamoulides, September 30, 2004
Fountain pens have always been closely associated with the jewelry making craft and that association has meant that many of the finest pens have been fashioned from or adorned with that most noble metal, gold. Regardless of the monetary value of other, more precious metals, such as platinum or palladium, gold has a warmth and charm greater than them all.
Nibs are made from solid gold because of its noble attributes. Gold does not tarnish, it does not react with ink, it is easily formed, and it lasts forever.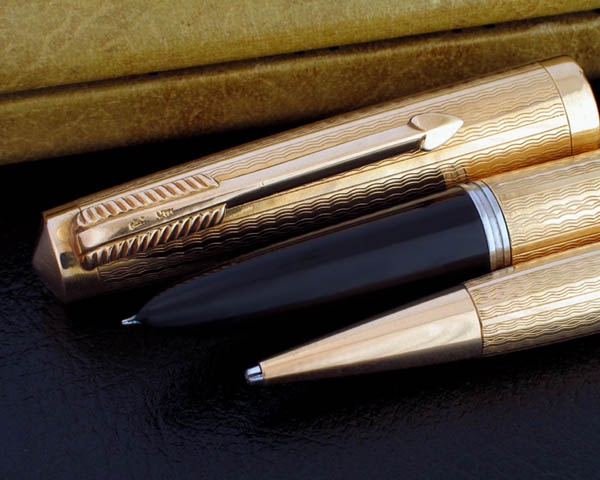 A Parker 51 Pen And Pencil Set With Handcrafted Solid Gold Caps, Barrels, And Trim
Many master craftsmen have looked at the profile of the Parker 51 and then worked to create jeweler's overlays and solid barrels and caps from solid gold to replace the pen's simple, plain package. These caps and barrels can be from simple to elaborate, sophisticated to outrageous.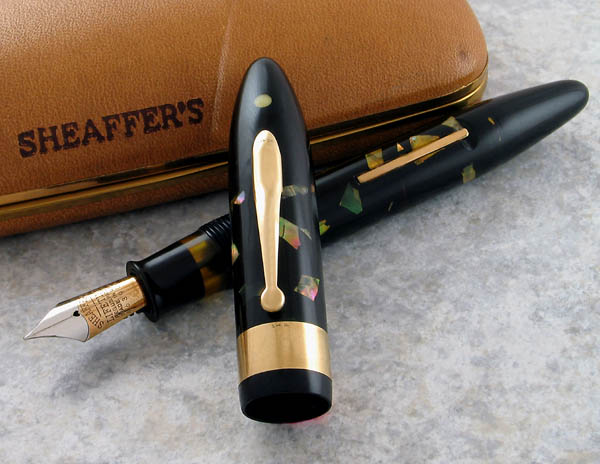 A Sheaffer Balance Autograph Ebonized Pearl With Solid Gold Clip And Cap Band
A solid gold band enhances a pen like no other feature. Giving that feature a name, as Sheaffer did with the Autograph pen, a pen designed to capture its owner's actual signature on the band, made the piece an instant heirloom. Autograph models command significantly higher prices than their plated band siblings, even if already engraved. Solid gold casts that spell.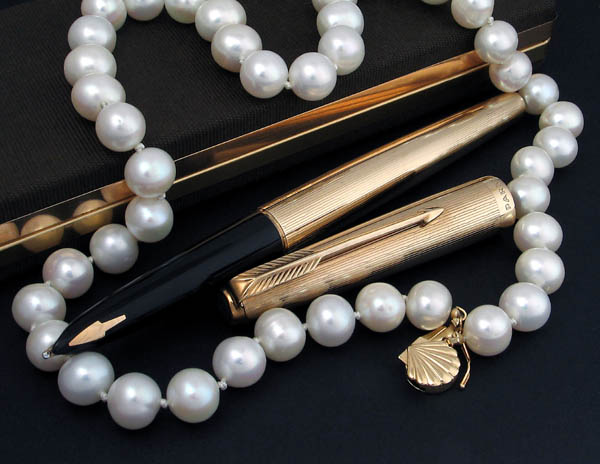 A Parker 61 Presidential Waterdrop
Solid gold transforms a pen from an ordinary writing instrument to one to be used by kings and world leaders. Parker called their top of the line solid gold pens "Presidential" pens. A pen fit to sign contracts as well as treaties. A pen to be passed down to the next generation.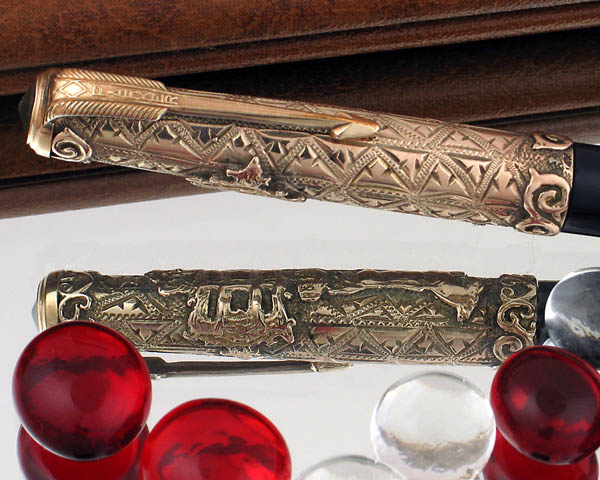 A Parker 51 Pencil With Hand Crafted Solid Gold Cap
In the hands of master craftsmen, solid gold can be formed into a unique and one of a kind piece that won't tarnish with the passage of time. The pen becomes art in a way only gold reflects.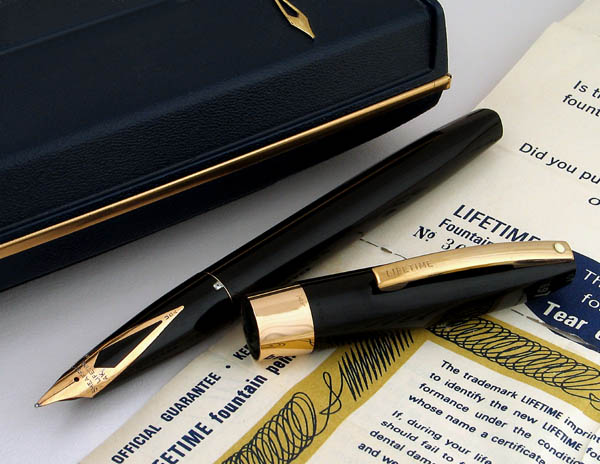 A Sheaffer Lifetime Autograph With Solid Gold Cap Band
Gold is used for trim and adornment to enhance the value and appeal of otherwise ordinary articles. The familiar becomes precious when solid gold enters the picture. A pen that would otherwise be overlooked becomes important, desireable, and attention getting.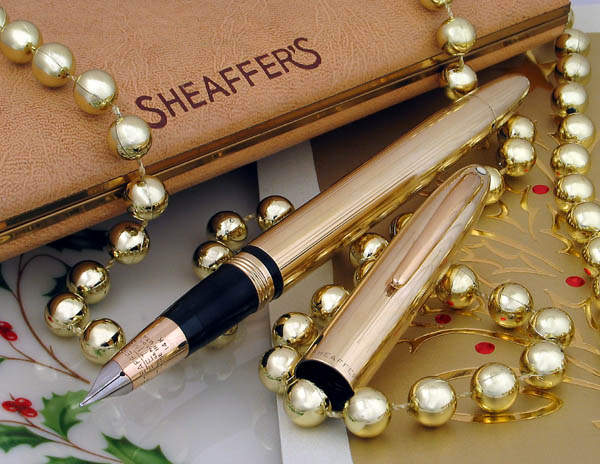 A Sheaffer Snorkel Masterpiece
Wedding bands are made from it because gold represents the combined attributes of purity, nobility, and longevity. Diamonds may be forever, but gold gives them art, turning them from shiny rocks to fiery stars set in their constellation.
Having a solid gold pen is having a gift, an heirloom, a treasure. Writing with one is a joy.
---
Discuss / Recommend what you read on PenHero.com
Follow us on Twitter: PenHero
Add a link to PenHero.com on your blog:
(Copy & paste code)
Please only use the photo provided. Use of other photos requires permission.
The provided link photo will change as we update the site.

Comments on this article may be sent to the author, Jim Mamoulides
PenHero.com Bibliography