PenInHand - Musings on the Hobby
What Hath Cross Wrought
by Jim Mamoulides, September 30, 2005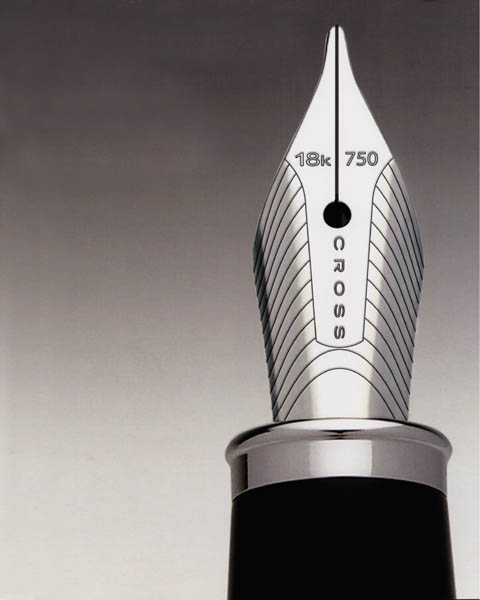 Detail of the Cross Apogee 18 karat gold nib
Apogee - The New Peak
Cross shoots out of the blocks this year with something completely fresh, and yet not too far away from the kind of pens you might expect from Cross. Apogee means, "the farthest or highest point; the apex," and Cross aims to position this mid-price pen at the top of the features / value heap in the $100-$150 retail price range. Mark Knight, the Apogee designer, intended the new line to be a "unique combination of old and new elements." The Apogee is an all new design, but the conical cap top shows the Cross heritage.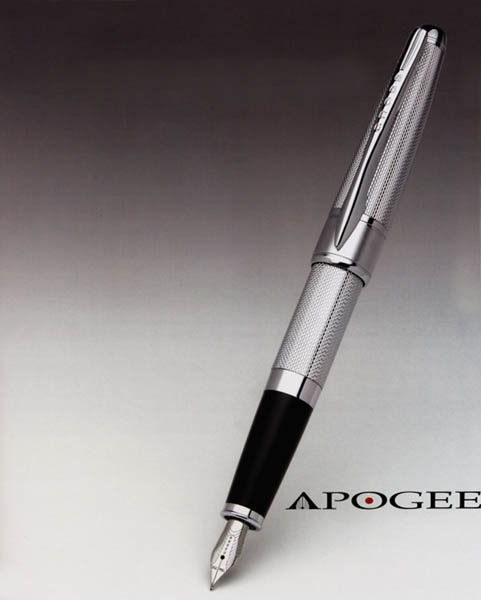 Cross Apogee Chrome
Apogee features a very long spring-loaded clip that extends over the satin-finish extra wide cap band, which serves as a center ring for pen when closed. The Apogee nib is solid 18 karat gold nib with a unique engraved pattern, and with the same smooth and wet writing characteristics found in other high end Cross nibs. The chrome plated Apogee is engraved with a deep diamond pattern texture, done on the Cross Engelsberger engraving machine. Two deep European lacquer finishes complete the new line, in Black Star and Titian Red.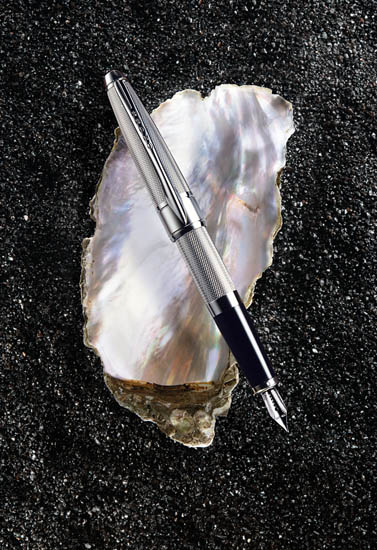 Cross Apogee Chrome Fountain Pen 2005
Apogee fountain pen and Selectip pen are both 5 1/2 inches long capped and 5 5/8 inches posted. They're hefty, weighing about 2 oz, slightly more than a Cross Townsend, which is about 1 1/2 oz. Apogee is all metal, with a nickel silver cap and brass barrel, so the cap is lighter than the barrel, and the combination is nicely balanced. These are hefty, solid pens, much like the Townsend.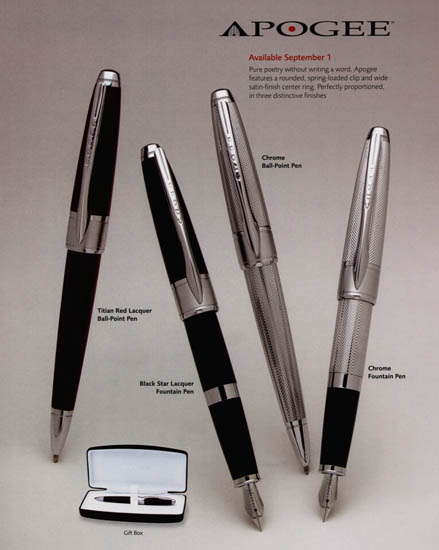 The full color line of Cross Apogee, showing unique packaging
Apogee Chrome fountain pen retails for US $140.00, matching Selectip, US $90.00, ball-point and 0.5mm pencil, US $70.00. Apogee Black Star Lacquer and Titian Red Lacquer fountain pen retail for US $150.00, matching Selectip, US $100.00, ball-point and 0.5mm pencil, US $80.00. Apogee is presented in a handsome leatherette wrapped steel shell case. Apogee is set for September, 2005 release.
ATX Fall Collection - A Cool Streak
Cross follows the sold out ATX Spring Collection with anther limited run of fall fashion colors on the ATX. This Limited Edition Fall Collection line was released in August in three fall fashion colors, Champagne White, Claret Red, and Jade Green matte epoxy finishes on solid brass construction. The line includes unique trim and packaging that will make the ATX Fall Collection pens stand out, and priced to sell in the below $75 -$100 retail price range.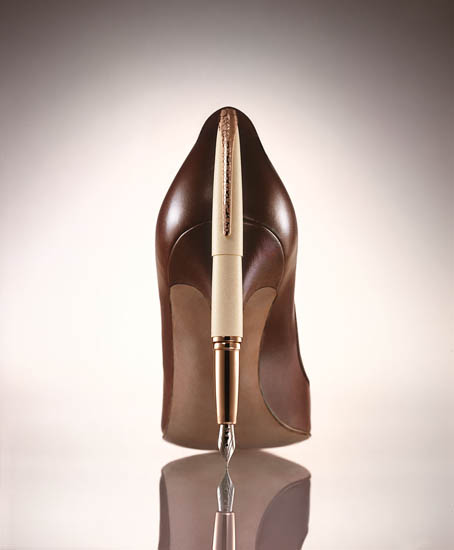 ATX Fall Collection are linked to fall 2005 fashion colors
The ATX Fall Collection pens feature laser-etched clips for each color, inspired by the Art Deco movement. Champagne White pen clips have a pearl pattern, complimenting the pearl color of the finish. Claret Red pen clips have a striped pattern, to match the most formal color in the line. The Jade Green clips have a geometric Maltese pattern. All the trim is a warm 23 karat rose gold plate. The Fall Collection fountain pens are fitted with the smooth ATX stainless steel nib.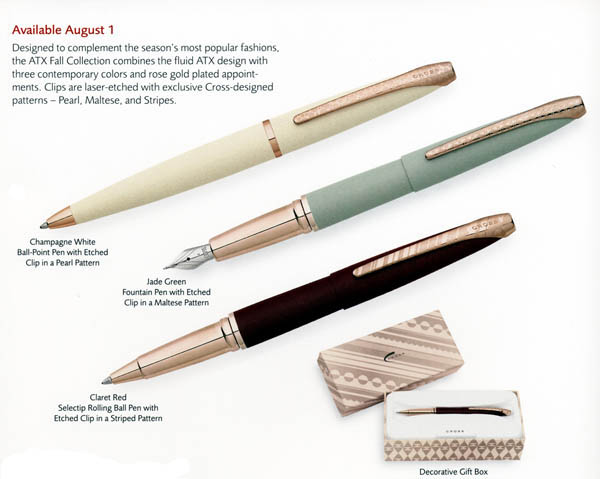 The full color line of the Cross ATX Fall Collection, showing unique packaging
ATX Fall Collection fountain pens retail for US $80.00, matching Selectip, US $70.00, and ball-point, US $60.00. Unique gold-mink foil covered cardboard gift boxes are decorated with the pen clip patterns.
Tech3 - Twist And Shout
Filling out the Fall lineup is the new Cross Tech3 multifunction pen. Tech3 features an innovative continuous-twist technology that offers three writing modes in one instrument: black fine ballpoint, red fine ballpoint, and 0.5mm pencil. Tech3 fits nicely into a Century II pens and pencils, having the same distinctive wide profile. Tech3 is priced to fit into the $25-$50 price range.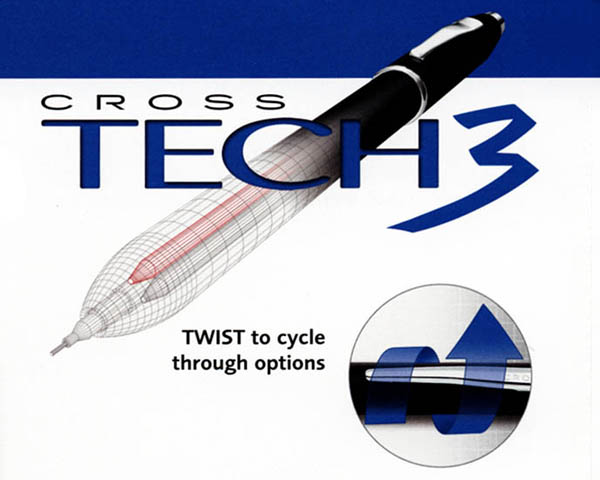 Cross Tech3 marketing slide showing the twist action and writing modes
Tech3 advances to each new writing mode by turning the barrel in the same direction, right around until repeated. No back and forth twisting. The eraser is hidden underneath the screw off conical cap top.

Cross Tech3 lineup showing all four finishes
Tech3 is offered in the best selling Classic Century and Century II finishes over brass construction. Medalist, heavy chrome plate with 23 karat gold plated trim retails for US $45.00. Satin Black and Satin Blue epoxy finishes with heavy chrome plated trim retails for US $35.00. Lustrous Chrome with heavy chrome plated trim retails for US $35.00. Presented in standard Cross gift box and on blisterpack hang packs.
---
Acknowledgement
All photos and artwork above copyright A. T. Cross Company.
Discuss / Recommend what you read on PenHero.com
Follow us on Twitter: PenHero
Add a link to PenHero.com on your blog:
(Copy & paste code)
Please only use the photo provided. Use of other photos requires permission.
The provided link photo will change as we update the site.

Comments on this article may be sent to the author, Jim Mamoulides
PenHero.com Bibliography