PenInHand - Musings on the Hobby
Loaned Treasures
by Jim Mamoulides, July 26, 2005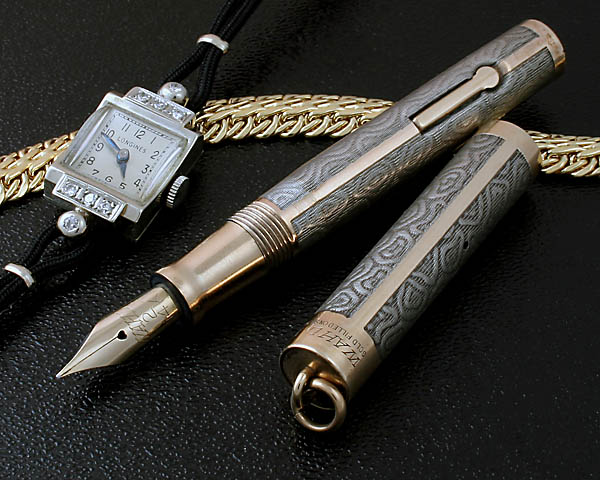 Wahl Ringtop fountain pen in the unusual "Brain" pattern in Vermeil - c1920s
Doing photographs for pen shows and magazines means that a steady stream of interesting pens pass through the studio for short visits. Lately there has been a flurry of modern pens showing up around here, including a number of very interesting pre-release models.
What's been really special recently is the large number of modern and vintage pens loaned by Bertram's Inkwell for photos for the Miami Pen Show. Joe Engel, who handled the advertising for the show, wanted a spectacular spread of pens and watches to be featured on the show advertising and show posters, similar to the spread for the Philadelphia Pen Show. When it was time to do the shoot, a large box from Bertram's Inkwell showed up chock full of interesting vintage and modern pens.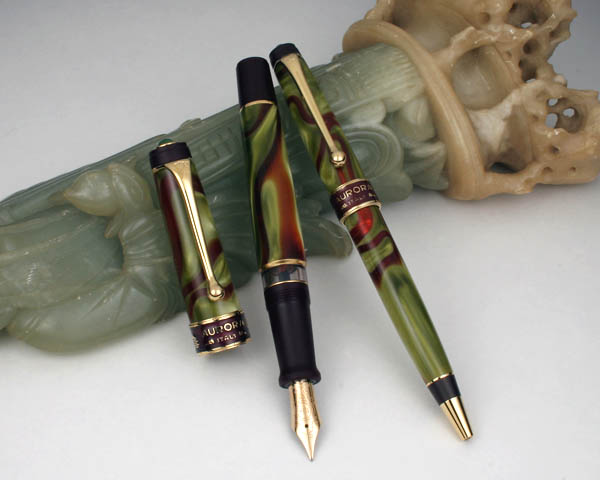 The new Aurora Asia Series special edition 2005
The Miami Pen Show was sponsored by Aurora, and they wanted their pens featured, especially the new Asia series special edition. We actually got to see two sets of this very handsome new edition, both numbered ballpoint and fountain pen sets, before the official release. The first set was loaned to us at the Raleigh Pen Show overnight, as the set needed to be shipped out almost immediately, as the demand by dealers to see it was quite high. The fountain pen in that set had a wonderful stub nib that I am sure would be a nice writer, but I only had time to dry test it. The second set had a normal nib.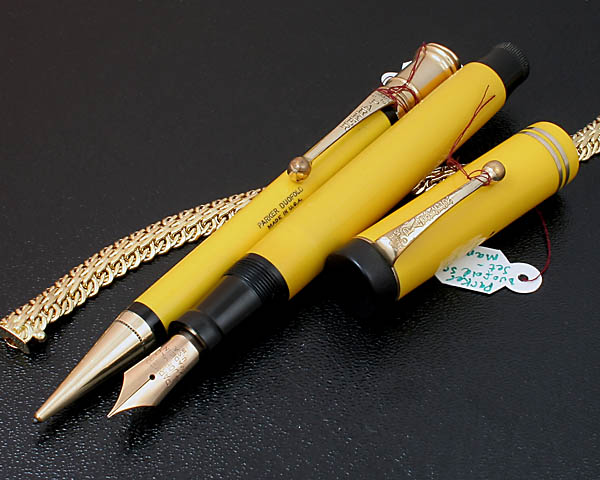 A really nice Parker Duofold Mandarin pen and pencil set c1928
As nice as it was to see the new Aurora, Bertram's sent along some very nice vintage pens, many from the 1920s, and which would be prizes in any collection. The first thing I noticed opening the pen case was a bright yellow Parker Duofold Mandarin pen and pencil set, c1928. The set was truly exceptional and really stood out against the black background of the pen case. It still had the store sale tags on it, and I thought it would add interest to the poster shot to leave them on. One test of whether a Duofold has discolored is to compare it to the matching pencil. This pen and pencil were a match - exceptional color.
While I was looking at Parkers, I noticed a dull gray pen with a gold Parker Arrow clip. Pulling it out of the cloth loop, I noticed that it was really light for a metal pen and had a cool red jewel at the cap top. Pulling off the cap revealed a long sculpted section that continued unbroken all the way to the slit tip. A little screw head peeked out under the nib. This was a Parker T-1!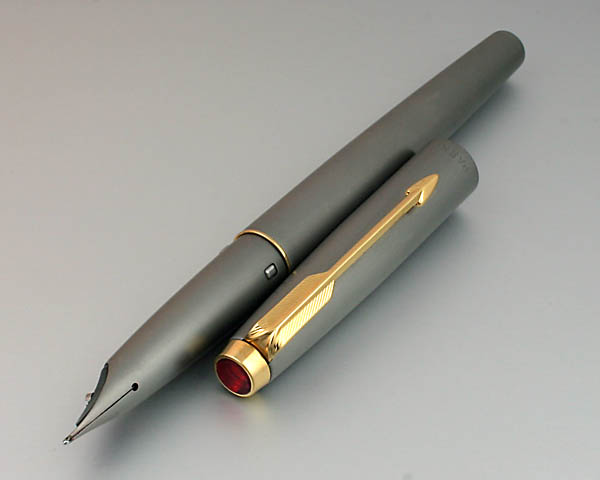 Parker T-1 fountain pen - Another highly sought after Parker market failure - c1970
I've never actually spent much time with the T-1, but I now can say that in time it grows on you. This is a really light weight pen with clean, simple lines. It couldn't be more understated. It's too bad that titanium was too cost prohibitive to work with because this pen strikes me as a perfect combination of the light weight of plastic pens with the durable nature of metal pens. I have several Parker 50 Falcons, and they are bright and jazzy next to the T-1.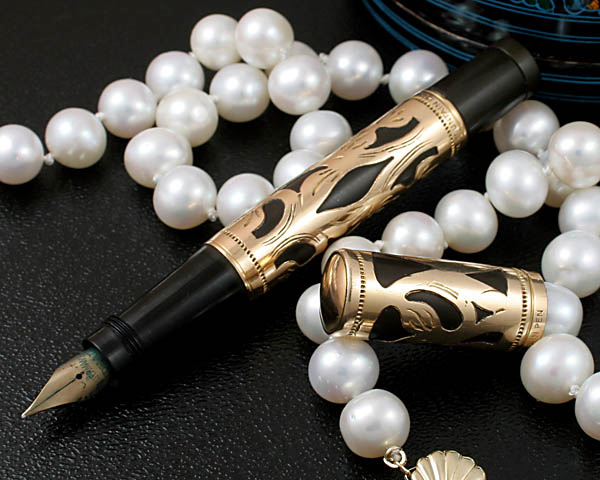 A Waterman Safety Pen with gold filigree overlay - c1920s
Also in the case were a number of unusual older pens, including a beautiful Waterman Safety pen from the 1920s. The safety mechanism that retracts the nib worked smoothly, revealing a soft shouldered flexible Waterman Ideal stamped nib. The hard rubber cap and barrel were clad in an attractive cut out overlay. A very photogenic pen.
Another pleasant surprise was a tiny Wahl Ringtop pen from the 1920s in the unusual and sought after "Brain" pattern. The pen was especially interesting in that it was finished in a windowed vermeil, with a sterling silver base with an overlay of rolled gold, except on the Brain pattern panels. This gives the pen a very attractive two-tone look that sets off the machine engraving. I've seen other Wahl ringtops done this way in other patterns and they are all stunning pens. The Brain pattern does not appear in Wahl catalogs, and not much is known about it. I have also seen examples in all sterling silver and all gold filled.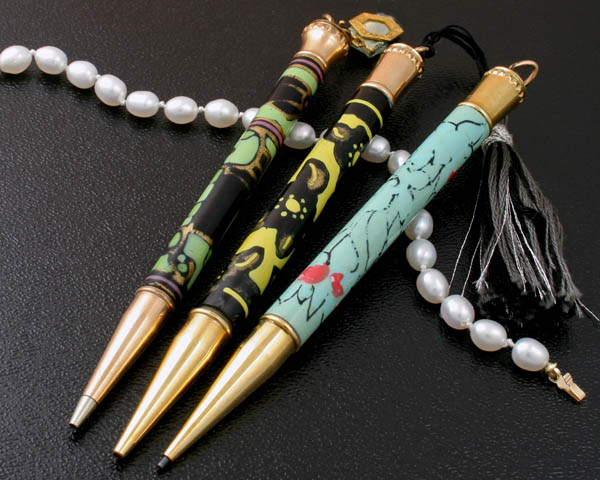 A trio of Cross hand painted pencils from the 1920s
Another exceptional find in the case were three 1920s vintage Cross painted pencils. Hand painted pens and pencils had a brief rush of popularity in the mid 1920s and almost every manufacturer offered something in their line. They are relatively uncommon and command premium prices. Very high quality examples are unusual, while many show paint loss. These three Cross pencils are a complete set of the ones made by Cross.
One thing these visits always do is give me pause to reflect. Since I can't collect everything, it's nice to be able to have a visit with writing instruments that are truly special and get a chance to see them one on one for a short time.
So to all of you who have sent me pens this year, thanks once again!
---
Discuss / Recommend what you read on PenHero.com
Follow us on Twitter: PenHero
Add a link to PenHero.com on your blog:
(Copy & paste code)
Please only use the photo provided. Use of other photos requires permission.
The provided link photo will change as we update the site.

Comments on this article may be sent to the author, Jim Mamoulides
PenHero.com Bibliography