PenInHand - Musings on the Hobby
Found! Now What Is It?
by Jim Mamoulides, October 30, 2005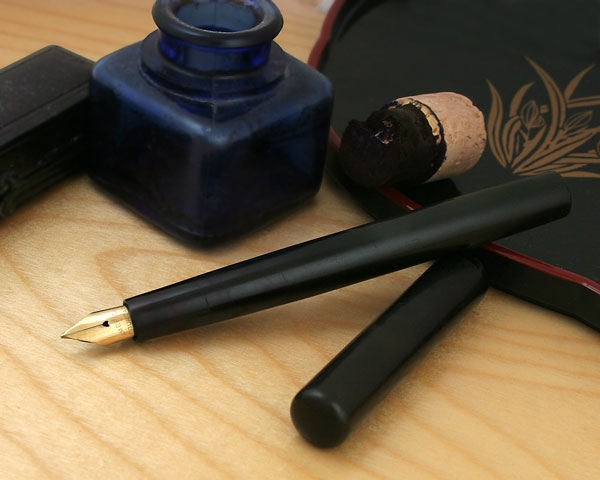 The Crossman fountain pen, in from the wild
My wife and I enjoy pen hunting together, especially if it means we're tramping all over Maine in the summertime. She is much better at spotting the good stuff than I am and is a better negotiator. Probably the Mainer in her. We've learned where the antique stores are and generally which ones are likely candidates for good finds. We've had incredible success in Maine, both in terms of quantity of good quality pens and pencils and in numbers of interesting finds. It appears that Mainers might be a frugal lot, but they valued quality and it shows in the pens they left behind.

Detail of the American Fountain Pen nib installed in the Crossman fountain pen
On this summer's trip, we had been out all day and had found a lot of really nice items, and near the end of the day we were looking over a group of pens when a dull, plain hard rubber pen caught my eye. The imprint was nearly impossible to read in the poor light and the nib looked like it simply said "AMERICAN," so I wasn't really certain what we were looking at. I can pretty well identify most pens made from the 1920s and onward and have at least a good idea of values in order to decide which are keepers, but this particular one was an enigma, but a well made enigma, so we we decided to take it on a flyer with the rest of the good pens in that shop. We made the best deal we could with the rest of the lot and went home with our treasure.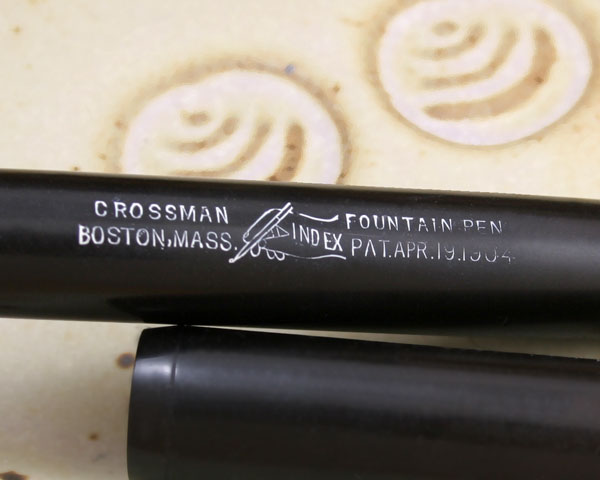 Detail of the Crossman fountain pen imprint
Like many pens found in the field, this one was pretty dirty, so when we got home, I gave it a mild soap and water wash to at least get a better idea of the markings. The good news was the imprint was strong enough to read, the bad news was it didn't help me, given my limited knowledge of early hard rubber pens. The first question the imprint brings is, "What is a Crossman pen?" I hadn't heard of this Boston based pen company, though I am familiar with others that hail from there. The nib was also more mystery than revelation. A Crossman pen with an American Fountain Pen Company nib only indicated that both the pen and nib came from the same city. The cap had a place for a clip, but the clip was gone, so another clue was missing.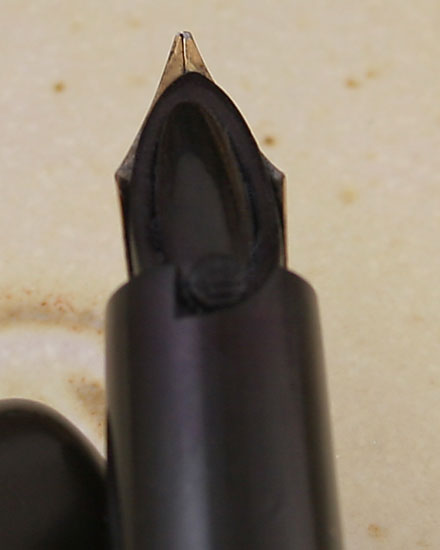 Detail of the feed side showing the locking pin
The feed was also interesting. Unlike many early eyedropper pens, the section did not appear to be readily easy to open. The feed has a peg in a notch at the base that seemed to serve some function related to keeping the section together, and since I could not figure out how to easily open it, I left it alone, wanting to do no harm to the pen.
After rifling through the materials I had back home, I decided to put the question to the community. Basically, it was, "Look what I found! What is it?"
I was soon contacted by Rob Astyk, who identified the name on the pen as belonging to Martin Crossman, a Boston pen designer who held a number of pen design patents, from as early as 1904 and as late as 1924. He was previously unaware that Crossman had actually made any pens with his own name on them. This pen appeared to incorporate a design feature that Crossman had patented, that defined how the feed was secured and removed in order to fill the pen. Crossman also designed a pliers tool that was used to attach an early version of the Van Valkenburg clip, and Rob noticed that this pen's cap was fitted for that clip design, so it likely used it.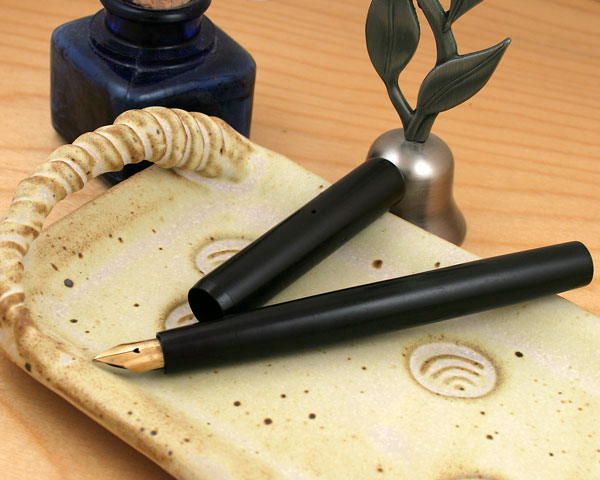 Crossman fountain pen
There is so much more detail that Rob turned up on this pen, including patent and design information, that I hope he will package into an article.
All this and more from a slightly browning, clipless, unadorned hard rubber pen nearly a hundred years old found in a small antique shop in the heart of Maine. There's a lot of pen history out there yet to be found. Keep hunting!
---
Discuss / Recommend what you read on PenHero.com
Follow us on Twitter: PenHero
Add a link to PenHero.com on your blog:
(Copy & paste code)
Please only use the photo provided. Use of other photos requires permission.
The provided link photo will change as we update the site.

Comments on this article may be sent to the author, Jim Mamoulides
PenHero.com Bibliography