PenInHand: January, 2012
Eye Candy: The Classic Pens CR2 Bamboo Limited Edition
by Jim Mamoulides, January 1, 2012

Classic Pens CR2 Bamboo Limited Edition open

I've had the great fortune of being able to preview and photograph many of the prototypes of future pens by Classic Pens, Inc. Usually these are museum quality Maki-e, guilloche and overlay sterling silver pens. I've also been able to preview proposed new models, one offs, and prototypes. It's a very fun experience being involved and seeing the creative process that goes into creating these high end and art pens.
Andy Lambrou contacted me in 2010 to shoot a very different style pen that he was working on with Paul Rossi. He usually collaborated with him on very high end sterling silver overlay pens. This new Classic Pens CR2 Bamboo Limited Edition would be a very organic hand made design intended look as if fashioned from young deep green bamboo stalks. I didn't really know what to expect, but had seen Paul Rossi's lifelike work in sterling silver overlays, so I was definitely intrigued. Andy sent me a couple of sample shots he made of the prototype and I couldn't wait to see the pen in person.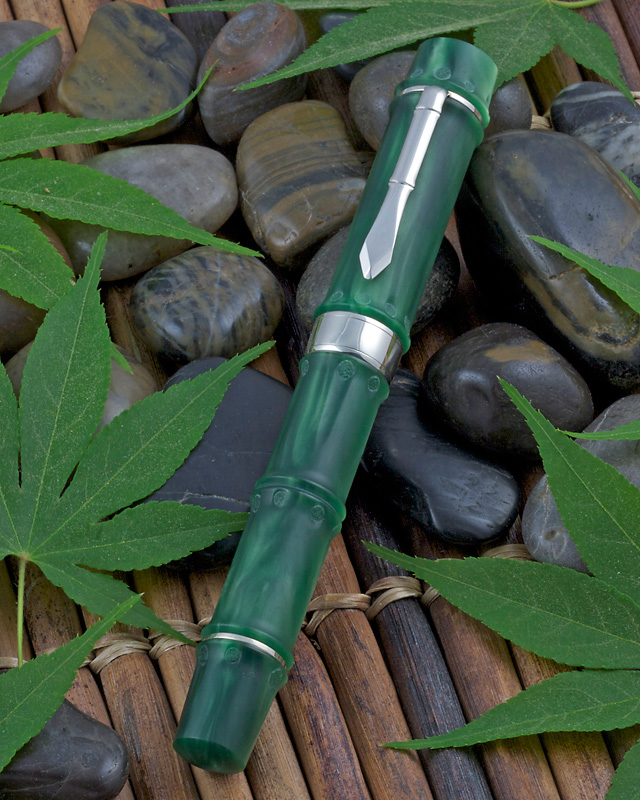 Classic Pens CR2 Bamboo Limited Edition closed
When the pen arrived, I was amazed. It looks like nothing else and is wonderful to hold in the hand. It's also huge!
Paul Rossi puts about about 30 hours of hand work into each pen, hand working the Italian acrylic rods, and the effort shows in the amazing organic detail. The pen, from cap top to barrel end, looks like it was cut from an exotic, deep green mottled young bamboo stalk, having five distinct segments from cap top to barrel end, cleared clean of its branches, and adorned with sterling silver metal fittings. It's a very big pen, based on the Classic Pens Mythos 877L model, making it about six inches long capped, larger than the really big Pelikan M1000.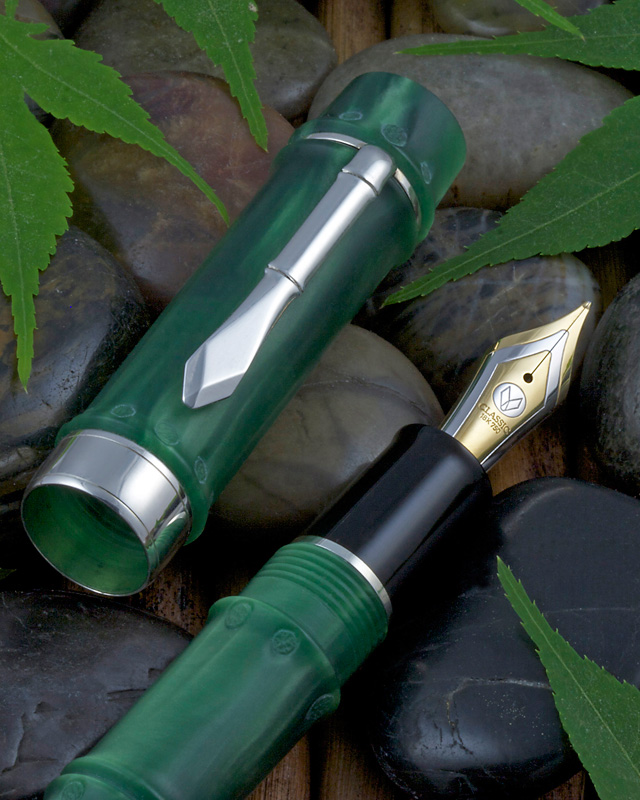 Classic Pens CR2 Bamboo Limited Edition cap and nib detail
This is a very large pen that is wonderful to hold, revealing many contours and textures in the hand. Because it's acrylic, it's not overly heavy, but it feels big, especially with the cap posted on the end of the barrel. The green acrylic has much visual depth as the barrel is turned, and Paul Rossi used a special technique to bring a stain finish, softening the waves of shading in the material. He hand cast the clip using sterling silver, integrating the Classic Pens signature clip design with two bamboo segments for a unique organic look. The base segment of the barrel is stamped with "PR" for Paul Rossi, and the edition number on the obverse, rendered as "No X".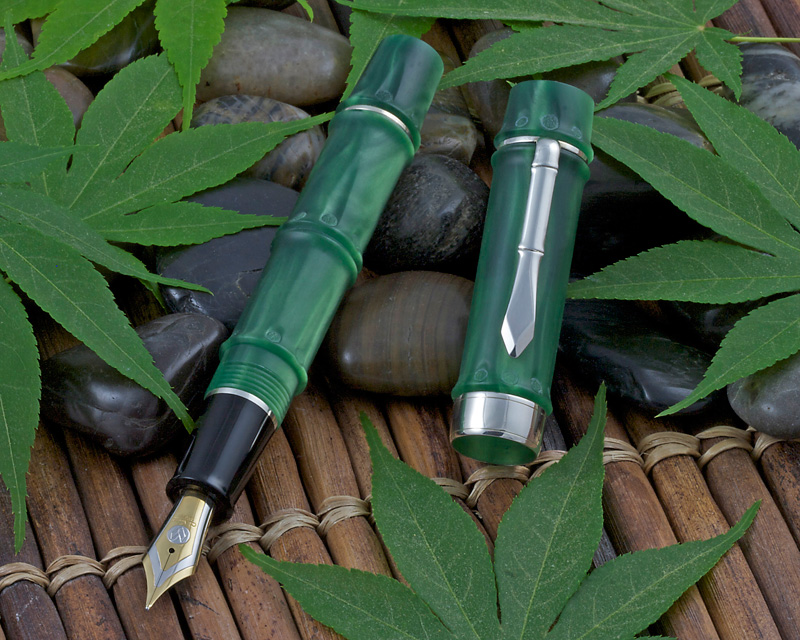 Classic Pens CR2 Bamboo Limited Edition open
The pen is fitted with the large Classic Pens No. 7 nib, made by Peter Bock. These are especially nice writers, with some flex, as owners of the ZJ1 models know. Fine, Medium and Broad two-tone rhodium plated nibs were available for the edition, as well as an all rhodium plated version. The edition was offered at a retail price of $3,600.00, and were made to order by reservation. Half of them were sold at announcement. The Classic Pens CR2 Bamboo Limited Edition could be called a very limited edition, as it was to be only 10 pieces. Each pen was accompanied by a Certificate of Authenticity signed by Paul Rossi and Andy Lambrou.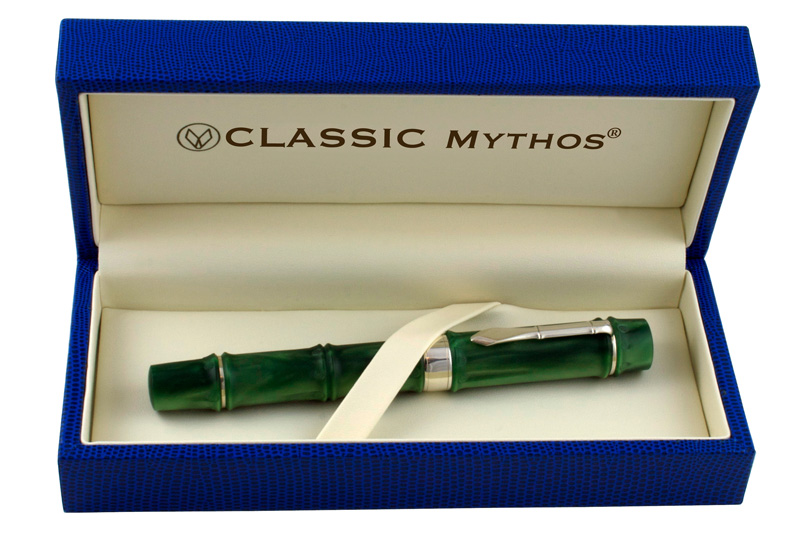 Classic Pens CR2 Bamboo Limited Edition in the blue presentation box
I've been going through the archives of Classic Pens I have shot in the past years and plan on adding more stories about these fascinating works of art over the course of the year.
---
Discuss / Recommend what you read on PenHero.com
Follow us on Twitter: PenHero
Add a link to PenHero.com on your blog:
(Copy & paste code)
Please only use the photo provided. Use of other photos requires permission.
The provided link photo will change as we update the site.

Comments on this article may be sent to the author, Jim Mamoulides
PenHero.com Bibliography