PenInHand: June, 2016
Waterman Reflex da Vinci: Two fun, yet very collectible, value priced pens
by Jim Mamoulides, June 22, 2016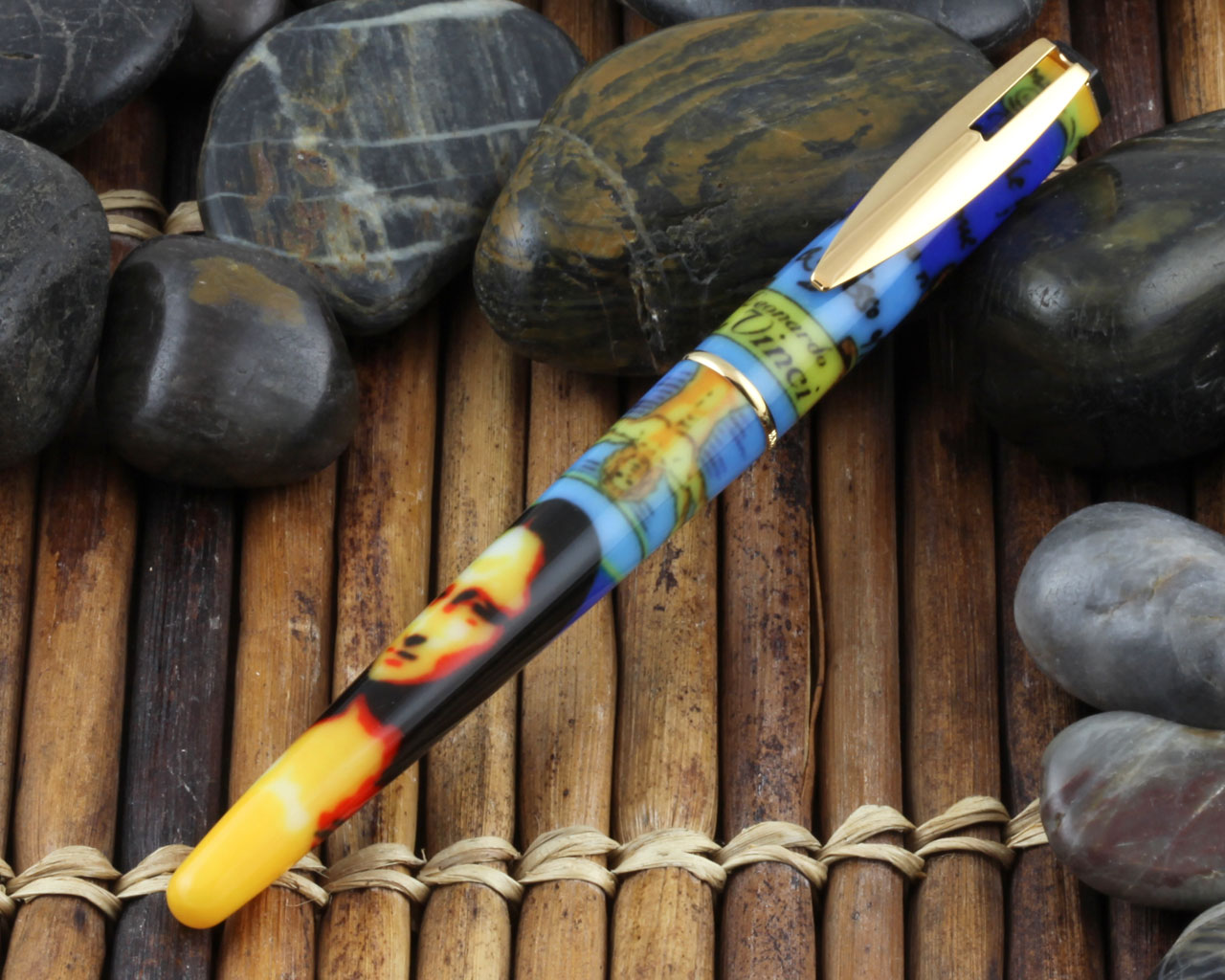 Waterman Reflex da Vinci blue, closed
Click the image above to see a full screen slideshow
It's not every day that a fairly ordinary pen becomes a hot collectible. The Waterman Reflex certainly meets the "ordinary" requirement, being the quality entry level pen in the Waterman line during the 1990s through at least the early 2000s. Many large pen manufacturers in that time period produced inexpensive pens that were sold in stationers, drug stores and big box office supply stores. They were often sold on hang cards or in cheap paperboard boxes.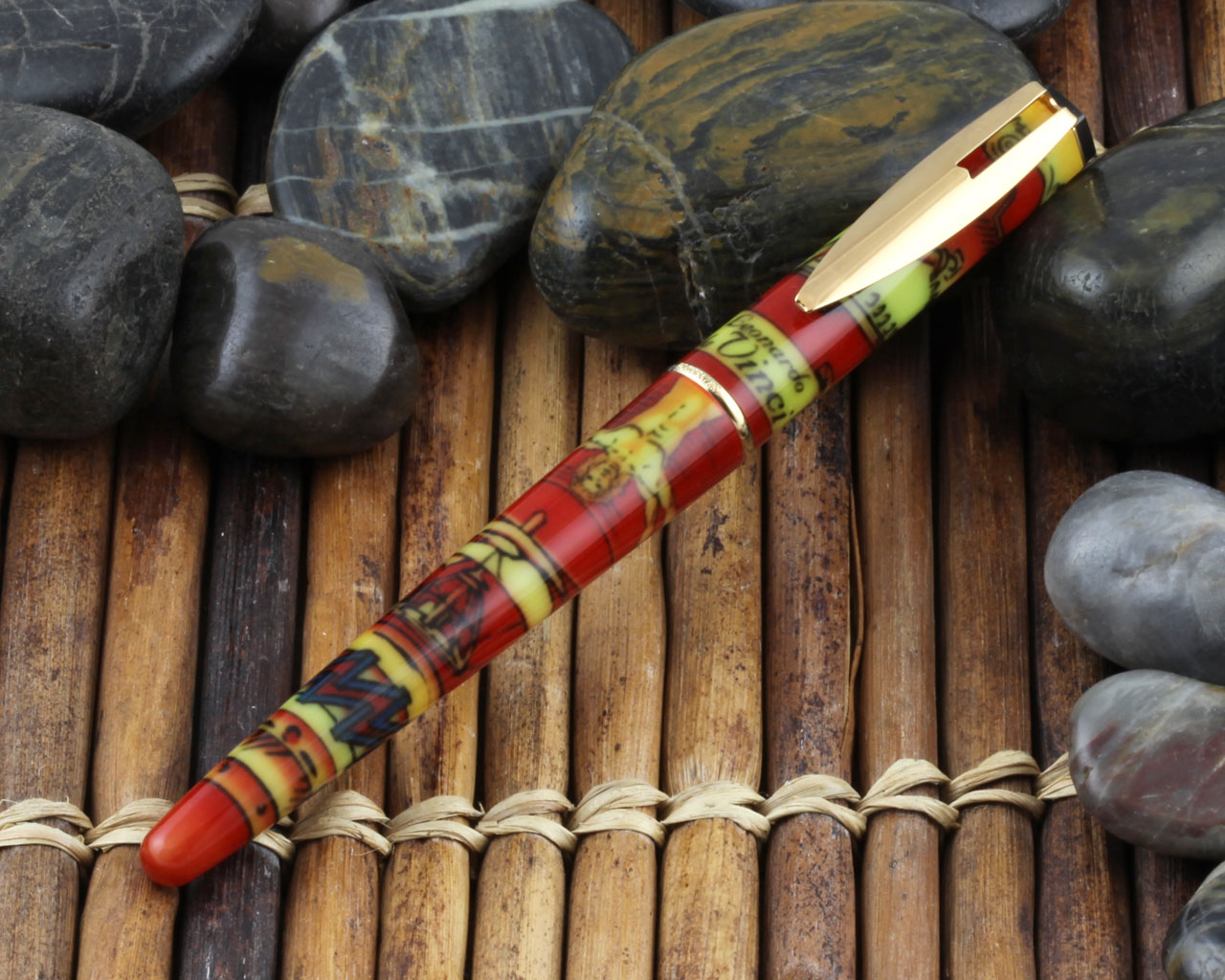 Waterman Reflex da Vinci red, closed
The Waterman Reflex line included a fountain pen, capped rollerball pen and pushbutton ballpoint pen. Unlike the more expensive pens in the Waterman line, there is not a lot of information on colors, finishes, and price points. Based purely on observation, the Reflex fountain pen came in an open nib version and a semi-hooded nib version. It appears that the open nib pens are earlier. The Reflex pens were offered in all plastic cap and barrel pens, metal cap and plastic barrel pens, and all metal pens. Waterman offered versions of the plastic Reflex pens in screened printed patterns. Trim was either gold or chrome plate. Fountain pen nibs were stainless steel and plated gold to match gold trim pens. In 1995, the price of a plain color plastic Reflex with chrome plated trim was £9.99.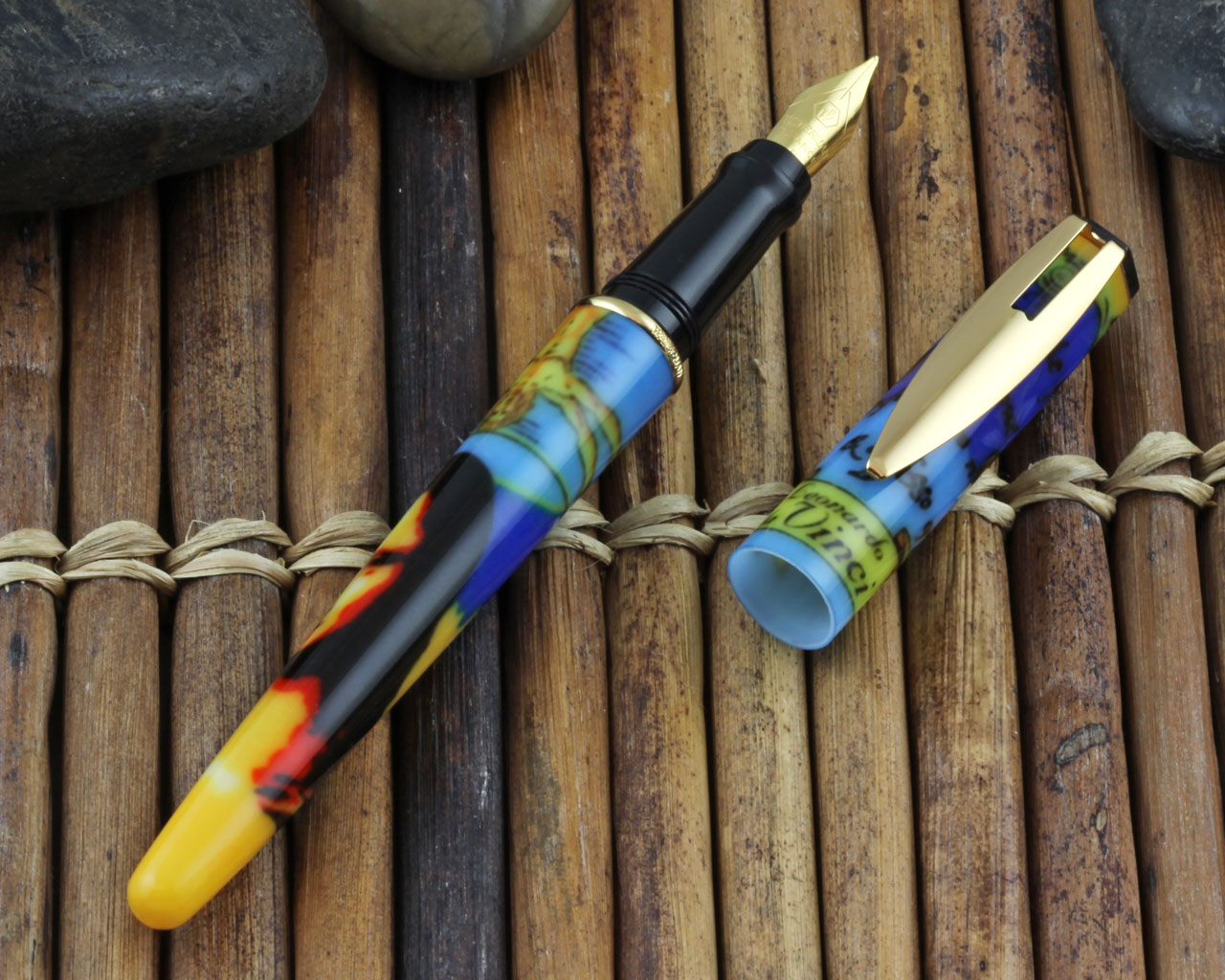 Waterman Reflex da Vinci blue, open
Sometime between 1995 and 2000, Waterman introduced Reflex fountain and pushbutton ballpoint pens in two screen printed designs to honor Leonardo da Vinci. Because of the primary colors of the two designs, the two versions are often referred to as the "red" da Vinci and the "blue" da Vinci. The base pens are gold trim plastic Reflex pens.
Waterman Reflex da Vinci red, open
Panoramas:
The blue pen features stylized images of a da Vinci drawing of two oppositely pointing hands with hand writing on the cap and the Mona Lisa painting on the barrel.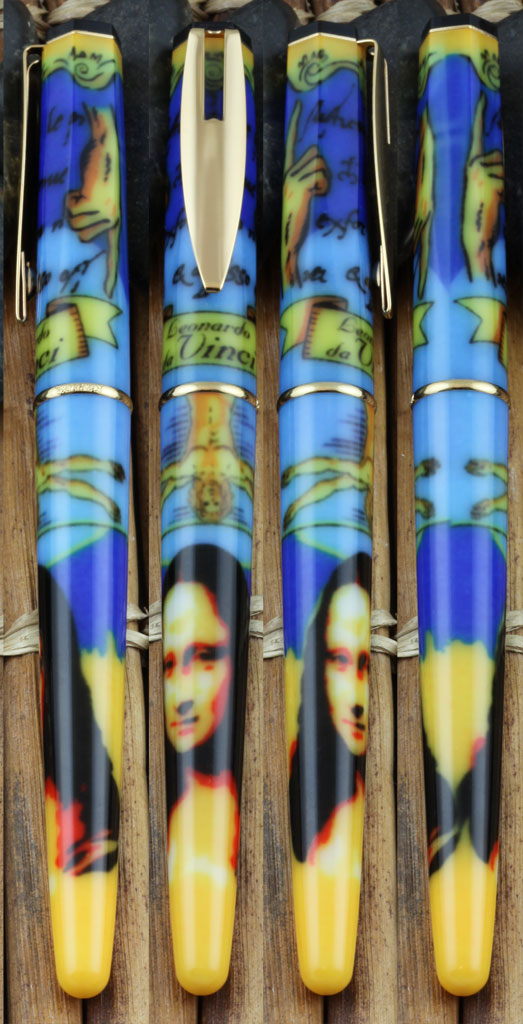 Waterman Reflex da Vinci blue
The red pen features stylized images of a da Vinci drawing of gears on the cap and the "helicopter" or Aerial Screw on the barrel.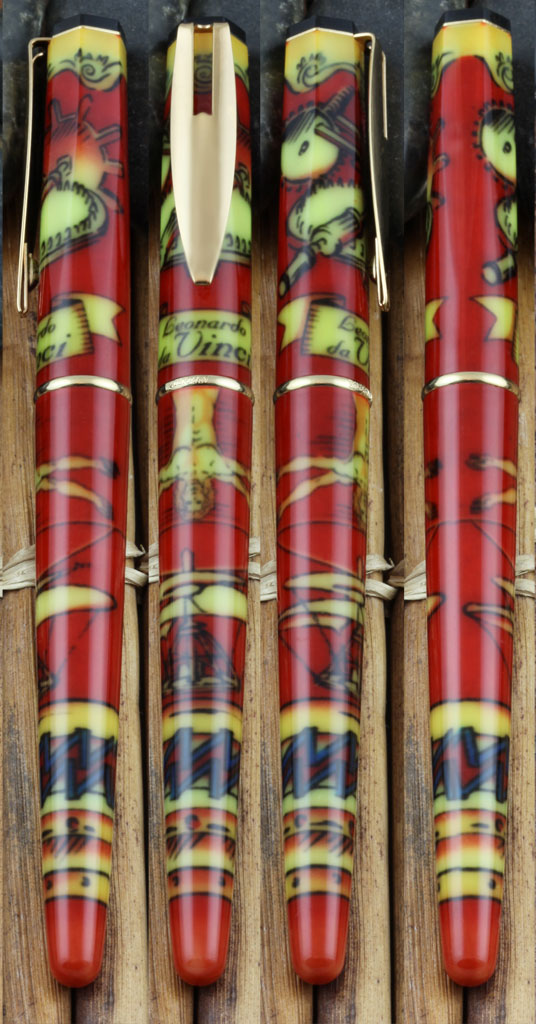 Waterman Reflex da Vinci red
Both pens have a banner with Leonardo da Vinci at the cap lip and an image of the Vitruvian Man at the top of the barrel.
Identification guide and features: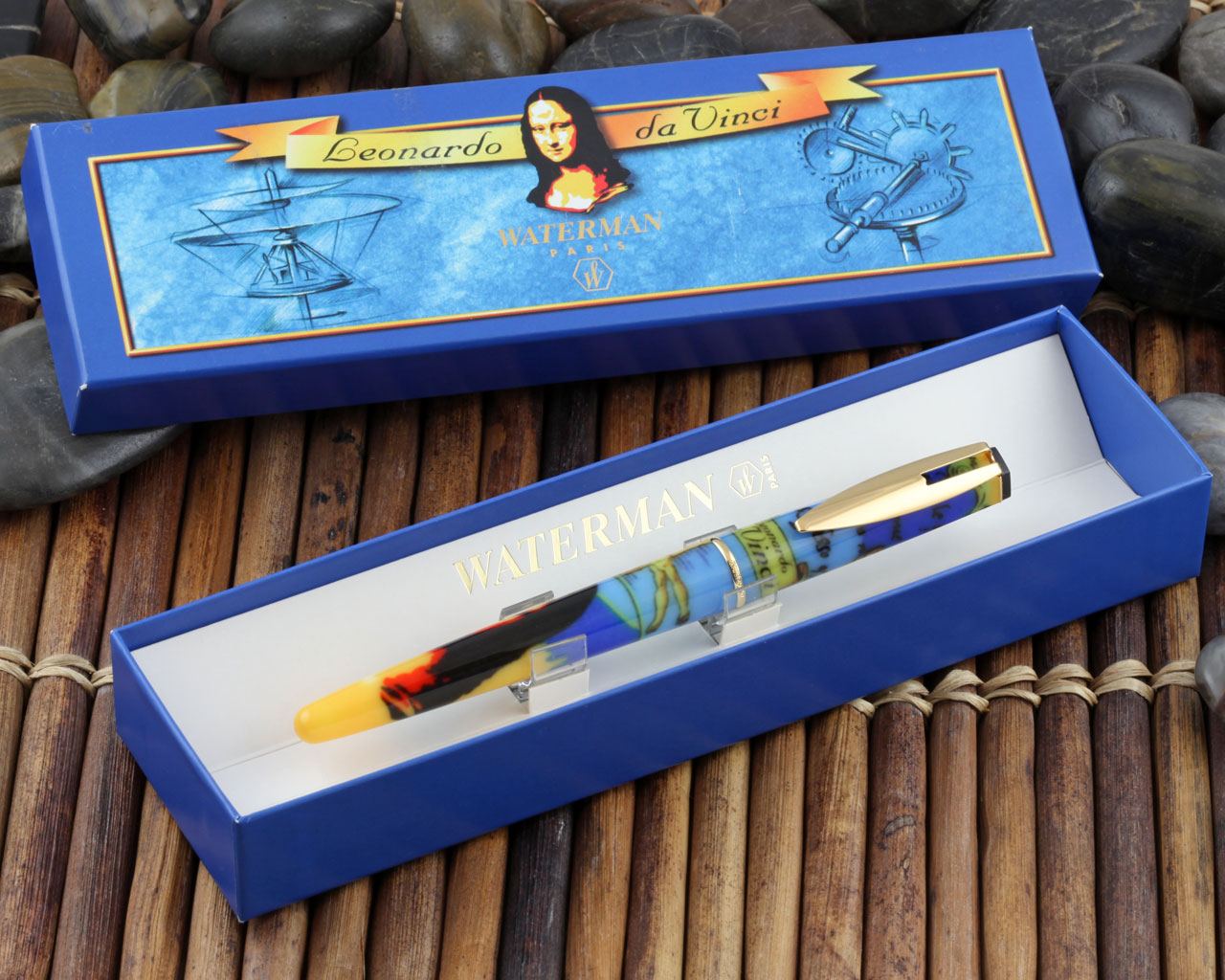 Waterman Reflex da Vinci blue in gift box
The da Vinci Reflexes came in two versions, a predominately blue pen featuring Mona Lisa on the barrel and a predominately red pen featuring the Aerial Screw drawing on the barrel. The pens were offered in blue paperboard boxes that also featured the Mona Lisa, Aerial Screw and a gear design that appears on the red pen's cap. Fine and medium nib pens are known. Offerings included the fountain pens sold separately, fountain pen and pushbutton ballpoint pen sets and sets with two ballpoint pens. Retail pricing is not known.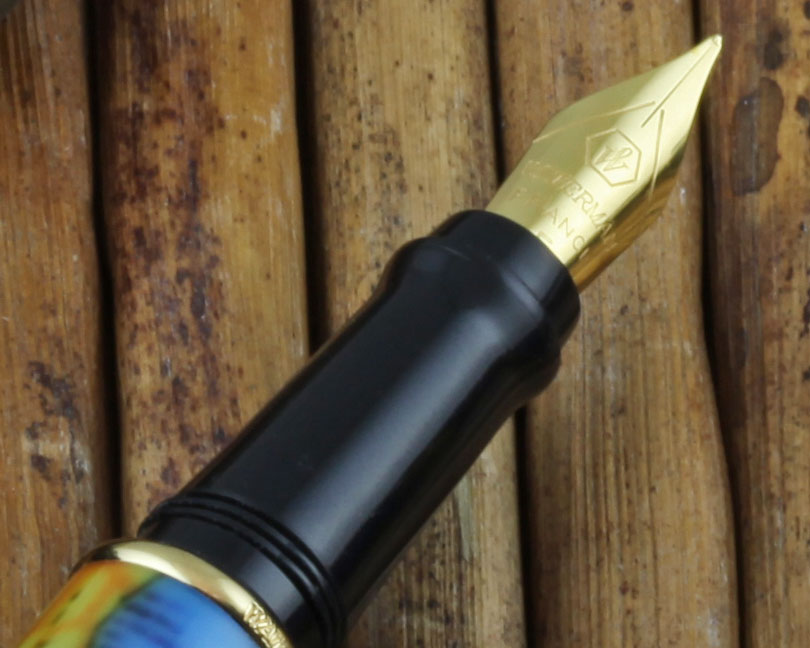 Waterman Reflex da Vinci red
Plastic cap and barrel screen printed with Da Vinci graphics
Gold plated trim
Cap pulls off
Gold plated stainless steel nib with Waterman logo, name, "FRANCE" and nib grade stamped
Fine and medium nib known to be offered
About 5 1/2 inches long capped
Uses Waterman ink cartridges
Sold without converter, though Waterman converter will fit
Performance: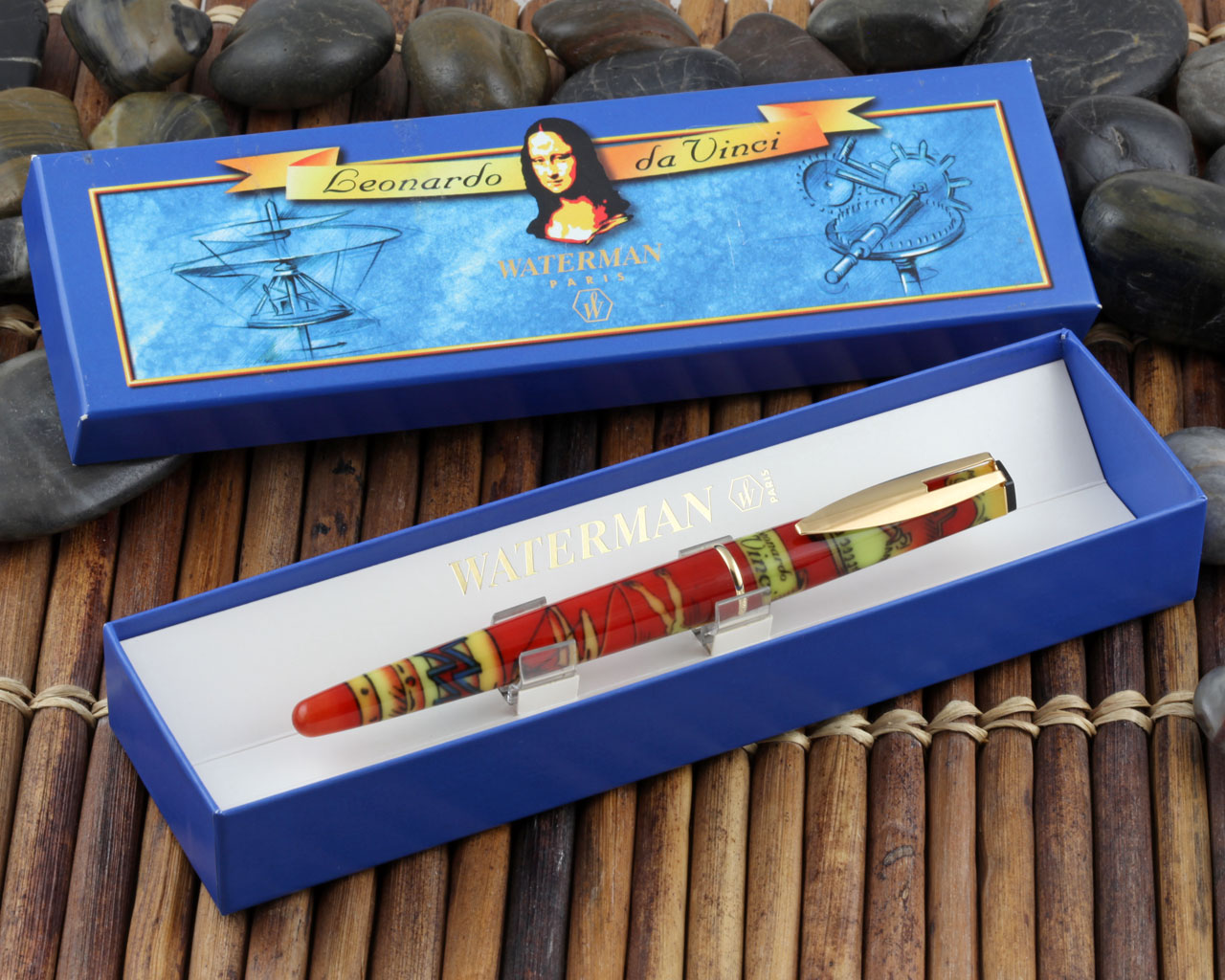 Waterman Reflex da Vinci red in gift box
The two da Vinci Reflex pens shown in this article are mint, and since they have become quite collectible, I decided not to ink them, so the writing review information is from a plain plastic Reflex fountain pen with a fine nib.
The Reflex is a very light weight pen. The design is simple, but not merely a bullet balance shape. The barrel has a long taper and a blunt end, but the cap tapers slightly to a flat hexagonal top with the Waterman logo molded in the top face. The clip is a huge washer mounted spade shape that grips tightly, though does not have much give. The broad, gold colored curved shape gives some pocket bling.
The Reflex nib is a very firm fine that writes a very even and smooth line. Ink starts as soon as the tip touches the paper. Writing is similar to the Kultur or Phileas pens, which may share this nib and feed. If you want to try different inks, it's worth investing in a converter.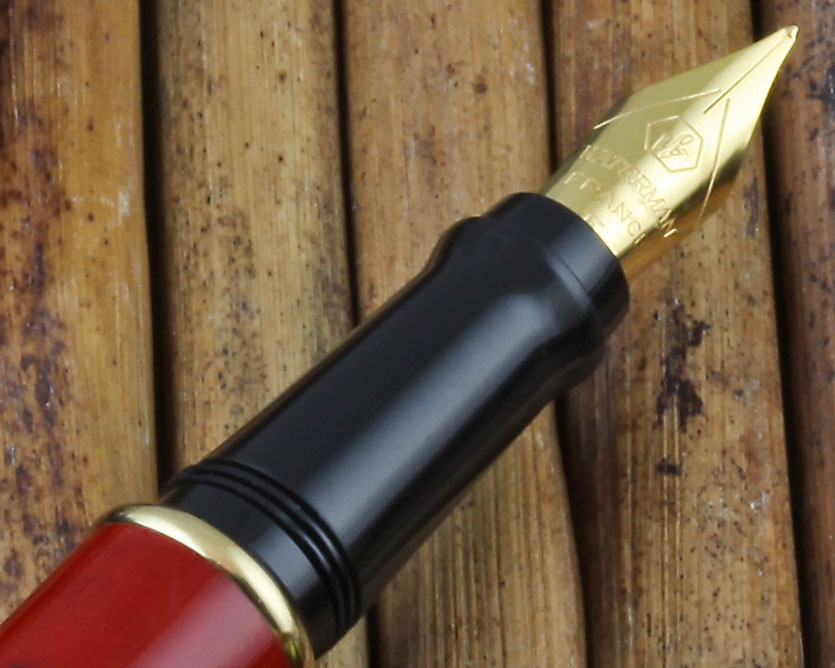 Waterman Reflex da Vinci red, nib detail
The da Vinci Reflex pens have jumped in price since they were introduced. In the early 2000s the fountain pens were auctioning on eBay in the $60 to $70 range. In 2016, it's not unheard of to see the fountain pens priced at $175 or more in mint condition. The ballpoint pens are less sought after, but still show an increase in value. This is a rare case of an entry level pen becoming hot because of an interesting design and limited availability.
Interact
Comments on this article may be sent to the author, Jim Mamoulides