PenInHand: April, 2017
Wearever Squeeze Filler c1955-1957: An unsolved mystery
by Jim Mamoulides, April 26, 2017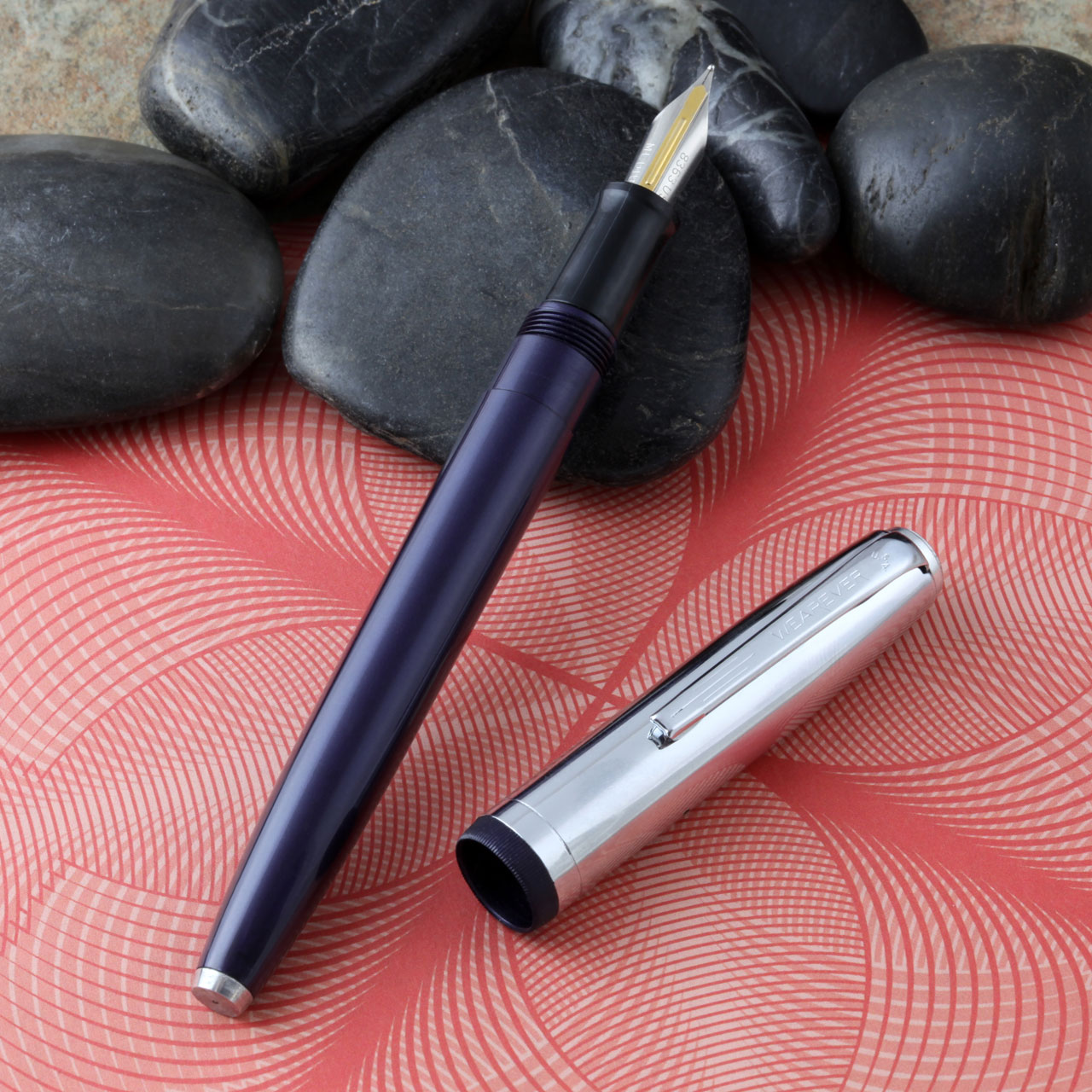 Wearever squeeze filler navy blue c1957-1960, open
Click the image above to see a full screen slideshow
When I first saw this pen I thought it was an unknown late variation, c1956-1960, of the Wearever Pennant. The cap is the same style metal sleeve over plastic inner cap used on every Pennant where the plastic, which always matches the barrel color, has a coin edge exposed at the cap lip. The clip is the same design as the later model Pennant, a flat face with USA stamped at the top, followed by WEAREVER and a trio of lines down to the tip. The fact that the metal cap sleeve was a highly polished chrome plate was something new, but didn't throw me off. I figured I had a new Pennant variant to go with ones that have gold plated cap sleeves.
A quick look at the cap top made me pause. Pennants have plastic cap tops that match the barrel and cap lip color. This one has a chrome plated metal cap top. The same design as the late version c1954-1960 Pacemaker. Since this cap top unscrews, I wondered if it was just a swap, but the chrome plated cap sleeve and the overall minty quality of the pen leads me to believe its original.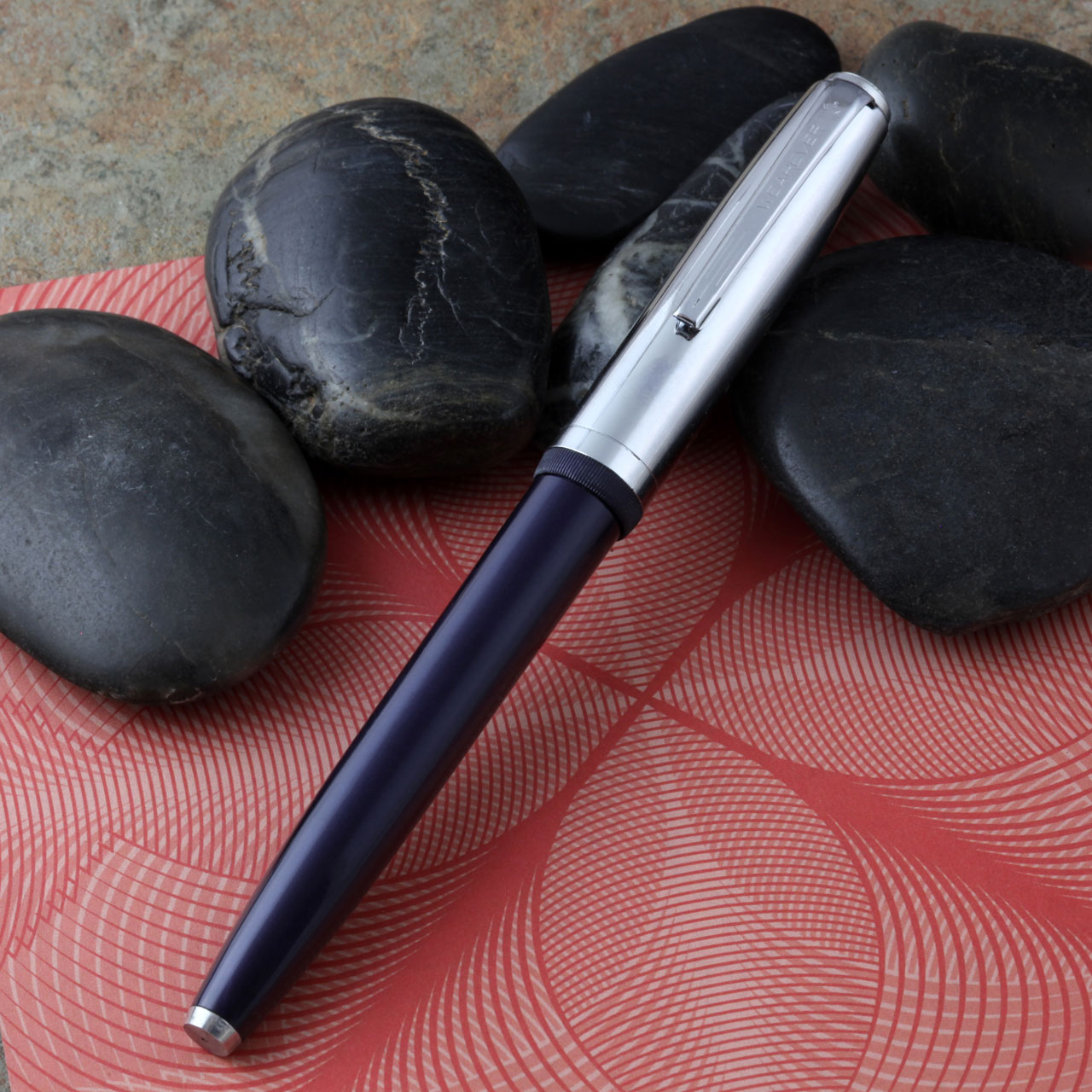 Wearever squeeze filler navy blue c1955-1957, closed
The barrel has no lever and looks exactly like the barrel on the c1957-1960 Wearever Cartridge Pen with its distinctive metal end cap. Could the pen be a variation of the Wearever Saber, which is essentially a cartridge filler Pennant? The navy blue barrel is part of the Pennant color palette from 1950-1955, indicating an earlier pen.
Removing the cap reveals a squeeze filler! There is no evidence of a breather tube, so it's probably not an aerometric type. I've seen a cruder version of a squeeze filler on an early 1950s Wearever Supreme and 1951 Wearever Triboro gold bullet shaped pen. That earlier unit, called simply a "press bar" filler, is a long cylindrical cage around a rubber ink sac with a cut out for a press bar, very similar to the design used by Eversharp in the 1953 to 1957 Slim Ventura. This Wearever filling unit is more refined and looks a lot like the filling unit on the Parker 51 Special, launched in 1950. The 51 Special has the same simple design with the ply-glass reservoir covered by a U shaped metal bar. This unit looks like a copy.
So when was this pen made? It incorporates design elements from three other 1950s Wearever models, the later Pennant, the Cartridge Pen and the 1950s Pacemaker. It has a more refined squeeze filling unit than the one introduced in 1951 on the Triboro. I'm thinking the pen was introduced c1955-1957. It must not have had much of a production run as it appears Wearever did not bother to advertise it in major publications and these pens are definitely not common.
Identification guide and features: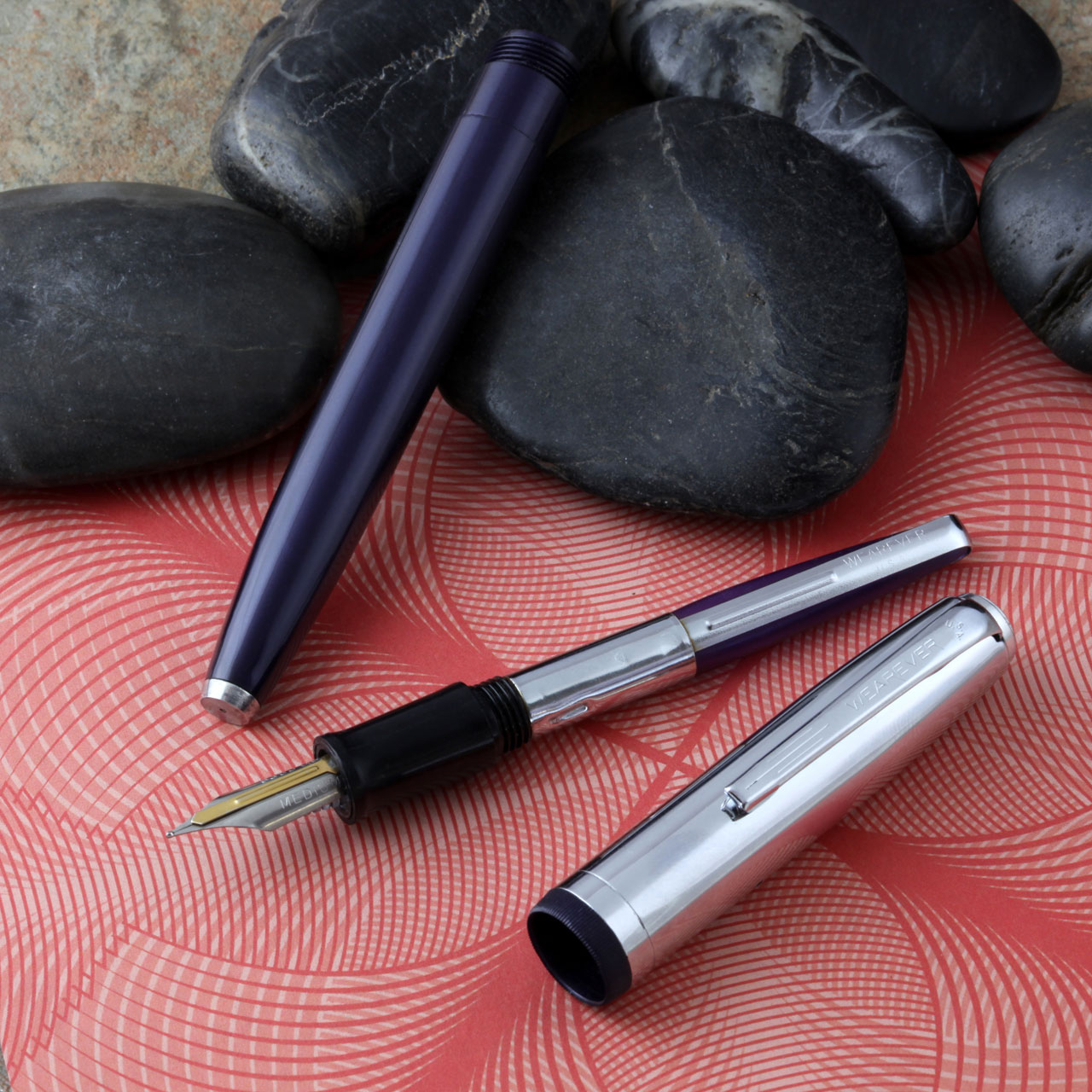 Wearever squeeze filler navy blue c1955-1957, open, showing filler unit
We have no catalog, ephemera or advertising materials on this pen, so the only identification information we can supply is based on observation. The navy blue color may indicate that the early Pennant maroon, green, navy blue and gunmetal colors were used on this pen.
Plastic resin cap and barrel in solid colors, navy blue observed
Chrome plated cap sleeve, cap top, and trim
Clip stamped WEAREVER and USA
Cap has a coin edge band that color matches the barrel, part of the cap liner
Cap unscrews
Stainless steel nib with gold plated overfeed, stamped with nib grade and number
Clear C-flow feed, indicates when the pen is running out of ink
Squeeze filler unit stamped WEAREVER and USA
Unknown nib grades offered, medium observed
About 5 3/8 inches capped and 5 7/8 inches long with the cap posted on the barrel
Performance:
The nib unit of this pen is identical to the Pennant, Saber and Pacemaker and has the same writing quality. Essentially a new pen, the nib is correctly aligned and a smooth writer. The filling unit is as simple as the one on the Parker 51 Special. Dunk the nib, squeeze six times, wipe and write. It appears to be the original transparent ink sac, blued possibly from ink staining, but still very pliable and does not leak.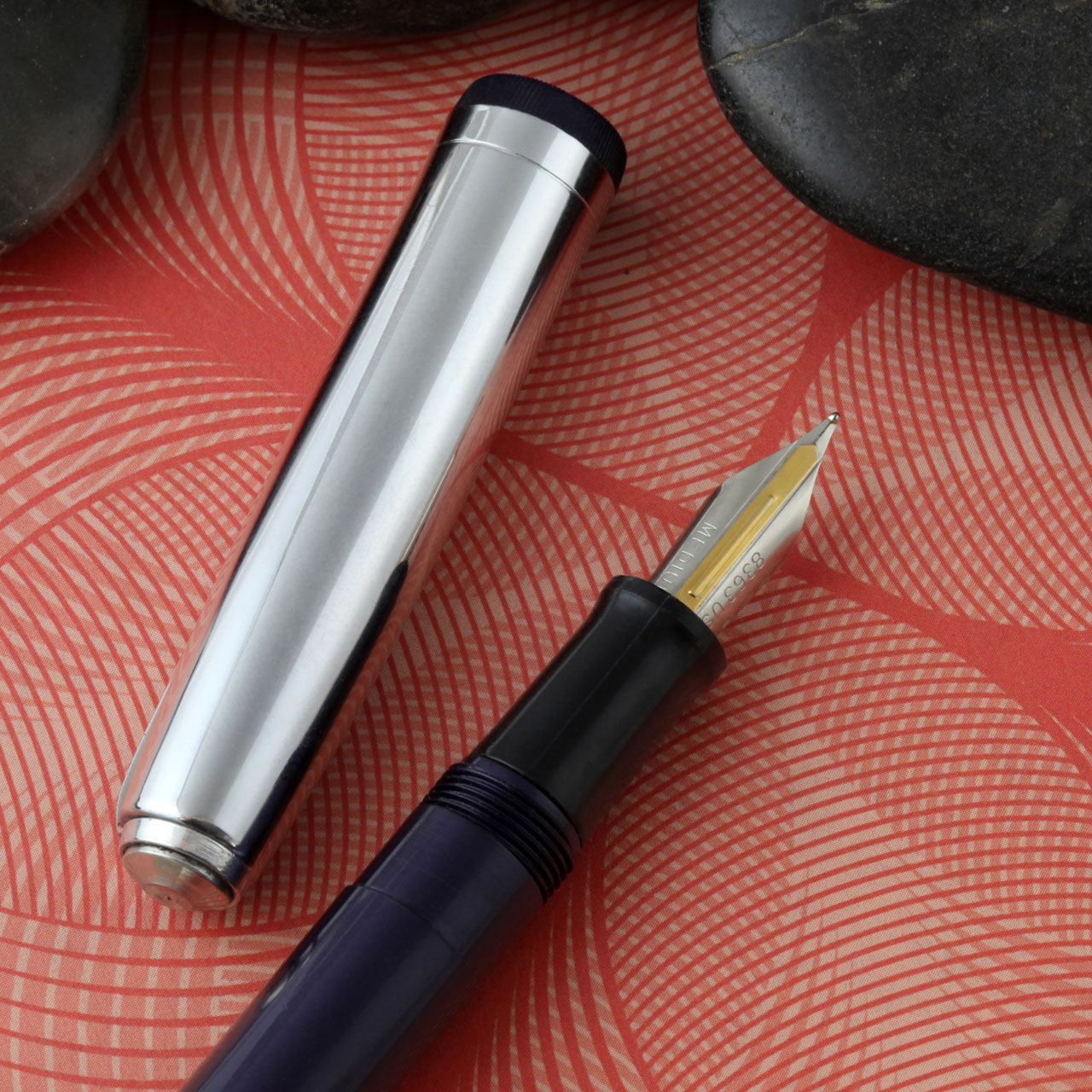 Wearever squeeze filler navy blue c1955-1957, cap and nib detail
It's a standard size pen at about 5 3/8 inches capped and 5 7/8 inches long with the cap posted on the barrel. Unposted, the pen is quite light. Posting the cap is secure and adds some heft as all the metal is there.
This pen would make a nice daily user and a conversation piece. It would be a great ice breaker at a pen club, "Ever seen a Wearever like this one?" I bet not!
---
References
Parker "51", by David and Mark Shepherd, © 2004, Surrenden Pens Limited, Brighton, United Kingdom, pages 52-53.
Undated wholesale catalog, marked 1951.
Interact
Comments on this article may be sent to the author, Jim Mamoulides