Your on-line writing instrument magazine, featuring detailed reviews, history, news, shows, and product annoucements, and more links to writing instrument focused sites than any other source.
Try the site on your tablet: Our new formatting automatically resizes and reorients the page for best viewing!
Featured Articles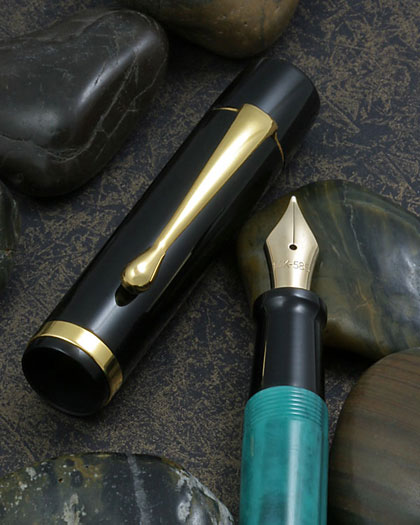 A new review of a very nice pen from Italy, the Filcao Sylvia. An homage to the classic Pelikan 100N, and pens that the 100N inspired by pen makers in Settimo Torinese, near Turin, Italy.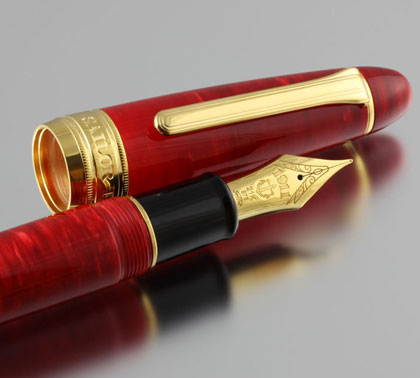 Classic Pens LB5 King Profit 2012 Final Prototypes
We review the final pre-production prototypes of the Classic Pens LB5 in Flame Red and Space Blue, the first Limited Edition based on the Sailor King of Pen.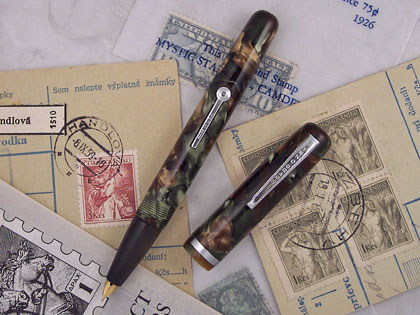 Inkograph Ink-D-Cator Hooded Nib Pen c1943-1947
Inkograph did make standard nib pens, using the Wallace brand in the 1920s and then starting sometime in the mid-1930s, Ink-D-Cator, as the pens had visulated ink-view sections. We verified this with a Wallace flyer from 1928 and the Inkograph Mickey Mouse line from 1935. So we are pleased to be able to better identify this pen and learn more about a very uncommon find.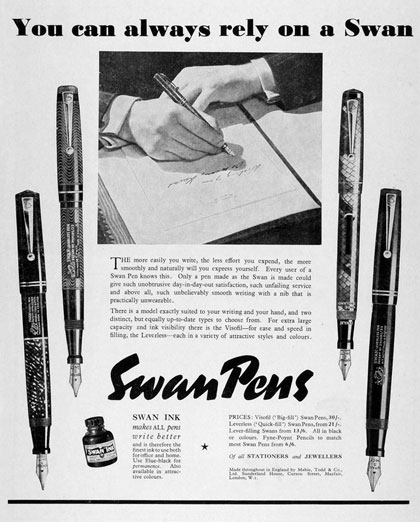 Mabie Todd Advertisement Gallery
We have updated and added to the slideshow of seven original scans of Mabie Todd advertising.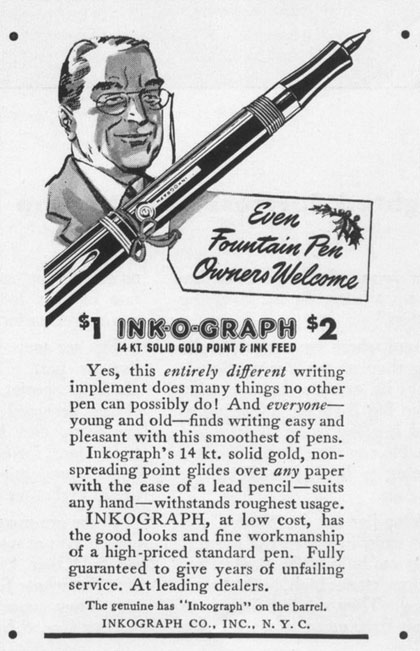 Inkograph Advertisement Gallery
We have updated and added to the slideshow of nine original scans of Inkograph advertising.
Library Of Vintage Pen And Pencil User Guides
We've added seven new user guides to the Library: two Parker 51 from 1949 and 1963 showing the first Aero-Metric and the cartridge versions, Sheaffer Triumph 1943 including a how to fly with your Triumph guide, Sheaffer Stratowriter 1947, and a c1918 Waterman's. Thanks to David Oye for this contribution! Also General Manufacturing, makers of the Snapfil and Kaligraf c1918 and Williamson c1910s. Thanks to Len Provisor for this contribution! Added Parker Duofold, Victory, or Slimfold User Guide 1955 (UK). Thanks to John Hancox for this contribution! We have also added a new Sheaffer c1966 user guide!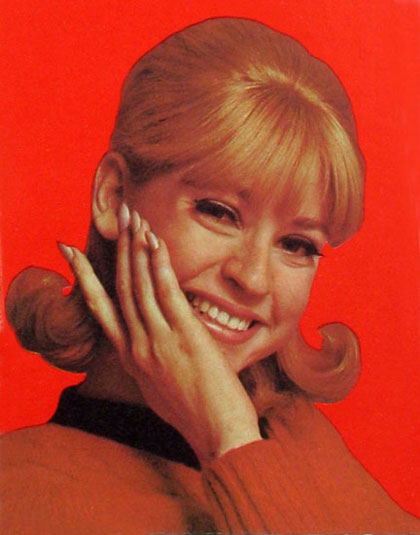 Why is this woman smiling? Because she just got a Sheaffer Glideriter, the fun new way to write! We have done a significant update to this article, including a lot more information on all of the Sheaffer soft tip pens introduced in the 1960s.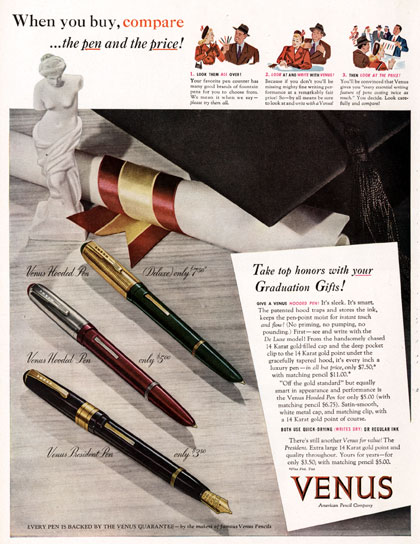 We have updated and added to the slideshow of ten original scans of Venus advertising.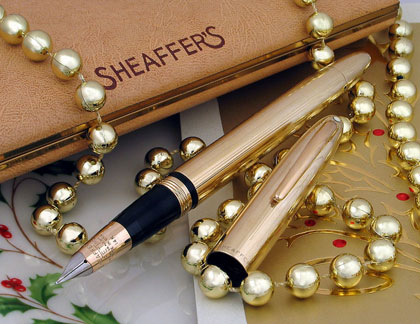 PenHero 365: Sheaffer Snorkel Masterpiece
Another look at one of the finest pens ever made, with some personal reflections. From all of us at PenHero.com, we wish the best to you and your family this Holiday Season. Merry Christmas!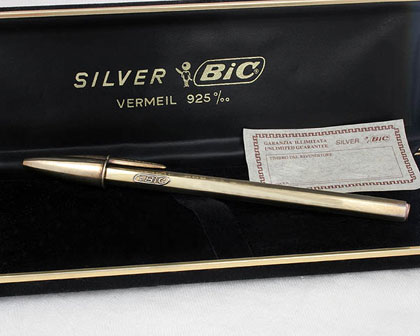 BIC Silver Anniversary Pen c1975
A gold plated, sterling silver vermeil BIC pen? Who would think of such a thing? We revisit this crazy 25th anniversary BIC pen from the 1970s.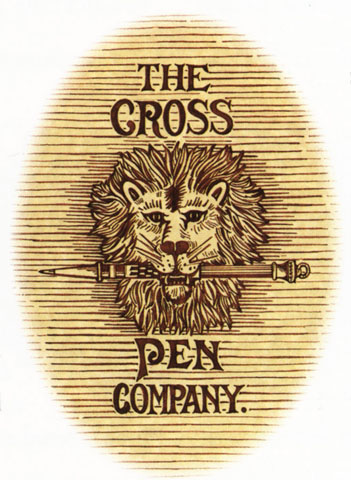 Cross 150th Anniversary Limited Edition 1996
We've revisited and updated our review of this exceptional Limited Edition, based on an Art-Deco Cross fountain pen and pencil set from the 1930s.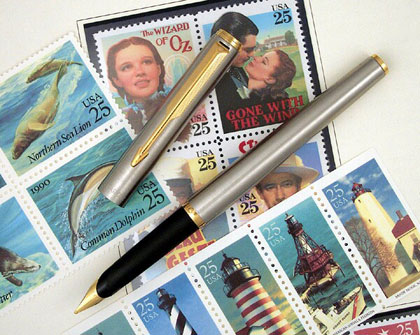 We've done an update of our article on the Parker 95 to include details of each model in the line. These were nice, thin type pens produced between the Arrow and the 88/Rialto.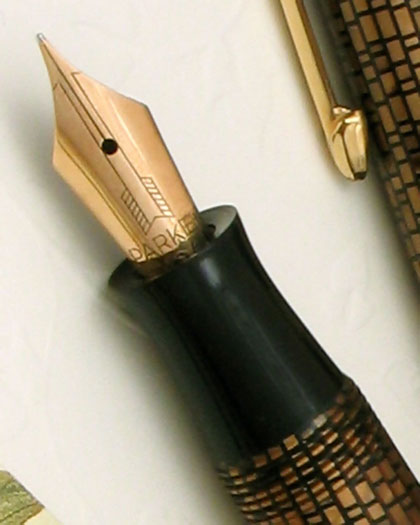 Parker Vacumatic Golden Web 1936-1937
We just completed a full update, with new photos, of our article about the Parker Vacumatic Golden Web, one of our most favorite pens!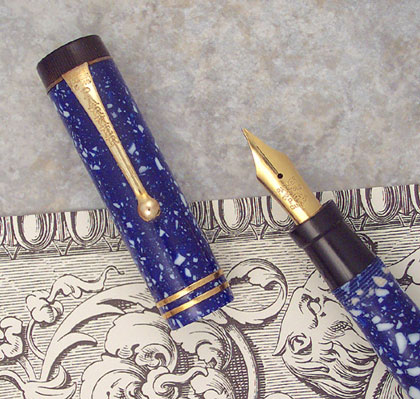 Parker Duofold Replica By Chris Thompson
Sometimes having a pen collection means rediscovering a pen you haven't looked at in years. We took this pen with us to a pen club meeting and remembered why we bought it - a great replica with an especially nice Parker Canada flexible Duofold nib! Here is a re-look at our original review.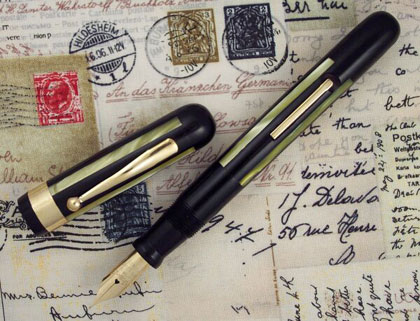 John Holland Jewel Inlay Pen c1930
We revisit this very unusual inlaid pen from a notable regional pen maker from the 1930s.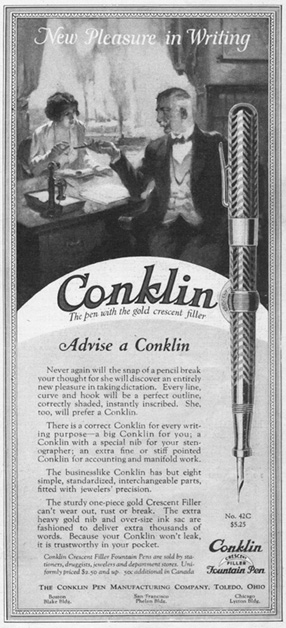 We have updated a slideshow of fourteen original scans of Conklin advertising.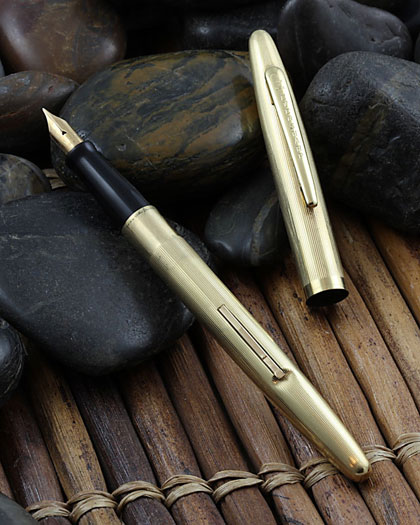 We take a look at one of the more uncommon Eversharp models of the 1940s.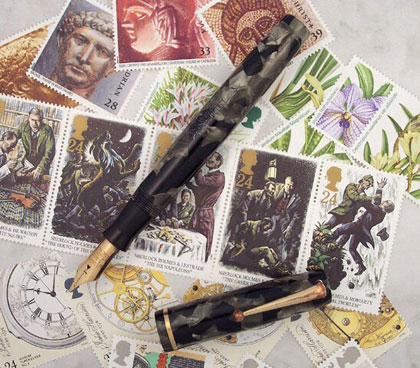 Mabie Todd Blackbird / Swan Double Stamped
We revisit a double stamped Mabie Todd pen from the 1930s. Which is it? Blackbird or Swan?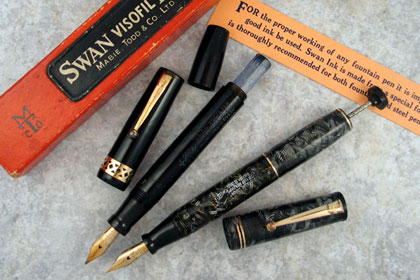 Mabie Todd Swan Visofil Filling System
Mabie Todd developed not one, but two very unusual ink-visible filling systems in the 1930s. See how these pens work!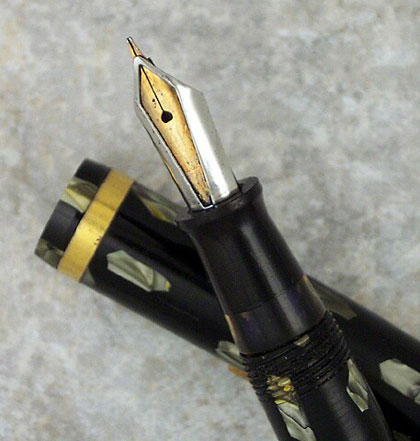 Wearever De Luxe "Mother of Pearl" c1940-1944
An eyecatching Wearever model from the 1940s with a most unusual nib design!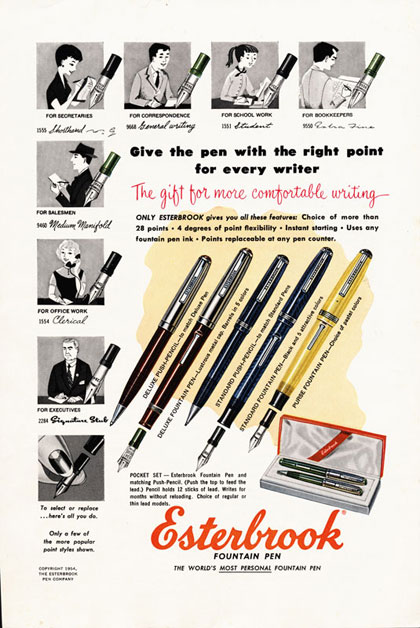 Esterbrook Advertisement Gallery
We have updated our gallery of Esterbrook advertisements to a total of 20 and a new slideshow feature. Check it out!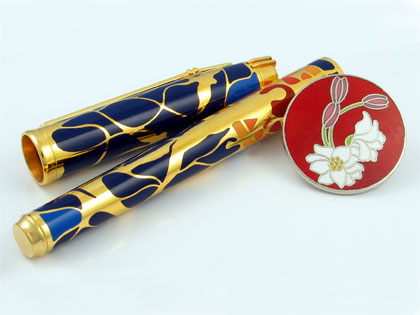 Revisit a fascinating look at how Élysée applied Chinese cloisonné techniques to its Limited Edition pens.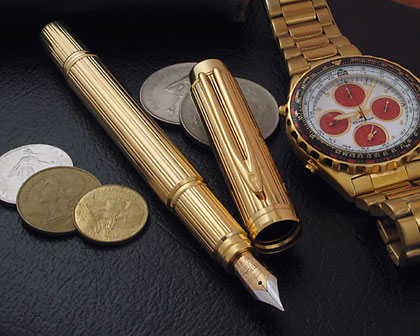 Waterman Man 100 Gold "Specimen"
We revisit a most interesting pen that answers the question, "how does a pen dealer show a solid gold pen?"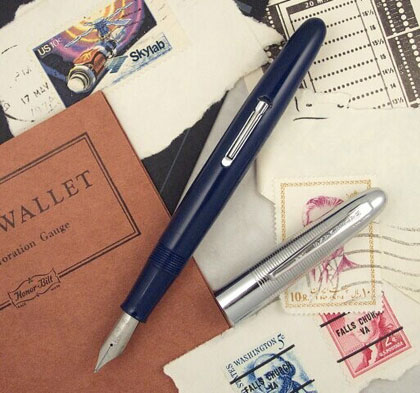 We revisit one of our earlier reviews of a surprisingly nice entry level pen, one of three Waterman pens that bore the name Skywriter.
Pen News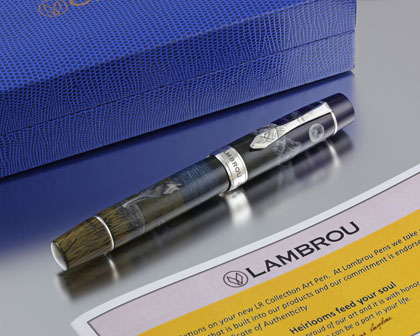 Lambrou Pens LB6 Serenity: Lambrou Pens announces its newest art pen
The latest stunning offering from Lambrou Pens.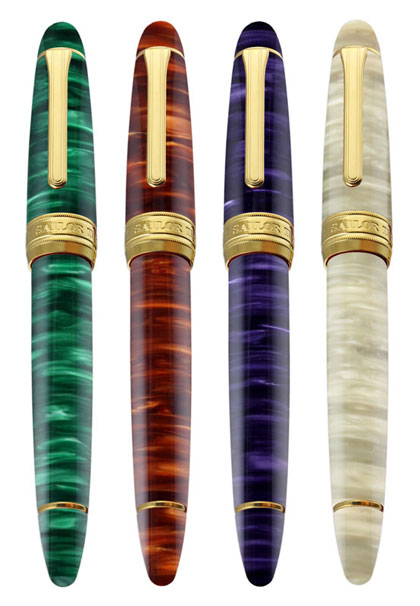 Classic Pens LB5 King Profit: Classic Pens breaks new ground with exquisite materials for its LB5 King Profit series
Shown above are the initial renderings of the Classic Pens LB5 King Profit pen in four new proposed diffusion bonded acrylics. The final pens are yet to be revealed.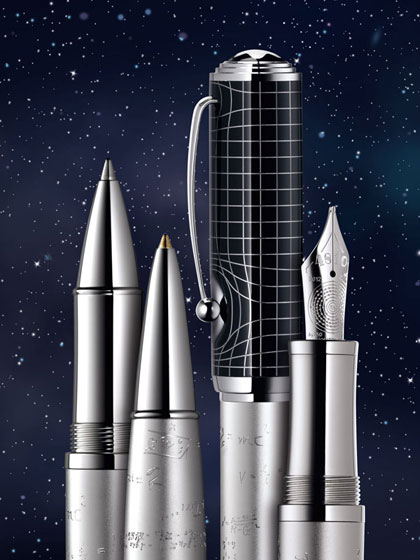 Montblanc Great Characters: Albert Einstein Limited Edition 2013
Montblanc's tribute to the genius of the world's most revered scientist is the third in its Great Character series, begun in 2009 to honor great individuals of the 20th century who "created history with their groundbreaking work."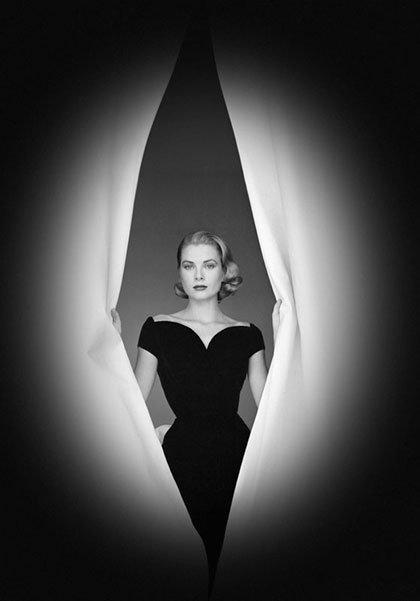 Montblanc Collection Princesse Grace de Monaco 2012
A true icon of the 20th century, Grace Kelly, who became H.S.H. Princess Grace, is remembered and revered for her classic beauty and her inimitable style in a collection of three writing instruments from Montblanc.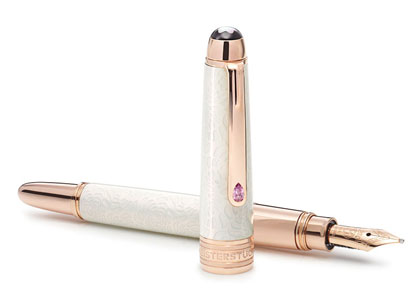 The Montblanc Meisterstück Mozart Jewelry Collection
Montblanc has introduced a super upscale version of the "Hommage à Wolfgang Amadeus Mozart" aimed at successful women, called the Montblanc Meisterstück Mozart Jewelry Collection.
Pen News Feed
February, 2015
Pelikan Souveran 805 Stresemann Coming in March! - PenHero.com Store, Jim Mamoulides on February 24, 2015
Product Announcements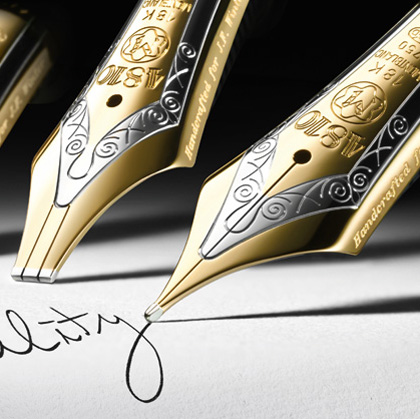 Montblanc Introduces Bespoke Nib Service 2012
Montblanc introduces a new Bespoke Nib Service, using software to analyze, record, and measure each individual's writing characteristics so that a customized nib can be prepared that fits the writer's unique style.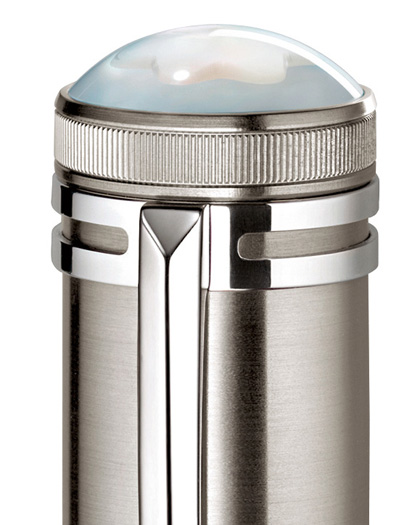 Montblanc Heritage Collection 1912 Limited Edition 2012
A new limited edition from Montblanc celebrating 100 years of Montblanc writing instruments and incorporating features and elements from many of the company's significant models in a modern interpretation.
Porsche Design TecFlex Black 2012
Porsche Design brings black to the iconic TecFlex line, originally released in 1999, updated for release in November, 2012.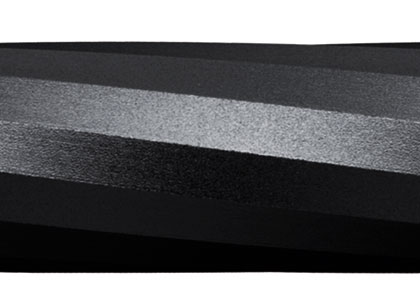 Porsche Design Shake Pen Twist Black 2012
Porsche Design has released a new matte black twist model of the popular Shake Pen in October, 2012.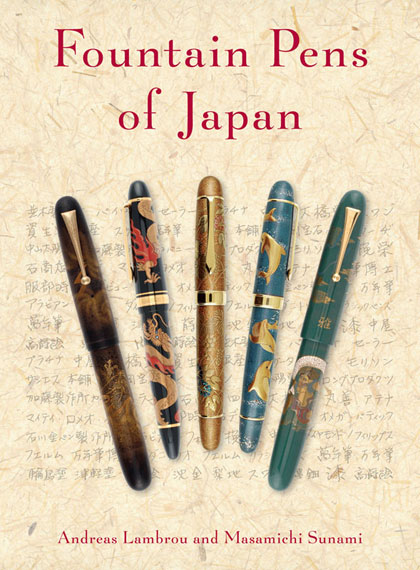 A review of Andreas Lambrou's latest tome, Fountain Pens of Japan, a huge lavishly illustrated coffee table book covering the history of the fountain pen and its industry in Japan from around 1880 to the present.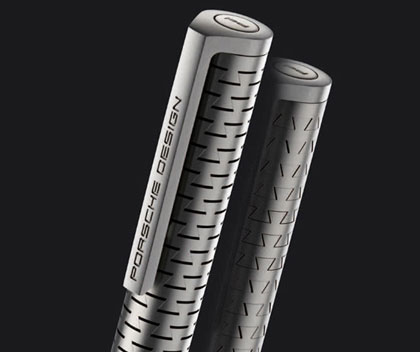 Porsche Design Laser Flex 2012
Porsche Design is releasing several exciting new models in 2012, and one of the most intriguing is the new Laser Flex ballpoint pen. This new pen is expected to be released in November, 2012.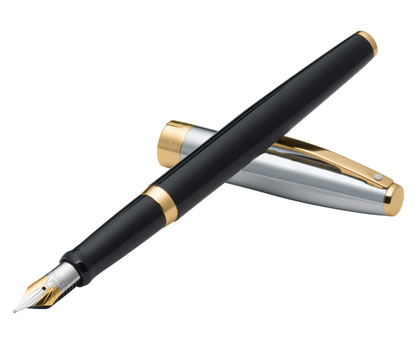 Sheaffer Sagaris Writing Instruments 2012
Sheaffer announces the new Sagaris line, is due to be released at the end of October, 2012. The Sagaris will remind you of the Imperial and Triumph pen lines that began in the early 1960s and continued through many variations through the late 1990s.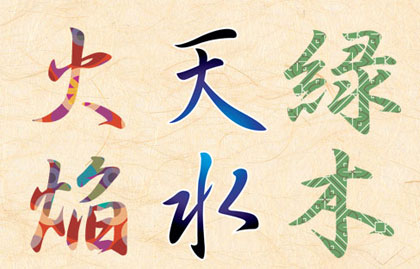 Classic Pens LB5 King Profit Themes 2012
Themes and colors chosen for the Classic Pens LB5!