Waterford Pallas Marsala 2015
by Jim Mamoulides, October 9, 2015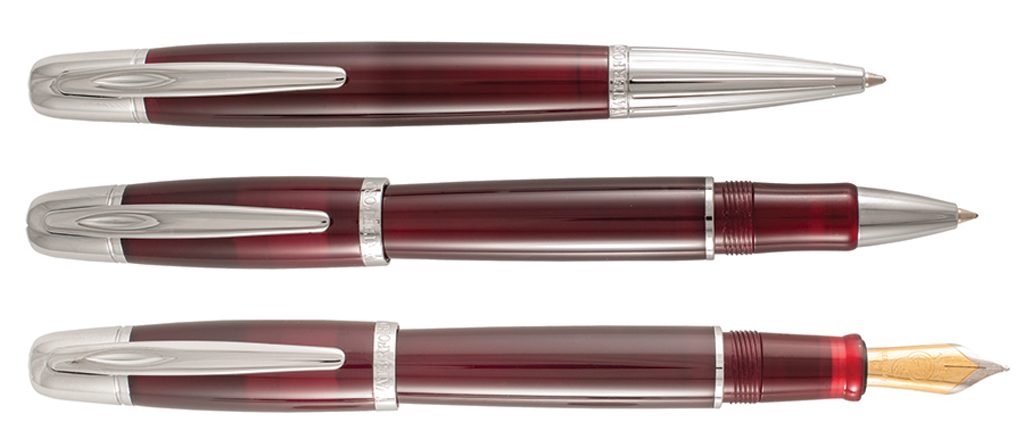 Waterford Pallas Marsala 2015 line, top to bottom, ballpoint pen, rollerball pen, and fountain pen
Click the image above to see a full screen slideshow
2015 Pantone Color of the Year!
Edited from the October, 2015 Waterford press release:
The Waterford Pallas Marsala has a rich burgundy tone that adds an updated splash of color to a classic design. These specially crafted Waterford resin pens provide a lovely weight and size, perfectly balanced with a clean, elegant design. The Pallas Marsala was inspired by the 2015 Pantone Color of the Year. The accents and clip are chrome plated.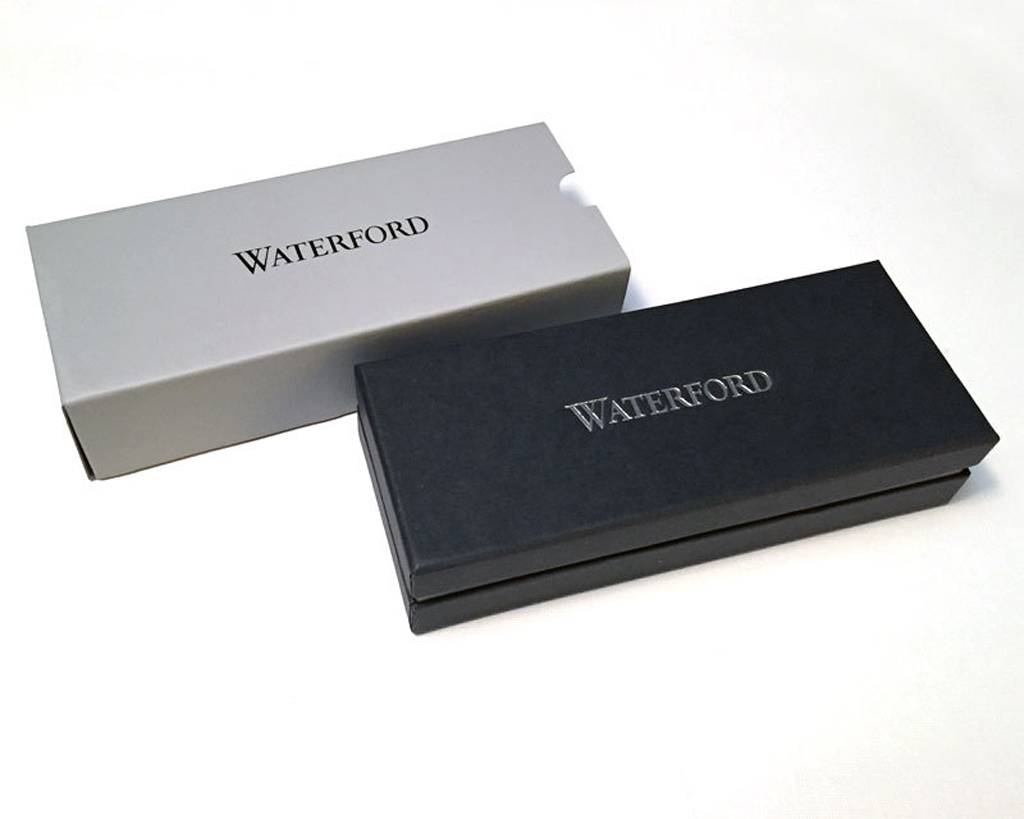 Waterford Pallas Marsala 2015 line comes in new gift packaging
The crown of the cap is engraved with the iconic Waterford star cut. The fountain pen features a firm and smooth medium German made bi-color steel nib and takes a standard international cartridge or convertor. Both fountain pen and roller ball have twist caps. The roller ball takes a standard roller ball refill. The ball pen twists to open and takes a standard ballpoint refill or capless roller ball refill.
Identification guide and features:
Marsala colored machined translucent resin cap and barrel

Unique Waterford clip
Chrome plated trim

Cap top is engraved with the iconic Waterford star cut

Stainless steel two-tone medium nib stamped with Waterford logo
Fountain pen is 5 5/16 inches long capped, 5 3/4 inches long with the cap posted on the end of the barrel
Fountain pen uses international cartridges or converter
Fountain pen cap screws on

Matching rollerball and ballpoint pen
Model and pricing for the Waterford Pallas Marsala:
Fountain Pen, WF/550/MLA, MSRP $140.00

Roller Ball, WF/553/MLA, MSRP $110.00

Ballpoint Pen, WF/552/MLA, MSRP $100.00
For more information, please click this link: Hampton-Haddon Marketing Corporation: Waterford Pallas Marsala 2015
Interact
Comments on this article may be sent to the author, Jim Mamoulides