Pen News

Featured Product Announcement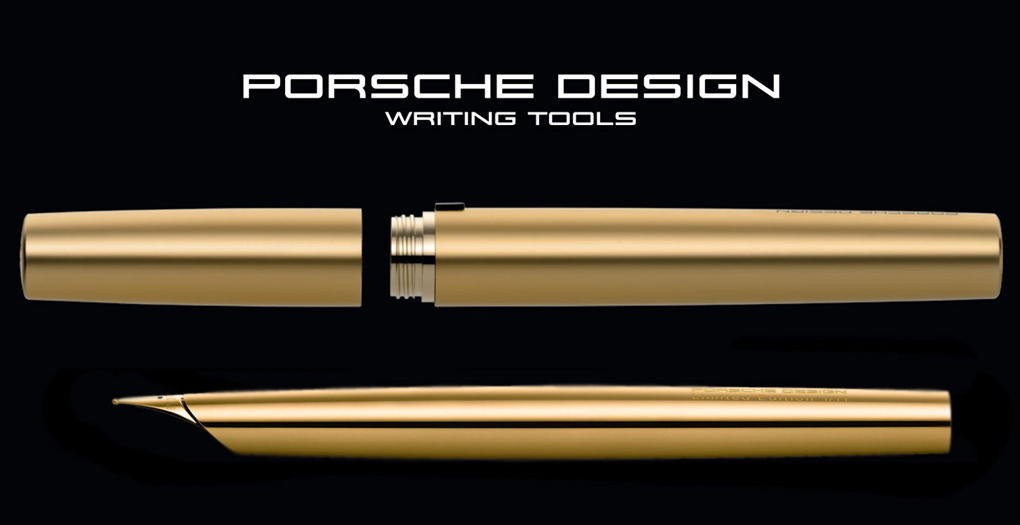 Porsche Design Solid Gold Limited Edition 2015
The Porsche Design P'3135 Solid Gold Limited Edition fountain pen is one of the most exclusive writing tools. The pen is strictly limited to eleven pieces worldwide and milled out of a single piece of solid pure 14 karat / 585 karat gold.
---
Have your product announcement posted or your article linked on PenHero.com
Please contact us by clicking this email link.
News Article Links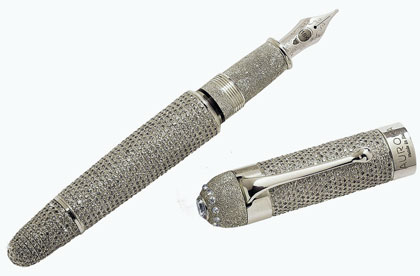 10 most expensive pens in the world Jagran Post, October 1, 2015
Le stylo BIC / The Ballpoint pen France-Amerique, October 1, 2015
36 Hours in Bologna, Italy Evan Rail, New York Times, September 30, 2015
This French Student's Instagram Beautifully Captures the Lost Art of Handwriting NextShark, September 27, 2015
A Pen For The Stroke Of A Genius Sarang Sheth, Yanko Design, September 25, 2015

Have money, will splurge Jasodhara Banerjee, Forbes India, September 22, 2015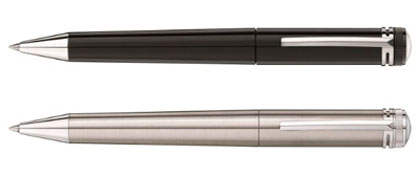 Montblanc Heritage Collection unveils 'Capless Rollerball' TradeArabia News Service, September 21, 2015
At Montegrappa and Maserati, patience is king Jonathan Lobban, The Australian, September 4, 2015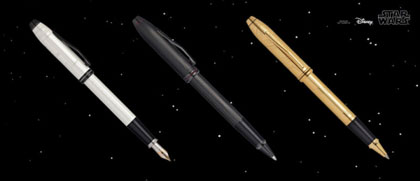 Take A Look At These Luxe CROSS Townsend 'Star Wars' Pens Martha Ignacio, Food World News, September 3, 2015
One Pen's Journey Through War and Peace Brian Spegele, The Wall Street Journal (paid access), September 2, 2015
Bezar x Cross Townsend "Star Wars" Pen Collection BallerStatus Staff, BallerStatus, September 1, 2015
A pen that made history, lost to history, then found Paul Woo, Honolulu Star-Advertiser, August 30, 2015
How The Ballpoint Pen Killed Cursive Josh Giesbrecht, the Atlantic, August 28, 2015
Apple's Marc Newson Designs A Space-Age Fountain Pen John Brownlee, Fast Company, August 20, 2015
ST Dupont launches Grand Prix collection TradeArabia News Service, Trade Arabia, August 16, 2015
Schrade Tactical Pens does more than just write Edwin Kee, CoolestGadgets.com, August 14, 2015
Visconti's Marvelous Marble Pens: Look Out, Michelangelo! Nancy Olson, Quill & Pad, August 13, 2015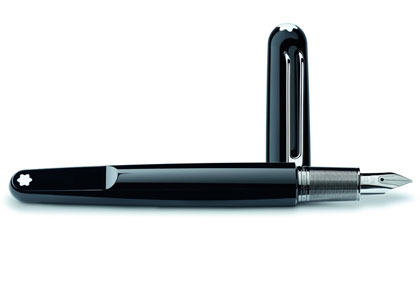 Marc Newson teams up with Montblanc to launch luxury pen range Dan Howarth, de zeen magazine, August 13, 2015
Here's Your Very First Look at Montblanc's Collaboration With Marc Newson Brock Cardiner, Highsnobiety, August 13, 2015
Ten Years Of Giuliano Mazzuoli: An Independent Made in Italy Elizabeth Doerr, Quill & Pad, August 12, 2015
Designer Marc Newson on Fountain Pens and the Sad State of Cars J. J. Martin, The Wall Street Journal, August 12, 2015
What Is It? The Answer Bill White, The Morning Call, August 5, 2015
These crustaceans are going to make you put fountain pen to paper KK Miller, Rocket News 24, August 3, 2015
Montegrappa supports Fereshteh Award cultural writing competition Asiyath Helen Pawson, The Moodie Report, July 28, 2015
Golden pen: greatest relic of Maldives' independence Asiyath Mohamed Saeed, Haveeru Online, July 27, 2015
Pininfarina's lifestyle collection is new ground for the legendary design house Classic Driver, July 1, 2015
Porsche Design Unveils $27,000 Solid Gold Limited-Edition Fountain Pen Alicia Adamczyk, Forbes, April 1, 2015
Seal the Deal: The Mightest Fountain Pens Michael Solomon, Forbes, June 29, 2015
Program to honor Walter Sheaffer Fort Madison Daily Democrat, June 26, 2015
Meet the $935 Pen That Turns a Scribble Into a Status Symbol Why President Obama and Johnny Depp both own Montblanc's Meisterstück Robert Klara, adweek.com, June 23, 2015
Old technologies can sometimes come back Steve Tarter, Minding Business, June 14, 2015
Levenger's L-Tech 3.0 Stealth, a serious fountain pen Jason Weisberger, boingboing.net, June 12, 2015
If You Like Ballpoint Pens, Thank the R.A.F.: A story for National Ballpoint Pen Day Rebecca Maksel, Air & Space Smithsonian, June 10, 2015
History of the mighty pen Gloria Wall, Journal Review Online , June 5, 2015
The Calligraphy Stars of Instagram Alexandra Lange, New Yorker, June 5, 2015
Pen-chant Papri Das, IndianTelevision.com, June 5, 2015
How luxury pen makers like Montegrappa, ST Dupont, Mont Blanc are stepping up their presence in India Vijaya Rathore, The Economic Times, May 30, 2015
Product Announcements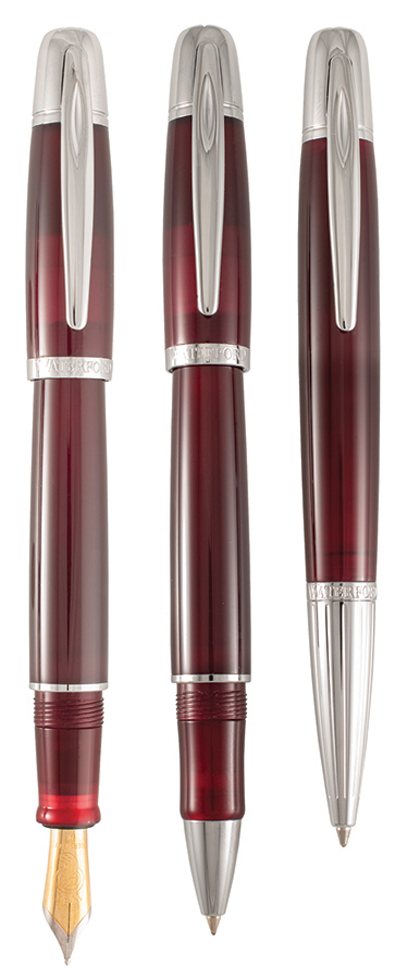 The Waterford Pallas Marsala has a rich burgundy tone, inspired by the 2015 Pantone Color of the Year, that adds an updated splash of color to a classic design.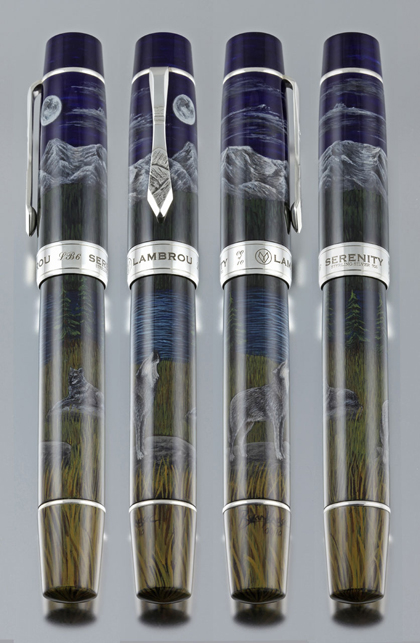 Lambrou Pens LK1 Serenity: Lambrou Pens announces its newest art pen
The latest stunning offering from Lambrou Pens.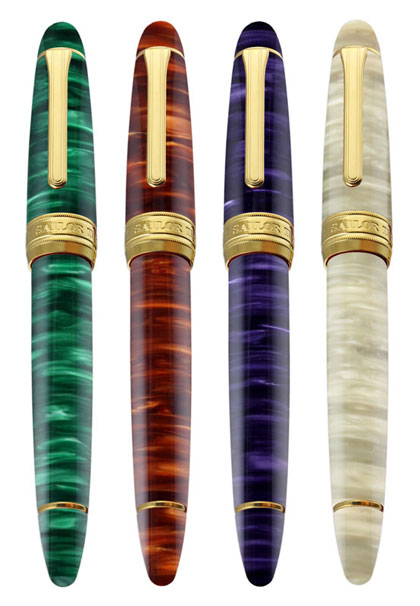 Classic Pens LB5 King Profit: Classic Pens breaks new ground with exquisite materials for its LB5 King Profit series
Shown above are the initial renderings of the Classic Pens LB5 King Profit pen in four new proposed diffusion bonded acrylics. The final pens are yet to be revealed.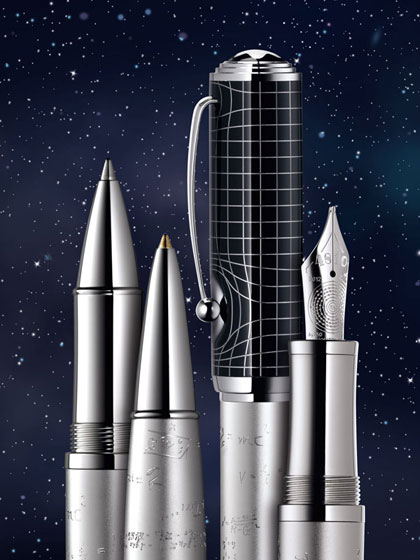 Montblanc Great Characters: Albert Einstein Limited Edition 2013
Montblanc's tribute to the genius of the world's most revered scientist is the third in its Great Character series, begun in 2009 to honor great individuals of the 20th century who "created history with their groundbreaking work."
---
Industry Changes
Esterbrook: Classic pen brand brought back from the dead Devin Loring, USA Today, February 5, 2015
A.T. Cross Acquires BIC's Sheaffer Pen Line PPAI Publications, August 26, 2014
PDF: A.T. Cross Company to Aquire Sheaffer BIC Press Release, , August 21, 2014
---
Google Pen News
Google Fountain Pen News - Google news search
---
Pen Company Stock Watch
A. T. Cross - Yahoo Finance
BIC - Yahoo Finance
Newell Rubbermaid - Owns Sanford, Parker, Waterman, Yahoo Finance
Pelikan - Pelikan International Corporation Berhard, The Star, Malaysia
Richemont - Owns Cartier, Dunhill, Montblanc, Montegrappa, Yahoo Finance