Pen News
---
Featured Product Announcement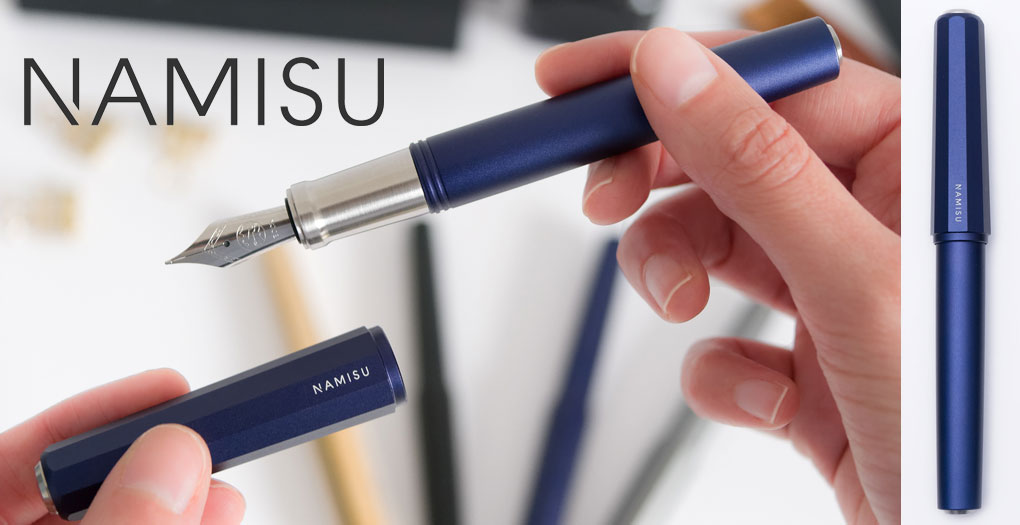 Namisu Unveils the Ixion Minimalist Fountain Pen 2017
A modern fountain pen with a minimalist design
---
Have your product announcement posted or your article linked on PenHero.com
Please contact us by clicking this email link.
News Article Links
Montblanc pays homage to Hannibal with diamond-topped artistry, by Winnie Chung, South China Morning Post, September 17, 2017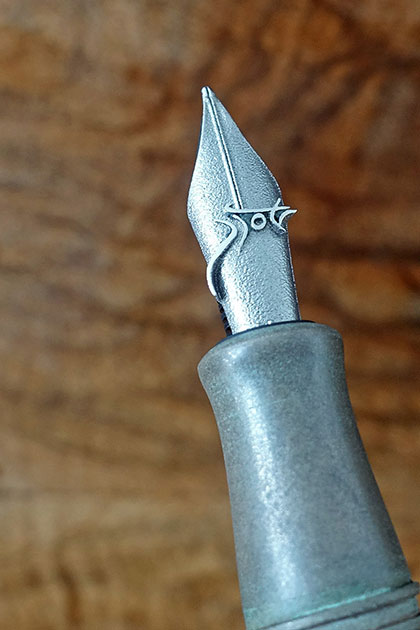 Dutch designer Rein van der Mast 3D prints bronze Pjotr fountain pen with an Ultimaker, by Julia, www.3Ders.org, September 10, 2017
Trunk call: Montblanc's artisan homage to Hannibal champions pachyderm power, by Ken Kessler, Telegraph, September 13, 2017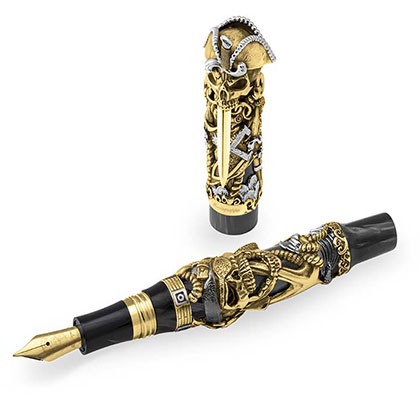 If you are a Pirates of the Caribbean fan, you'll love this collection of pens and watches, by Barry Rodgers, Architectural Digest, September 12, 2017
11-year-old entrepreneur turns $100 into Arkansas pen business, by Debra Hale-Shelton, Northwest Arkansas Democrat Gazette, September 10, 2017
Marilyn Monroe Is Montblanc's Latest Muse, by Nancy Olson, Forbes, September 6, 2017
Sheaffer Pen & Art Supply Co. Presents Star Wars™ Collection, by Daniel Pickett, Action Figure Insider, September 6, 2017
The Future of Writing Instruments, by Jennifer Billock, Advertising Specialty Institute, September 5, 2017
How a Japanese Pen Maker Anticipated the Writing-Tool Renaissance, by June Thomas, Bloomberg Businessweek, August 30, 2017
What Architect Peter Marino Designs Besides Buildings, by Nancy Olson, Forbes, August 26, 2017
Best Pens for Drawing: 10 Pens for Artists and Designers, by Digital Arts Staff, Digital Arts, August 24, 2017
S. T. Dupont Celebrates 145 Years With New Luxury Collections, by Nancy Olson, Forbes, August 21, 2017
Pen store's quirky owner remembered, by Kevin Parks, THISWEEKNEWS.COM, August 21, 2017
Scribe Sword Celebrates Exciting Launch of Scribe Sword Fountain Pen With Limited Time Only Deeply Discounted Price, Press Release, digitaljournal.com, August 18, 2017
Hilal Pen Store in Hyderabad is a paradise for vintage pen lovers, by AuthorSruti Venugopal, Telangana Today, August 13, 2017
Ever Wonder How The Red Silk Poppy Became Associated With War Veterans?, by Nancy Olson, Forbes, August 8, 2017
Fountain pen peddler spills into new HQ, by Mike Platania, Richmond BizSense, August 8, 2017
Local history: Fountain pen manufacturing a forgotten empire of Akron, by Mark J. Price, The Akron Beacon Journal, August 6, 2017
The Anura Rafael Write Time Concept Marries Horology and Fine Pen Making, by John Lyon, Robb Report, August 2, 2017
A.T. Cross Unveils New Sheaffer Pens, by A.T. Cross Company, PR Newswire, July 27, 2017
Write like a ruler with Game of Thrones Iron Throne pens, by Amy Ratcliffe, Nerdist, July 21, 2017
Antiques & Collectibles: Pens have write stuff for collectors, by Sandy Erdman, Post-Bulletin, July 21, 2017
Montegrappa Issues New Series of Game of Thrones Limited Edition Iron Throne Pens, by TV News Desk, BroadwayWorld.com, July 19, 2017
David Oscarson Keeps it Koi with His Newest Pen Collection, by John Lyon, Robb Report, July 19, 2017
After 93 years, Daly's Pen Shop will close its doors for good, by Rick Romell, Milwaukee Journal Sentinel, July 17, 2017
Symbol Of Love And Luck In A David Oscarson Pen, by Nancy Olson, Forbes, July 17, 2017
The Bic Stops Here: In Praise of the Humble Stick Pen, by Elizabeth Stinson, Gear, July 16, 2017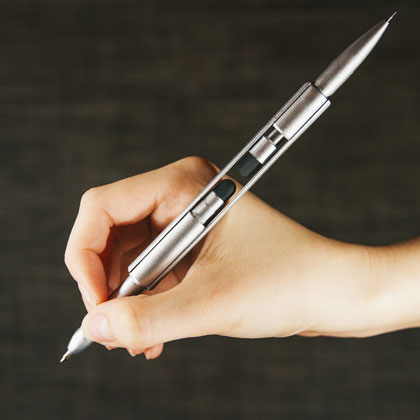 Plenty Pen: 4-in-1 Pen with Plenty of Features 2017 May 6, 2017
Write, draw, erase and use a stylus: Just flip it!
The Best Brands of Calligraphy Pens, by Olivier Jennes, WonderStreet.com, June 14, 2017
Promised land lost, by Salena Zito, Washington Examiner, May 28, 2017
Where Fountain Pens Are Saved and Sold Neighborhood Joint, By Emily Brennan, The New York Times, March 15, 2017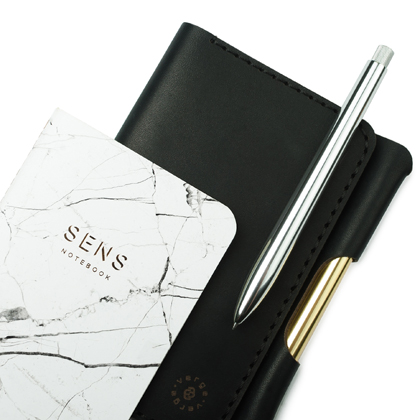 Sens minimalistic pen by Verge 2017 PenHero.com, April 1, 2017
A new minimalistic pen + notebook + leather cover combination.
Where Fountain Pens Are Saved and Sold Neighborhood Joint, By Emily Brennan, The New York Times, March 15, 2017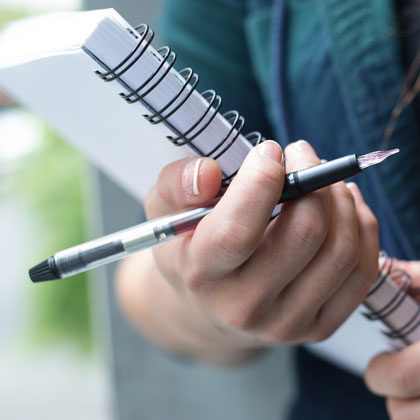 Wink Pen First Edition Fountain Pen 2017 PenHero.com, January 22, 2017
The Wink Pen was born from the desire to create a sustainable alternative to the everyday writing utensil. While the basis for the branding, WINK, was originally derived from the concept of using "wine as ink," the pen can actually be loaded with virtually any liquid that possesses a staining property.
Product Announcements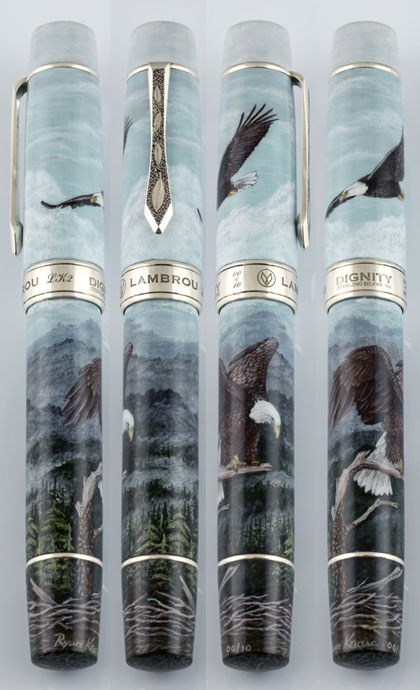 Lambrou Pens LK2 Dignity 2016: Soar with the eagles!
The new Lambrou Pens LK2 Dignity is an exciting and unique Art Pen, created through the positive working relationship of three dedicated men of the Lambrou Pens working group, Andreas Lambrou, Ryan Krusac, and Paul Rossi.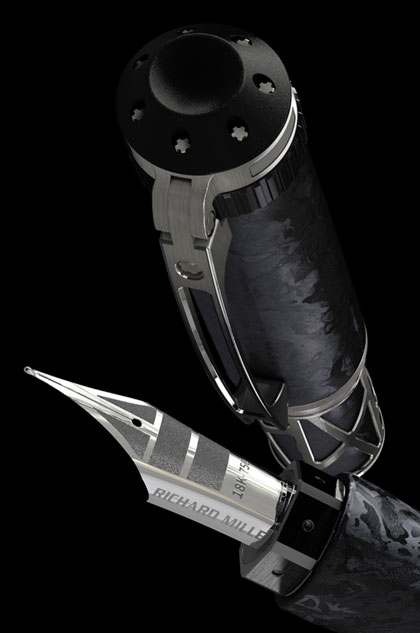 Richard Mille RMS05 Mechanical Fountain Pen 2016
Richard Mille RMS05 Fountain Pen 2016, Company Website Link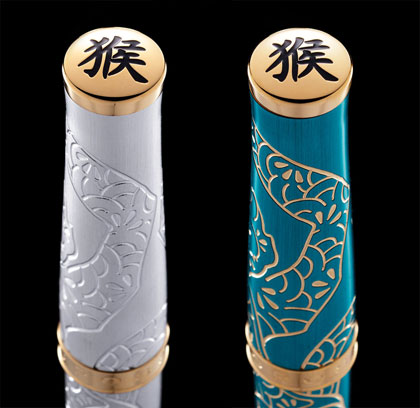 Cross Year of the Monkey Special Edition Collection 2016
Cross announces The Cross Year of the Monkey Special Edition Collection, honoring the majestic yet endangered golden snub-nosed monkey of Southwest China and available in either Tibetan teal or brushed platinum plate.
Porsche Design Tec Flex Gold Special Edition 2015
This autumn a special edition of the well-known and popular product series Tec Flex will light up the showcases of every retail store. In a one time production Porsche Design produces the extraordinary Tec Flex in a golden version.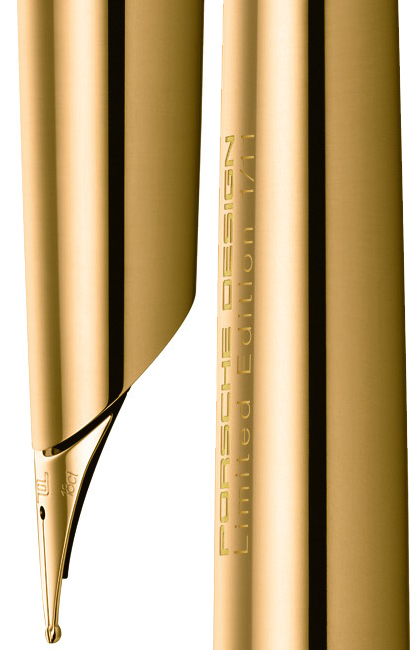 Porsche Design Solid Gold Limited Edition 2015
The Porsche Design P'3135 Solid Gold Limited Edition fountain pen is one of the most exclusive writing tools. The pen is strictly limited to eleven pieces worldwide and milled out of a single piece of solid pure 14 karat / 585 karat gold.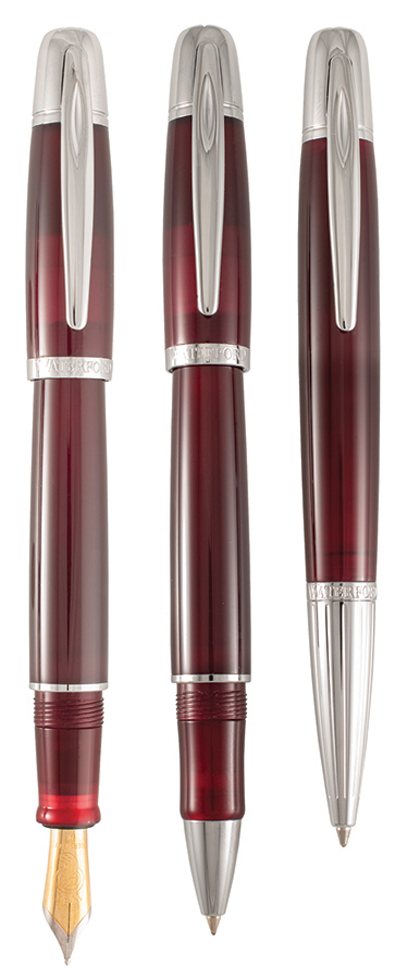 The Waterford Pallas Marsala has a rich burgundy tone, inspired by the 2015 Pantone Color of the Year, that adds an updated splash of color to a classic design.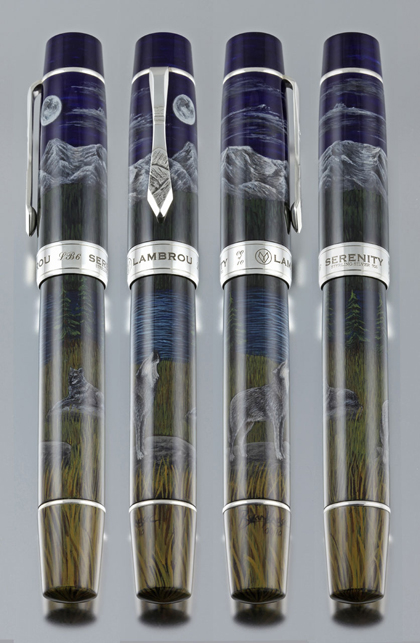 Lambrou Pens LK1 Serenity: Lambrou Pens announces its newest art pen
The latest stunning offering from Lambrou Pens.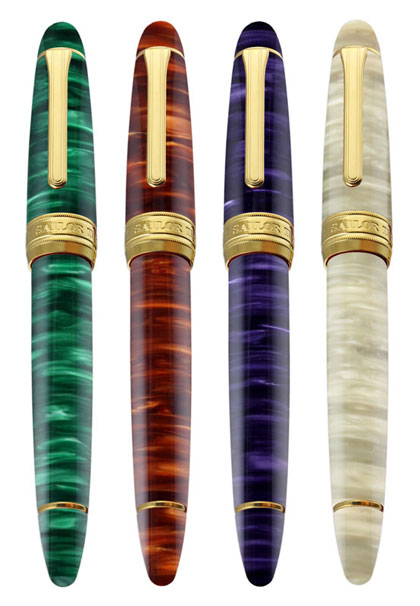 Classic Pens LB5 King Profit: Classic Pens breaks new ground with exquisite materials for its LB5 King Profit series
Shown above are the initial renderings of the Classic Pens LB5 King Profit pen in four new proposed diffusion bonded acrylics. The final pens are yet to be revealed.
PenHero on Social Media




---
PenHero Quarterly Q1 2017 now available for purchase!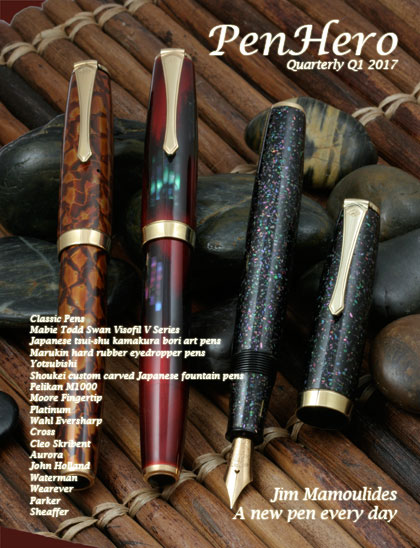 Read more about the new PenHero Quarterly Q1 2017
Now available for purchase on Amazon.com - click this link!
Now available for purchase on Lulu.com - click this link!
PenHero Quarterly features a new pen every day! Written and photographed by Jim Mamoulides of PenHero.com, the 100 page 8.5x11 inch perfect bound paperback book features 90 full color pages, each with large photos, including a history and description of some of the most unusual and valuable pens in the world.
---
Pen Show Calendar
Updated as of September 1, 2017!
September, 2017
---
Doubletree Dallas Galleria
Dallas, TX, USA
Holiday Inn Boston
Boston, Massachusetts, USA
Tilburg Pen Show
September 30, 2017
Natuurmuseum Brabant
Tilburg, Holland
October, 2017
---
Holiday Inn London Bloomsbury
London, UK
Double Tree Stapleton North
Denver, Colorado, USA
The Crowne Plaza Hotel
Novi, Michigan, USA
November, 2017
---
Crowne Plaza Dublin Hotel
Columbus, Ohio, USA
Maison des compagnons du devoir 1
Paris, France
NH Eurobuilding Hotel
Madrid, Spain
Bologna Pen Show
November 25, 2017
NH Hotel
Bologna, Italy
Malvern Town Hall (Banquet Hall), Glenferrie Road
Malvern, Australia
Copthorne Hotel
Sheffield, UK
Click here for links to all 2017 shows!
---
Industry Changes
Esterbrook: Classic pen brand brought back from the dead Devin Loring, USA Today, February 5, 2015
A.T. Cross Acquires BIC's Sheaffer Pen Line PPAI Publications, August 26, 2014
PDF: A.T. Cross Company to Aquire Sheaffer BIC Press Release, , August 21, 2014
---
Google Pen News
Google Fountain Pen News - Google news search
---
Pen Company Stock Watch
A. T. Cross - Yahoo Finance
BIC - Yahoo Finance
Newell Rubbermaid - Owns Sanford, Parker, Waterman, Yahoo Finance
Pelikan - Pelikan International Corporation Berhard, The Star, Malaysia
Richemont - Owns Cartier, Dunhill, Montblanc, Montegrappa, Yahoo Finance
---
Interact
Contact us:
Click here to send us an email!
Pen Clubs
Pen Forums