Cross 150th Anniversary Limited Edition 1996
by Jim Mamoulides, March 26, 2004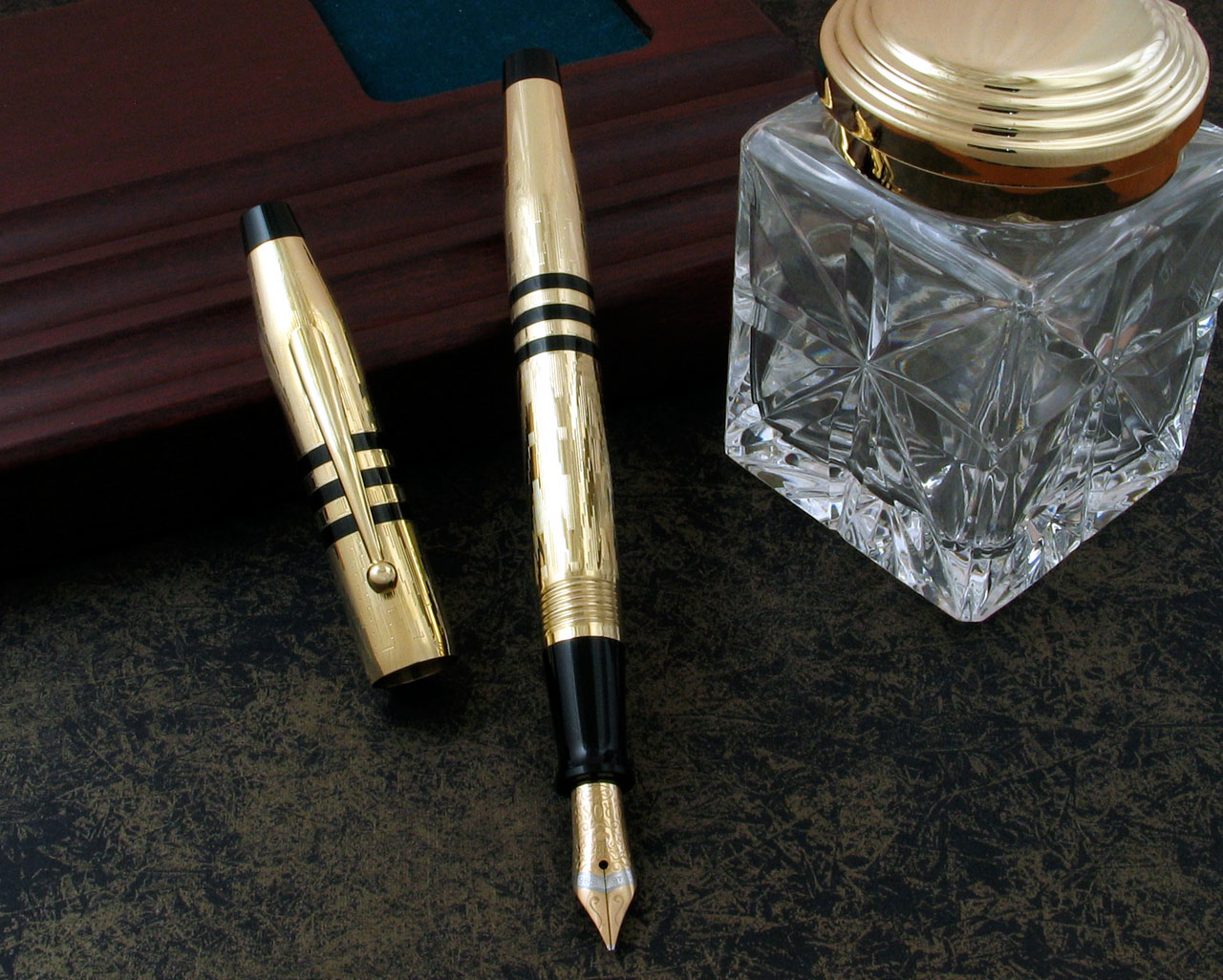 Cross 150th Anniversary Limited Edition 1996 shown with the included crystal inkwell
Click the image above to see a full screen slideshow
Revival of a rarity
When the A. T. Cross Pen Company decided to launch its first limited edition pen in 1996 the company followed the growing trend among pen makers in reviving vintage company designs. Parker and Sheaffer had both recently introduced updated vintage designs into their lines, drawing on their extensive catalog of famous pen lines. Entering this market, Cross had something of a dilemma. Though the oldest USA manufacturer of writing instruments, Cross did not have the extensive history in fountain pens as its competitors.
Cross introduced its first stylographic pen and propel-repel pencil in 1879, well before most current pen companies were even formed. The company's own history doesn't list a nibbed fountain pen until 1930 and then not again until 1982. What is recognized today as the classic Cross "look" can be seen in the Century pencil, introduced in 1946, and the Century ballpoint, introduced in 1953, a successful design that is still in production today. Drawing on the company's historical pens would limit the choices.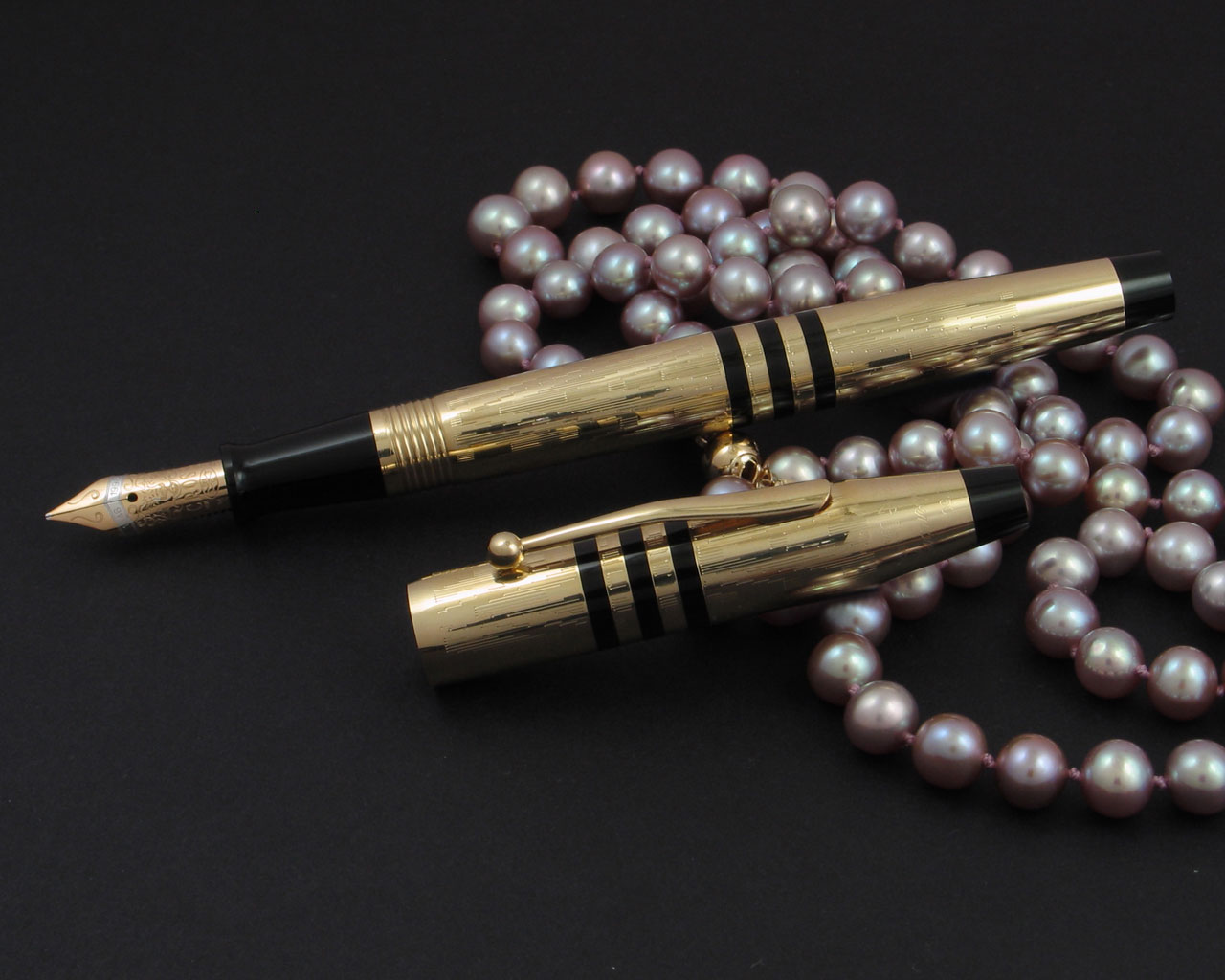 Cross 150th Anniversary Limited Edition 1996
Cross chose the the classic, and quite rare 1930 triple banded pen and pencil. This is a very art-deco design with three inlaid enamel bands on the cap and barrel and a "flamestitch" machine engraved pattern the length of both. The original pen was a sleeve filler, operated by sliding the barrel back from the section to reveal a cutout for a press bar over an ink sac. Pressing the bar collapsed the sac, much like a lever filler would work, or a modern squeeze converter does. The original design was very simple to make and eliminated many of the complex mechanics from the filling process. Some sources date this pen from 1930-1941, but the actual production dates are quite murky.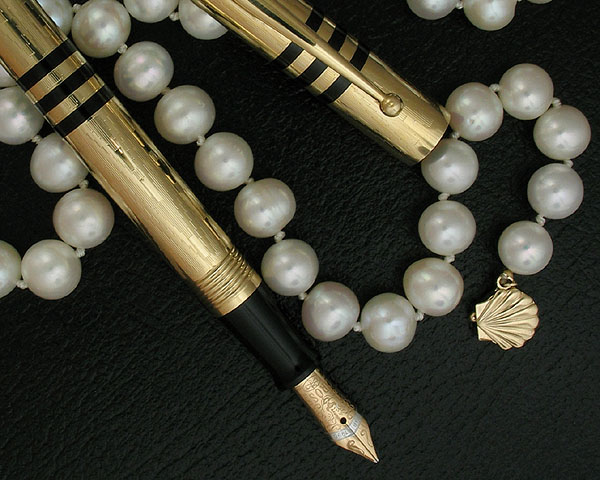 Cross 150th Anniversary Limited Edition 1996
As with modern Cross pens, many examples have logos mounted on them. One that is seen often is the Packard shield, attached on the cap above the clip, a sales award for Packard automobile salesmen. Cross to this day aims a lot of its business at the awards and premiums market, as well as the gift pen market. Certainly many of us can remember seeing a gold-filled or sterling silver Cross ballpoint and pencil set being given as a gift.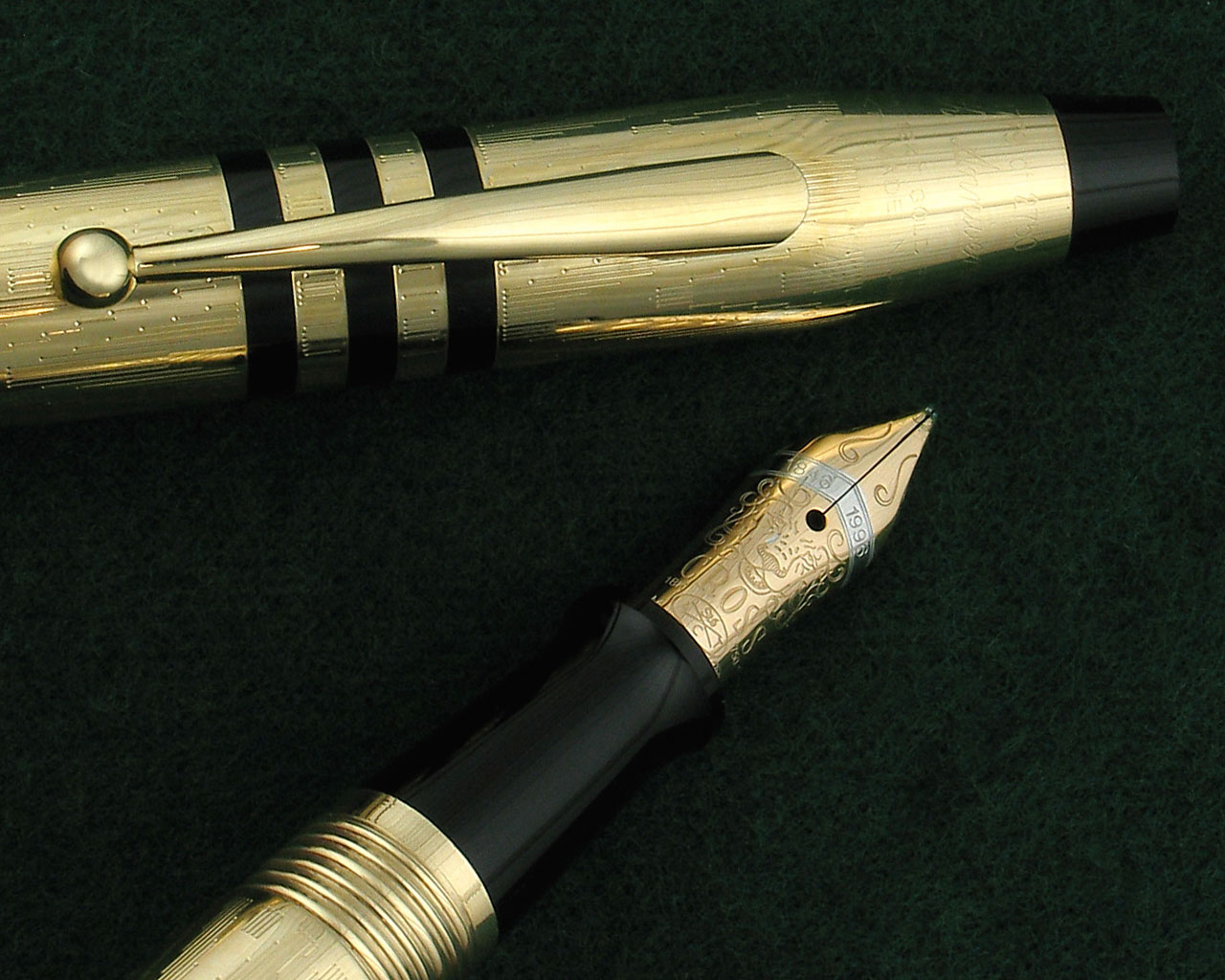 Cross 150th Anniversary Limited Edition 1996
An Elaborate Package
This first Cross limited edition celebrates the 150th anniversary of the founding of the company by Alonzo T. Cross in 1846. His first work, according to the brochure included with the pen, was in making "hand-tooled filigree casings for wooden pencils" in Providence, Rhode Island, an important jewelry and silverware manufacturing center in the late 1800s.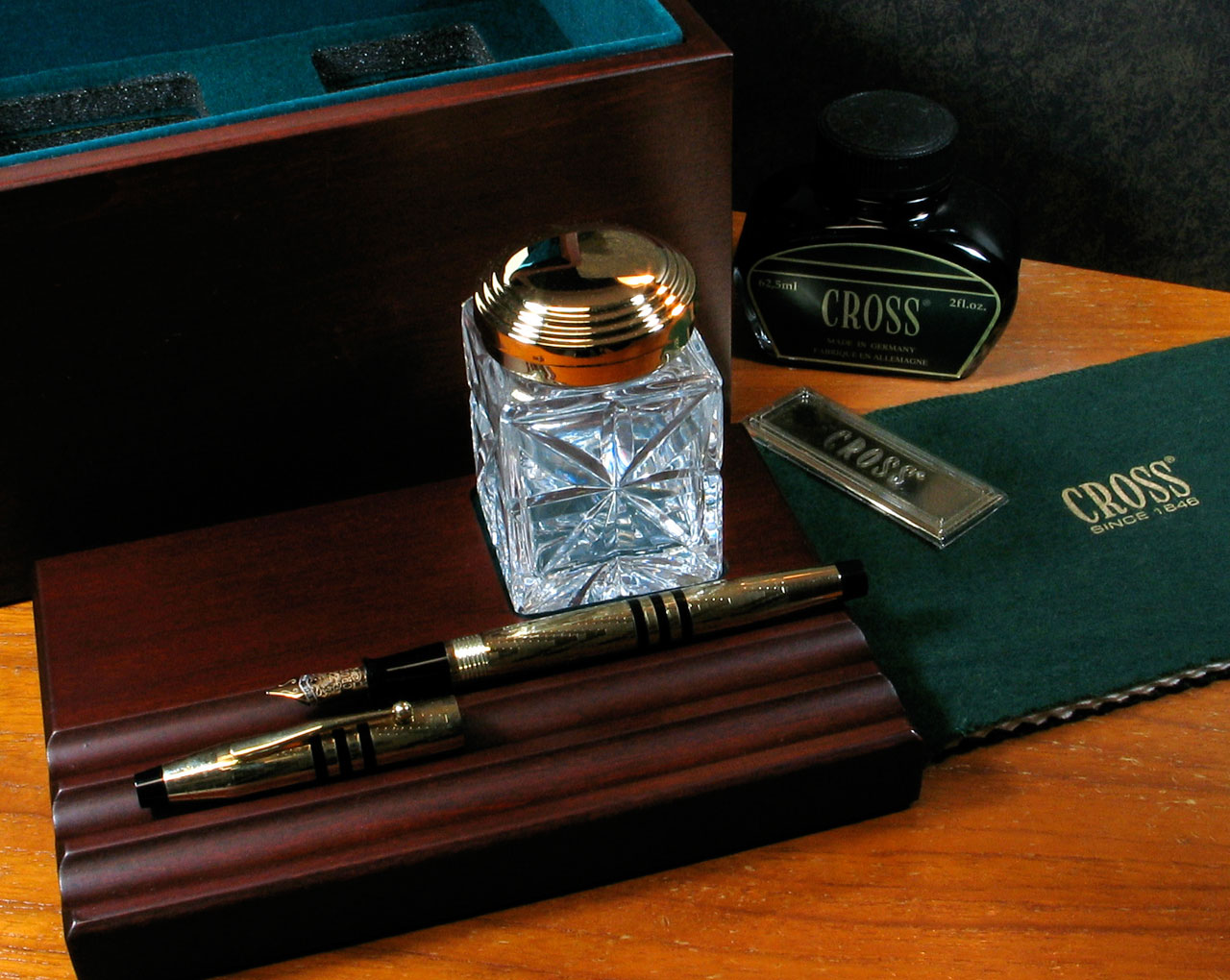 Cross 150th Anniversary Limited Edition 1996, showing packaging
The edition comes in a huge solid American Cherry wood case with a hinged top. Inside the case is, of course up to the three pieces of each edition, a wooden pen tray that will hold all of the pens, and the included cut crystal inkwell, an engraveable plaque, and a bottle of ink. This set is designed to sit on the desk, where the pieces can stay protected until used.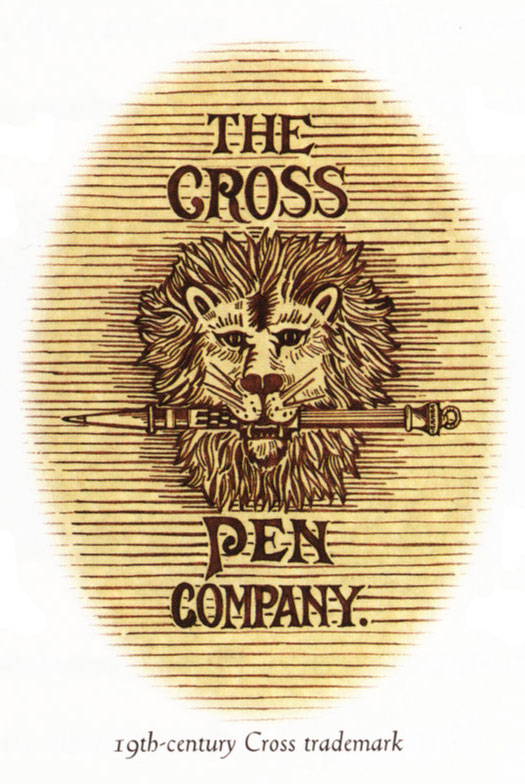 Detail from Cross 150th Anniversary Limited Edition brochure showing early trademark
Cross chose the 1930s design as a representation of the height of its pen making craft. The design also shows the heritage of the Cross "look" in today's Cross pens. The edition comes in two versions, 12 karat gold filled or solid sterling silver. The nib is elaborately engraved 18 karat gold with rhodium plated highlights, featuring a lion's head, which was an early Cross company trademark.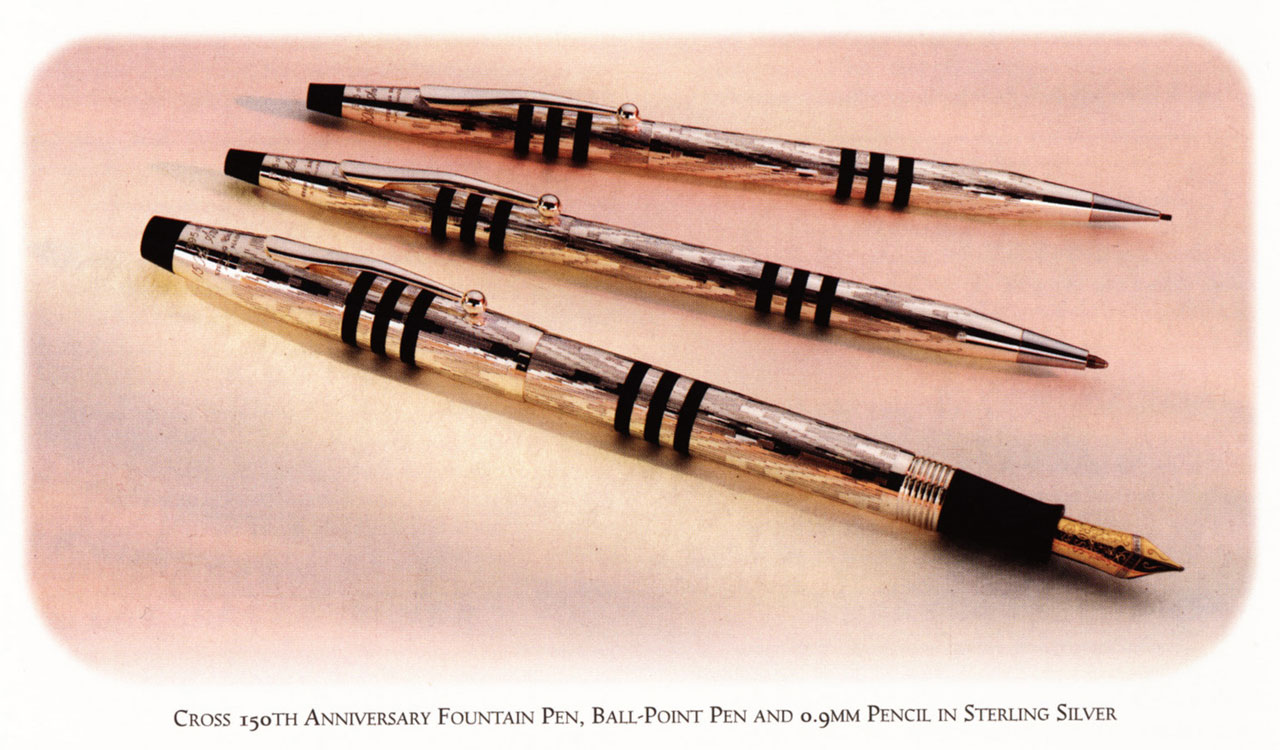 Detail from Cross 150th Anniversary Limited Edition brochure showing Sterling Silver Edition
The fountain pen uses a standard Cross converter for bottle filling, or can use Cross cartridges. The ballpoint and pencil use standard Cross mechanisms. All of the instruments in the edition should be very familiar to Cross collectors.
The 150th Anniversary Commemorative Limited Edition was a release of 10,000 total writing instruments in three writing modes, in individual units and packaged sets:
Fountain Pen - US $1,000.00
Twist Action Ballpoint Pen - US $500.00
0.9mm Twist Action Pencil - US $500.00
The warranty for the edition is very interesting. The mechanism for the ballpoint and pencil and the feed for the pen are "unquestionably guaranteed against mechanical failure regardless of age (emphasis as in the brochure)." However, Cross must have recognized that stocking replacement parts or repairing defects on the limited number of instruments produced would be a challenge, so they limit the warranty on them. The "caps, barrels, points, clips, nibs, conical tops, and decorative bands" are all limited to Cross' availability of repair parts and could be returned unrepaired if Cross were to run out. In any case, abuse is not covered.
Identification guide and features:
Edition limited to 10,000

total writing instruments, 2,750 individually numbered fountain pens, 2,450 ballpoint pens, and 600 pencils each edition, in gold filled and sterling silver
Edition number marked near the cap top

12 karat gold filled or solid sterling silver

cap, barrel and clip
Three black enamel bands each on the cap and barrel
Cap and barrel engraved with engine-turned flamestich pattern
Ball end clip
Engraved 18 karat gold nib with rhodium plated highlights, featuring a lion's head, an early Cross company trademark
Screw on cap
About

5 1/4 inches long capped, and is about 4 7/8 inches uncapped

, the pen does not post well
Weighs 1.2 ounces
Cartridge / converter filling system
Offered as fountain pen, $1,000, twist-action ballpoint pen, $500, and twist-action 0.9 mm pencil, $500, or $2,000 for a set of all three instruments
Set of three instruments presented in a

solid American Cherry wood case

with a

cut crystal inkwell, an engraveable plaque, and a bottle of ink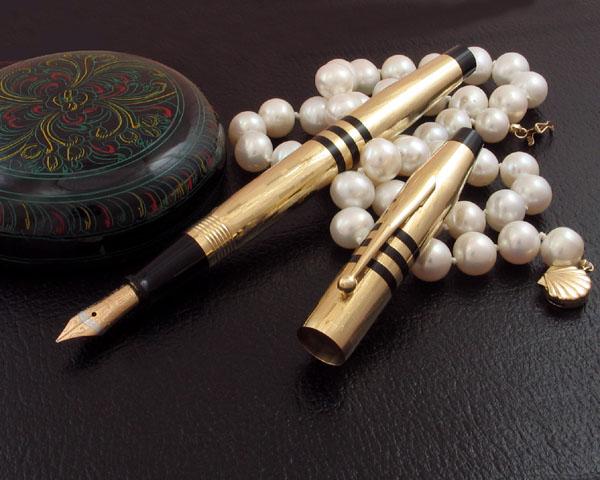 Cross 150th Anniversary Limited Edition 1996
Performance
The Cross 150th Anniversary pen is mid-size, smaller than the huge and heavy Townsend line, and a definite move away from the trend toward increasingly huge and ornate limited edition pens of the time and following. It's less bulky than the Townsend, with thinner walled cap and barrel, giving the all metal pen surprising lightness, more like a 1920s metal Wahl pen, though it's still heavier than most plastic pens. The basic design is all Cross, with the classic taper at both ends, capped in black plastic, with a crisp edge. The cap and barrel are machine engraved in a striking zigzag pattern and finished in a very bright 12 karat gold fill or solid sterling silver. The inlaid triple enamel bands on the cap and barrel work very well against this busy design and give the pen a strong visual pattern at a distance that becomes more detailed close up. This is a bold statement pen.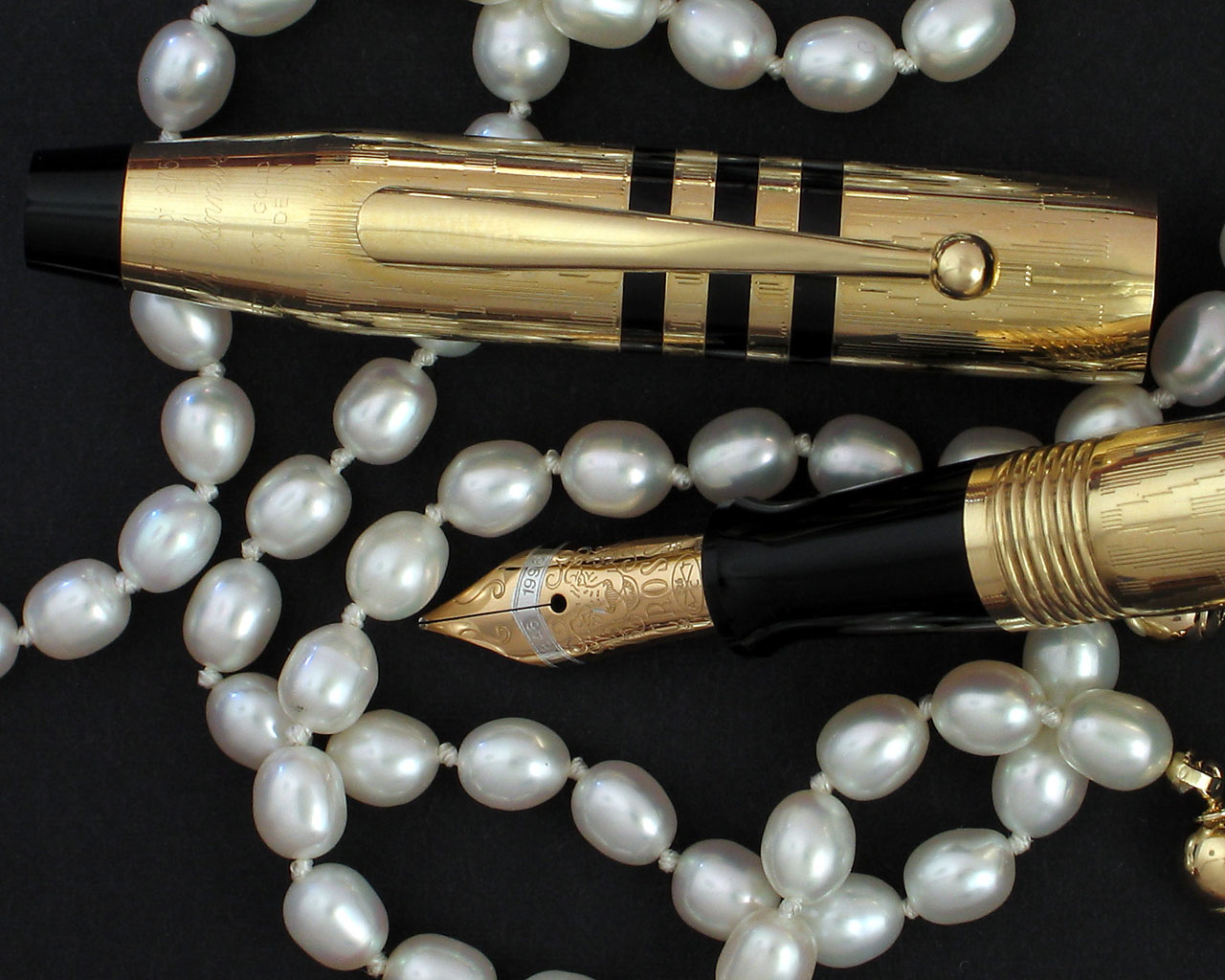 Cross 150th Anniversary Limited Edition cap and nib detail
This is a very high quality pen. The fit and finish are first rate. I'm generally leery of pens with metal cap and barrel threads, but this one threads very smoothly, implying hopefully long service without excessive wear. If I have gripe about the externals of the pen, it would be a wish for the engraving to be a little deeper. It should stand out a little more. Even the limited edition markings on the cap top are on the light side, making them hard to see unless turned, just so.
Capped, the pen is about 5 1/4 inches long, and is about 4 7/8 inches uncapped. The pen does not post securely at all, and unless you want to force the cap on and risk marring the finish, I don't recommend it. If posting pen caps is a buying decision, don't include this one on your wish list. Given this, the uncapped length may be a little short for some, but the pen fits the hand nicely and feels great because of all those textures.

Cross 150th Anniversary Limited Edition 1996
Although this is a cartridge / converter pen, the included piston filler converter works so well and the included ink bottle and crystal inkwell are so inviting, I only tested it from the bottle. Cross ink is obviously Pelikan ink, down to the bottle shape, but I used my trusty Waterman Florida Blue for testing, as it flushes cleaner.
The nib is the focal point on this pen, and is one of the most ornate I've ever seen. Lot's of details make one want to watch it as it smoothly and quietly does its work, laying down a nice evenly wet line. The rhodium plating is subdued, given the busy engraving. I did spot the one defect on this pen. There's a little dab of rhodium on the lion's face. It doesn't detract, but it's there. No other quality issues appear on this pen, but something even this minor should not be expected on a US $1,000.00 product. The section plastic choice could have been a softer feeling plastic. I find the hard plastic chosen feels beneath this pen.
The 1930s ball clip has just enough spring for thin material, but not for flannel. This pen needs to ride in a starched shirt, anyway.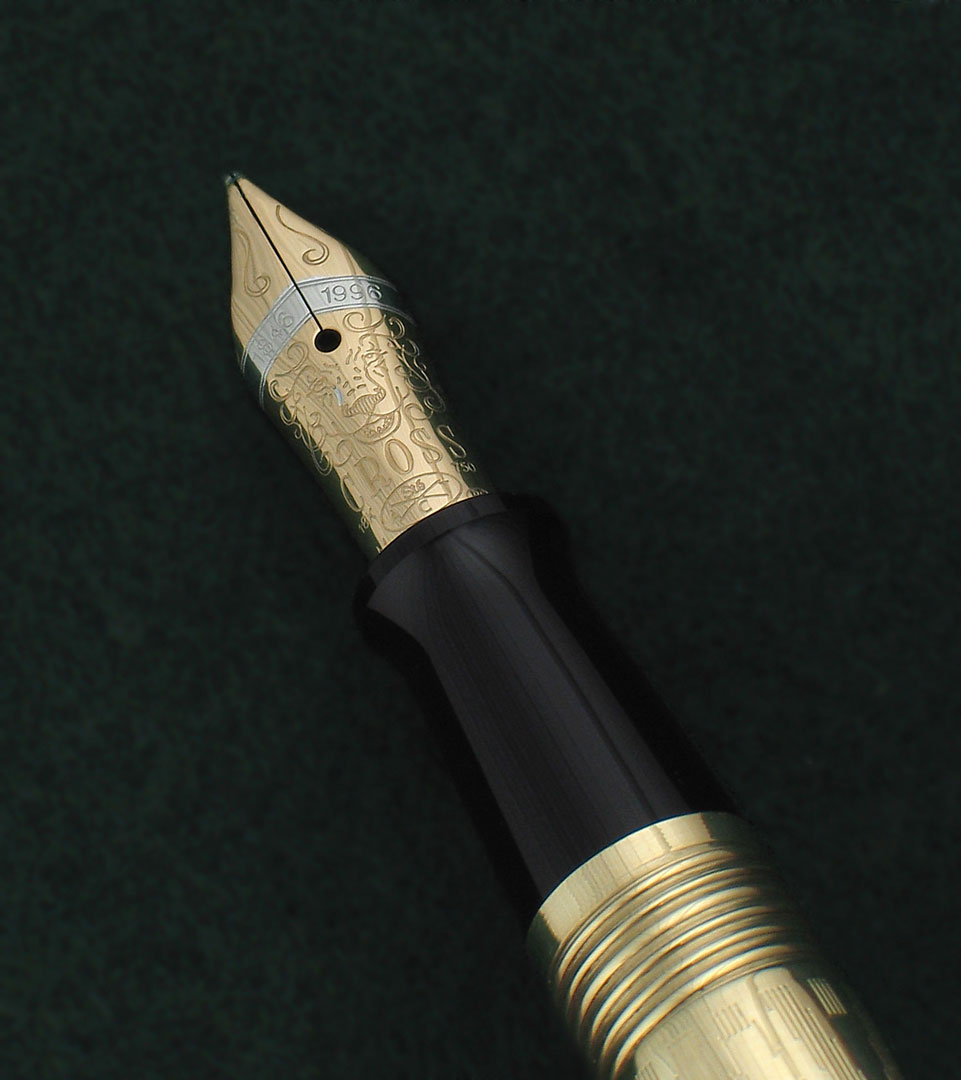 Detail of Cross 150th Anniversary Limited Edition nib
The Cross 150th Anniversary Limited Edition is more of a recreation of the vintage design using modern tooling and filling systems than an updated homage to the original. It would have been interesting to play with the 1930 pen side by side with this new version, but they are quite rare and fetch princely prices. Considering that many modern converters use a press bar design, it would have been interesting if Cross had decided to mimic the original pen's sleeve filler design with a removable sleeve type converter.
I found the pen extremely appealing and a pleasure to test. I did not put it to hard daily use, but I can look to other contemporary examples of Cross gold filled pens and feel confident that this one will hold up. Does it hold up to its retail price? No. It's not difficult to see these turn up now and then at 1/3 to 1/2 the list price. The value probably is hurt by Cross mostly selling in the low to middle fine pen market, and the name can't carry a US $1,000 pen.
---
References
Fountain Pens of the World, Andreas Lambrou, Copyright © 1995, Zwemmer, London, England
Writing History: 150 Years of the A. T. Cross Company, Barbara Lambert, Copyright © 1996, A. T. Cross Company, Lincoln, RI, USA
Interact
Comments on this article may be sent to the editor, Jim Mamoulides