John Holland Jewel Inlay Pen c1930
by Jim Mamoulides, October 3, 1902, updated December 30, 2002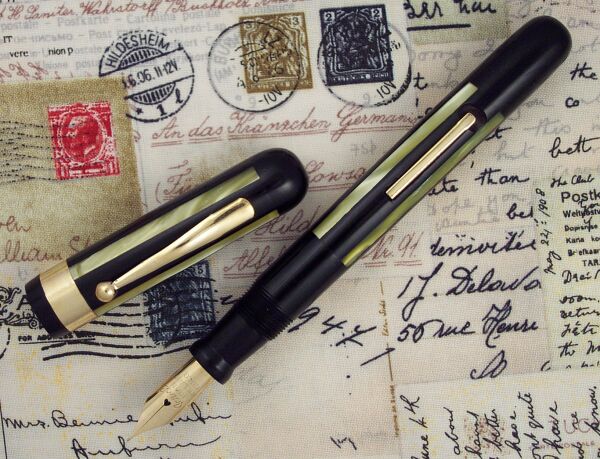 John Holland Jewel Inlay Pen c1930
A jewel of a pen
The John Holland Gold Pen Company was a regional pen manufacturer in Cincinnati, Ohio that started business in the 1860s and continued through about 1950. Noted by collectors for the interesting, but unsuccessful "hatchet" filler and fancy hand painted and unusual plastic design pens.
This is my very first John Holland. It was found in a large Cincinnati indoor antique mall, which is another plug for multi-vendor antique malls, and means the pen probably never left the Cincinnati area in its life, until now. Other than the large and long tined John Holland Jewel nib, there are no markings on this pen to identify it.
I've done a little research on similar John Holland pens, based on pens for sale and the very few references that I have on the company and found several examples of similar models, all being called Jewel pens. John Holland made a flattop line in the 1920s that also bore the Jewel name, and probably in similar fashion to Conklin and the Endura line, John Holland probably streamlined the pen and kept the model name.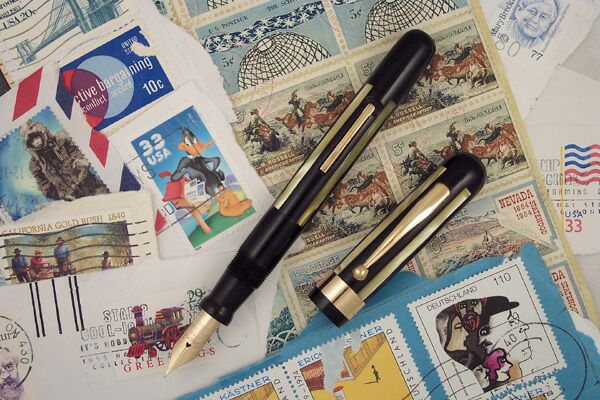 John Holland Jewel Inlay Pen c1930
Being a modestly streamlined pen would date it post-1929, after the Sheaffer Balance was introduced, shocking the pen world away from tubular flattop designs and into a more modern, streamlined style. Interestingly, all the John Holland streamline examples I found at in the reference materials have the same basic body shape, same clip design and position, and same nib. Some examples have a small shield on the top of the clip, and some don't. Not all have imprints.
L. Michael Fultz wrote a short history of John Holland for PenBid that includes this statement, which may explain these variations:
The Great Depression was very difficult for Holland, which entered the business downturn with limited capital and fewer resources than its competitors. After 1930, the quality of Holland pens is much lessened but the company carried on into World War Two. Pens are assembled from purchased parts with nibs drawn from old stocks. Profits, if any, were mainly derived from the office supply business conducted on the ground floor of the Holland building. - "History of John Holland," by L. Michael Fultz, Luxbid.com
Given the financial situation of the company in the 1930s, some variability in the product can be understood. Many pen manufacturers were struggling to stay alive and became inconsistent in production, which only serves to frustrate later collectors trying to identify and classify their finds. John Holland maintained high quality standards during this period, and this pen proves no exception.
A unique design
The pen barrel and cap are made in three separate pieces that are probably glued together. The two end sections of the cap and barrel are a solid black plastic. The center is a tube of alternating wide black and narrow pearlescent strips, giving the pen a strong pearl inlay look. This mid-section is visually well centered on each piece, and also done so that these segments show in balance with the pen capped.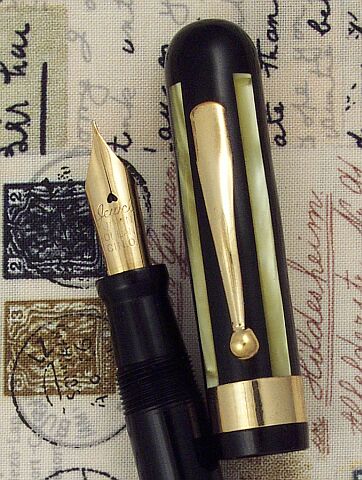 Detail of John Holland Jewel Inlay Pen nib section and cap c1930
Great design care was also taken in the placement of the clip and lever cut so that they are centered in the wide black strips, the gold a pleasing contrast on the black background and flanked by the narrow pearlescent strips. The design is clean and straightforward, vintage, yet not dated. In fact, holding the pen, it occurred to me that it would do well as a current modern pen design. The cap band is very wide and has a faint hint of concentric banding. This is the only streamline example I could find with a wide cap band. All of the others had two narrow bands. It really fits well with the total look of the pen, where two narrow bands wouldn't have been able to center the design with the cap on.
A ringtop, too!
I received a scanned image from Naphtali Hoffman of a very similar John Holland Jewel pen, except this one is both a clip pen and a ringtop. Although the pen is the same design, the clip is completely different, lending more credence to John Holland's dependence on jobbed parts, if this clip is original.

John Holland Jewel Inlay ringtop pen c1930 - Image courtesy Naphtali Hoffman
This pen is a smaller version, being about 4 5/8 inches capped, and 5 1/2 inches posted.  Naphtali wrote that the clip is much more elaborate, in an Art Deco style, "somewhat reminiscent of later Waterman clips."  This pen also came from a Cincinnati area antique dealer. It is fitted with a fine nib.
Performance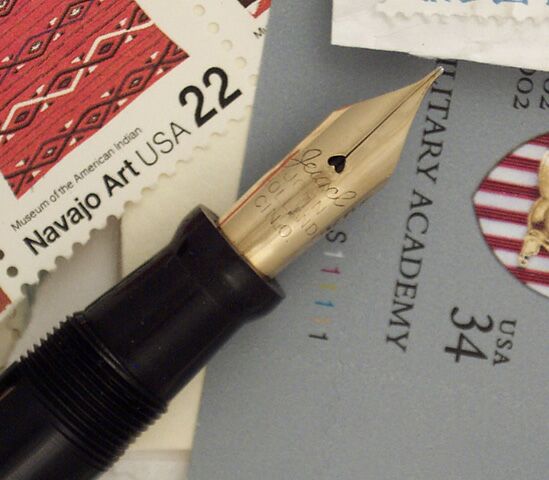 Detail of John Holland Jewel Inlay Pen flexible nib - Note long tines
I wrote and wrote and wrote with this pen. I have to say up front, as this was not my pen and I was specifically asked not to fill it, and that it was destined for sale (it's sold), I still had more fun dipping and writing with it than with many other pens I have tried out.
That is one beautiful pen! I've had the opportunity to see and use most if not all of the "most wanted" pens that show up on lists from time to time and this pen, understated as it is, is deceptively eye-catching. Almost everyone who has seen it wants to look at it. It has a presence not many other pens have.

It is beautifully restored and has obviously had a lot of excellent nib work done. A very photogenic pen, too!
The pen sits high in the pocket due to the clip placement on the front of the cap. It is surprisingly lightweight, but has a sturdy and high quality feel and tight fit and finish. It's about 5 1/8 inches long capped and 6 5/8 inches posted. It posts securely, but the barrel is long enough to write comfortably without, and I liked it better that way.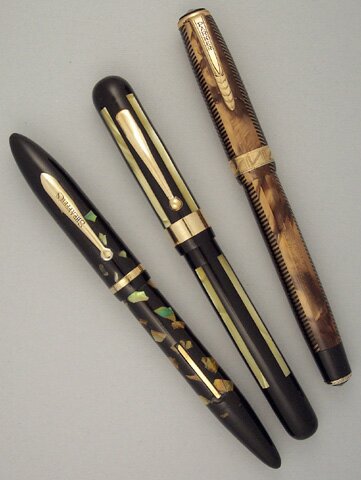 John Holland Jewel Inlay Pen c1930 with other inlay style pens from the 1930s:Left to right: Sheaffer Balance Ebonized Pearl / Jewel / Parker Royal Challenger
Being a regional manufaturer, John Holland pens are going to be quite uncommon, as opposed to the "big four". Collectors will seek out models such as this one that have unusual designs. They aren't commanding the prices of their better known contemporaries, but they will cost a premium. A pen such as this John Holland Jewel would make a very unique and high quality addition to any collection.
Acknowledgement
Thanks to Naphtali Hoffman for scanned images of the John Holland Jewel Inlay ringtop pen.
Interact
Comments on this article may be sent to the author, Jim Mamoulides
Pen Clubs
Fountain Pen Discussion Forums
Social Media