Recife Andy Warhol Mona Lisa 1996 Limited Edition
by Jim Mamoulides 4/26/03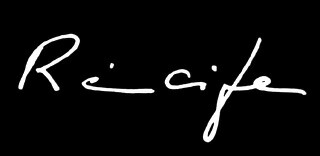 The Recife Mystique
Chaville, France based Recife (pronounced Ray-Seef) began making pens in 1987. The first pens established the principal design signature still used today, a large cigar shaped swirled resin pen with a distinct clip and cap band design that echoes Waterman designs from the 1940s. Recife pens are fitted with large open nibs that generally have a soft touch and slight spring.
In 1990, Recife revived the use of swirled colored hard rubber in pens with some having patterns very similar to late 1920s Waterman pens. In 1992, Recife introduced a flowing, vibrant, liquid, and brightly multi-colored hand-cast resin called Mystique. This low-yield manufacturing method ensures that each pen is unique. The Mystique material became the base for a launch of a series of limited edition pens, with the first beginning a long collaboration with the Andy Warhol Foundation for the Visual Arts.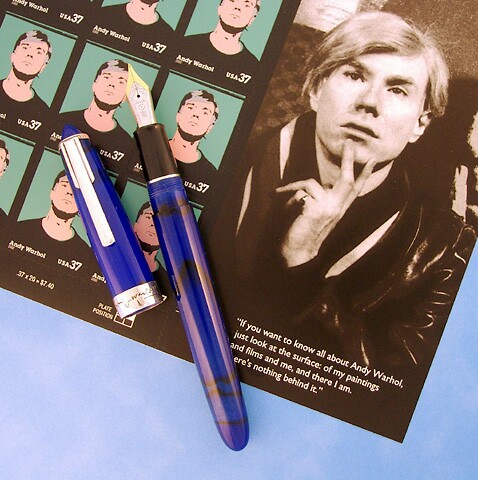 Recife Andy Warhol Mona Lisa 1996 Limited Edition
The Andy Warhol Marilyn pen, introduced in 1994 as a 7,500 unit Mystique fountain and rollerball pen limited edition, uses pink, black and white color hand swirled into a yellow resin base to symbolize the feeling of the original Pop Art Warhol 1967 Marilyn print. The series continued with the Mona Lisa in 1996 and the powder blue, fuchsia, black and yellow Mao 949 piece fountain and ballpoint limited edition in 2001.
Mona Lisa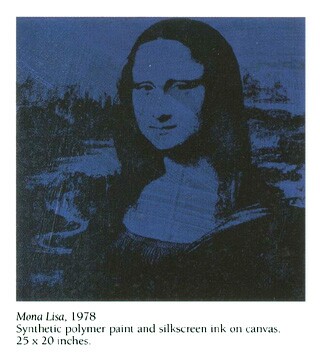 Andy Warhol Mona Lisa Painting
Detail From Recife Andy Warhol Mona Lisa Package Insert
The Andy Warhol Mona Lisa was a 5,000 unit fountain and rollerball pen Limited Edition issued in 1996. It is a much more subtle design than the other Recife limited editions, using only black and dark blue hand cast Mystique resin to match the coloring and tone of the avant garde 1978 Warhol Mona Lisa print. As with other Mystique pens, the Mona Lisa is hand lathe turned, making each pen a unique creation, both in material and craftsmanship. The pens are then fitted with a silver plate clip and wide cap band with Andy Warhol's signature on the front and the Recife signature on the back.

Although the earlier Marilyn limited edition carried a numbered cap band, neither Mona Lisa pen I reviewed had a number anywhere on the pen. The booklet provided with the pen has a space for the edition number, which is handwritten in.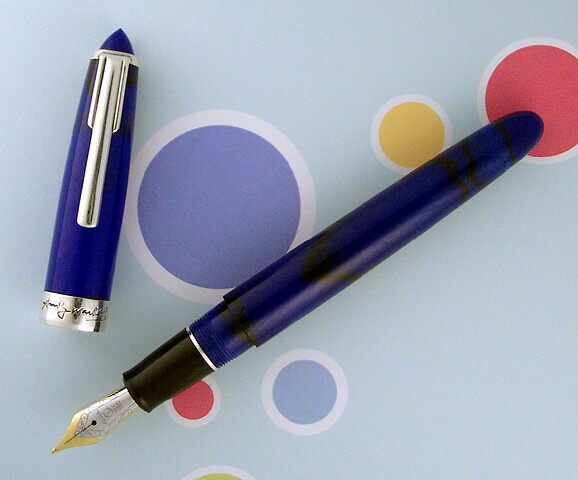 Recife Andy Warhol Mona Lisa 1996 Limited Edition
The barrel has a brass closed ended tube insert running the length of the chamber and providing a positive and tight fitting metal on metal threaded interface with the metal screw of the section. It's a cartridge / converter filler with a conventional long piston-fill unit.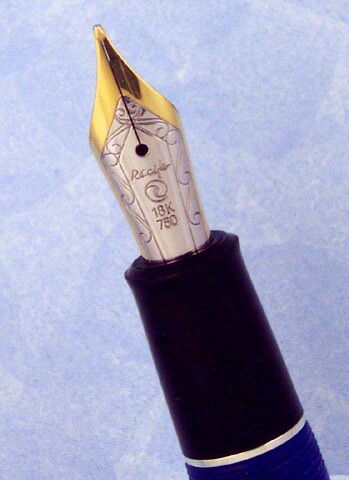 Detail Of Recife Andy Warhol Mona Lisa Nib
The section is fitted with a quite large 18 karat two toned platinum masked open nib with Recife center stamped and framed with scrollwork.
Performance
I've had the opportunity to try out two Recife Andy Warhols as the result of returning one for service, as it had developed a cracked section. Although the warranty on the pen is only two years, the only cost I paid was for shipping to the USA distributor. The pen I sent had light, but noticeable use, as it was a favorite of mine, but the pen that returned, evidently all the way from France about four weeks later, was either completely repolished with a new section or is a brand new pen. The fact that this pen arrived without any marks at all leads me to believe the pen was replaced. Email communication from Recife's agent was excellent and the entire transaction was without problem.
Many limited edition pens in the market are highly ornamented baubles that in some cases actually hinder the writing experience. Some are extraordinarily large or heavy or so full of protrusions as to be almost unusable as an everyday writer. In many cases, their apparent purpose is as jewelry or art objects than as true writing tools. In contrast, the Recife limited edition pens are merely upscale limited run Mystique pens and very much ready for daily use.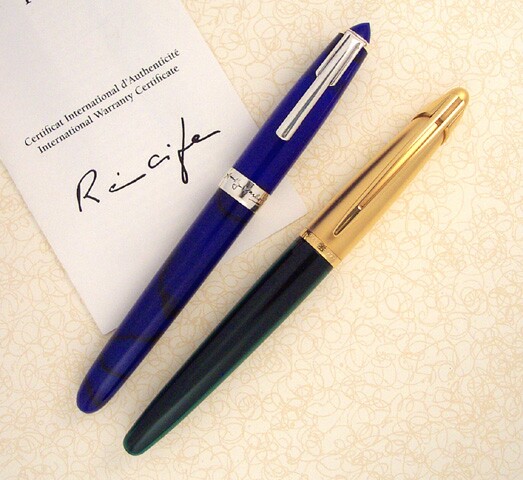 Side By Side Comparison: Recife Andy Warhol Mona Lisa (Left) And Waterman Edson (Right)
The Mona Lisa is a very large and slightly heavy pen, at 5 7/8 inches capped and 6 7/8 inches posted. It's similar in size, shape, and weight to a Waterman Edson. The cap and barrel are very smooth and shiny, and as one pen repair friend commented, the resin is swirled like "bowling ball" material. The silver plate fittings are heavy and nicely done, adding to the very solid feel of the pen.
Using the converter is as with any other cartridge / converter pen, and the metal on metal threading between the section and barrel insert is a nice touch. There is little doubt that the pen will stay together during use. I find it unfortunate, however, that the insert can be seen through the almost opaque resin near the barrel end, detracts from the high eye appeal of the pen. The cap and barrel are threaded directly in the plastic, which is a mistake, in my opinion, as this hard resin is prone to stripping if over tightened.
The converter needed a shot of dishwashing liquid treatment to get it to properly feed ink, an annoyance that seems to crop up on many converter pens. The problem is the plastic surface inside the converter chamber encourages the ink to bead, rather than drip, so it gets "stuck" in the top of the converter and causes the pen to stop writing.
The cap posts fairly deeply and snugly on the barrel end when in use, though the pen is large and well balanced enough to use without posting. The resin barrel does not seem prone to easily picking up wear from posting, a definite plus. The clip has almost no spring and holds on very tightly. This is probably a good thing as the pen is so long that it will ride high in most pockets.

Side By Side Comparison: Pelikan 1000 Nib (Left) And Recife Andy Warhol Mona Lisa Nib (Right)
Both pens I tried were fitted with very soft and smooth writing medium nibs. The nib is very attractive and the design and large size reminds me of the Pelikan 800 and 1000 nib. It has just a little give, putting ink on paper at a touch, but not enough flex to offer any expressiveness. Slightly better than a nail, but nowhere near being a noodle. Still, a very nice writer that glides on paper.
The size and weight of the pen is going to be the biggest factor in how one sees it as a daily user. It's in the Waterman Edson / Pelikan 1000 size range, and more to the Waterman in weight. If you like a large and heavy pen with a subtle and swirly plastic, in a torpedo shape, this pen may interest you. If you are looking for a wild pen that shouts loudly, there are other Recife Mystique pens that should pique that interest, also.
The pen does have some minor flaws, but they are not show stoppers. The brass barrel insert is a great idea, but it should have been shortened so it does not show through the barrel. This is the only flaw that sticks with the pen. The threading of the cap and barrel should carry a warning not to over tighten, so consider yourself forewarned! Recife should choose a better converter vendor, and that can be replaced, or worked around, as stated above.
Aside from those shortcomings, the pen is overall very well made and a very nice writing daily user. I enjoy mine and it finds its place in my rotation frequently. It's also a hit with my wife and daughter. If the limited edition cachet doesn't appeal to you, the regular production Mystique pens are very similar and are loaded with splashes of color and lots of flash.
---
Acknowledgement
Scans in this article are copyrighted and from the package inserts with the Recife Andy Warhol Mona Lisa 1996 Limited Edition pen and are used for review purposes.
Comments on this article may be sent to the author, Jim Mamoulides
PenHero.com Bibliography