PenInHand: July, 2015
Finding something wonderful - a LeBoeuf Ringtop Sleeve Filler c1932
by Jim Mamoulides, July 30, 2015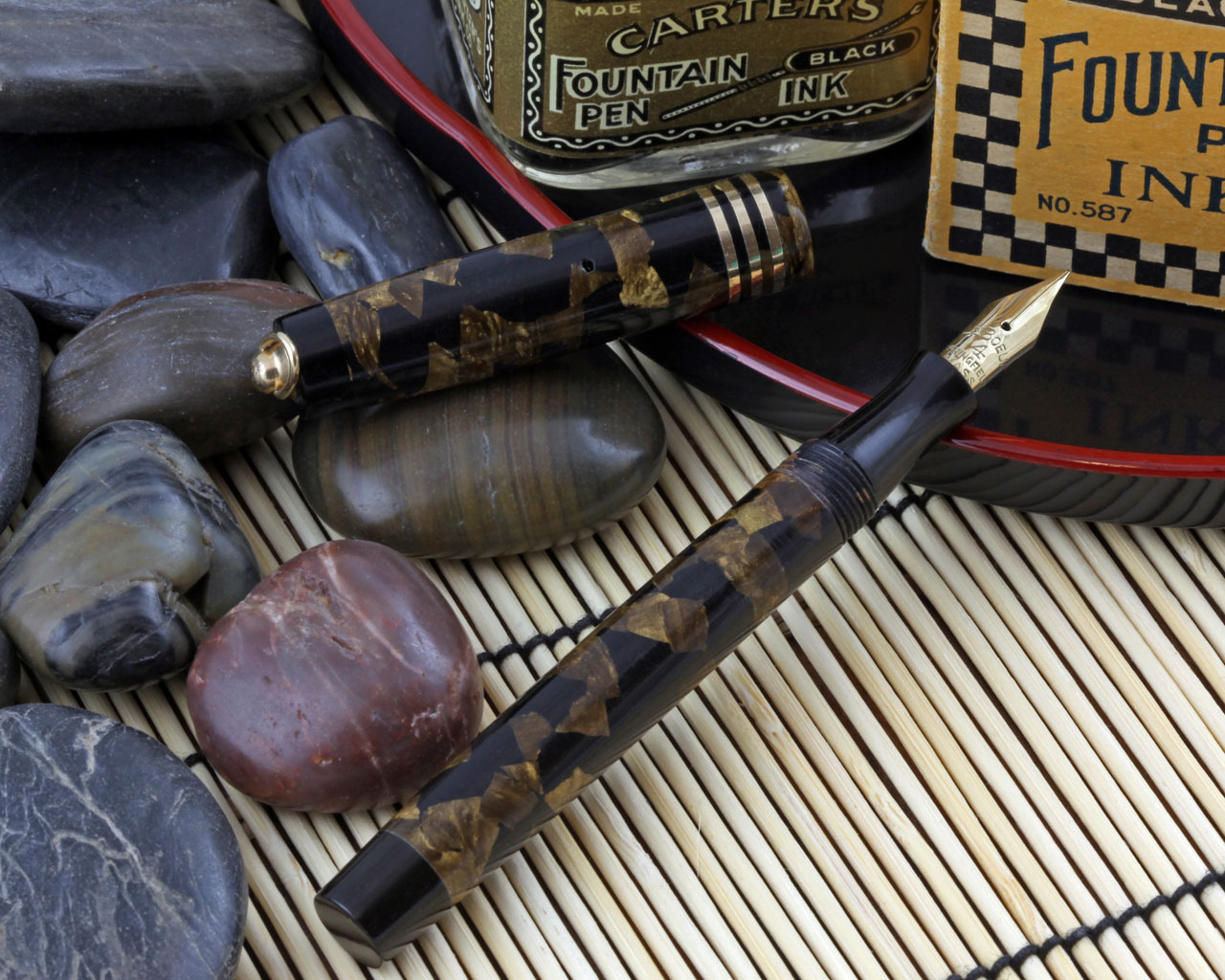 LeBoeuf ringtop pen in brown and black marble open
Click the image above to see a full screen slideshow
Once in a while, when searching through antique stores looking for old pens, something truly wonderful turns up. Much of my antiquing happens in New England and as a result, I encounter a lot pens with origins from the area from north New Jersey to Boston. Over the years, I've found Moore pens, a Crossman pen, many Mabie Todd pens, quite a few Waterman pens and lots of Wearevers. On a recent trip I spotted this very attractive brown and black marble ringtop pen and saw an imprint and nib stamping I had not previously encountered in the wild: LeBoeuf. Of course, I snapped it up!
The LeBoeuf Fountain Pen Company incorporated in 1921 at 49 Arch Street, Springfield, Massachusetts, and by 1922 had 25 employees. The company had a fairly short life, filing for bankruptcy in 1933. LeBoeuf's legacy among collectors stems from two factors. The company was a pioneer in the use of celluloid for pen caps and barrels at a time when the majority of fountain pens were made from hard rubber. LeBoeuf's first patent, US 1302935 A, published May 6, 1919, was an idea for making pen barrels and caps using celluloid tube. The patent's innovation was to use celluloid instead of hard rubber because hard rubber is "very susceptible to cracking and breakage due to other causes, while celluloid possessing more resiliency and elasticity, is less liable to breakage." Making the pen parts from celluloid tubes eliminated the possibility of a leaky seam and also avoided drilling out a solid block. The patent further describes the pen barrel being kept watertight by fixing a threaded rubber washer on the barrel end.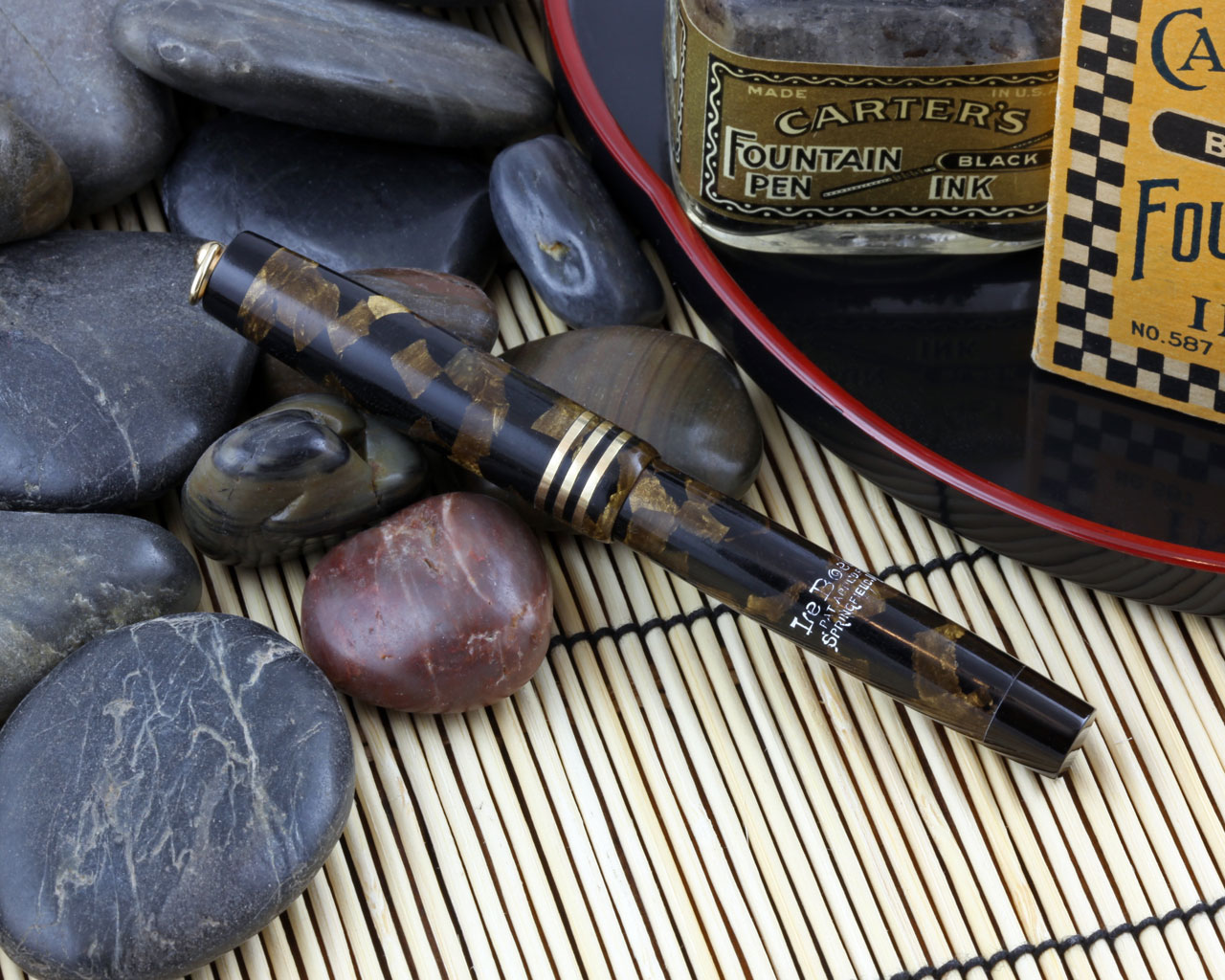 LeBoeuf ringtop pen in brown and black marble - note imprint
LeBoeuf marketed their pens as unbreakable, a claim literally reinforced by the insertion of a metal sleeve in the barrel to add strength to the celluloid tube. Early LeBoeuf pens were lever-fillers and were offered in many dazzling celluloid patterns, some of which may have been unique to LeBoeuf.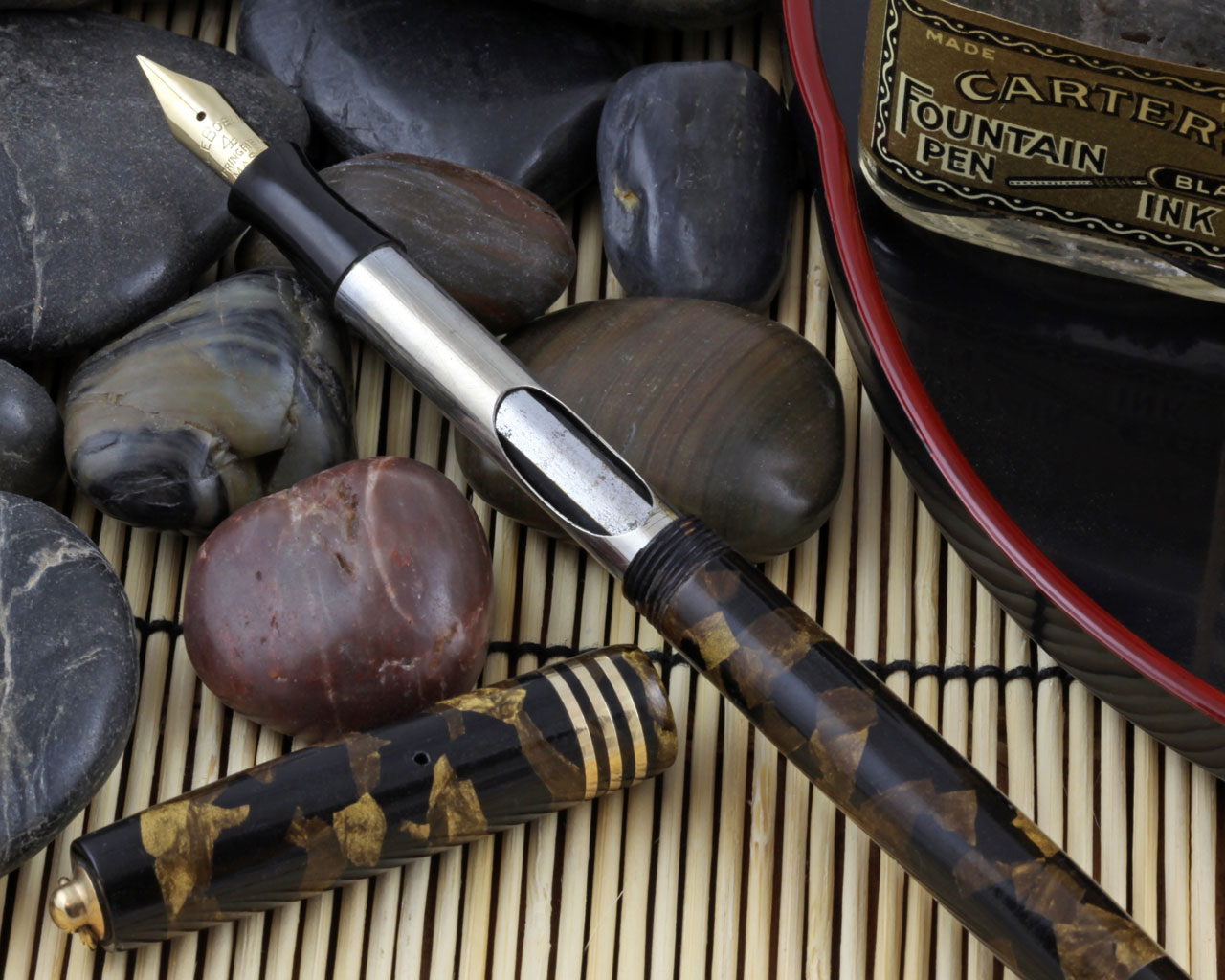 LeBoeuf ringtop pen in brown and black marble open showing slide out filling mechanism
There is some dispute as to when, but around 1931, LeBoeuf introduced a sleeve filling pen, also called by collectors a "thumb filler". The pen fills by pulling open the barrel at a split in the middle, to reveal a metal sleeve with an oval cutout. There is a press bar in the cutout that directly presses the ink sac, allowing the pen to fill. Essentially, it's like a lever filling pen without the lever, with your thumb doing the work. Many modern pens, including the Parker 51 and converters operate in this same way. Some time later, though before the company went bankrupt, LeBoeuf introduced a new version of the sleeve filling system where the barrel pulls down from a break at the section. The internals operate the same way, press the bar to fill the pen. Interestingly, in one of the patents, LeBoeuf describes the sleeve with the press bar and sac as an improvement that allows for the pen to be serviced more easily by the dealer and without having to return the pen to the factory. I would wonder what pen repair experts today would think of that claim versus a sac replacement job on a standard lever fill pen.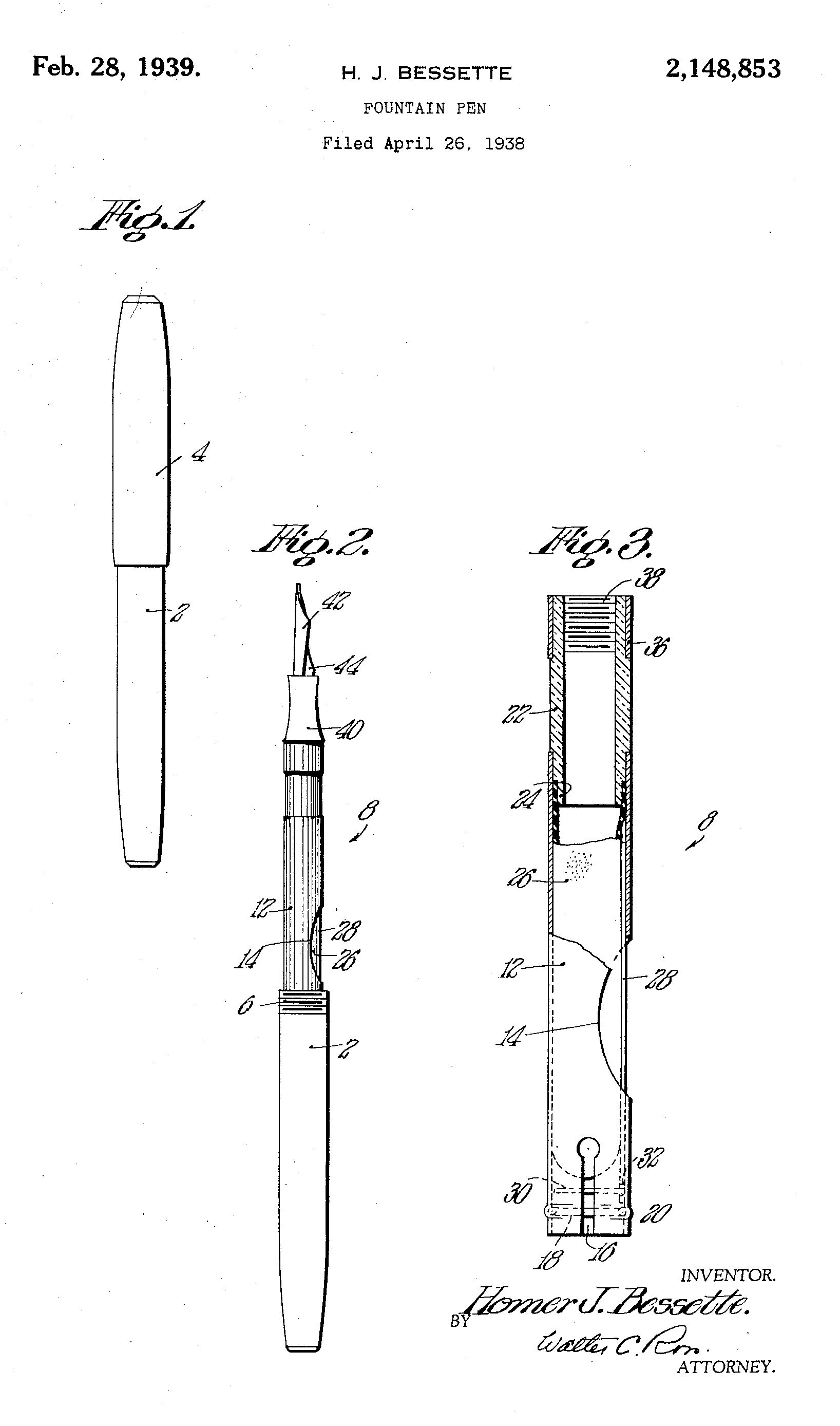 LeBoeuf patent showing how the slide out sleeve with press bar filling mechanism works
Identification guide and features:
Without catalogs or advertisements to work from, it's difficult to pin down the dates for this pen. I'm going with c1932 based solely on secondary references, patent timing and order, and the bankruptcy of the company. I do not have materials to show pricing, model or even finish names, unfortunately.
Celluloid cap and barrel made from tube stock
Barrel has a metal sleeve under the celluloid tube for strength
Observed colors: black and pearl, black and brown marble, green pearl, tigereye
Cap top and barrel end are black
Three gold plated cap bands
Gold plated ring top
14 karat gold number 4 nib marked "LEBOEUF" over "4" over "SPRINGFIELD" over "MASS"
Barrel imprinted "LeBoeuf" over "PAT. APPL'D FOR" over "SPRINGFIELD, MASS"
Unknown number of nib grades
About 4 1/2 inches long capped and 5 3/4 inches posted
Fills using a pull out metal sleeve with a press bar that compresses an ink sac
Unknown price point
Performance
This is a surprisingly beautiful pen considering that the celluloid is a more subtle than usual color for a LeBoeuf. The pen is a little heftier than expected, weighing about .7oz, likely due to the metal hardware inside. The triple cap bands and heavy ringtop compliment the pen. The whole pen says high quality. Showing just how "unbreakable" this pen is, the section thread shows a crack where the metal sleeve can be seen. Strong pen!
It's a small pen in the hand, and the filling mechanism is easy to work. The barrel pulls back with a little effort - some lubrication is in order - and reveals the filling mechanism. As it has not been restored, I've only water filled it, which is very easy done by pressing the filler several times and waiting for the sac to fill. It still manages to do a good job. I would probably send this one out to be restored.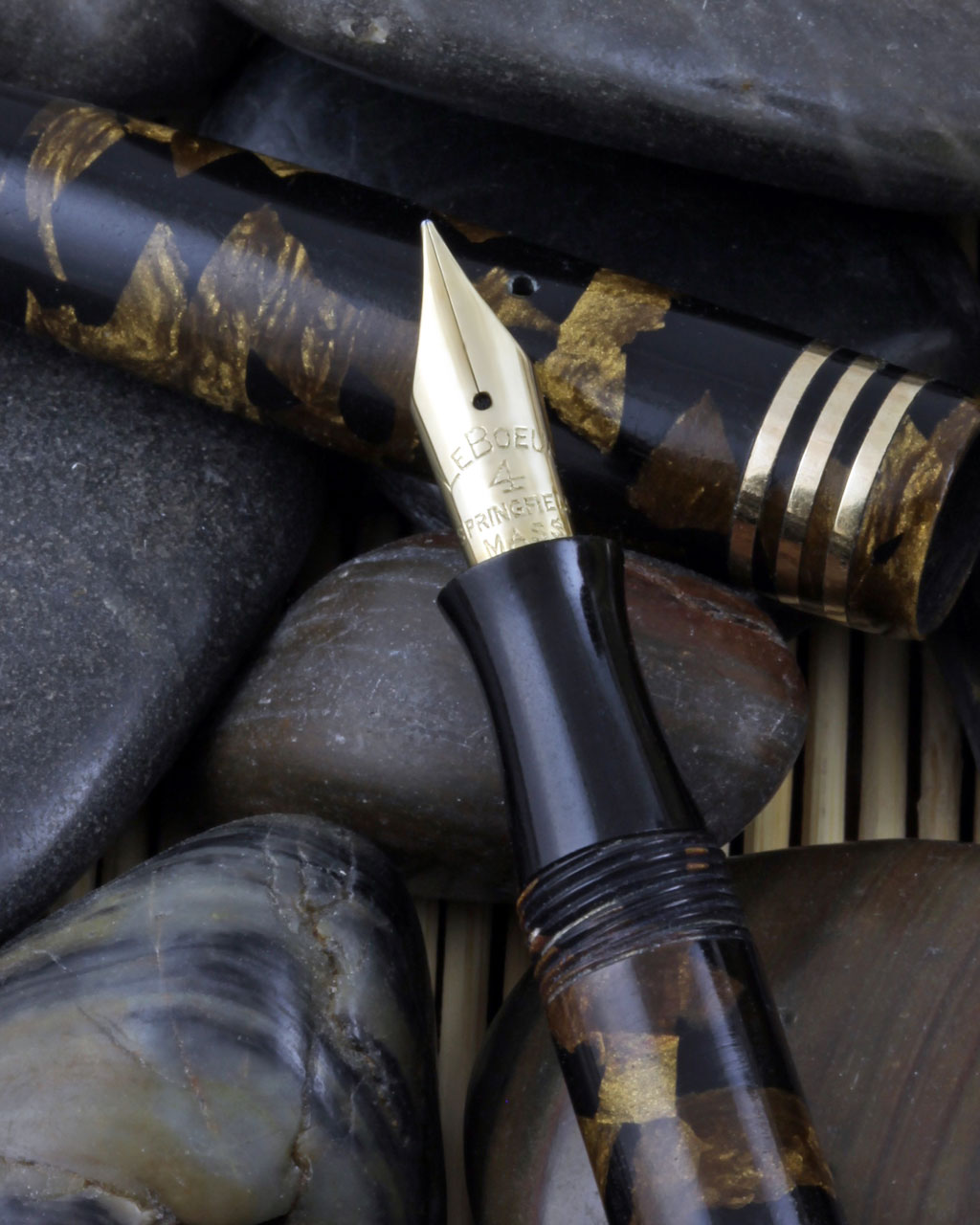 LeBoeuf ringtop pen in brown and black marble nib detail
The nib is a firm semi-flex fine and writes a nice wet line. It, too could use a little adjustment as it "sings" a little, but it's fun to dip and write with.
In the hand, like most ringtop pens, it's a bit small, even with the cap posted, but larger and longer than many. The barrel is slender, but a little bigger than many other ringtop pens. I would find it more comfortable to write with it posted.
LeBoeuf pens are not common, and the sleeve filler pens are less so. They often claim high prices, especially the full size pens that use exotic looking celluloids. There are collectors who focus on LeBoeuf, and considering market prices, a large collection would be a commitment indeed. How nice to find this gem among pens in my antiquing!
---
References
"Glossopedia of Pen Terms: LeBoeuf," Richard Binder, Richard Binder Fountain Pens, © 2015 RichardsPens.com
"Holy Water Asperges," LeBoeuf pamphlet, ca. 1932
Office Appliances, June, 1921, p237
American Stationer and Office Manager, Volume 91, December 16, 1922, p24
The New England Business Directory and Gazetteer for Massachusetts, 1922, p890
Fountain Pens: The Complete Guide To Repair & Restoration, by Frank Dubiel, © Copyright 2002 by Frank Dubiel
Fountain Pens of the World, by Andreas Lambrou, © Copyright 1995 by Andreas Lambrou, Zwemmer, London
Writing instrument patent US 1302935 A, F. LE BOEUF, filed April 5, 1956, published May 6, 1919
Writing instrument patent US 1804522 A, Leboeuf Fountain Pen Co Inc, published May 12, 1931
Writing instrument patent US 1851257 A, Leboeuf Fountain Pen Co Inc, published March 29, 1932
Writing instrument patent US 2148853 A, Le Boeuf Pilgrim Pen Co Inc, published February 28, 1939
Interact
Comments on this article may be sent to the author, Jim Mamoulides